Mangalyaan Mars orbiter mission is the surprising subject of Friday's Google doodle. The day marks the one-month anniversary of Mangalyaan's entry into the Mars orbit, but Google is usually not one to celebrate monthly anniversarys, hence the surprise. Isro's Mars Orbiter Mission is named Mangalyaan, derived from the Sanskrit words for 'Mars' and 'craft or vehicle.'

Mangalyaan entered the Mars orbit on September 24 and was hailed as an achievement for India, with several firsts for it. With the Mars Orbiter Mission Mangalyaan, India became the first nation to reach Mars orbit in its first attempt, and also the first Asian country to reach Mars at all.
(Also see: Isro's Mangalyaan Enters Mars Orbit; India Creates History)

Isro's Mangalyaan Mars Orbiter Mission was hailed for its low-cost nature, with a budget of a mere $74 million propelling it on its 680 million kilometre journey to Mars orbit. With the successful insertion of Mangalyaan, Isro became the fourth space agency to achieve the feat, joining United States' Nasa, Russia's RFSA, and Europe's ESA.
Celebrations of the successful orbital insertion of Mangalyaan began at the command centre at Bangalore after delayed communication signals confirmed the spacecraft had entered Martian orbit. Prime Minister Narendra Modi was present at the event to congratulate scientists for the Mangalyaan mission.
(Also see: Isro Becomes the Toast of a Nation as Indians Congratulate Scientists on Mangalyaan)

Speaking of India's achievement with the successful Mangalyaan Mars Orbiter Mission, Modi at the command centre address said, "India has successfully reached Mars. Congratulations to all. History has been created today. We have dared to reach out into the unknown and have achieved the near impossible."
Friday's doodle dedicated to the 1 month anniversary of Mangalyaan entering Mars orbit features the orbiter taking the place of the second 'O' in Google, with the curve of Mars' surface and a starscape behind. The doodle is visible only in India.
For more Google doodles, visit this page.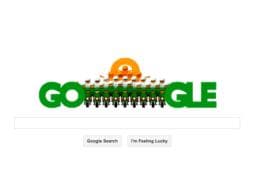 The best Google doodles of 2014