London 2012 soccer (football) is the third of its kind to make it to the list of Google doodles featured during the Olympics.

The first soccer (football) related Google doodle was posted during the 2000 Olympics held at Sydney. The doodle depicted a kangaroo kicking a soccer ball (football) straight into the second O of the Google logo.
The men's tournament at Olympics is played by under-23 national teams, with up to three over age players allowed per squad. The football tournament at the 2000 Summer Olympics started on 13 September. The men's gold was won by Cameroon, with Spain and Chile bagging the silver and bronze respectively. The women's competition was won by Norway, United States took the silver and the girls from Germany won the bronze.
The second soccer (football) related Google doodle was for the Athens Olympic, with a goalkeeper in traditional Greek attire trying to stop a soccer ball (football) headed his way.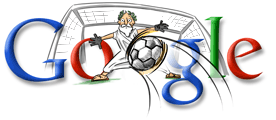 The football tournament at the 2004 Summer Olympics started on 11 August, and ended on 28 August. The men's gold was won by an Argentina team that included the likes of Roberto Ayala, Fabricio Coloccini, Gabriel Heinze, Javier Mascherano, Javier Saviola and Carlos Tevez. The team from Paraguay finished second, with the Italians rounding up the podium in third place. The women's competition was won by United States, Brazil took the silver and Germany, again, won the bronze.
Soccer (football) has been featured in various other Google doodles apart from Olympics, like during the European Championships in 2008.
Football has been included in every Olympiad except 1896 and 1932 as a men's competition sport. Women's football was added to the official programme in 1996. Tournaments were played at the 1900 and 1904 games and the Intercalated Games of 1906, but these were contested by various clubs and scratch teams. Although the IOC considers the 1900 and 1904 tournaments to be official Olympic events, they are not recognised by FIFA.
In the London Games of 1908 a proper international tournament was organised by the Football Association, featuring just six teams. The number of teams rose to eleven in 1912, when the competition was organised by the Swedish Football Association.
In the 1924 and 1928 Olympiads, the first South American teams entered the competition: Uruguay and Argentina. Uruguay won both Olympiads and FIFA became conscious that the Olympic movement was not only hindering the ability of nations to participate on an equal footing but, given that the Olympics only permitted amateurs to participate, did not represent the true strength of the international game.
This gave rise to the birth of the modern day soccer (football) World Cup, which was held in Uruguay in 1930 for the first time.
It will be interesting to see what sport finds its place in Saturday's Google doodle.


Olympic Google doodles
For more
Google doodles
, visit
this page
.