LG has finally entered the wearable technology segment, with the announcement of its Life Band Touch fitness wristband. The South Korean manufacturer will be showcasing the Life Band Touch fitness wristband at
CES
2014. The company has yet to reveal the pricing and availability details of the LG Life Band Touch.
Notably, the latest wearable from LG can sync with Android and iOS devices using Bluetooth 4.0, though the company has not detailed whether the device can work with smartphone, tablets or even both.
The LG Life Band Touch wristband can also track physical activities such as steps taken, distance covered and calories consumption. The Life Band Touch features an OLED touch display which works as a watch and shows notifications from the connected device. In addition to the LG Life Band Touch, the company has also introduced heart beat earphones (Heart Rate Earphone), which can check user's blood flow in the ear, according to The Verge.
The Life Band Touch also includes touch controls for music playback and receiving calls from the synced device. The LG Life Band Touch wearable fitness wristband will be pitted against the likes of Nike's popular FuelBand.
LG has already revealed plans to expand its Ultra HD TV line-up and has announced a new premium line-up at the International Consumer Electronics Show (CES) in Las Vegas.
Earlier on Monday, the South Korean electronics giant revealed that the company would showcase the premium UB9800 series 4K Ultra HD TVs at CES 204, consisting of 65-inch, 79-inch, 84-inch and 98-inch units. LG's new Ultra HD TV models feature 3840x2160 pixels resolution and equip Ultra IPS panels.
Stay in touch with the latest from CES 2014, via our CES page.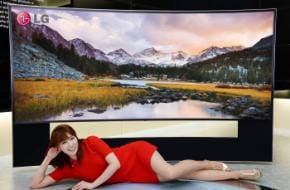 CES 2014 - World's biggest tech event in pics
For the latest tech news and reviews, follow Gadgets 360 on Twitter, Facebook, and Google News. For the latest videos on gadgets and tech, subscribe to our YouTube channel.
Related Stories