Jonas Salk's 100th birth anniversary is being celebrated by a Google doodle. Jonas Salk is the man who created the world's first polio vaccine. The US-based medical researcher was born in New York on October 28, 1914 as Jonas Edward Salk. Salk went to the New York School of Medicine and unlike most other students, he chose to pursue medical research instead of becoming a practising physician.
Tuesday's Google doodle celebrating Jonas Salk's 100th birth anniversary shows a group of celebrating children and parents. A child is seen holding a newspaper that marks the triumph of Salk's polio vaccine. Two other children are seen holding up a banner that reads, "Thank you Dr. Salk." Google's logo isn't seen in the doodle.
Jonas Salk is thought to have chosen polio as his vaccine target as the disease was threatening to become an epidemic in America post World War II. Every year the disease would claim more lives and lead to varying degrees of paralysis in a larger number of people. The disease was particularly devastating because it primarily affected children.
In 1942, Jonas Salk first began testing a vaccine against the influenza virus. Six years later, Jonas Salk was asked to join the National Foundation for Infantile Paralysis. This organisation was founded by the then US President Franklin D. Roosevelt, who was wheelchair-bound for most of his presidency due to polio.
At a time when most of his peers were experimenting with dangerous "live" viruses in vaccines, Jonas Salk chose to continue his research with the much safer killed virus. This approach was first tried in 1952 and preliminary test results for the next two years were found to be positive. This led to the first field trial for the vaccine in 1955.
Nearly 4.4 lakh schoolchildren were administered the vaccine in the field trial and on April 12, 1955, it was declared that Jonas Salk's vaccine was effective. A global campaign against polio is still on, but most of the world's developing nations haven't reported a polio case in a while. The goal of the global vaccination programme is to eradicate the disease by 2018.
In 1960, Jonas Salk founded the Salk Institute for Biological Studies in La Jolla, California. Till date, it functions as a centre for medical research. Salk died in La Jolla, California on June 23, 1995.
The Jonas Salk doodle by Google is visible in select regions across the world, excluding much of Africa, Europe, Central Asia, and the Middle East, while also skipping Russia, China, Australia and South America.
For more
Google doodles
, visit
this page
.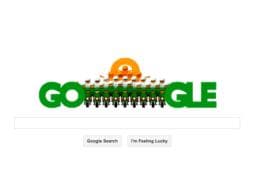 The best Google doodles of 2014