So there we were, inside the Ferrari Garage at Greater NOIDA's Buddh International Circuit, just 24 hours before the first practice session of the first ever Indian Grand Prix.
We saw the Ferrari engineers assemble cars for both Fernando Alonso and Felipe Massa. We discovered in detail the workings of the pit lane garage and how the team of engineers piece together a complex chain of events which result in the most exhaustive bit of teamwork in sports.
In the Ferrari Garage we ran into Scuderia Ferrari's chief techie, Andrea Beneventi. His official designation is Head of Electronics for Track and Test and Head of Support for Electronic Applications, and he gave us a deep insight into the technological aspects of Scuderia Ferrari's F1 enterprise. Take a moment to read the technical jargon - behind it lies a fascinating account of the incredible systems that go into putting a car on the track.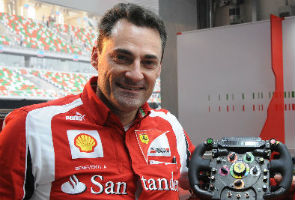 Some key elements he touched upon are as follows:
1. Computers and Servers:
It's easy to assume that F1 cars are all about horsepower, but because of the level of sophistication of these vehicles, there is a massive synergy between software and hardware, both at the Ferrari Garage on the track and at Ferrari HQ in Maranello. The Ferrari Team uses a legion of Acer Laptops, Servers and Rack based machines among whom most run Quad-Core Processors tied in with 8GB of RAM which also run specially tailored software meant for data collection, telemetry and the works. The machines that the Ferrari team travels around the world with are generally portable, and along with these workstations the team also employs a myriad of displays, again provided by Acer. On the whole it seems that Ferrari not only employs some serious horsepower for their engines but also for their computing needs. Pretty impressive, right? We have more.
2. Communication is key:
This is pretty much a well-known fact but the level the Ferrari team takes this to is almost unheard of. Apparently real-time Telemetry is shared between the car and the Ferrari Garage in the pit lane and between the factory in Maranello. Now how does this happen? This happens via Controller Area Network (CAN) lines and Ethernet lines. The CAN lines are connected to RF arrays, which are in turn connected to a series of antennae placed throughout the circuit enabling wireless real-time telemetry to the garage. From here, the engineers can change the programme parameters of the car. For the link up between the track server and Maranello, Ferrari uses Multiprotocol Label Switching Network (MPLS), which enables very high data, transfer speeds of upto 6 MegaBits/ second. In fact, the guys in Maranello even have access to the communication between the drivers and the pit-lane engineers.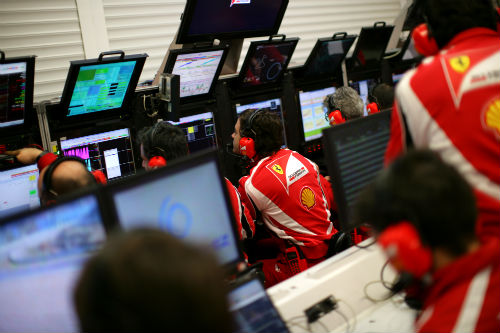 By the way, CAN is an automotive protocol which is even used in our regular vehicles. Beneventi says that the robust nature of the protocol makes it ideal even for Formula 1 cars.
3. Data Analysis and Telemetry:
Communication and computing power exists primarily to facilitate Data Analysis, Simulations, and real time telemetry. According to Beneventi, the team collects about 2 to 3 GB of data for one car over the course of a race weekend, which is stored in the main server in the pit garage.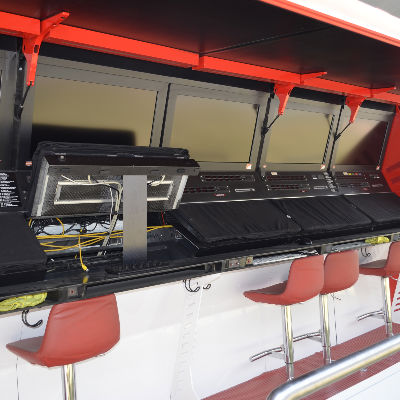 This also automatically synchronizes with Ferrari's mainframe back in Maranello over their MPLS network. It is on the basis of this data and real time telemetry that the team plans its race strategy and further wind tunnel development of the car.
4. Research and Development Coupled with Innovation:
Ever since 2008, the FIA has brought about stringent Electronic Control Unit protocols, where all performance related enhancements remain constant for all constructors, and only car management ECUs can be custom built by the constructors. This has resulted in a situation where some of the richer constructors like Ferrari do not gain performance advantages due to their financial might where their car development budgets could sky rocket, but this situation does leave minimal wiggle room for constructors to innovate on F1 technologies. According to Beneventi, this is not an entirely bad thing: while it does slash budgets, it also forces the team to innovate on different technologies. For instance, an F1 car is fitted with an Apotation Meter, which is basically a sensor that helps the engineers monitor the positioning of various components inside the car.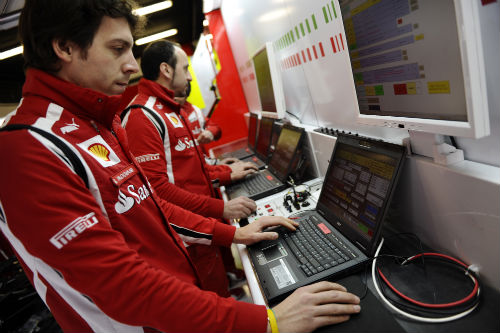 With the new rules, Ferrari makes its F1 cars on almost 1/4th of the budget that it used to, which led the team to develop a brand new technology from scratch for the Apotation Meter as there previous technology would not fit in the budget. In spite of the new budgetary restrictions, Beneventi mentions the newer generation Ferrari F1 cars are equipped with far more sophisticated gadgetry than their predecessors, which were developed on higher budgets.
Some Key Technical Terms:MPLS Network:
Multiprotocol Label Switching (MPLS)
is a mechanism in high-performance telecommunications networks that directs data from one network node to the next based on shortpath labels rather than long network addresses, avoiding complex lookups in a routing table.
Controller Area Network:
Controller-area network (CAN or CAN-bus)
is a vehicle bus standard designed to allow micro-controllers and devices to communicate with each other within a vehicle without a host computer.
Wind Tunnel:
A wind tunnel is a research tool used in aerodynamic research to study the effects of air moving past solid objects. Formula 1 constructors use it for the development of aerodynamic efficiency of their vehicles. It is a key process in development of the car and goes on through out the year.
Electronic Control Unit:
In automotive electronics, electronic control unit (ECU) is a generic term for any embedded system that controls one or more of the electrical systems or subsystems in a motor car.