Gustav Klimt grew up in Austria where the Association of Austrian Artists was the de-facto organisation for all artists. The Association, housed in the Vienna Künstlerhaus, was a rather conservative body, with archaic artistic views, and an orientation towards Historicism. (See:
Gustav Klimt's 150th birth anniversary marked by Google doodle
)
The new breed of artists, including
Gustav Klimt
, Koloman Moser, Josef Hoffmann, Joseph Maria Olbrich, Max Kurzweil, and others, objected to the prevailing conservatism of the Vienna Künstlerhaus. Ultimately, these artists resigned from the incumbent, and formed The Vienna Secession on 3 April 1897.
It is worth noting that although Otto Wagner is widely recognised as an important member of the Vienna Secession, he was not a founding member.
Gustav Klimt
was chosen as the first president of The Vienna Secession (Wiener Sezession), also known as the Union of Austrian Artists (Vereinigung Bildender Künstler Österreichs). The new organisation's aim was to provide exhibitions for unconventional young artists, and to bring the best foreign artists' works to Vienna.
The Vienna Secession also published a magazine called Ver Sacrum ("Sacred Spring") to showcase the members' work.
In the early 1900s,
Gustav Klimt
was involved in perhaps the biggest controversies of his career. He had been commissioned to create three paintings for the ceiling of the Great Hall in the University of Vienna. When finished, his three paintings,
Philosophy
,
Medicine
and
Jurisprudence
were criticised for their radical themes and material, which many termed "pornographic" at the time.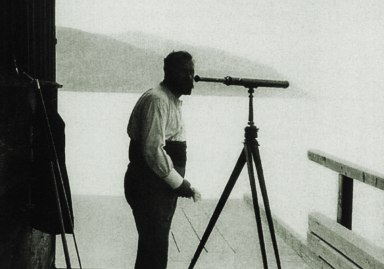 The criticism came from all quarters -- political, aesthetic, and religious. As a result, the three paintings were not displayed on the ceiling of the Great Hall. Upset at the furore caused by his work, that he saw as nothing but his artistic expression,
Gustav Klimt
vowed never to accept a public commission again.
Unfortunately, the three paintings were destroyed by retreating SS forces in May 1945.
Another controversial
Gustav Klimt
work from the time was
Nuda Verita
, which depicted a starkly naked red-headed woman holding the mirror of truth. Above the woman, was Schiller quotation - "If you cannot please everyone with your deeds and your art, please a few. To please many is bad."
In 1902,
Gustav Klimt
painted a tribute to the legendary composer Beethoven, though it did not go on public display until 1986. The
Beethoven Frieze
is now on permanent display at the Vienna Secession Building.
Klmit went on annual vacations with his partner Emilie Louise Flöge and her family on the shores of Attersee, a lake in the Salzkammergut area of Austria, and painted many of his landscapes there. Even on his vacation,
Gustav Klimt
brought his unique approach with him. He would often use opera glasses, telescope, and even telephoto camera lenses to look at landscapes while painting, which helped him efficiently flatten deep space to a single plane.
For more
Google doodles
, visit
this page
.


Best Google doodle of 2012