It is difficult to say for sure, if Google has continued its focus on celebrating the football in the ongoing Fifa World Cup 2014 or is it trying to make a statement about leaving football out of politics with its World Cup doodle posted on Saturday. It has been a mixed bag for Google, where it tried to keep clear of making any statements on
Thursday
, and
Friday
by doodling about footballing skills and techniques after the
'Favela' Doodle
had rocked its boat with a string of football fans labelling it 'insensitive' to make light of the slums in Brazil.
Given that context, it is uncertain whether Saturday's World Cup 2014 doodle is all about football focus or about making a bold statement in favour of the people who have protested the corruption that took place en route to the World Cup 2014 in Brazil. The doodle depicts the first three letters standing with a boom microphone, a television camera and a microphone to interview the second 'G' on the sidelines of a football pitch. The last two letters are on the pitch looking at the interview happening and are presumably either players or a representation of the common man in Brazil. As the interview is on, the green and canary yellow ball comes flying and hits the second 'G' who is speaking to the television crew, thereby throwing his glasses off, which promptly land on the face of the second 'O' who is doing the interview.
There has been general dissent amongst the people of Brazil regarding the promises made by the politicians about providing a better living condition in Brazil post World Cup 2014. A huge section of the Brazilian population along with the international media have highlighted the problem of corruption in Brazil. Perhaps Google is continuing its focus on football by saying the players and football are more important than politics, which has already divided the population in two in Brazil.
The World Cup 2014 doodle number 20 reaches out to almost all the parts of the world outside parts of East, West and North Africa. Clicking on the doodle on the Google home page (www.google.co.in) shows the search results for World Cup 2014. This includes the latest upcoming games and results widgets and news from one of the biggest sporting events of the world. On Friday the biggest upset was caused in the Costa Rica vs Italy game, where the former stunned the latter with a 1-0 victory at the Arena Pernambuco Recife. In the other important game that was between France and Switzerland, France handed Switzerland a five goal trouncing beating them 5-2. The Jules Rimet trophy this time has serious contenders in the form of Brazil along with the likes of Germany, Argentina, France and the Netherlands.
For more Google doodles visit this page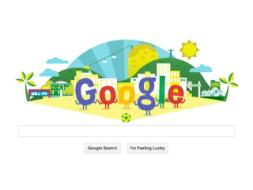 Google's World Cup 2014 Doodles
For the latest tech news and reviews, follow Gadgets 360 on Twitter, Facebook, and Google News. For the latest videos on gadgets and tech, subscribe to our YouTube channel.
Related Stories