The vanishing spray (used to demarcate the defensive wall) was one of the few new things that spectators got to see at the ongoing
World Cup 2014
in Brazil. And
Google
has chosen to highlight the spray (albeit in a slightly different manner) with its Brazil vs Germany doodle on Tuesday. The semi-final match, which is being dubbed as the final before the final, is expected to be a closely contested one given that both the teams are in the top five rankings under Fifa.
The Brazil vs Germany match doodle features the six letters standing in a line forming a defensive wall. The defensive wall is technically supposed to be 10 yards (9.15 metres) away from the ball. The green and canary yellow ball is seeing lying on the field some distance away. The letter 'R' which denotes the referee uses a vanishing spray can to draw the line, with the only difference being it is not vanishing spray but a can of shaving foam. It then proceeds to spray the same foam on the face of the first 'G' which sports a big beard and a handlebar moustache. It then removes a razor blade signifying that the 'G' needs a shave.
(Also See: Argentina vs Belgium Quarter-Finals Featured in Saturday's Google Doodle)
The Brazil vs Germany doodle is number 54 on the list of Google's World Cup 2014 doodles. It is visible in North and South America, as well as parts of Asia, Africa and Europe, along with Australia and New Zealand. It is not visible in Russia, North, East and West Africa and Central America. Clicking on the doodle one is taken to the search results page for the Brazil vs Germany match. It will be played at the Estadio Mineirao in Belo Horizonte. The two teams had last met in the finals of the 2002 World Cup in South Korea, where Brazil had clinically polished off Germany 3-0. Germany has made it to the semi-finals of the last four World Cups and have been described by the international media as 'Frighteningly Consistent'.
(Also See: Germany vs France Quarter-Finals Google Doodle Depicts Age-Old Rivalries)
In many ways the Brazil vs Germany match is one of unknown strengths and weaknesses for both teams to explore and exploit. For Brazil it is the short passing style combined with rapid pace and skills, while for the Nationalmannschaft it is about moving forward in a very close knit structure and even hounding in on attacking opposition players by using a three-on-one defending approach. Also with Neymar Jr. (the face of the World Cup in Brazil) getting ruled out for the rest of the tournament with a broken third vertebra and captain Thiago Silva missing a match due to a suspension, it will be an interesting battle to watch Brazil take on Germany. The match will be telecast live on July 9 at 1.30am IST.
For more Google doodles visit this page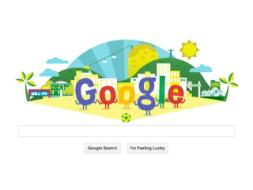 Google's World Cup 2014 Doodles
For the biggest CES 2021 stories and latest updates, visit our CES hub.
Related Stories