Google has been doodling each day of World Cup 2014 since its kick-off last week. Its doodles have showcased a slice of Brazil, featured animal celebrities, and most of all, given football fans a way to cheer for their favourite teams. Following the doodle of the animal oracle
Paul the Octopus
on Tuesday, Google's latest World Cup 2014 doodle offering depicts the streets of Rio de Janeiro. More importantly in a very subtle way, it brings to the notice of the world the rampant poverty in the favelas of
Brazil
, and how the people seek refuge from it in the game of football.
Wednesday's World Cup 2014 doodle shows a house block, with the letters of Google, sans the 'L', forming parts of the compact housing structure. The 'L', which has been the standout letter in most of the World Cup 2014 related doodles, is seen kicking the illustratively green and yellow football against a wall, which also happens to be the back of the letter 'E'.
On its World Cup 2014 doodles page, Google has captioned Wednesday's doodle, or doodle number 15, with 'Inspiration from the streets of Rio straight to the homepage.' The Rio de Janeiro doodle is visible to almost the entire world, except North and East Africa and a few parts in far East Asia. It has been sketched and designed by Matt Cruickshank.
A favela is the Portuguese term for a slum in Brazil. Despite the country's hosting of the World Cup 2014 being a celebration of life and football in Brazil, the harsh economic realities of the country also show it has an ugly side to it. The favelas that are spread in all the major cities of the country account for major crimes like gang wars, shootouts, cocaine trade amongst others.
Despite being a reminder of the unequal distribution of wealth in Brazil, the favelas that were the inspiration for Wednesday's World Cup 2014 doodle have their bright side, and developed their own vivid culture. Primary amongst them are the infusion of the music and dance forms Hip-Hop and Samba and Football. It is small wonder that the favelas, despite the squalid living conditions there, have been subject to much attraction in films. City of God (2002), Fast Five (2011), Elite Squad (2007) are some of the films that have featured the favelas prominently.
Clearly it is visible that Google, in addition to showing the joy associated with the beautiful game, is with its World Cup 2014 doodles also trying to highlight the problems that Brazil faces and how it turns to football in hope of redeeming itself.
For more Google doodles visit this page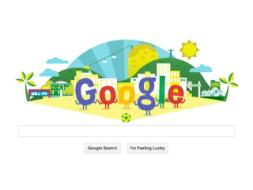 Google's World Cup 2014 Doodles