Google's latest doodle marks the 107th birth anniversary of American marine biologist, author and conservationist, Rachel Louise Carson. Born in 1907, Carson's work was mainly focused in the fields of marine biology, ecology, pesticides and nature writing. Rachel Louise Carson was also credited with bringing global attention to the problems associated with the conservation of the environment.
Rachel Louise Carson was born in Springdale, Pennsylvania and studied at the Chatham University and, later, the John Hopkins University. Her research into the harmful effects of pesticides on marine life came after studying the synthetic pesticides developed during the Second World War.
The doodle shows Rachel Louise Carson, standing amidst a vast expanse of marine and plant life and birds with a notebook, a backpack and a pair of binoculars. Google is written in the middle in a calligraphic font.
Carson's first book, The Sea Around Us, released in 1951 and was a bestseller. It also won her the US National Book Award. Her three books, The Sea Around Us (1951), The Edge of the Sea (1955) and Silent Spring (1962) were described as the Sea Trilogy. Silent Spring (1962) was a landmark as it led to the reversal of the policy on the use of pesticides.
Rachel Louise Carson's efforts were concentrated towards the direct ban of DDT. While she didn't live to see that, in the year 1972 the Environmental Defense Fund and other allied groups succeeded in securing a phase out of the pesticide. It also led to the formation of the Federal Insecticide, Fungicide and Rodenticide Act of 1962 in the US.
Rachel Louise Carson passed away in 1964, after having been weakened with her treatment for breast cancer she encountered a respiratory infection and eventually suffered a fatal heart attack on April 14, 1964.
Rachel Louise Carson was awarded the Presidential Medal of freedom posthumously by President Jimmy Carter.

For more Google doodles visit this page.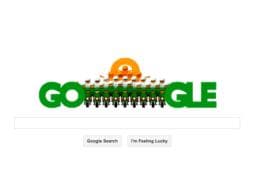 The best Google doodles of 2014
For the latest tech news and reviews, follow Gadgets 360 on Twitter, Facebook, and Google News. For the latest videos on gadgets and tech, subscribe to our YouTube channel.
Related Stories