After two days without a
World Cup 2014
doodle,
Google
has released its animated Germany vs France doodle on Friday for the much anticipated match.
With the World Cup Round of 16 elimination matches done, the focus shifts now to the quarter-finals. The first of which is one between age-old football rivals, the Germany vs France match, where both teams have lifted the Jules Rimet trophy before - Germany thrice, and France once. Germany will be looking to enter the semi-finals of the World Cup for a fourth consecutive time.
Friday's Germany vs France doodle depicts two beach houses with their owners - one wearing a French artist's cap and the other a hard hat. They both respectively set out to paint their houses in the colours of the French and German national flags. At this point, the two call out to their dogs who come running with green and canary yellow footballs in tow. The two go into their houses, and thereafter an antenna receivers prop up from the roof - indicating the duo are watching the match. The two houses form the two 'O's' while the remaining four letters are written alongside in the sky.
Clicking on Friday's World Cup 2014 doodle one lands on the search results page for the Germany vs France match. The quarter-final match will be played at the Estadio Maracana in Rio de Janeiro, which is one of the biggest stadiums in the world. Doodle number 48 of the World Cup doodle series is visible in South America, parts of North America, Europe, South-East Asia and Africa. USA and Russia along with East, West and North Africa do not fall under the purview of the doodle. The USA also celebrates its Independence Day on July 4, and Google obviously has a specific doodle for it - probably the reason as to why the country is not seeing the World Cup 2014 doodle.
Germany vs France matches have always brought along with them the feeling of patriotic fervour and the scars of the wars along with them. This is the fourth time in the history of the World Cup that the two nations are meeting again. The French go into the game with an edge with most players having had competent outings in earlier games. On the other hand, the German roster does appear shaky - especially with news that seven of the players are down with flu. The game will be telecast in India at 9.30pm IST.
For more Google doodles visit this page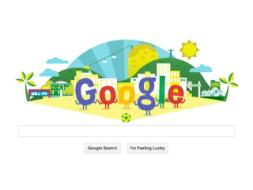 Google's World Cup 2014 Doodles
For the latest tech news and reviews, follow Gadgets 360 on Twitter, Facebook, and Google News. For the latest videos on gadgets and tech, subscribe to our YouTube channel.
Related Stories