Our Kickstarter of the Week column checks out the most innovative and interesting new projects on the crowdfunding websites. That's because in the last couple of years, some of the most exciting developments in technology, like the Pebble smartwatch and the Oculus Rift have come not from the established players, but from small teams with big dreams. We're watching out for what comes next.
Of course, the project you back might not get funded, and even if it does, it might not ship. With that caveat in place, we're still fans of the concept, and that's because it has led to so many interesting new gadgets.
Sometimes you come across a project that's incredibly impractical, but also undeniably cool, and that's where this week's pick, the tobyrich.vegas gaming drone fits. This project, from Bremen, Germany, uses drones that can be remote controlled using a smartphone or tablet, and come with a HD camera so you can see the air races and stunts from a first person perspective.
The drones are also meant for multiplayer fun - the software that runs them also includes a dogfight mode, which can predict the impact of make-believe rockets, so you and a friend can take to the skies to shoot the other plane down, without actually damaging your drones.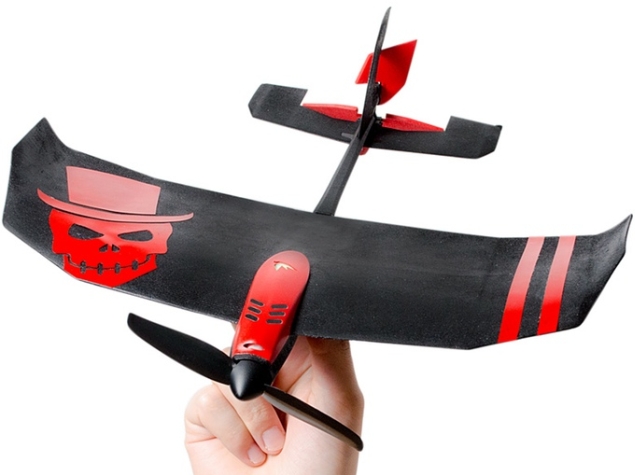 Unlike most drones, these gaming drones are not designed as quadcopters, but as planes. This means that you have less precise control over the movement of your drone - you can't hover in place or strafe, for example - but you'll be able to fly faster, for longer, and carry more weight. The creators also claim that these drones can be tilted and made to hover like a helicopter, but it looks less stable than a quality quadcopter.
You can have plenty of fun even with a single drone - stunt modes and GPS planned races are some solo activities you can set up with the drone, and there's also air-to-ground dogfights against virtual targets. And of course, you can make flybys and record your flights.
The drones have a flight time of 20 minutes with a range of 300 feet, and an emergency "return to pilot" feature so you don't have to worry about losing your drone. Rechargable via Micro-USB, the higher end model of the drone also has a "follow me" mode that will stay close to the phone or tablet that's controlling it.
You can see more details in the video below:
The project has so far raised a little over EUR 45,000 (approximately Rs. 31.5 lakh), against a target of EUR 100,000 (approximately Rs. 70.1 lakh). The project is accepting funding until August 29, so there's plenty of time to reach the targets. You can get the base model plane (which lacks GPS and follow mode features) for EUR 89 now (approximately Rs. 6,250), but after the first 1,000 are gone, you'll have to pay EUR 125 (approximately Rs. 8,750) for it. That's a pretty reasonable price for a fairly cool toy, particularly when you start checking the prices of (the admittedly more complex) quadcopters with cameras. The estimated delivery date is October 2015, with worldwide shipping.
To see more stories from the world of crowdfunding, check out our older Kickstarter of the Week articles.