Ford has been working hard at in-car connectivity for a while, with several models of its cars, including some launched in India, featuring 'Sync' and other such technology.
At
MWC 2014
however, the carmaker unveiled its new Ford Focus, which is stuffed with new tech, including an upgraded in-car OS, Sync 2.
Other new technology unveiled by
Ford
in the 2014 Ford Focus (which will be launched at the Geneva Motor Show, and released in the second half of this year) is an 8-inch high resolution touchscreen, Perpendicular Parking, Cross-Traffic Alert, Blind Spot Information System, City Stop, and My Key.
The 8-inch display is the touch interface for the new Sync 2 OS, which now also supports more natural voice commands. Apart from controlling navigation, music, and making calls, the OS also lets users read and respond to mails.
(
Also see:
Forget smartphones, 2014 set to be the year of smarter cars
)
An example of the more natural voice commands that Ford is touting would be when users say they are hungry, the Sync 2 OS suggests the nearest restaurants. The new navigation UI also so happens to include Michelin Guide reviews.
The new Perpendicular Parking feature is an addition to the Active Park Assist seen in previous iterations. It uses two sensors placed at the rear of the car to map out a parking space sufficiently to control the car's steering while the user works the throttle to ease the car into the slot.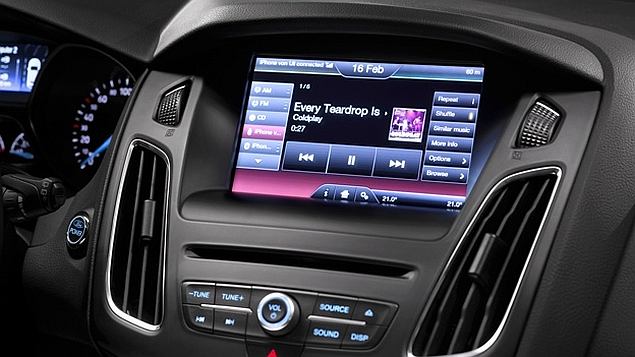 The rear sensors on the new Ford Focus also enable the Cross-Traffic Alert feature, which warns users of traffic while they are reversing. Other driver aids include an improved Blind Spot Information System that warns users on incoming traffic in blind spots, such as when changing lanes. The improved City Stop feature, which is meant to detect when a crash is imminent, now at up to 50 kilometres per hour, and will try to avoid obstacles if unable to stop in time.
The Ford MyKey technology in essence gives parents, or car owners the ability to set what can be termed as parental controls. This would allow users to control what other users (children, drivers) can access and set limits such as top speed, maximum audio volume, apart from enforcing safety features, and more.
Notably, before the unveiling of the Sync 2 in the Focus, Ford was
reportedly set to adopt BlackBerry's QNX
for its next-generation Sync in-car system, ditching Microsoft's Windows in the process. For now, whether Sync 2 actually features QNX technology has yet to be independently confirmed.
(
Also see:
Google, Apple and Microsoft set to battle for control of the car
)
Bloomberg, in a report citing people familiar with the matter, claimed that Ford has off-late been struggling with in-car technology glitches in the current system based on Microsoft's technology. The company reportedly hopes a switch to
BlackBerry's
QNX system will improve the situation.
"Ford works with a variety of partners and suppliers to develop and continuously improve our in-car connectivity systems for customers," Susannah Wesley, a spokeswoman for Ford, told
Bits
. "We do not discuss details of our work with others or speculate on future products for competitive reasons."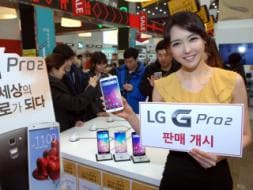 MWC 2014 in pictures