India's first premium electric smart scooter will soon be available for test drives by October or November this year, as the Bengaluru-based automotive startup Ather Energy gears up for the launch of its first scooter in 2016.
Ather Energy's first scooter, the S340, has received thousands of enquiries on its website, and will offer a test drive to potential customers starting with Bengaluru, followed by Chennai and Delhi. Co-founder Tarun Mehta said that the scooter will be priced under Rs. 1,00,000, with a formal price announcement likely three months from now.
The co-founders believe that this space is ripe for disruption, as locally available electric-scooters lack either the speed or the smarts, with a majority of them running on lead-acid batteries.
"Typically we have electric scooters which have a top speed of 25-40kmph, they have poor acceleration, and a battery life of 5,000-6,000 kilometres, and a 6-8 hour charging time. Unlike these, our scooter doesn't feel like a step down from a petrol scooter," Tarun Mehta said, speaking with NDTV Gadgets.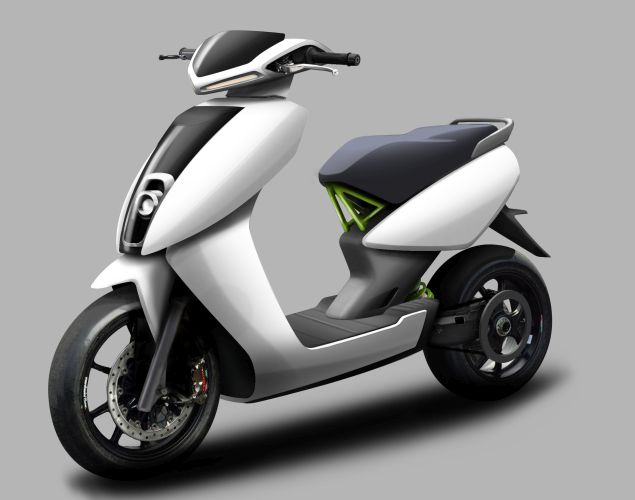 Ather's smart scooter is specced to deliver a top speed of 75kmph, and will do 0-60kmph in 11 seconds, have an estimated driving range of 50-100 kilometres, and recharge to about 90 percent capacity in an hour. The lithium-ion battery will have a life-cycle of 50,000 kilometres, with a lifespan of five to six years. "We don't let the battery charge up to 100 percent, otherwise you will just damage the battery for an extra 2-3 kilometres," Mehta said.
Ather has used a digital battery system, which gives a lot more control and feedback, enabling features like remote firmware upgrades. The battery pack is built out of the 18650 cell format, which is also used by Tesla on its Model S electric car. Compared to an elastic battery pack, Mehta said it offers higher energy density and is safer. He estimates that the S340's battery should be able to achieve two to three times the estimated life stated on the specifications.
"We've done a lot of interesting work with the battery management system, we've gone for a massive amount of integration, the BMS is integrated inside the battery pack, the battery pack itself is integrated into the vehicle chassis. That has allowed us to significantly cut down on costs, weight, and overall thermal performance." Mehta said. "Taking the heat off an off-the-shelf battery pack becomes quite difficult, you'll have to do a lot of retrofit around it. We've gone for a structural battery pack, which automatically allows us to improve cooling significantly. Had we taken off-the-shelf specs, we wouldn't have come up with similar performance specs at this price." he added.
Taiwanese company Gogoro launched its smart scooter last month at $4,100 (roughly Rs. 2,60,000). According to Mehta, the specs offered by Gogoro are about 20 percent more than the S340. While it will be priced higher than petrol-powered scooters, Mehta said that they're creating a whole new vehicle category, and therefore is not trying to match its pricing to the existing scooter category. "What we are trying to do is make sure the vehicle is priced below Rs. 1,00,000, including the price of the battery." he said.
The battery can be managed remotely using a smartphone, and will manage itself during long breaks in Vacation mode. The S340 also has an Android-based smart dashboard that helps with smart features like navigation and theft protection.
The company raised $1 million (roughly Rs. 6.3 crores) in a seed funding round led by Flipkart founders led by Sachin Bansal and Binny Bansal. Its most recent round was a $12 million (roughly Rs. 76 crores) funding round was a Series A from Tiger Global in May 2015.