A few days prior to the kick-off of the
World Cup 2014
, an incident involving a nine-year-old boy who had waited for hours to get Lionel Messi's autograph only to be turned down made news across the globe. Tuesday's Argentina vs Switzerland doodle by
Google
seems to be inspired by the incident.
Messi had gone out of his way to send a personalised jersey to the boy, helping him redeem his status in the pantheon of footballing gods for his fans. Tuesday's Argentina vs Switzerland doodle, for the match that will be played on Tuesday in the World Cup Round of 16 matches at the World Cup 2014, seems to be a homage to the incident.
The Argentina vs Switzerland match doodle has the first two letters standing on the football pitch (presumably fans) looking at the second 'G' who obviously represents a famous footballer. The last two letters are standing near the goal post. The 'L' appears to be holding a microphone in front of the 'E'. In the meanwhile, the second 'O' comes running up to the second 'G' (the footballer) with his picture. It gives the 'G' the picture which is promptly autographed (with the letter 'g') and given to the fan. The colour of the second 'O' also changes from a yellow to a sunset orange as it blushes when lifted by the 'G' and given a bear hug.
The green and canary yellow football also makes a cameo in the Argentina vs Switzerland World Cup 2014 doodle, once on the football field and the other in the picture that is autographed by the footballer 'G'. Notably, the colours of the two teams are also depicted in the doodle, however, in a slightly generic manner not actually highlighting the intricacies of the uniform - missing out the white in both.
The Argentina vs Switzerland match doodle is the 45th in the list of Google's World Cup doodles. It is visible in the USA, South America, parts of Africa, Asia and Europe. Surprisingly Russia has been left out and so has Canada. Clicking on the doodle link, one is taken to the Argentina vs Switzerland results page where the results of the matches, news regarding the World Cup 2014, players, teams and upcoming schedules are displayed.
In the matches played on Monday, France beat Nigeria 2-0 while the Germans secured a hard-fought 2-1 win over Algeria. The Argentina vs Switzerland match will be played at Arena Corinthians in Sao Paulo at 9.30pm IST.
For more Google doodles visit this page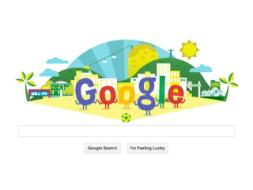 Google's World Cup 2014 Doodles