The
World Cup 2014
has provided plenty of inspiration to the Google doodle design team, which is currently stationed in Brazil, to come up with interesting
doodles
. The latest from its arsenal is the Argentina vs Netherlands doodle, which focuses on the 'Goal Line' technology. The technology made its debut in this edition of the World Cup. It is also important to remember that on Tuesday, for the Brazil vs Germany match,
Google
had doodled about the
vanishing spray
, which was used for the first time in a World Cup.
Wednesday's Argentina vs Netherlands 'Goal Line' doodle, shows the ball being struck forcefully at the second 'O', which is the goalkeeper, and makes a diving save to stop the ball. The other letters are depicted as mute spectators in the background. Even though the 'O' makes the save the ball just rolls over the line. An ant comes up and uses a measuring ruler to see whether the ball has crossed over the line or not and then declares it is not a goal.

The final image of the Argentina vs Netherlands doodle has a blue background with the ball in the foreground just over the line. The ant is standing with a red flag signifying that the goal does not stand. The Google logo is pasted in the far left hand corner in white. It is needless to say that the ball in question is the same green and canary yellow ball. The blue background is a sort of tribute to Argentina, which not only plays the second semi-final of World Cup 2014 on Wednesday but also celebrates its independence day on July 9.
The Argentina vs Netherlands doodle is number 57 on the list of Google's World Cup 2014 doodles. It is visible in North America, Australia, New Zealand, and parts of South America, Europe, Asia and Africa. It is not visible in Central America, Russia, North, East and West Africa, parts of far South-east Asia, and Brazil. There is also another doodle, number 58, which is visible only in Germany. It has the word 'Finale' celebrating Germany's entry, for a record eighth time, in the finals.
The Argentina vs Netherlands match will be played at the Arena Corinthians in Sao Paulo. Argentina have made it to the semi-finals after 24 years, while Netherlands have been the runners-up in the previous edition of the World Cup. The focus however, continues to be on the first semi-final and the German team that annihilated Brazil on their home turf by a record score of 7-1. The game was wrapped up within the first half-hour when Germany had scored five goals and had fans of the host nation weeping. Amongst others, Miroslav Klose, Germany's famed striker broke the world record for most number of World Cup goals when he scored the second goal of the night against Brazil. Others who made it to the scoresheet included Thomas Muller, Toni Kroos, Sami Khedira and Andre Schurrle. The Argentina vs Netherlands semi-final match will be telecast on July 10 at 1.30am IST in India
For more Google doodles visit this page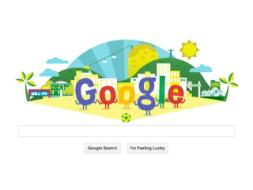 Google's World Cup 2014 Doodles