Tech giants Apple and Google posted tributes to Nelson Mandela on their respective home pages on Friday.
Mandela, South Africa's first black president and one of the towering political figures of the 20th century, died Thursday aged 95.
Google's home page features the words Nelson Rolihlahla Mandela, 1918 - 2013 below the usual Google Search and I'm Feeling Lucky buttons. The phrase Nelson Rolihlahla Mandela is linked to the Nelson Mandela Centre of Memory website.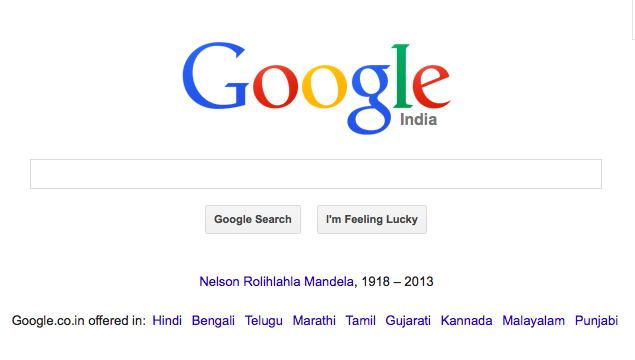 Apple's home page features a picture of Nelson Mandela with the words Nelson Mandela 1918-2013. The page usually features recent Apple launches or any other product that the company may want to highlight.
Apart from the companies' official tributes, senior executives from both Apple and Google took to Twitter to share their personal thoughts.
Apple CEO Tim Cook called Mandela an "amazing human being", a "champion of freedom and human dignity" and someone who "set an example for all of the world".
Google Executive Chairman and former CEO Eric Schmidt said he was "in awe of all that Nelson Mandela did to push forward humanity."
Another Apple executive, Senior Vice President Phil Schiller, used a quote from the famous speech that Mandela gave when he was sworn in as the President of South Africa in 1994.
Mandela, who was elected South Africa's first black president after spending nearly three decades in prison, had been receiving treatment for a lung infection at his Johannesburg home since September, after three months in hospital in a critical state.
His condition deteriorated and he died following complications from the lung infection, with his family by his side.
With agency inputs
For the latest tech news and reviews, follow Gadgets 360 on Twitter, Facebook, and Google News. For the latest videos on gadgets and tech, subscribe to our YouTube channel.
Related Stories