Anna Atkins, noted English botanist and photographer, is the subject of Monday's
Google doodle
. Atkins is often considered to be the first person to publish a bool illustrated with photographic images, while some also claim she was the first woman to create a photograph.
Anna Atkins was born in Tonbridge, Kent, United Kingdom in 1799. Atkins "received an unusually scientific education for a woman of her time" thanks largely to her father John George Children,a scientist of many interests. In 1825 Anna Atkins married John Pelly Atkins and Anna continued to pursue her interests in botany, indulging in activities like collecting dried plants.
Anna Atkins became friends with William Henry Fox Talbot, the British inventor and photography pioneer who invented the calotype process, which is regarded a precursor to photographic processes. Anna Atkins learned about the calotype process and the photogenic drawing technique from Talbot, with the latter involving placing an object on light-sensitised paper, which is then exposed to the sun to produce an image.
Atkins self-published her photograms in the first instalment of Photographs of British Algae: Cyanotype Impressions in October 1843. Anna Atkins produced a total of three volumes of Photographs of British Algae: Cyanotype Impressions between 1843 and 1853.
Copies of Anna Atkins' work is now held at the British Library in London, Kelvingrove Art Gallery and Museum in Glasgow, Metropolitan Museum of Art in New York, the New York Public Library, the Royal Society in London, Victoria & Albert Museum London, and the Linnean Society of London.
Anna Atkins published various other books, including non-photographic work. Atkins died at the age of 72 of "paralysis, rheumatism, and exhaustion."
For more Google doodles, visit this page.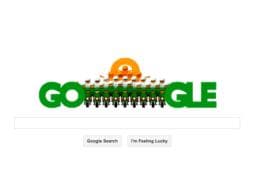 The best Google doodles of 2014