Still waiting for Xiaomi's air purifier to be launched in India? A social enterprise built around an ethos of frugal innovation called Smart Air is disrupting the air purifier space in India with a DIY kit priced at Rs. 3,399, almost half the China price of the Xiaomi Mi Air Purifier 2 (the India price will likely be higher, if the product even launches here). What's more, the test results published on the Smart Air website claim it's as good as the most expensive brands in the market.
Xiaomi, no stranger to price disruptions, is one of the cheapest air purifiers in this category. Air purifiers are expensive in India - they range in price from nearly Rs. 17,000, up to Rs. 40,000. So how is Smart Air priced at Rs. 3,399? The company is also selling a one-year kit, with six HEPA (high-efficiency particulate air) filters, at just Rs. 8,394. Jay Kannaiyan, India Head at Smart Air Filters spoke to Gadgets 360, sharing the story of the company's origins and its operations in India, and its future plans.
"This is frugal innovation. People ask us why is this so jugaad? It's because we're breaking down this concept to its basics," he says. "It's just enough. It's not putting any glitz and glamour on it. It's minimalist. It has no buttons, no LED lights, and it just works."
(Also Read: Sick and Tired of Coughing? These Gadgets Can Help Deal With Air Pollution)
Smart Air's founder, Thomas Talhelm, a PhD student in China experienced Beijing's 'Airpocalypse' in 2013, when starting looking at air purifiers to buy one to protect himself. Talhelm realised he needed one for each room, and replacement filters for each of them. It would pretty soon end up costing around Rs. 2 lakh. He realized that's crazy money for an average person to cough up, so then he researched purifiers and found out that there's nothing much in an air purifier, besides a HEPA filter and a fan.
So he sourced the HEPA filter from Chinese e-commerce website Taobao, strapped it to a fan, bought a Dylos laser particle counter, and verified that there was a dramatic drop in PM 2.5 particles within an hour. After running the same tests for 8 hours, he saw that the levels dropped to within the acceptable guidelines from WHO.

That was the start of Smart Air in China, and now the device is also being sold in India, because the conditions here are similar, or even worse, in some places. "The contraption that he put together cost him about $33, so he wondered why other companies are charging hundreds of dollars for this thing," says Kannaiyan. "It seems almost criminal. He started doing workshops around Beijing to tell people about his discovery, and it took off."
Launched in September 2013, Smart Air has sold 15,000 units across 16 countries from China, Mongolia, the US, Australia, Middle East, and India.
Kannaiyan and his fiancee were two of the many people suffering from the pollution in Delhi, and when he heard about Smart Air, he reached out to Talhelm. "It was extremely terrible for her, almost so bad that she had to leave Delhi for a few weeks," he says. "She ordered some of Tom's filters in China, and struggled to get them through customs. We started using them at home, and we noticed that it started turning black right away, within an hour. I got really convinced and reached out to Tom, and it grew like that."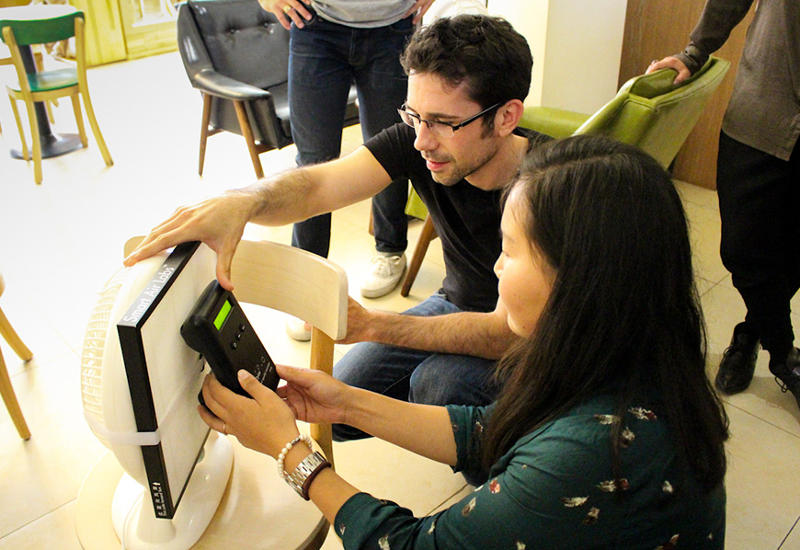 The unit is small, and doesn't make much noise, but removes a significant amount of the particles in the air, Kannaiyan says. "It's actually its a very nice noise. It's a very very dull, white noise that blends in to the background," he says. "It's not much more than an AC in summer, it's much more silent than an exhaust fan. If you can tolerate that in your kitchen or bathroom, this will blend into the background easily."
(Also See: Eureka Forbes Aeroguard Air Purifiers Review)
Smart Air started its India operations in July this year, it is currently being managed full-time by Kannaiyan and Behzad J. Larry, with two more people working on a consulting basis.
"It's been about three to four months to get to where we are now. To get the company registered, to get all our bureaucracy filed away, to source the HEPA filter in India, and source the fan locally," Kannaiyan adds. "To figure out all the little nitty gritties, make an online store, make the payments work, all these are small things, but they take time."
The team expects its products to be listed on Amazon and Flipkart before the end of the year. For now, orders can be placed on its own website, with payment options covering cash on delivery. The company can ship anywhere Fed Ex delivers.
Smart Air India sources its HEPA filter from Bengaluru, to save on shipping costs. Kannaiyan said that the team spent three months searching for a proper HEPA manufacturer who can make a filter that works with a small fan. "We could have easily sourced this from China, but there's always a two month delay from when we place the order and when we get it in India. So we didn't want to rely on that," he adds.