Bengaluru-based Ather Energy has been teasing the S340 - billed as India's first smart electric scooter - for a while now and many have been waiting for a chance for a test ride. The startup's first smart electric scooter was unveiled at the Web Summit Surge conference in Bengaluru on Tuesday.
In a previous interaction with Gadgets 360, Ather Energy founder co-founder Tarun Mehta spoke about some of the design philosophies behind the scooter, as well as some of the challenges the company faced in cutting down on its cost and weight, and in extending the battery lifecycle.
While a test ride wasn't on the cards at the company's headquarters on Saturday morning, Mehta did share details of the dates for pre-orders, as well as a timeline for production and launch cities for the S340, detailing plans of its software features, such as personalised profiles, riding modes like sport and economy, and onboard navigation.
Under the hood: Ather Energy S340 Connectivity and dashboard features
Billed as a smart scooter, the S340 has GSM and Bluetooth connectivity. The startup has made a decision to move from Android to Linux for the dashboard operating system. While we weren't shown the dashboard, a spokesperson later confirmed that it would use Google Maps for navigation through the web browser.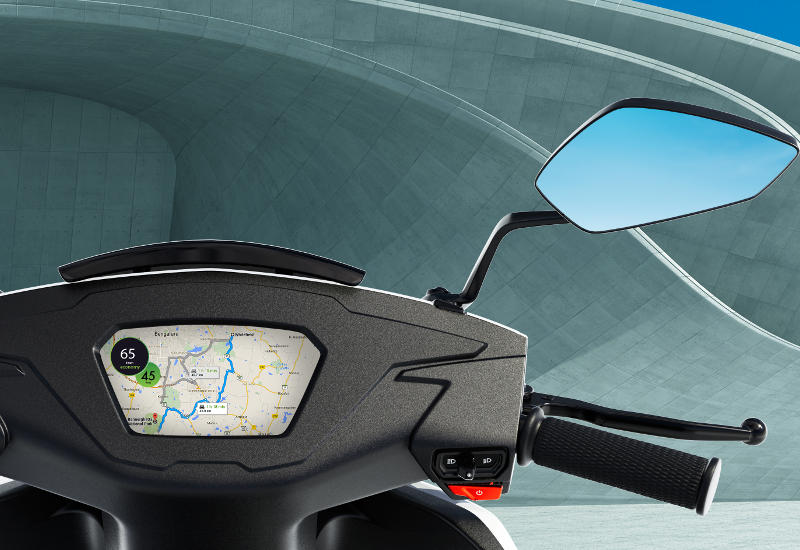 "It doesn't really change much for developers, because the apps are still HTML 5 apps. Internally things haven't changed dramatically," Mehta explains. Users will be able to track the vehicle using their smartphones, remotely control and monitor the vehicle, enable fast charging by using a a slider on its app. "You could create custom riding profiles from your mobile phone itself, so that when the vehicle starts, on your profile, those settings will already be pre-saved. So you can specify, what kind of acceleration response, top speed you want, and then save them on your profile, and then go to the vehicle, and select your profile again, those are the exact settings you will find."
Apart from vehicle location tracking, a lot of work has gone into providing vehicle analytics to the rider, on the dashboard and on its app. Users will be able to extrapolate their average driving speed. Mehta says that the team working on the data analytics love building their own profiles on the prototype, to gauge their energy efficiency.
"There's this one guy who's basically like a racer - he does the testing most of the time. If you see his throttle response, it's either 100 or zero," says Mehta. "He always does the fastest laps, but his energy consumption is nearly 80 percent more than another another guy who rides very sensibly, but takes 15 percent lesser time." Vehicle analytics can read skid patches, and help inform the user if they are an unsafe rider who takes sharp turns, Mehta says, adding that good riding behaviour would not influence just the battery lifecycle, but other components as well. "It's a long term thing, but the sheer power of what data can do for you is sort of hitting everybody in this team now, it's gamifying the experience," he says.
Mehta also says that the S340 will have remote diagnostics enabled, with sensor data from at least four of its components (battery, motor, charger and the vehicle control unit) so they can inform the rider when a replacement is due. "Electric drive trains already have most of those sensors and data logging happening inherently," he says. "You just need to start tapping into it, and pile up software and intelligence on top of it, to come up with outcomes like this. As we get more and more data from the vehicles, our understanding and insights on this is only going to get far deeper."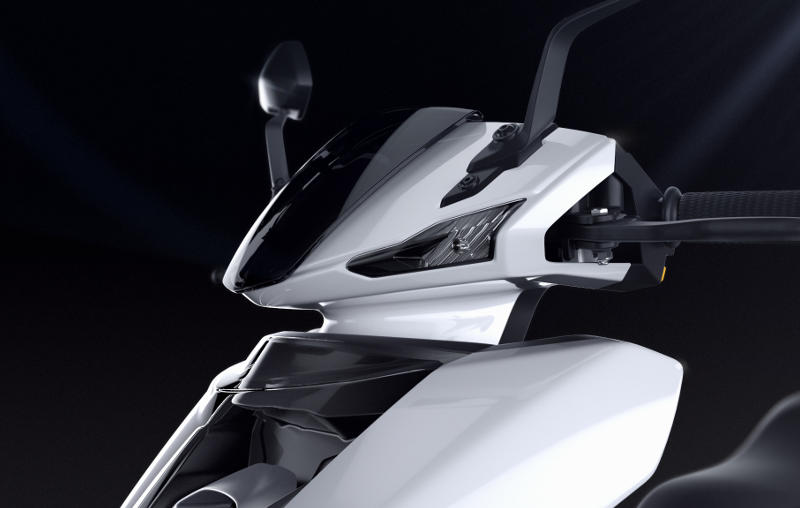 In our last interaction, Ather Energy had quoted a range of 50 to 100 kilometres on a single charge. Providing an update on its range, Mehta says that the S340 would probably end up covering 65 kilometres in the city on a full charge. With an additional rider on the back, the range would drop by approximately 15 to 20 percent. "If you ride carefully, more like 70-75 kilometres, though 65 is more realistic, even assuming you ride at good speeds and acceleration, with the assumption that the dashboard and headlights are on," he says.
The batteries used onboard the S340 have are specced at a thousand recharge cycles approximately, following which it will lose 20-30 percent of its original capacity, Mehta says, adding that users with short commutes will be able to extend its lifecycle. "The way lithium-ion batteries work is that if you do partial discharges, your battery lifecycle actually becomes more. It's hard to guess, how many cycles a hyper-efficient rider can extract out of it," says Mehta.
"If I were to take a guess, probably 1500 to 2000 recharge cycles," he says, adding that the company takes battery safety very seriously. "The battery pack, encased in an aluminium block that's completely sealed, and waterproof, and functions three metres under water," he says.
Ather Energy S340 launch cities and availability
The S340 will be available for trials and pre-orders in about two and a half months, at experience centres owned and operated by the company. "By the end of the year is when we'll start shipping. We're already in February, and March starts soon," says Mehta. "A few months from now is when we start the preorders and the test trials, and five to six months from there is when we start shipping."
The S340 will first be available in three cities - Bengaluru, Pune and Chennai. The company will have service centres and experience centres operating in these three cities, Mehta says, where people can come and take a test ride.
"We just want to make sure that wherever we are, we can do good servicing," he explains. He adds that the service centres would be the kind of place where users can walk in and speak to engineers to understand the technology going into the vehicle. "The connectivity, dashboard, how the analytics will work out, the speed and acceleration, how do you change the settings in software, apart from taking a test ride," he says.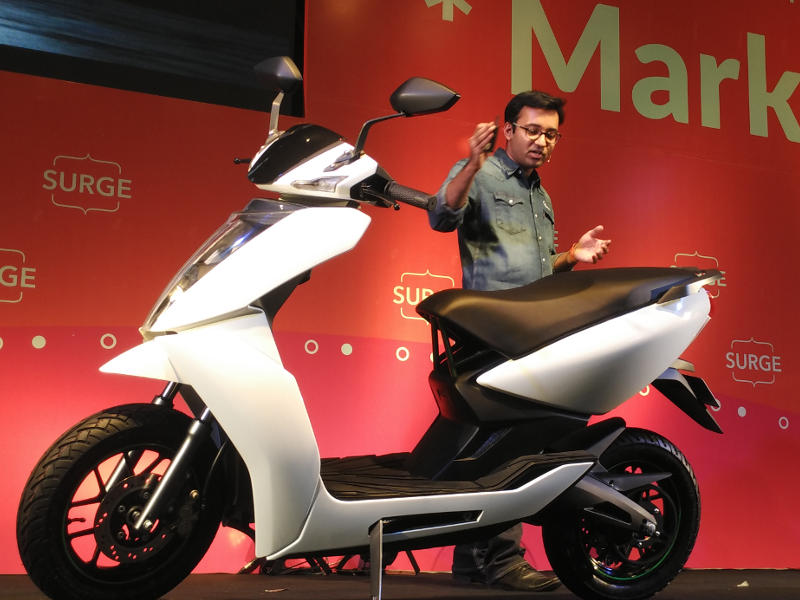 By the end of 2017 and end 2018 the startup plans to expand in phases, from 10 to 50 cities, after testing the vehicle in these locations. "Over the next three years, we will be in several more cities," Mehta says. "The next product that we're putting out is aimed at working in these 20 different cities, it will be tested in a lot of those locations, we will follow up with sales and support in those areas before we reach those places."
Ather Energy S340 production and manufacturing
Weighing in at 85 kilograms, the S340 smart scooter has been designed in-house, and every component (with the exception of the motor) is custom designed by Ather Energy, including the rim and the side-stand. These components needed to be redesigned to be as lightweight as possible.

"The rims specifically for lightness. The chassis for the most part is aluminium," Mehta explains. "The philosophy behind that is that lightweight is important, any extra material that you ramp on is wastage. We redesigned the side-stand, because we did not like any in the market - ours is flush with the body, it merges very well with the overall body, went with our design language."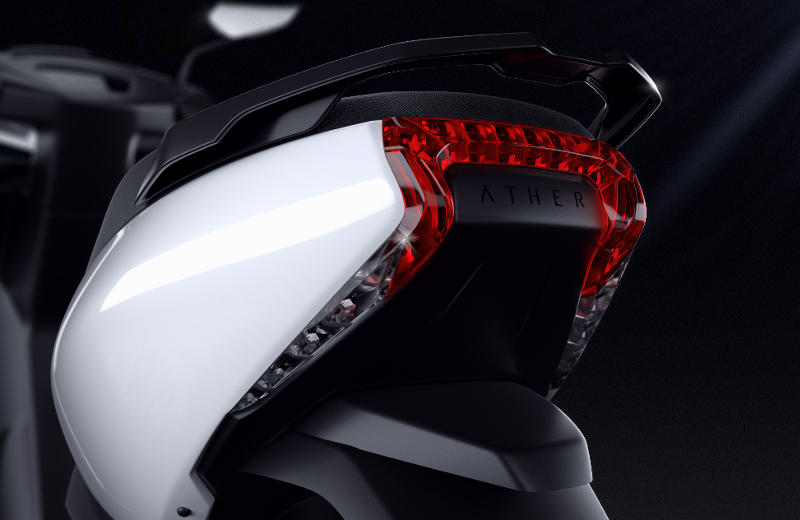 The startup has taken up a plant for assembly in Whitefield, Bengaluru, to keep production as close as possible to the design centre, and ensure that anything that needs sorting can be handled by the design team in a few hours. While the manufacturing of its components are being outsourced, the scooter is completely assembled, built and tested in Bengaluru. The battery pack is also completely assembled and built by the startup. "Right now we are building it up for 50 units per day capacity, we'll probably start ramping this sometime next year as we start planning for the next stage," Mehta says.
On competition and product-market fit
Ather Energy isn't too concerned about competition from other automotive manufacturers, and instead welcomes more players to drive an ecosystem of electric vehicles, which would only improve a case for installing charging infrastructure for them.
"Though there have been concepts from TVS, Hero, and Mahindra, I don't see anything in the immediate horizon. Nothing that seems to have gone into production. I guess we should start seeing something realistic by 2017 end, and mid 2018 maybe," Mehta says. "What we're trying to build is something that we genuinely believe that the mass market can adopt. Anybody who buys a petrol scooter, or any kind of two-wheeler, these specs will make the most amount of sense for them."