Walking into a factory in the Bommasandra Industrial Area of Bengaluru, you're faced with a rush of loud noises as heavy machinery stamp, press, cut, and shape a variety of parts that are used by the automotive industry. Showing Gadgets 360 around is Zubin Jagtiani, the Executive Director of Sealtite, which owns the factory. He's wearing a hard-hat as we talk, but the hat he's donned to speak with us is that of COO of Think7, an industrial automation company that he believes can change the way factories run in India.
To show what he means, Jagtiani pulls out his iPhone, and launches Safari. He opens a website and signs in, and then shows a graphical representation showing the various machines on the floor. Next he taps one of the icons, and then taps a button that pops us. Instantly, the machine nearest to us stops working. The employee sitting and monitoring the machine looks at the readings, wondering why it's stopped, before noticing that it's been cut off remotely.
As demos go, it's a quick and effective way to show how you can control an entire factory directly from your phone, but simply switching machines on and off isn't what makes things interesting. Instead, it's the fact that this same interface also gives you all the tools you need to manage every aspect of the factory, and it can be accessed from your computer, phone, or tablet, whether you're standing on the shop floor, or are at home far away.
"One of the biggest problems when you're running a factory," explains Jagtiani, "is that you spend a lot of time managing paper, and tracking the information flow becomes a challenge. You need to know things like the failure rate of a particular machine, you need to know the number of parts produced, you need to track how long production takes, and typically, if you go to any factory, this is done with lots and lots of paper."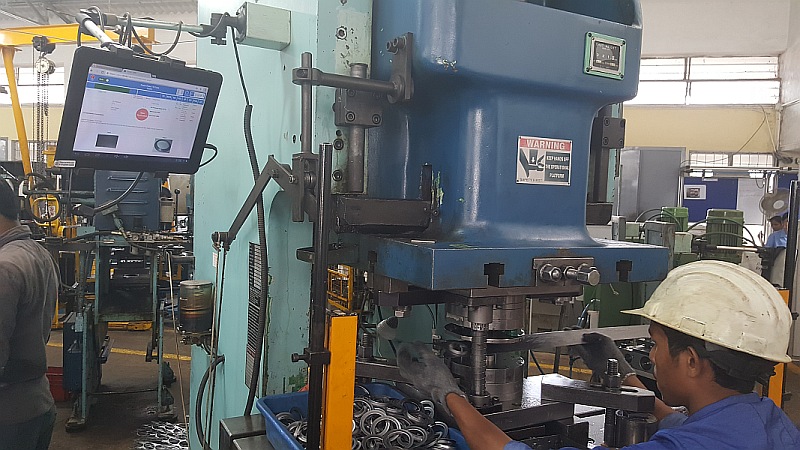 The problem is that when people are entering the details manually, there will be some errors. When papers are being moved from place to place to give the tallies to management, they will be lost. "You can get all sorts of systems in place to manage the work, but the system and the reality are not close together," Jagtiani adds.
He believes that we are now living in the era of Industry 4.0 - from steam-powered machines, to the assembly line, to IT (for management), to now, a time of widespread machine intelligence. The idea behind Think7 is to improve quality management in manufacturing using IoT devices to improve the OEE (overall equipment effectiveness) of factories. As we move over to his office, the factory supervisor taps a few buttons on the same Web interface using his desktop PC, and the machine jumps back to ilfe.
A smarter factory
That's where Think7 believes it can make a difference, with a product it calls the Piston. This is a small device that can be attached to a wide range of factory machines, and then links all the information together into a single window that can be accessed by the factory's management to improve efficiency and get better results.
Right now, this kind of automation is being done by big companies like Honeywell, but Think7 is bringing similar technology for a fraction of the price - instead of spending lakhs on automation, a compnay needs to pay roughly Rs. 10,000 for the software, and also pay for each Piston it's using, though there are different slabs and so the actual price will depend on the number of machines and the exact solution a company needs.
"Most people in this space are still operating by old rules, but with the cloud it's become much easier to deploy quickly," says Jagtiani. "People haven't woken up to the fact that it's the App Store model now - with the tools now available, we can reach a much bigger range of customers and so we don't need to charge as much."
The way it works is fairly simple - industrial machines come with control panels that are used to connect them to the factory floor, where networking and other cabling comes in. The Think7 Piston sits on top of the controller, and connects to the Internet over a wired connection. It looks like just another switch inside the hardware, and allows all the functions of the machine controller to be operated remotely.
"Let's say we're talking about a small factory with four engineers and one manager, who are looking at 100 machines," he explains. "The engineers will go from machine to machine manually, and they will check the production, and ask each operator for details."
"Now the operator will report stuff like power failure, or material shortfall, but if it's something that was his responsibility, the engineers might not hear about it," he says. "Then say a shift works too fast. It's the night shift, and they don't want to work through the whole night, there are no supervisors. So they rush the work to finish quickly, but the parts need to be prepared at a certain speed to maintain tempreatures and stresses. Visually, the part will look fine, but there will be internal defects that will cause failures in the field."
The Think7 Piston takes the human element out of these reports - instead, you can see real time data on how each machine is operating, look at its efficiency, and measure time on production and machine use. And the whole thing can be viewed remotely.
"If something took 6 minutes to make, you'll see that the machine was operational for that entire team, the feeds were coming in properly, and the output meets your control plan," Jagtiani adds.
The result of this is that through a secure Web platform, Jagtiani can control his factory, and shows us details of how it's working.
Changing industry
Think7 is focusing on the automotive space with the Piston, though the company says that it will eventually look at other areas too. "One of the advantages is that it's a highly standardised industry," explains Jagtiani. "There are international standards you have to follow, and a brake in Chennai or an engine block manufactured in Germany are going to be made to the same exacting specifications. This makes it easier to streamline our offering, though of course we will look at other industries too."
For now, Think7 is growing rapidly, nearing 50 clients who are using the Piston. The early journey was a little difficult though, as industrial automation was seen to be the domain of just a few huge companies. "At first people were very skeptical, and I can tell you of people who went ahead and spent as much money for automating a single line as it would have cost to automate their entire factory with us, but that's slowly changing," Jagtiani says.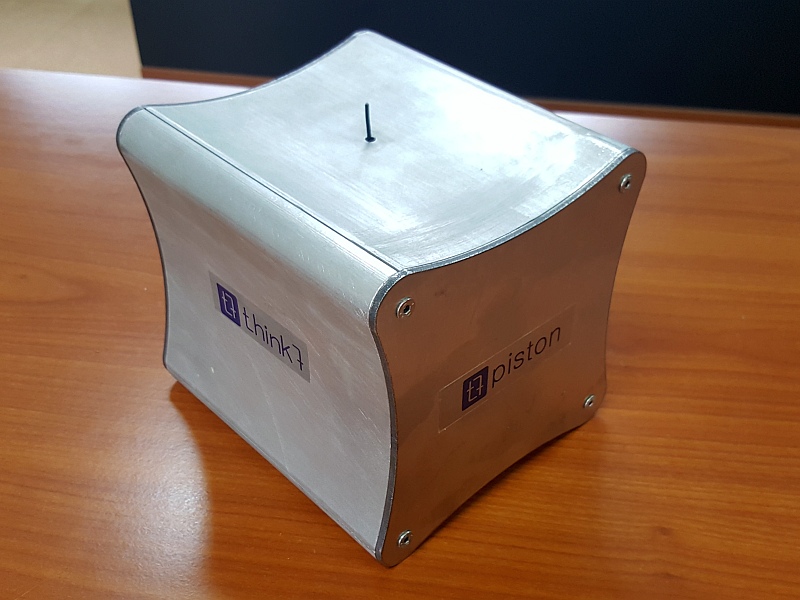 Part of the reason is that the company has gone through some rethinking of its product. When the Think7 Piston was first designed, Jagtiani wanted to make a gadget that would look like a consumer product. The result is a beautiful, and heavy, metallic cube that he envisioned sitting on top of factory machines it would control. However, the large size of the enclosure, along with the high cost involved, was a problem.
"So after that, we moved to a more streamlined enclosure that we were making in China," he says, showing us the two designs. The second generation Piston is much plainer and smaller - an electric blue cube with an antenna sticking out of it, that would still not have looked out of place in someone's home. But both these things, it turned out, were still problems.
"We'd brought the price down, and it was much sleeker, but we met a potential customer, and he had a problem with it because we had Wi-Fi as a connection option," he says. Wi-Fi can be a cause for concern due to interference, and security issues, Jagtiani explains, but says that the Piston was using the Zigbee protocol which does not have these issues. Nevertheless, Think7 couldn't ignore customer feedback.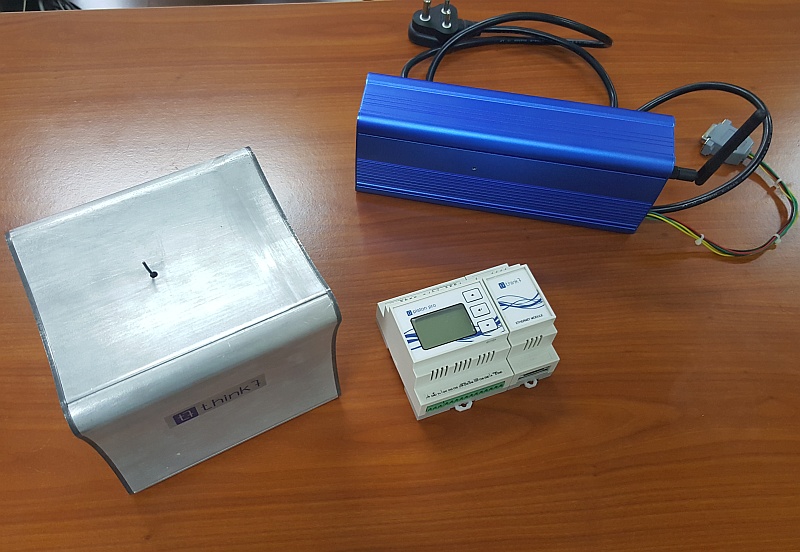 The other feedback it was getting was that the Piston didn't look industrial enough. Faced with these issues, the team went back to the drawing board, and the result is a device that just looks like a switchboard. There are a few lights on the device so that an engineer can take a reading without having to look at a terminal, but this change seems to have made a big difference, as prospective customers were far more comfortable with the more "industrial" look, Jagtiani tells Gadgets 360.
"The software works out of the box and is customisable, so we don't really have to spend much time - there have been customers who got their entire automation done in less than a week," says Jagtiani. "Now, we're working on making it more visual, adding more dashboards and snapshots to make it even more useful."
With these changes, Think7 hopes that the "shopfloor on the go" will see more widespread usage, and will lead to uptake from smaller enterprises as well. It's been growing fast, and hopes that it can usher in Industry 4.0 in India with these improvements and more, over time.