"Sitting is killing you."
All of us have probably come across this hyperbole at some point, but like many misleading headlines, there is an element of truth hidden beneath the bait. A survey of 800,000 people revealed that sitting for long hours increases the risk of diabetes by 112 percent, heart disease by 147 percent, and death due to cardiovascular events by 90 percent.
Many of us sit in front of a computer for long hours without breaks as part of our jobs and that can lead to a good many health issues. Dr. Seema Grover, Chief of Physiotherapy and Rehab at Apollo Hospitals, tells Gadgets 360 that while sitting, we place an unusually high amount of stress on our spine. "Biomechanically the spine is loaded over 7 times while sitting [when compared to the load while standing]. Wrong posture is common while sitting," she says, adding that good posture is necessary to avoid putting too much stress on the lower back.
Fitness apps and gadgets have tried to get people to be fitter but there remains a big question mark over their utility. There are many ways to avoid sitting for too long, and this can also help cut down on eye-strain. Taking regular breaks remains an effective solution, but for many people with demanding jobs, this may not always be possible. How about working while you're standing? It's a growing trend in the West, and working on standing desks could yet catch on in India.
Gadgets 360 spoke to a few people in India who have switched to standing desks, and the recurring theme appears to be one of backaches that prompted them to switch. Rohin Dharmakumar, co-founder of Owntastic - an early stage mobile startup based in Bangalore - says he has a weak back and he used to find it very hard to sit for long.
"Our backs were never designed to take that strain [of sitting] through the day. The reason why standing is good is your legs are built for that," he believes. Dharmakumar switched to a standing desk around a year ago and he says he doesn't suffer from frequent aches anymore. "Sitting is an unnatural position. Standing is more natural. Your weight is distributed evenly through the body," he says.
Suhail Kazi, founder of Firdos - a startup that sources fresh farm produce and delivers it to your homes - is another person who claims to have benefited from switching to standing. "As a software engineer my job used to involve sitting at a desk - sometimes coding straight for up to 12 hours," says Kazi. "Even with the frequent tea/ water breaks, naturally it took its toll on my back. It gave me a mild but consistent lower back pain due to a minor slip in spine disc."
"Like a slow-boiled frog, I must've lived with this condition for 3-4 years until I switched jobs which involved not sitting in one place for long stretches. I was travelling and moving everywhere. Within weeks I realised that my back pain disappeared," Kazi adds, explaining why he chose to switch to a standing desk.
Where to get a standing desk?
Buying a standing desk in India means turning to a company like Ergotron. The manufacturer has a presence in India through resellers. Michelle Judd, Director of Global Communications for Ergotron, told Gadgets 360 via email that a growing number of people want to switch to standing desks. "In a 2013 survey Ergotron conducted, 70 percent responded they would use a sit-stand desks if their employers offered it," Judd says. "They understood that being able to self-manage body stress associated with prolonged sitting is a good thing, and if it keeps workers engaged in the work at hand versus spending time away from their desk for symptom relief, it is good for the business as well."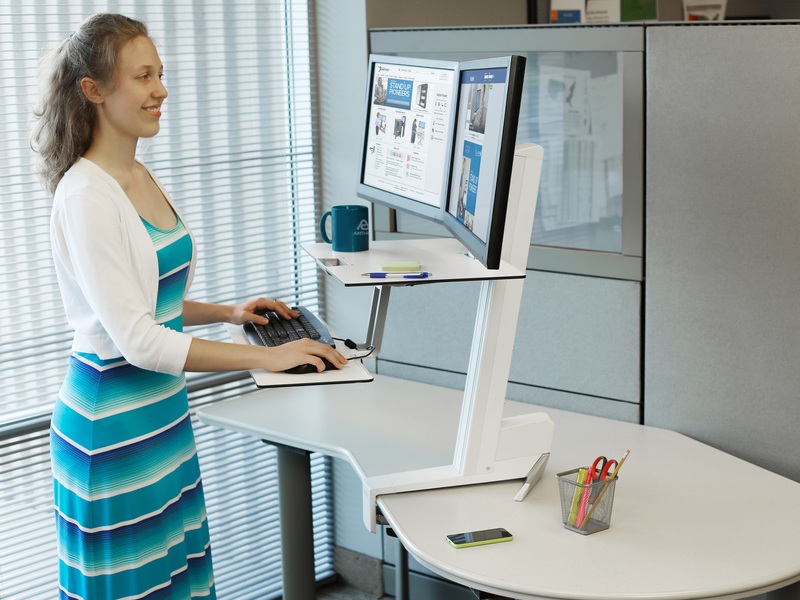 Dharmakumar says that for him, staying in any one position for too long puts stress on the body. "Your best position is your next position," he quips. "When you're standing, you keep changing position." This, he says, is much better for the body. Good posture is vital, whether you're sitting or standing. Dr. Seema Grover agrees with this idea. "Your abdominal muscles and extensor muscles need to be strong," she says. "If these muscles are loose, then one is more likely to have bad posture." Strengthening these muscles is important if you want to avoid chronic back pain and variance in posture helps prevent aches, Dr. Grover says.
The switch from sitting to standing is not easy. In the first few weeks, you will face a lot of aches as your body takes a while to adjust to its new posture, Dharmakumar says. He recommends buying a standing desk mat, which makes standing a lot more comfortable to ease the transition. According to him, the best standing desks are motorised - the ones that can be raised when you want to stand and lowered when you'd like to sit. These are expensive though, like many of the best standing desks available abroad. So Dharmakumar decided to make one on his own.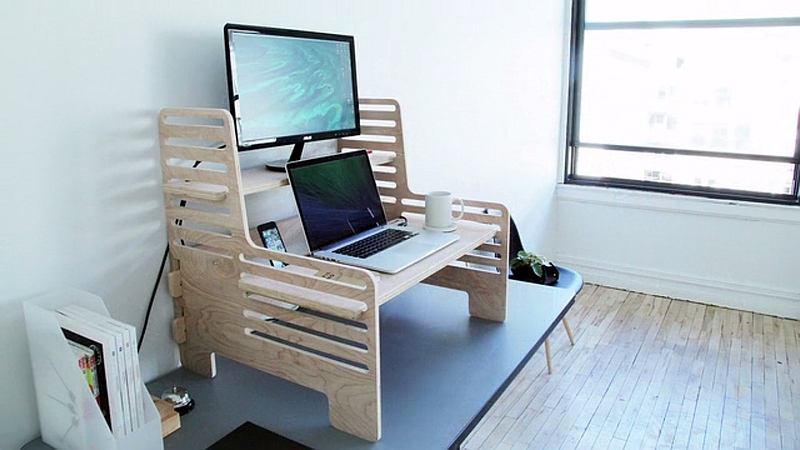 He backed a Kickstarter project called Upstanding desk and bought the design for roughly $50 (approximately Rs. 3,200). He took the engineering drawings to a computerised CnC shop in Bangalore and got the desk made. The price was around Rs. 10,000, a fraction of what it would have cost him to import a standing desk.
Kazi says that many standing desk users prefer going the DIY route due to the high costs of imports. "The thing about standeskers is that you'll find most of use jerry-rigging our contraptions -- inverted laundry baskets, stack of cartons, study table on top of office or dining table (me!) etc," he says. "All due to the fact that most western solutions or proper standing desks are way too costly - especially for us Indians, if you consider landing cost after transoceanic shipping of bulk furniture like that. I wanted something simple in 5-10K INR range."
Kazi reiterates Dharmakumar's point - that the desk needs to be height adjustable. "All a standing desk needs is a height adjustable mechanism. Costly desks out there are costly because they all use stepper motors and associated gadgetry and carpentry to enable it," he says, adding, "I wanted something without wires, something that could be easily moved and if required can be instantly switched down to sitting mode."
For this, he came up with his own design, "using an office chair's wheel base to keep the stand movable, special heavy duty hydraulics to adjust height (no motors/ wire, no power consumption) and a rotating tabletop which allows easy sharing of ideas/ screens," says Kazi. "I haven't seen any [standing desks with] rotating tops like mine out there in the wild."
On the other hand, while Ergotron has a presence in India, the company wasn't able to tell us about exact sales numbers in the country. Michelle Judd wrote in an email to Gadgets 360: "The WorkFit line is Ergotron's fastest growing product segment in India and around the world. Since Ergotron sells through distribution to IT resellers, therefore we do not have insight into daily sales inquiries Ergotron partners receive. However, we have seen growth in the Ergotron WorkFit segment in India this year."
Fitizen is another company that sells standing desks in India. Its standing desk is called Zendesk, priced at Rs. 13,999. Reji Mathew, the Chief Explorer of Fitizen, told Gadgets 360 in an email that Zendesk is height adjustable and comes with an arm that lets users rest the keyboard and mouse at a comfortable height.
He claims there is a market for standing desks in India, as the company has sold around 100 standing desks in the country. "People have started recognising the benefits of standing and working. We believe that the major initiatives will be taken by CEOs & HR heads of corporate India to inculcate standing desks into the Employee Wellness Program as it increases productivity and also keeps the employees fit," Mathew writes. Zendesk customers are based mostly in big cities, with 30 percent in Bangalore, 25 percent in Mumbai, 15 percent in Hyderabad, and 10 percent from Delhi NCR, according to Mathew.
Before you take the plunge
But before you decide to go all in on standing desks, users and Dr. Grover all advise caution. If you are considering buying or making a standing desk, Dharmakumar says it's better to first buy a "cheapo breakfast table" and place it above your current desk. Try working on that for a few days to see if the setup works for you. Dharmakumar says he needed to optimise line of sight and elbow level. The screen should be at eye level and your arms should be parallel to the ground. If you work on a laptop, you might have to get yourself a keyboard or an additional display to get that setup right.
Kazi had already been working on a standing desk for quite a while before he decided to make one for himself. "In the first few weeks you might feel some pain in lower legs but trick is to not stay too much in one position. Keep shifting, or even switch down to sitting position for an hour or two as a break," he says. "But now I work almost 80 percent of time standing, with 20 percent in sitting position in multiple slots in between, just to break the flow. I also occasionally change the desk height to break the ergonomic flow."
Both Dharmakumar and Kazi however say that the switch helped, as they no longer suffer from intense aches after switching to a standing desk. But even without getting a special desk, there are some things you can do to stay healthy. Dr. Grover says simple exercises such as standing and stretching your body backwards, pusing the wall with your shoulders, among others can help ease the stress on your back.
She recommends core strengthening exercises to ensure that your abdominal and extensor muscles are balanced. "Taking short breaks and walking around [the office] may lead to better muscular pump [than using a standing desk]," she says. "Abroad [in the West] people are used to doing household chores on their own. In India we have help for almost everything. Many people in India in the 35-55 age group have front belly and knee issues. That's why standing desks may not be ideal for Indians."
So, proceed with caution, try before you buy, and whatever you do, make sure you keep getting out of your chair from time to time.