If you want the convenience of a personal vehicle but don't want to buy a car, or hire a taxi every time you need to get around, then renting a car can make sense. This is particularly true if you're travelling to a new city and just need a car for a couple of days. Car rental services have been around in India for a while now but they are starting to go online and adding more affordable options too.
This month, Carzonrent, one of the popular car rental companies, added the Tata Nano Twist as its most affordable rental option - you can rent it now for Rs. 99 per hour, Rs. 399 per day, and Rs. 6,999 for a month. According to Rajiv Vij, the Delhi-based CEO and Managing Director, Carzonrent, renting makes better sense than buying cars outright.
"We have made it so economical," said Vij. "It works out to around Rs. 230 per day [if you rent the car for a month]."
Carzonrent's self-drive rental car option is available across 16 regions now - this includes cities like Bangalore, Chandigarh and Mumbai, Delhi NCR, and the state of Goa. While Vij wouldn't comment on the number of bookings the company receives every day, he does mention that "99 percent of bookings are made online."
Bangalore-based Zoomcar is a newer entrant in this field, and its cars are available in Bangalore and Pune as of now. You can only book Zoomcar vehicles online. By getting the whole process online, renting a car becomes easier than ever, although Carzonrent's bookings are still finalised offline.
How does it work?
Carzonrent blocks Rs. 5,000 on customers' credit or debit cards at the time of booking the Nano Twist and refunds the amount after the car is returned. That security goes up as the value of the car rises - to book a Maruti Swift, you have to block Rs. 30,000, and Rs. 70,000 for a Mercedes E Class. To book a car, you just need to go to this website and fill in the requirements.
When you rent a car for the first time from Carzonrent, you have to visit its nearest office to submit an ID proof, a driver's licence and to swipe the card to block the refundable security money. The next time you book a car from the company, you don't have to submit your ID documents but you'll still have to go to the company's office just to block money from your card, which is quite inconvenient.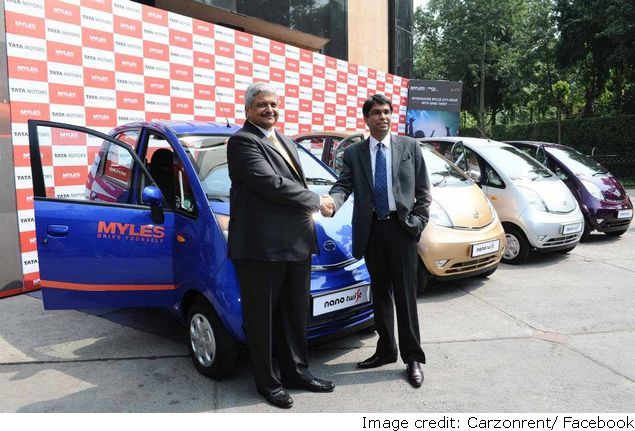 That's where Zoomcar comes in. This Bangalore-based startup has expanded from 7 cars in 2013 to 250 now, and last month it expanded its service to Pune. Co-founder David Back told NDTV Gadgets that the demand has been "overwhelming" and for "90 weeks straight, we have had to turn away customers". Customers in these two cities can also book the cars using apps on iOS and Android.
Unlike Carzonrent, Zoomcar lets you rent all cars in its fleet for a refundable deposit of Rs. 5,000 - and the entire process is carried out online. Back says Zoomcar has focused on making the booking process smooth.
"There are no forms to fill out. The entire booking process takes place online," he says.
The company requires your driving licence, the booking amount and the security deposit in advance, but you can scan the documents and send them via the Internet, and pay the money online.
With both the companies, once your paperwork is completed, all you have to do is pick up the car and you can drive off. You'll have to return the car at the same place and in the same condition you collected.
A cool - and useful - feature Zoomcar offers is letting you unlock your door with your phone.
"You can use your phone to unlock the car," says Back. "You can use a smartphone or a feature phone to unlock the car as long as you use the number submitted while booking." You can use the app, or send an SMS, when near the car to automatically unlock the doors. This has allowed the company to have cars available at multiple locations, without the overhead of having to maintain a small office everywhere. Customers too benefit from a hassle-free experience.
The demand for basic cars is - not surprisingly - higher than expensive models. "A lot of people want a basic car. They don't want to pay a premium for a bigger car," says Vij.
The pricing for renting a Nano Twist seems to be attracting a lot of interest from Carzonrent's customers.
Vij says, "We have got many inquiries about the Nano Twist. Some people have called us asking if this pricing is real [and if there are any hidden charges]. Some people have booked it for six months."
Zoomcar also has a low cost option in the electric car Mahindra E2O, which people can rent for Rs. 5,000 per week, or 1,300kms.
The back of the envelope
Both companies talk up the economical nature of their services, but does it actually work out? Zoomcar and Carzonrent have different tariffs, and with Carzonrent you also have to pay for fuel, while Zoomcar will reimburse you for this, as long as you can provide the bills. You are instead billed for a minimum of four hours, and have a certain number of "free kilometres" in the package. If you drive more than that, you will have to pay a fee, starting at Rs. 12/km for a Figo, up to Rs. 15/km for a Mercedes.
Is this value for money? A Maruti Swift Vdi or Ford Figo 1.4 Exi costs around Rs. 6.5 lakh (on-road, may vary depending on the city). At the current rates renting them from Carzonrent will cost you Rs. 40,921 as rent per month excluding fuel, as you can see on this page. You'll have to rent the car for 16 months before you've reached the cost of owning one.
According to Zoomcar's tariff calculator, the price of renting a Figo for a month is Rs. 51,429 including fuel charge assuming you don't exceed the 1,300-km per week limit. If you're using the car for work/ business commuting, then you're likely to reach that distance in a month and not a week, so Zoomcar actually works out to be a little more expensive. In just a little over one year, the cost of renting a car from Zoomcar is higher than buying a car outright.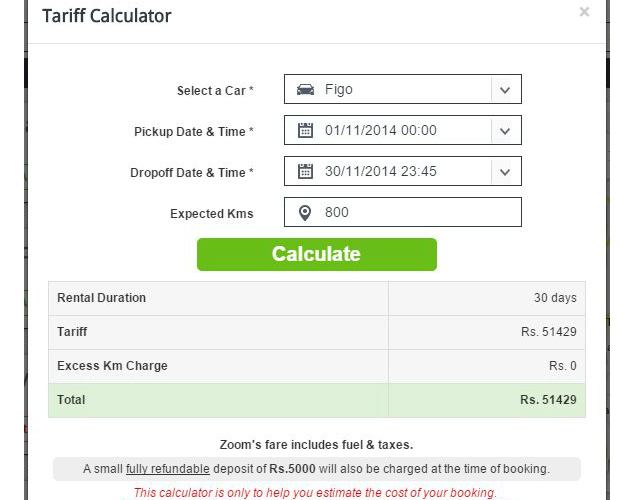 For a short business trip, or a weekend road trip, renting becomes a much more economical option than hiring a car with a driver. With Zoomcar, you can rent a Figo for 48 hours, with a range of 400kms, for Rs. 4,000 - this includes the cost of fuel for the trip as well.
Clearly, despite what the companies say, in the long term, buying makes more sense than renting, but if you only need a car for a short stretch of time, then renting can be good value.
Hassle free?
But is renting a car as hassle-free an experience as driving your own car? Renting a car is indeed a lot like booking a hotel room. When you book hotels online, you'll be shown pictures of spacious, clean rooms with all essential facilities, but the reality may not match what is advertised. You should check the car for paperwork like the registration, note down the odometer reading, check if the tank is full and if there are any signs of damage on the vehicle - including tiny scratches - and point it out to the company. You're responsible for any damage to the car, so make sure that any existing problems are documented.
A quick Web search throws up common complaints such as dirty cars and last-minute booking cancellations by the company. These complaints don't paint the full picture, but serve as a good marker for what can go wrong.
To prevent theft, both companies have installed remote immobilisers and GPS tracking for their cars, which could be a concern if you're worried about protecting your privacy. Both Vij and Back say theft hasn't been an issue though.
"We believe customers no longer want to buy a car," says Vij. "They want mobility solutions without worrying about parking, insurance, registration, etc."