When you think of engineering innovations from India, the first thing that comes to your mind won't be a smart cocktail dispenser, but that's exactly what Akshet Tewari, the CEO and founder of Vulcantronics, has created with a device he's calling the Barsys. Tewari, who received his engineering degree last year, got the idea when talking to a friend who owns a bar, and convinced his father to back the company; it is run by Tewari and his friends and juniors from college, from the basement of his parents' home in Delhi's Vasant Vihar.
The Vulcantronics office is a complete mess, with tools, wires, and filled glasses used to test the Barsys covering almost every flat surface. There's an inner sanctum that serves as Tewari's office, which has a large-screen TV and a SeemeCNC 3D printer that take up most of the space.
"I wanted to make something that would be cool, but also useful, you know," says Tewari, "and there are not many professional bartenders in India. Many restaurants just have waiters who have learned a little bartending. So that means that the cocktail recipes they know, the speed with which they can mix drinks, isn't that great."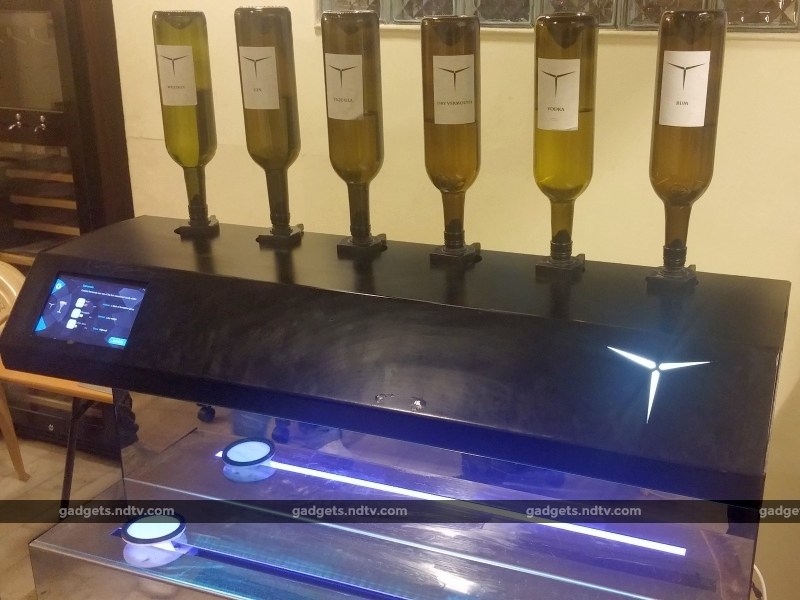 The Barsys will fix this gap, he believes, with a large database of cocktail recipes, consistent drinks always mixed with the right ingredients, and all of this poured quicker than a bartender. The design of the Barsys includes a lot of showmanship - the system has a moving tray that shifts across different nozzles, filling up the glass with all the ingredients, and this actually costs the device some time for pouring. Other machines of this type that exist (mostly in Western markets) typically cluster all the dispensing nozzles together so you can quickly fill one drink and move on to the next one.
Companies making such machines are still few in number. Two recent Kickstarter backed projects are the Somabar and the Bartesian, both of which are priced at around $400 (approximately Rs. 26,000), and sold only within the US. According to Tewari, the Barsys, which he says will start selling to bars in September, with a consumer version to follow, will be priced at around Rs. 90,000.
The big difference is that the Somabar and Bartesian follow the Keurig coffee model - they're sold with cocktail pods that you plug into the machine, and that's used to pour out your drink. That means that you have to keep buying the company's pods to get your drinks.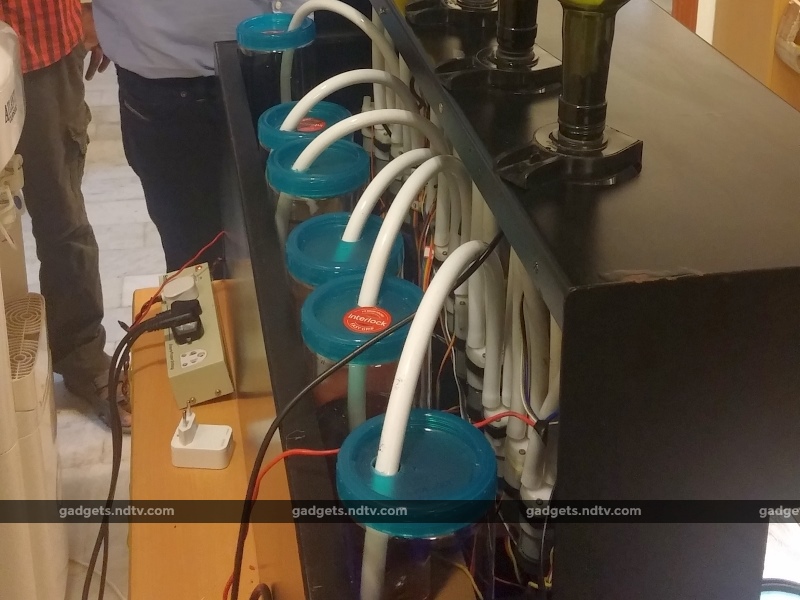 The Barsys on the other hand will work with the drinks you have in your liquor cabinet, and doesn't need expensive refills. "We talked to a lot of bartenders, and what they told us is that you need to have six different types of liquor," says Tewari, "so you can see here we've got dispensers for bottles of gin, vodka, rum, whiskey, tequila, and dry vermouth. The bars can fit their own bottles here."
"On the back of the machine, we've got six refillable containers for the other mixers, your juices and sodas, which are used to mix drinks," he adds. "So once you've filled all these in, you just use the touchscreen on the front, and your drink gets poured."
To test out how it works, we used Tewari's prototype and ordered a Long Island Iced Tea. Made with six ingredients, this is a complicated drink order, and as the glass moved back and forth under the different nozzles, this took a full 35 seconds - but that's still faster than most bartenders could manage.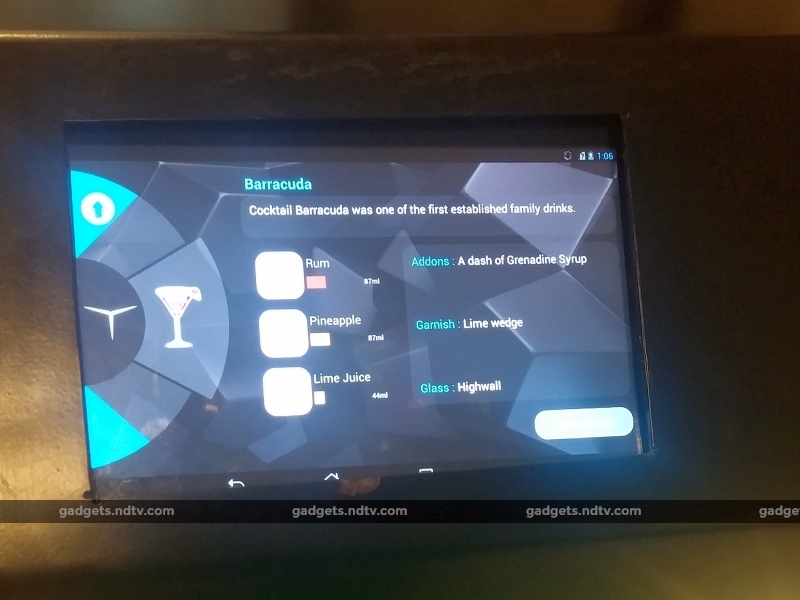 "It's also useful for the bars because they can now fully track the number of orders, the number of shots dispensed, how much of what ingredient was used, we're using sensors to track everything," Tewari says. "So there's no wastage, no spillage, and you're aware of what's popular with your customers, when you need to get refills, everything."
To get the word out, Tewari has started sending out prototypes of the Barsys for parties, and he says that the feedback has been helpful in improving the design. "We're almost ready to hit the market now, and we're just fine tuning the product," he says. "But the real goal for me is to sell these not just in India, but in the US too. That's why we're manufacturing the Barsys in Europe, we want the customers to feel like they can really trust us."
Whether Barsys can complete the journey from a Vasant Vihar basement to bars in the US is a pretty big question, but the little we've seen of it at least makes us wish there was a cheaper consumer version we could purchase.