Autonomous car technology is now so far along that some auto executives have said they expect a completely self-driving car - one that requires no human intervention - to appear in public use within five years.
But what kind of car will we want once no manual driving is necessary? At a defunct naval base here this week, the luxury carmaker Mercedes-Benz put on a display of how it sees that future, in 2030 and beyond, with test runs of its F 015 concept car.
With the F 015, Mercedes-Benz isn't preoccupied with the technology required to make the car drive itself - technology that Elon Musk, the Tesla Motors chief, recently described as a "solved problem."
Mercedes-Benz has already demonstrated slightly more down-to-earth self-driving prototypes like the S 500 Intelligent Drive concept, which in 2013 autonomously completed a 62-mile route involving complex urban driving situations like traffic lights and roundabouts. The company has also offered a vision of commercial trucks that drive themselves.
The F 015 it demonstrated this week wasn't even equipped with self-driving technology, like the lasers and computers the car would need to be actually autonomous. It drove passengers on a preprogrammed route, framed by San Francisco in the distance and towering cranes at the Port of Oakland.
Instead, the focus was on the experience of riding in an autonomous car. Mercedes thinks that experience centers on a living space shielded from the distractions and the masses of the outside world.
And yes, it is luxurious.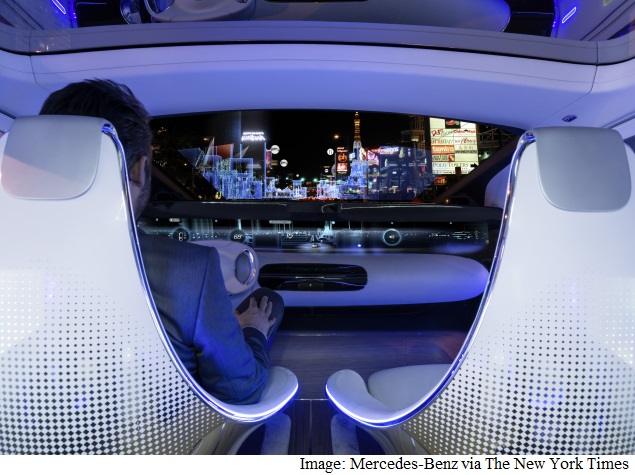 The vehicle's carriage-style design features saloon doors that open wide to reveal an interior that's more like a living room than the inside of a car. There are no side pillars or center obstructions. The two front seats swivel around completely so the driver and front-seat passenger can face the rear of the car.
The interior features a mix of wood, carpet and touch-enabled panels that blend together into an environment Mercedes-Benz rightly describes as a "cocoon." When both front seats are turned around, back-seat passengers can activate a touch-screen table that extends into the middle of the cabin and can be used by all passengers.
Still, the effect of being driven by a car is slightly disorienting. Since you can't see any steering mechanisms, you can't anticipate which way the car is going to move next, and each speed change comes as a mild surprise. For some, it could well lead to car sickness.
Somehow, though, having a person in the driver's seat face you while the car is moving is slightly less disturbing than watching someone refuse to put his hands on the wheel.
In this concept vehicle, any passenger could theoretically drive. When in manual mode, the car is operated with pedals and a steering wheel, just like a traditional car. But in autonomous mode, it's meant to be controlled with touch interfaces - there are few physical buttons - gestures and even eye-tracking.
The touch-screen panels let any passenger request control of the car and then adjust the car's speed and dynamics (sort of like switching from standard to "sport" by dragging a little image of the car to speed up or slow down.
The screens also display features like points of interest along your route, or location-based information about your friends. The future vehicle has access to your contacts, and if your contacts are sharing their locations, a friend's face might pop up in the interior display if they're near where you're driving.
You can project any image you like onto the screens, and then rotate it using touch. Mercedes designers sketched a vision of a long, boring commute where you could entertain yourself with pictures of your family, a nicer landscape or photos of a recent vacation.
Seems pleasant enough. Ultimately, though, the F 015's vision is a bit confused.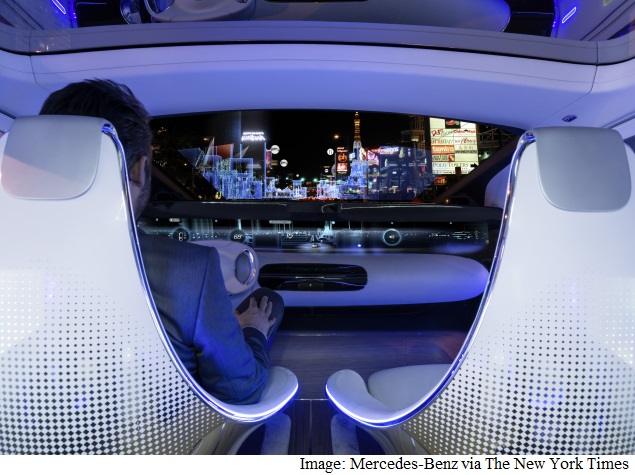 The vehicle might be perfect as a high-end taxi or a shared vehicle. One of the predictions for a future shaped by self-driving cars is that we will require far fewer of them, because the cars can autonomously pick up passengers, like a giant robotic fleet.
The F 015, if not designed to be a personal car, fits the bill. It's extremely large, although the sloping roof of the car is low. Our German tour guide, who stood well over 6 feet, was jammed uncomfortably against the ceiling. And many details, like the table in the center and the shareable display panels, seemed designed for transporting multiple people.
But its message of privileged privacy was equally strong. A concept video showed a well-turned-out white male summoning the car from his smartwatch, and then riding alone in it through a mostly deserted but beautiful city. This seems like way too much car for that sort of use.
As for its exterior design concept, it's actually a bit too futuristic. Many of the technologies Mercedes-Benz imagines inside the F 015 either exist already or aren't far away. Yet the vehicle itself looks like a set piece from a sci-fi thriller like "I, Robot," and its extreme design makes it hard to take seriously.
The front and rear panels of the car are lighted with multicolored LEDs - in the front, they glow blue when the car is in autonomous mode, and they are programmed to signal to pedestrians at crosswalks. The car will even speak aloud to a pedestrian to say it's safe to cross.
And the vehicle is cast in the shiniest of silver aluminum, so shiny it causes physical pain when the sun glances off it. The narrow windows are coated with mottled silver screens, so no one can see inside (privacy is a luxury, after all). Those narrow windows limit the views out of the car, too, though.
Overall, the effect of the exterior design is alien, and gives the impression that Mercedes-Benz might be looking too far ahead. The company has always had a far-reaching technological vision, pioneering technologies like anti-lock brakes, electronic stability controls and the "crumple zone" that protects passengers in accidents.
But with the F 015, the company presents an interesting technology and design showcase that doesn't feel connected to the real world, which already holds exciting promise for self-driving cars. The company described the car as a vision for "the day after tomorrow." But what about today?
© 2015 New York Times News Service