Most of us have some idea about 3D printing by now, but although there's a lot of hype around the technology, the state in which it exists right now means that it's still far from being the next big thing. There is more to it than meets the eye, and a lot of layers of complexity to the technology. Let's take a look at how 3D printing works, and what the different types of 3D printing technologies are in use today.
In 3D printing, materials like metal, plastic, resin, or ceramic are printed layer upon layer, until a solid object comes out. This is also known as additive manufacturing. There are many ways to carry out 3D printing, but these all use computer aided design (CAD) files. These files are used to tell the printer how the objects being put together are to be layered.
These files are generally available in the STL file format - this is a standard file format for CAD software, and it describes the basic surface of the 3D model in the form of triangles. These files can be shared online and distributed, and you should be able to use them in any different 3D printing setup to get the same results.
If you want to optimize a design, or add some customisation, then you need to use specialised software. There are plenty of options in the market, and some of the popular ones include Catia, IronCAD, and SolidEdge.
Depending upon the model, printing material, size and budget one can choose from a variety of 3D printers. A company which makes consumer goods like mobile phone cases might opt for an entry level or a mid-level 3D printer. On the other hand an automobile manufacturer which decides to 3D print a particular part will probably go for a high-end 3D printer, even though both might use the same technology.
Different technologies used in 3D printing
Just like regular printing, 3D printing also involves a number of different technologies, although the basic idea is pretty similar in most cases. Some of these technologies are going to go extinct, the way you never see Dot Matrix printers anymore, while others will be more suited for home use, and some will be best used in specific tasks; again, a lot like normal 2D printers.
Fuse Deposition Modelling

The most popular method of 3D printing right now is called FDM (Fuse Deposition Modelling). It uses PLA (polylactic acid) or ABS (acrylonitrile butadiene styrene) plastics as raw materials. In this method, hot plastic flows out of a nozzle to create layers, with each layer bonding to the previous layer. As each layer is deposited one on top of the other, your 2D layers turn into a 3D object.
When manufacturing using PLA there is no waste, as the leftover material can be recycled. But in case of printing done using ABS plastic, the leftover material can't be reused. This is one of the bigger problems with 3D printing as the technology exists today; the process causes a fair amount of waste, and it's materials that can't be easily recycled either, which is a big issue, particularly if 3D printing becomes more popular.
In FDM, the molten plastic comes out of the nozzle, and this dries up and solidifies in seconds. What happens if there is an overhang? Let's assume we want to print a pyramid. With a bottom-up approach, the printing is quite simple. You have a larger base which becomes smaller as you reach the tip of the top. Now if you have to 3D print the pyramid upside-down (where the tip is down and the large base is on top) then what happens? In this case you will have to use some kind of support so that the entire structure doesn't fall. The printer will first print the support material, followed by the layer of the structure. The support material is fed to the printer through a different tip. In FDM the support material can be easily removed with the help of water or removed manually with the help to tools.
Some of the advantages of this technology are how inexpensive it is - not just to use, but also because it has large parts that are relatively easy to maintain. FDM also works with a variety of materials that are readily available in various colours, so for cheap and simple work, this is considered the best option by many.
Selective Laser Sintering

Apart from FDM, another technique that is popular right now is SLS (Selective Laser Sintering). In this method, instead of liquid polymers, the printer uses aluminum or other materials such as polymer-metal powders, steel alloys, nylon, or glass in powered form. A nozzle spays this powder onto the printing surface. The laser in turn fuses the tiny particles layer by layer, turning it into a solid from powder. Excess material doesn't come in contact with the laser, and is left as it is. This waste can be vacuumed out and reused. The SLS technique finds its application in aerospace industry including UAV manufacture and military hardware. There is no support structure required in case of Selective Laser Sintering.
A minor drawback of this method is that the final product does not have a high quality surface finish. It can have a rough and porous surface depending upon the material used. The end-product is not very strong due to the presence of structural defects such as impurities, and gaps where the laser can't reach.
Despite this, it's a very popular technique today, because of the range of materials supported, and the reliability of the method. It might not be ideal for small office or home use, as the initial cost is quite high, but some experts say SLS is a better option for manufacturers if they are looking for ready to use functional parts. It's for this reason that Boeing, for example, used a mixture of SLS and FDM printers to build a drone. In the future, don't expect every home to have one of these, but specialised shops, studios, and manufacturers will likely have use for SLS printers.
PolyJet printing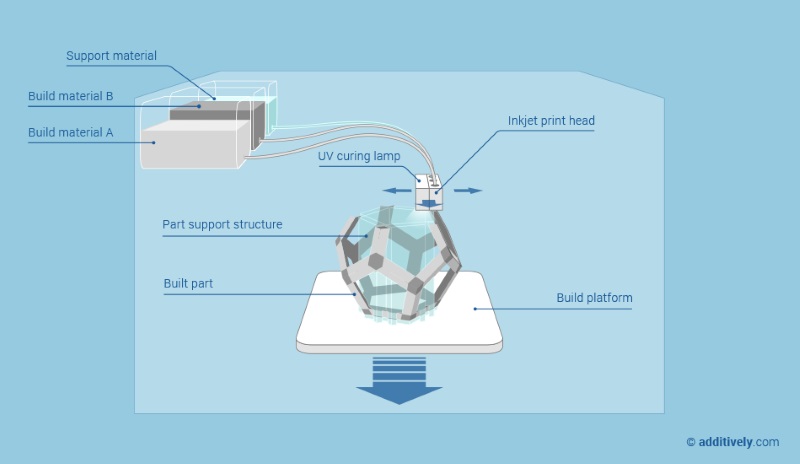 There are some less common methods of 3D printing which are also starting to gain ground. One is PolyJet printing method. This prints a layer polymer (in liquid form) onto the tray with the help of a support. Since the material is in liquid form it bonds with each layer. The thin layer of the photopolymer is then cured (hardened) using UV energy.
By the time the material is finished you get one big solid block. The end product does not require any further curing. The support material used can then be simply washed away with the help of water.

One of the biggest advantages of using polyjet printing method is that it allows multi material or hybrid printing. It also allows you to print multi-colour parts. PolyJet printing is good for printing small accurate prototypes like a tooth-mould, and not suited for large scale models. PolyJet 3D printing finds its application in the dental industry, and could potentially be useful in other similar applications, but is not likely to see the same kind of widespread use as the other technologies we've described.
Stereo Lithography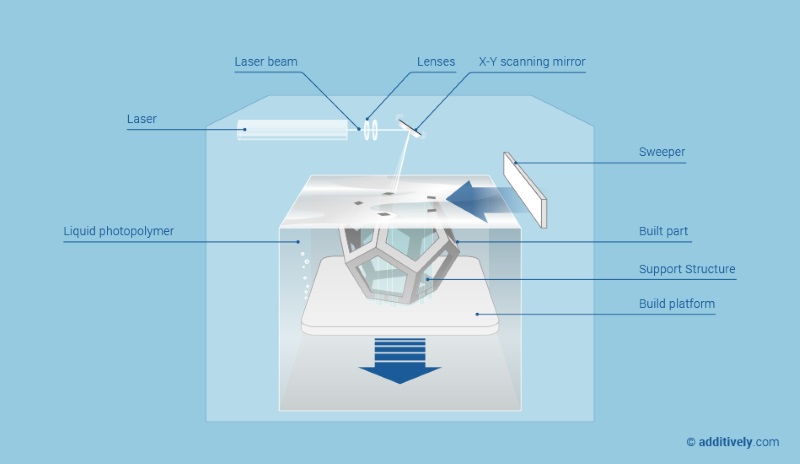 Another method is called SL, which is short for Stereo Lithography. This uses liquid resin as a printing material. The resin provides the matrix for each layer, and the specific parts that you need are then hardened with an ultraviolet laser that hardens the parts you need while leaving the rest as liquid. This is followed by a fresh layer of resin that is again shaped by the laser, again and again until the process is complete. This means that unlike other methods, which involve pouring liquid on to the print surface, SLA uses excess liquid plastic, which is selectively hardened while the unused liquid washes off.
In case of printing complex structures building supports is required and the final product needs finishing touch. One of the biggest advantages of SLA is its speed. This method is used to build prototypes that would take much longer to build and cost more if traditional methods are used. In short - SLA produces functional parts in a short period of time depending upon the size and complexity of the desired product. However, a major drawback to this technique is the astronomical price involved in the printing process. If this changes in the future, we might see it becoming more widespread, but for now it has been used in a limited fashion.
Digital Light Processing
Digital Light processing is another new form of 3D printing. This process is similar to Stereo Lithography. The main difference between the two is the light source used to cure the photopolymer resin. The light source can be as simple as an arc lamp.
In this process a layer of liquid crystal display panel is applied to the building material in a single go. The raw material (liquid plastic resin) is placed in a container. The container is exposed to light which in turn hardens the resin. Once the layer is finished the build plate moves down.
It is once again filled with liquid resin and then exposed to light. This process is repeated until the required 3D model is obtained. Products printed using the DLP technique provides higher resolution and smoother surface as compared to Stereo Lithography process. Another advantage of DLP over SL is that the amount of raw material required is much less which directly results into lower cost and less waste. However, there are limitations on how thick the printed object can be, and there are a limited variety of materials that can be used with this technology.
These different technologies are all being used in various ways; the jewelry industry is using DLP methods to build wax resins that can be used to make jewelry in shapes and designs impossible with traditional methods. Usind FDM and SLS techniques, Boeing was able to make a drone in a matter of hours. And new technologies are still being developed and experimented upon, for uses in medicine, aerospace, and even construction.
What's clear is that it's still very early days for 3D printing - it's too soon to identify the technology that will become as widespread as the desktop inkjet printer did. But it's also increasingly clear that we are headed in this direction.