The fifth edition of Delhi Comic Con took place over the weekend, and although it was held at a new venue and at a much higher price than before (Rs. 350 for a single day's entry, or Rs. 650 for the three-day super-fan passes) there was still a pretty decent crowd.
Although there's a stereotype that only boys are interested in comic books, and make up the ranks of geeks that queue up for superhero movies and events like this one, a fair number of girls were in attendance as well.
"I've been coming every year since the start," gushed Priyanka, one of a group of first year DU students who spoke to Gadgets 360. "At first, I used to come with my parents, but this year, we made a plan to come here with our classmates."
Priyanka said her favourite character is Batman - specifically from the recent cartoons, but she first visited Comic Con as a schoolgirl because she was a big fan of the Iron Man movie.
Her classmate Rachna Jaggi, who was also wearing a super-fan cape, was most excited about the chance to meet Kristian Nairn, Hodor from Game of Thrones. She was extremely crestfallen when asked if she had booked a photo or autograph online, as she did now know this was required. "Maybe if I ask then he will give an autograph anyway?" she said hopefully.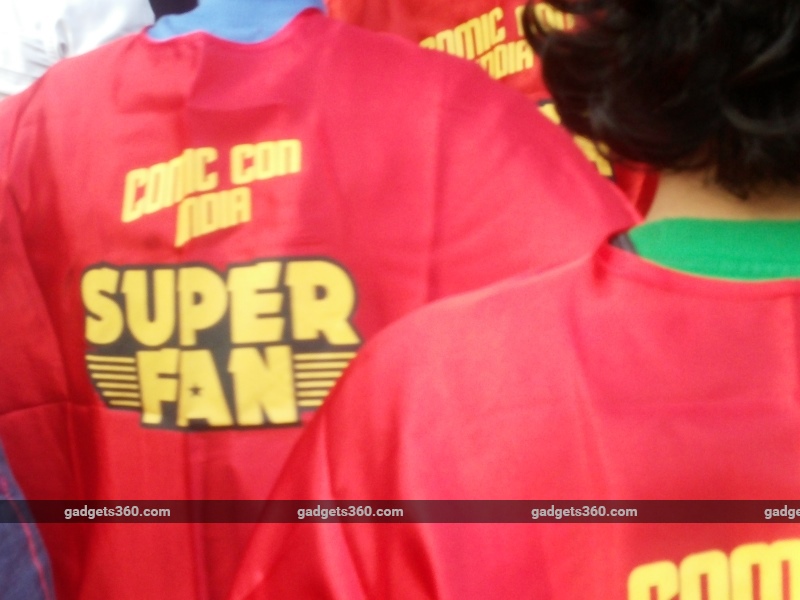 A lot of people could be seen wearing the red super-fan capes, and Delhi Comic Con had a fair mixture of comic books, merchandise, and gaming on display. People could sign up to experience the HTC Vive, and we also got to try the desi Tesseract VR headset, which hopes to compete with the Vive and the Oculus Rift.
Despite the new venue though, it felt like there was less to see this year when compared to last year's event - the new space is much better organised, and bathrooms and food is well catered to, but there seemed to be fewer exhibitors, and fewer booths selling comics and books. Instead, there seemed to be many more stalls selling clothes, badges, and toys, which perhaps gives an indication about the interests of the audience.
One thing was clear - a lot of people were there just for the sake of novelty, to do something new. Ashish Saha and Jatinder Singh are also DU students, in final year, and attended Comic Con because their friends wanted to.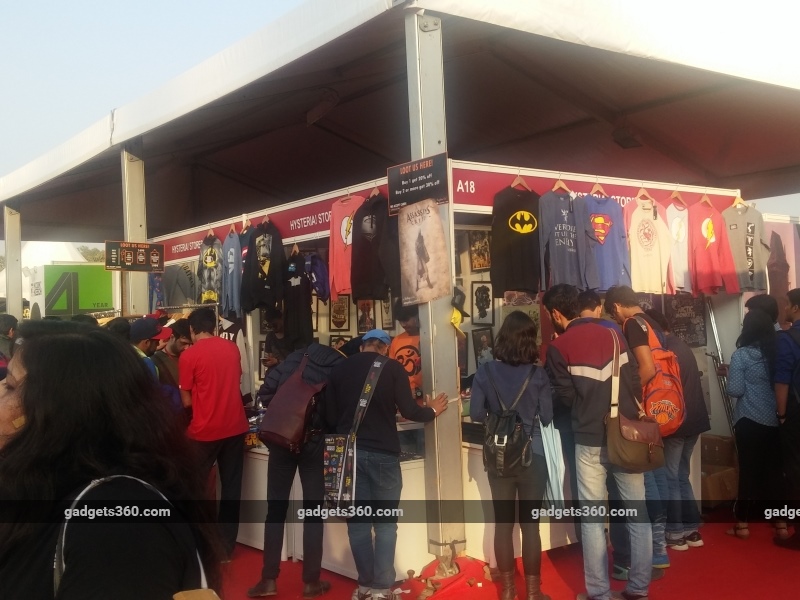 "It's expensive, but we thought it could be fun, why not?" said Saha. "It's just fun to come and see what people are excited about, there's so many people here in weird costumes, it's cool," added Singh.
Moving through the crowd, we heard another person - perhaps exasperated by the number of stalls devoted to less known Western comics and manga - exclaim, "Isn't there any Nagraj-type comic here?"
But there were actually a fair number of works from India - such as Amar Bari Tomar Bari Naxalbari, a comic about the Naxalite movement, written by Sumit Kumar. There was also Munnu, along with its author Malik Sajad, who didn't bat an eye as a yellow Marge Simpson with giant cardboard hair loomed over him to get a copy signed. The book appears to draw inspiration from Art Spiegelman's iconic Maus; set in Kashmir, it depicts the locals as deer, which is a fairly obvious metaphor. In a comic con filled with superheroes and ninjas, comic books that deal with political issues stand out.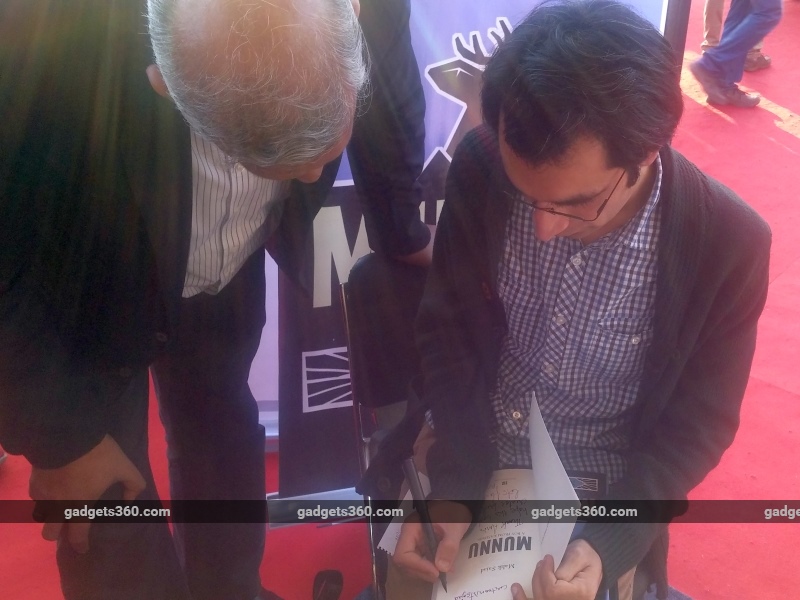 "We can't help it. We are brought up to talk about politics in Kashmir," shrugs Sajad while signing books. He learned Kashmiri art motifs from his father, and the style is evident in his book. Growing up in Kashmir forced him to face conflict, and while he left to study in London, Sajad said that the book is mostly autobiographical.
Although Comic Con presented a rare chance to meet authors like Sajad and Abhijit Kini (who also held sessions teaching people to create characters and strips), as well as to buy books from publishers that are rarely available in a single store, there was no denying that most of the crowds could be found around the games, and the merchandise. The only table that wasn't crowded was the one where fans could buy tokens to get autographs from, or photographs with, Hodor. Presumably, most fans who were interested, already did so online.
The AXN booth drew a big crowd as people vied for prizes, while the line for the Star Wars Battlepod was long - we had to wait nearly 15 minutes for our turn. It was worth it though (even if we're still angry that Star Wars is releasing a week late in India) - HTC Vive booth similarly drew long lines.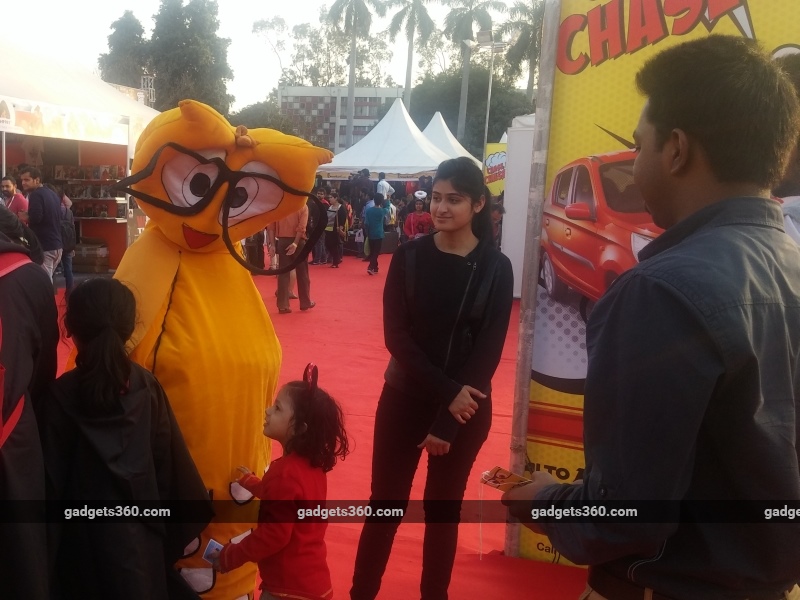 The biggest crowds could be seen at the stores selling clothes, from T-shirts to boxer shorts, to masks and flip flops. Toys and collectibles, and badges also did brisk business - people were paying anywhere between Rs. 100 to a few thousands, depending on what they were buying.
There were definitely a lot of books sold as well; the event does appeal to a lot of comic lovers, who come ready to shop - but it does seem, at least as a visitor, that there were fewer new Indian comics to be found this year, and more of the established names and merchandise.