When just about everything in our lives is getting smarter, it makes sense that our kitchens would follow suit. The smart home as we know it today is a very different concept from the cartoons and futurism predictions from the 80s and 90s, but the Internet has made the world unrecognisable over the last couple of decades.
Today's smart home already lets you control the lighting and air conditioning using an app on your phone so you can get things running by the time you reach home; smart speakers wirelessly connect to your different devices and ensure that your music is with you wherever you go; a Smart TV streams your content from different devices and the Web, and lets you check in to your social networks as well; and smart locks let you in without fumbling for keys. Home security systems are a big part of the smart home, with cameras, motion sensors, and contact sensors that are connected to the Internet and controlled through your phone.
(Also see: Building a Smarter Home for Just Rs. 52,000)
Now, we're seeing our kitchens catch up with some very cool gadgets as well. One word of warning - these are still early days for such devices, and if the food is mouth-watering, the prices are eye-watering. So early adopters will end up with fuller bodies, and emptier wallets.
Innovation in food has been constantly speeding up, and food making and consuming have also been evolving. Hardware start ups and food chains are focusing on innovation to attract more customers. Let's take a look at some cool gadgets and methods that are making food more mouth-watering.
1. Smarter coffee
Ever woken up thinking, "what if I got my morning coffee as soon as I get up?" With the right gadgets, and a little forward planning, you can get the brew going as soon as your alarm has woken you up. The Smarter iKettle is a Wi-Fi connected kettle that can be started remotely.
The kettle has multiple user access, so all the members of your family can control it when they want from their phone. The kettle sends a notification when your water is ready to pour, and if the kettle is empty it will send a reminder telling you it needs to be refilled. With a 1.8 litre capacity, you could brew eight cups of tea or coffee using the smart kettle, and you can set the exact temperature you want the water to be at without ever leaving your bed.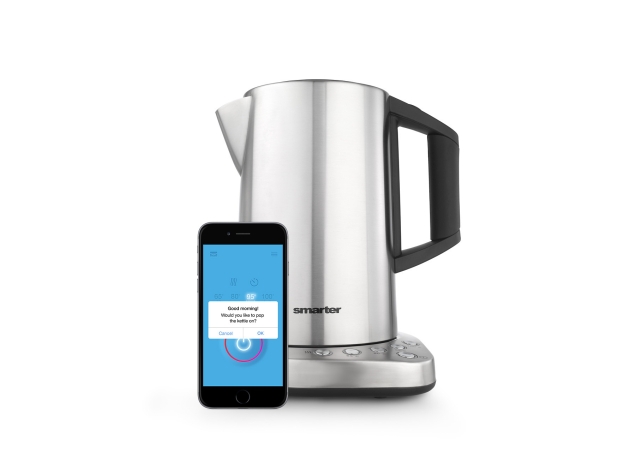 You can remotely handle temperatures through the smartphone app, available on both iOS and Android. The Kettle costs GBP 99.99 (approximately Rs. 10,000), but it only ships to the US and Europe for now, so you'll also need someone there who can pick it up for you.
2. Mellow
Sous vide is a slow cooking technique which has gained a lot of popularity of late. It's a technique where you cook the food in a water bath. The catch is that it's a long process that you can't really rush. Mellow short circuits the process by allowing you to get the ingredients in place, and its built in refrigeration keeps the food safe in the cooker until it's time to turn up the heat.
This means that you don't need to carefully consult the clock when it's time to cook; and you certainly don't need to wake up at 4AM to prepare a lovely lunch. Instead, just put all the ingredients inside the Mellow before going to bed, use the companion app to let the Mellow know what you're cooking and when you want it, and then let it do the math, as a built in scale weighs the food and sets the timer and temperature automatically.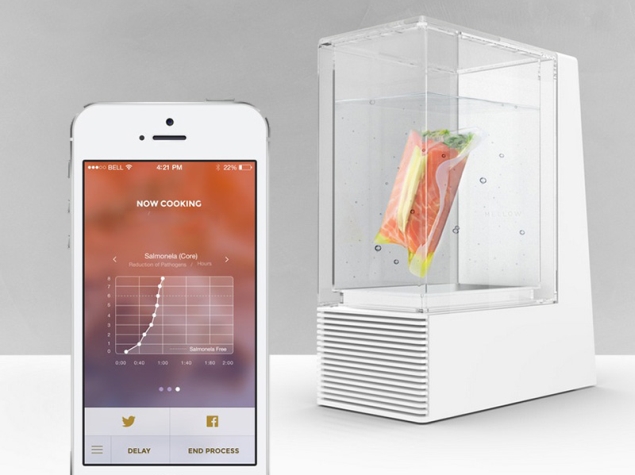 The only concern is that this $399 cooker (approximately Rs. 25,000) is only available in the US, and won't start shipping until early 2016.
3. Vessyl
One thing we've learned from smart bands and other gadgets is that people love quantifying everything. That's where the Vessyl will come in handy. Through the day, we drink a lot of different types of beverages. Vessyl knows and aggregates the drinks you put into the cup, so it can track all the different things you've been drinking.
It can measure how many calories you've chugged, and how much caffeine is going into our bodies. In short, Vessyl is a smart cup which gives you all the information about the liquid it holds.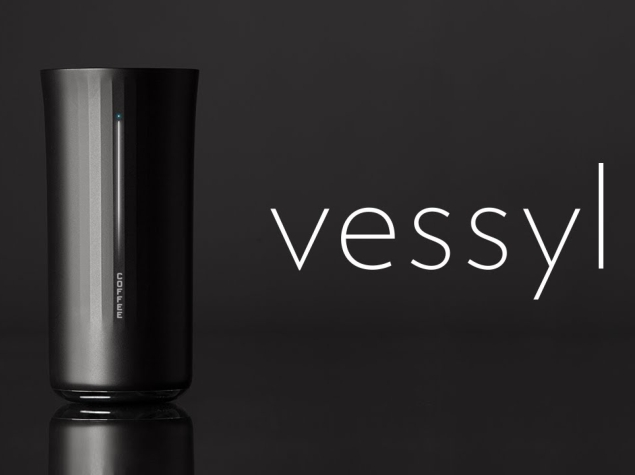 The cup has a display on the body that shows what kind of drink you are having, the calories you have consumed today, and the amount of caffeine this drink has. It also syncs with various fitness trackers to make it easy to track this information.
Or, if you prefer, you can use its companion app, and follow different lenses, tracking specific information from the glass. Vessyl ships later this year, but you can reserve one right now for an early bird price of $149 (approximately Rs. 9,500).
4. Foodini
The Foodini is a 3D printer, for food. Now, 3D printers are still pretty new technology in the first place, and pretty far from consumer products. The Foodini is one step further out there. But it's pretty much the closest we've gotten to the predicted future where you tell a machine what you want to eat, and it takes care of the rest.
Foodini can create sweet or savoury cuisine, made from fresh ingredients that anyone can use. The idea is to make preparing fresh food easier than before and some simple examples include making it easy to prepare homemade ravioli, without rolling out dough, creating fillings, or assembling the pasta. Instead, you load the dough and filling into the printer, and it prints individual ravioli you can then steam or bake.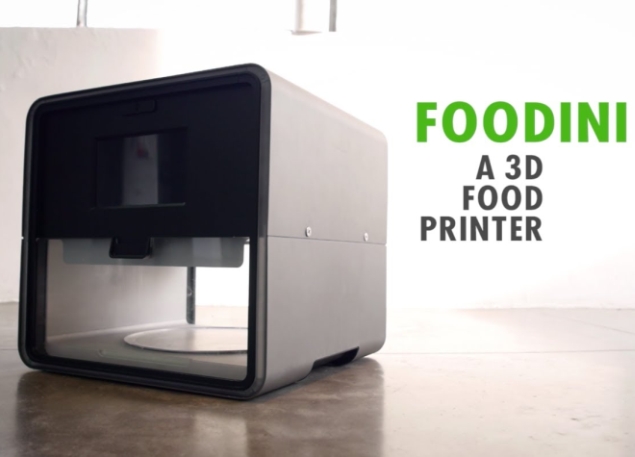 Sadly, the Foodini isn't available yet, though it's estimated that it will cost around $1,500 (approximately Rs. 90,000), so it's clearly something that is more than a generation or two away from being ready for the mass consumer. As a concept though, it's pretty amazing.
5. Atchayam's foodbox
This Chennai-based startup's idea is pretty much out of the Jetsons - it's an automatic food dispenser, an ATM for restaurant parcels. You just walk up to the Foodbox and tap a few buttons on a touchscreen, and your food arrives on the conveyer belt, in 90 seconds or less. It's not something you'd ever have inside your home, but in its own way, it's completely changing the way we get food.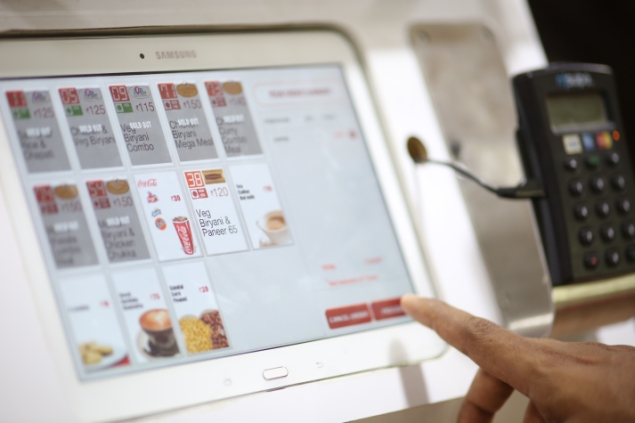 The Foodbox - which uses an Android tablet for the interface - dispenses meals and snacks packed from Chennai restaurants including as Adyar Ananda Bhavan, Moti Mahal Deluxe, and Anjappar. The Foodbox menu includes pictures and prices, and you can see what items have been sold out already. There's even a card-swipe machine on the side, so you can make your payment.
6. Edible cups and more
Another innovation that's taking place outside the home is how fast food chains like KFC are turning to technology to make their food more appealing. To deal with the problem of trash, for example, KFC has started experimenting with edible cups.
So once you are done sipping your coffee you can eat the whole cup. They have made the inner surface chocolate coated so when you're drinking coffee, the chocolate would slowly melt and give coffee a new flavour. And once it's over, you can gobble the rest up.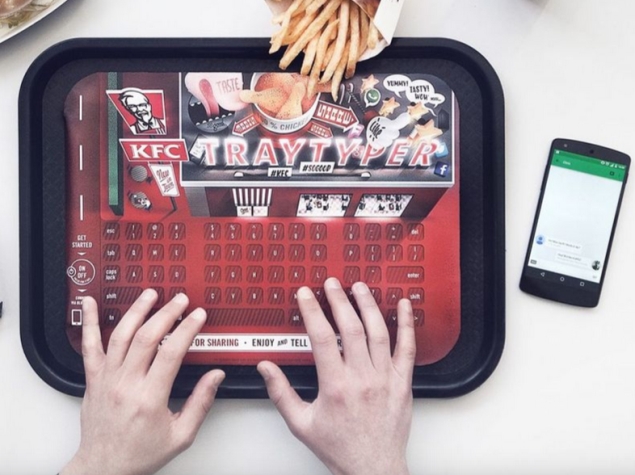 But that's not all. KFC also recently introduced a new tray, which has a built-in Bluetooth keyboard that connects to your phone and lets you text or mail your friends, without getting your smartphone's screen dirty.
Talk about finger licking good.
7. Cinnibird
Today, it's not enough to make food taste good - it's also got to look good so that you can send photos to social networks like Instagram. If you're trying to make the food you cook look as good as it possibly can though, then artistic garnishing is an important part of the process.
The Cinnibird (pictured on top) is a doodle maker or garnish painter, for your garnishing needs. You just have to add ground spices to the doodle maker and you're ready to go. You can get one for $34.90 (approximately Rs. 2,400) in the Cinnibird store, plus shipping which will cost another $32 (approximately Rs. 2,000) to ship it to India. If you know someone in Europe who can bring one back for you, then you can cut the shipping down to just $10 (approximately Rs. 630).
The way it works is really simple - all you need to do is fill it up with the ground up garnish you want, and then you can just draw as if it was a pen. You could draw designs on a cup of coffee, add the perfect garnish to your eggs, or perfectly pour garnish over your pasta, for a perfect picture.
Between these gadgets and restaurant initiatives, food is getting smarter, and with the Internet of Things on the rise, more and more traditional kitchen items would get converted to smart devices. The ones we've talked about are just the start, but expect much more in the near future.