Raise your hand if you're having trouble breathing right now. If you're living in Delhi, you are subconsciously, if not literally, raising your hand as you read this. Air pollution is, in fact, a problem in most Indian cities. So when Philips announced its range of air purifiers recently, we were intrigued enough to check out the products and the science behind them.
The products range from a price of nearly Rs. 17,000 up to Rs. 40,000, and can range from clearing up a small room of around 300 square feet to a living room of over 700 square feet. Aside from Philips, there are other brands in the market as well - Sharp has one for around Rs. 30,000 which includes a humidifier, and Eureka Forbes has one priced at approximately Rs. 26,000. Xiaomi is known in India for its phones, but in its homeland China it recently launched an Internet-connected air purifier, and is working on an Internet-connected water purifier.

Xiaomi's air purifier is the cheapest option we've seen so far - its Chinese price of CNY 899 (approximately Rs. 9,000) looks appealing, though when we talked to the company's executives during the launch of the Xiaomi Mi 4 in January they weren't sure when it would be launched in India. For now, Philips' entry-level model looks like the most affordable option if you're trying to clear up a small space.

How do they work?
In practice, an air purifier is actually a lot like a water purifier. Philips gave us a look at the insides of their machines, and the process of filtering your air is pretty simple. This video from the company shows how it works, but the basics remain the same no matter which brand you buy.

It really just comes down to a series of filters, each finer than the last. Jayati Singh Chakraborti, Business Head - Air at Philips India explained that each unit contains three to four filters, depending on the model you buy.
All the purifiers have a pre-filter - this removes large dust particles and other things like hair. This filter is similar to the one that's fitted inside the front grill of your air conditioner. The next step is an activated carbon filter, which you'll be familiar with if you've ever had to clean your water filter - the activated carbon is laid out in a hexagonal pattern, like a bee-hive. This is important, Chakraborti explained, because it ensures that you can pack more activated carbon in the same space, and filter the air more effectively.
"The carbon can actually clear a couple of stadiums," she said. The activated carbon removes impurities, and it also reduces odour, so it can help remove the smell of smoke, for example.

Finally, the purifiers have a HEPA filter.
"HEPA is an international standard for air particle filters," said Chakraborti, adding, "some people use HEPA-type filters to cut down on cost, but we're using proper HEPA filters."
Aside from these three filters, the more expensive model has a fourth filter called the multi-care filter, which filters out suspended particulate matter.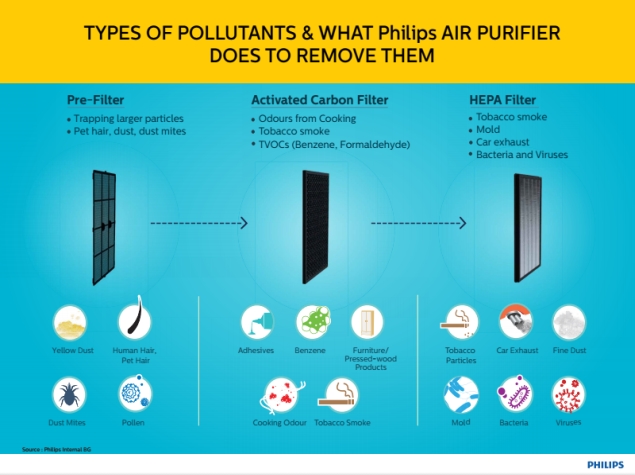 "Even the others do this," said Chakraborti, "but the additional filter and bigger fan mean that the top model is faster and covers more area."
That's the last part of an air filter - the fan. In a water filter, the water is coming through in pipes, and will be fed through the system. In the case of an air filter, you need a fan to pull the air in, and clean it. The more expensive models can clear a larger area, and do it faster.
The fan pulls in the air and forces it through the filters - this circulates with the regular air in the room, reducing the density of pollutants. The cycle continues, clearing the air over time. According to Chakraborti, passing through the four filters removes pollutants up to 0.02 microns in size. Fine particles, which are measured to test for pollution, have a diameter of up to 2.5 microns.
"The problem we face is that you can't see the pollutants in the air, and so you can't really tell that the purifier is working," said Chakraborti. "So for a demo we set up a sealed space which was cleared by the purifier, and then introduced some gas. The sensors in the purifier detected the gas and give you a warning, and then change colour once they've cleaned the air again."

Do I need one?
According to Philips, indoor air pollution is actually worse than outdoor air. Of course, the company has a vested interest in getting you to think so, considering that it makes air purifiers. The WHO, however agrees, and states: "benzene, carbon monoxide, formaldehyde, naphthalene, nitrogen dioxide, polycyclic aromatic hydrocarbons (especially benzo[a]pyrene), radon, trichloroethylene and tetrachloroethylene have indoor sources, are known for their hazardousness to health and are often found indoors in concentrations of concern to health."

Chakraborti adds that the paint on our walls, varnish on our furniture and even the LPG that we burn to cook our meals all add invisible pollutants to our households, along with suspended particulate matter from the outside air.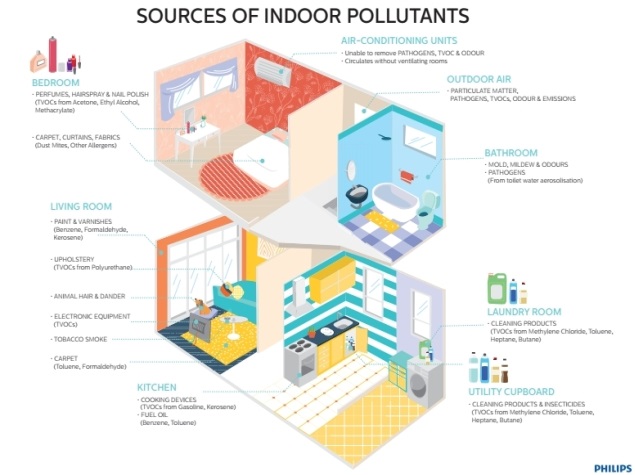 "The level of air pollution is reaching new heights," says Dr Ashish Jain, Senior Consultant, Department of Respiratory Medicine, Max Super Speciality Hospital New Delhi. "Chronic Obstructive Pulmonary Disorders (COPD) and asthma are impacted severely with poor indoor air quality which causes further distress."
The air on our roads and public spaces in cities like Delhi is well beyond the acceptable limits of pollution - former US Vice President and climate change evangelist Al Gore described it as a matter of "life and death" - but Philips' Chakraborti says that while not everyone needs an air purifier right away, people who are facing regular respiratory issues stand to benefit from using one.

What'll it cost me?
As of now, air purifiers don't come cheap. There's a lot of science behind them and they will undoubtedly help some people. If you suffer excessively due to allergens, or if you're used to waking up and coughing uncontrollably while having difficulty in breathing every few days then you're a prime candidate for buying an air purifier.
As we noted above, you'll have to spend anywhere between Rs. 17,000 and Rs. 40,000 - Philips has got both the cheapest and most expensive options we could find, while other brands like Eureka Forbes and Sharp have products that fall in-between.
You'll also have to replace the air filter regularly. This could be something you do every year-and-a-half, or it could be something you do every six months, and the price will range from Rs. 1,000 for the entry-level model's filters, to Rs. 8,000 for the top model's filters.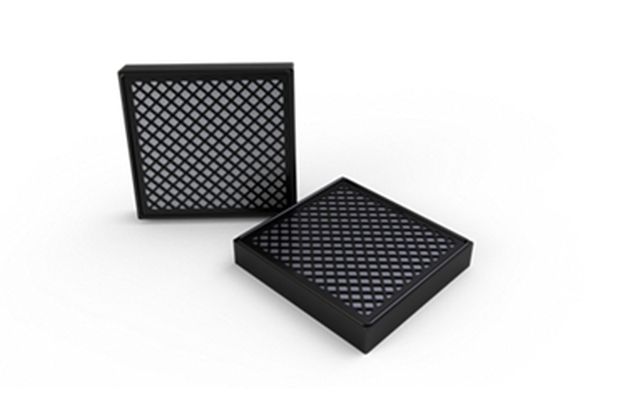 "Air purifiers are most in demand in the US, Japan and China," said Chakraborti. "In China, they started to become really popular around 2006-7 when connected devices meant that people were getting alerts about the air quality on their phones, and using them to control their purifiers. We're going to see the same cycle in India now as awareness grows."
Will prices come down as the market grows? Chakraborti says it's too soon to tell.
"We believe that we have priced the devices very fairly, considering that we have to pay heavy customs and duties on them," she said. "We're going to bring in connected devices next, and we'll see how the market evolves - we've only just started this category in India."
The launch of more competitors will also have an impact on prices - if Xiaomi is able to bring its air purifier in at a price that's close to the China rate, then it could well disrupt the market in the same way that it has changed the smartphone market.