There are around 70 million people with disabilities in India, with half of them being under the age of 30. This was one of the facts that came up at the recent Techshare India, a pan-India disability conference and event, which took place on February 13 and 14.
We see news conferences and seminars around technology springing up regularly, but Techshare is one of the few where the question of inclusion is also raised. The rapid development of technology has been vastly beneficial to the population at large, but even now, technology that is designed for accessibility remains largely inaccessible because of high costs and limited availability.
However, there are a few, new devices which seek to change the balance and we were able to talk to their developers to try and find out what is coming next.
Take for instance the work that is being done to launch a "SmartCane" device. The cane is a joint project being worked upon by the Saksham Trust and IIT Delhi, and it is slated to be launched in March. According to the spokesperson for Saksham, the cane will ensure independent mobility, help detect hazards such as obstacles raised above knee height, and allow the user to find his or her path easily and reduce awkwardness and injury. "In addition it has an ergonomic grip and the detection distance has been increased from the old 0.5 metres to three metres now," says Supriya Das, who is associated with the Saksham Trust. Making use of ultrasonic ranging to detect objects in its path it generates a tactile input, which enable the user to alter his or her course." While the cane is currently priced at Rs. 3000, the makers are hopeful to reduce and subsidise it further, and if possible even distribute it for free. The cane is being manufactured by Phoenix Medical Systems Pvt. Ltd.

Another notable example of a device which has moved past the design and innovation stage and is moving on to the marketing stage is the LeChal footwear. This is a system that can be sold as a shoe, or as an insole to be fitted into shoes that you prefer. Developed by Secunderabad-based Ducere Technologies, the shoe and insole will both go on sale within the next couple of months.
LeChal uses haptic technology and syncs with a smartphone over Bluetooth, to help the wearer in navigation while walking. According to Krispian Lawrence, co-founder and CEO of Ducere Technologies, the insole or shoe can sync with a smartphone via the LeChal app. "All that one needs to do is shake or tap the phone to go live. Once a user speaks in the destination, it goes online and maps out the nearest route. At every intersection or turn, the insole or the shoe vibrates and the person can make the necessary turn. For instance to make a right turn, the right shoe will vibrate and the person will take a turn and so on," he says. The insole is currently priced at $100 (Rs. 6,100 roughly). Lawrence adds that they have tied up with the LV Prasad Eye Institute in Hyderabad to subsidise the cost of the shoes and insoles for those who are visually challenged. "The thing is we are also portraying LeChal as a lifestyle brand. So for every shoe or insole purchased by people without disabilities, we will be able to subsidise the cost of the insole or shoe for those who are visually impaired."
Ahmedabad-based Sumit Dagar has also been working closely with LV Prasad to make a phone that uses a dynamic Braille display. This technology isn't path-breaking, but the existing devices which use this kind of display cost lakhs. Dagar has been working on prototypes to bring that cost down to 5 percent.
In June last year, Dagar had discussed the project over the phone, and said, "We're not trying to make an iPhone right now. But we're trying to give a fully personal device which has at least the functionality of a 1990s Nokia phone."
"This kind of device costs around $4,000 (around Rs. 2.25 lakhs), which isn't practical. Our goal, which I am confident of meeting soon, is to make this technology available to people for around $200," added Dagar.
Some people might ask why the focus on building a completely new kind of display, when text-to-speech and voice control is getting more advanced, but there are safety and privacy considerations which make these unsuitable as the only means of interaction for people with visual disabilities.
Another such example about helping out is a website for downloading books for the visually-challenged. Developed by Pune-based robotics professional Umesh Jaere, the website aims to help visually disabled people to download books in Braille. The aim, as the information on the website puts it across is to become a one stop destination for books in Braille. It reads, "Volunteers spent hours making these books in Braille. They expected nothing in return. The sole purpose of their toil was to help visually challenged friends. We wish to display information about Braille books available in India. Scripts or languages are of no importance. We invite different Institutes and NGOs to share their information here for the benefit of the entire Visually challenged community in India." The effort was launched in November 2011, and has been steadily building up its collection over the last three years.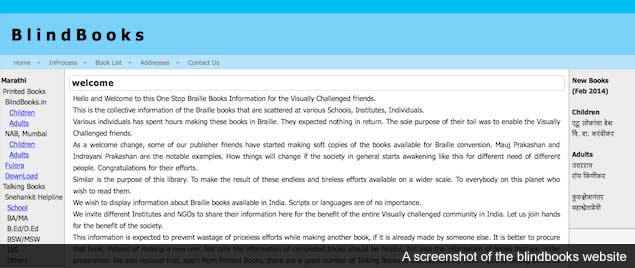 Pitfalls and shortstops
While work is being done to increase accessibility, experts say that it's still very far from a level playing field. Javed Abidi, Director NCPEDP (National Centre for Promotion of Employment for Disabled People) says, "The honest truth is, a lot still has to be done in this area. People are working towards the cause, but how much of it has actually benefitted the people who need the help?" he asks. Abidi points out that other countries, especially in the West, have been working towards these problems at a much more frantic pace.
(Also see: Techshare India debates if technology is doing enough for the differently-abled)

A 2012 OCED report states that Norway and Iceland spend 3000 times more than India on persons with disability (in terms of percentage of GDP). In India Union budgets since 2008 show that the GDP spending on persons with disabilities is a minuscule 0.0009 percent. Britain on the other hand is 2.4 percent of the national GDP, USA is one percent, Japan is 0.4 percent and Norway and Iceland spend 2.8 percent of their national GDP on persons with disabilities.
Abidi says, "The government is waiting for the industry to take the first step, and the industry is waiting for the government to subsidise the manufacture of these devices and make it profitable for them. And no real things are materialising on ground. What is also important to note is the apathy of industry regulatory bodies like the CII and the FICCI, which also do not bother about addressing the issue. As far as new products are concerned, students from NID and the IITs work on new designs for those who are handicapped or suffer from one form of disability or another. But what happens after that?"
Abidi's concerns and points do make for a valid ground but there are answers that are forthcoming, in their own small ways. Lawrence says that for LeChal, the solution lay in getting to the root of this problem. "We got in touch with the LV Prasad Eye Institute, because it directly dealt with people who were visually challenged. And the deal we worked out was to subsidise the cost of the shoe and the insole, for every pair sold to normal people. We are trying to take everyone together in the cause and help in the development of those who are visually challenged. We had been bootstrapping the company till now, and we have recently closed the first round of funding, the details of which we will announce soon," he says.
Abidi's concerns remain valid though, and LeChal's model is still untried, but for people involved in this field, it's an important milestone and people remain hopeful about its success.