Intel recently unveiled the Atom x3, Atom x5, and Atom x7 series of processors for the next-generation of mobile computing devices. The new naming convention matches the "good-better-best" strategy that the company employs for its popular Core i3, i5, i7 line of desktop and notebook processors.
The new Atom x3 lineup includes processors with integrated 3G or LTE modems, making them Intel's first fully integrated mobile SoCs. They are based on Intel's SoFIA platform. SoFIA (Smart or Feature phone with Intel Architecture) is the company's integrated solution for emerging markets and low-cost devices.
With the emerging markets in mind, SoFIA comes with support for features like dual SIM and FM radio, as well as other essential connectivity options like Wi-Fi, Bluetooth, and GLONASS. Both Android and Windows 10 are supported as platforms.
According to Intel's projected performance figures, the Atom x3-C3230RK, a quad-core model running at up to 1.2GHz, will outperform MediaTek's MT6582 and Qualcomm's MSM8212 by 50 percent in light media tasks.
The 64-bit capable Atom x3 will power the next-generation of low-cost smartphones, phablets, and tablets with 20 companies including Asus, Jolla, Compal, Quanta, ECS, and Pegatron committed to deliver devices on the new platform.
The Atom x5 and x7 products are based on the new 14nm Cherry Trail architecture, which had entered mass production earlier this year. These chips also come with 64-bit and support Intel RealSense, True Key, and Pro Wi-Di technologies, which will allow device manufacturers to deliver enhanced end user experiences.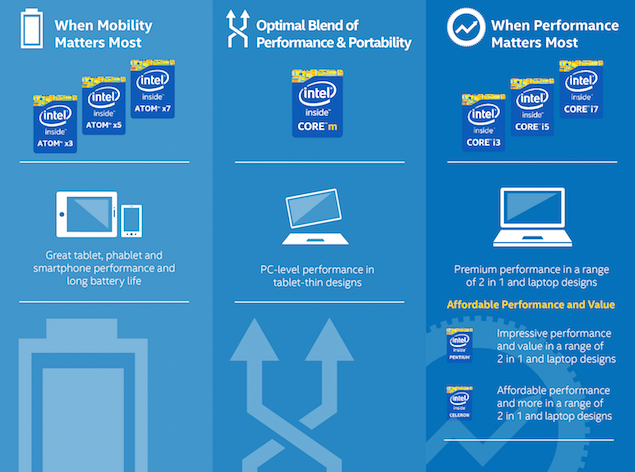 The Atom x5 and Atom x7 will power mainstream and premium tablets, with screens ranging from 7 inches to 10 inches. According to Intel's own tests, the Atom x7 comes with up to 2X graphics improvements in GFXbench and up to 50 percent gains in 3DMark Ice Storm Unlimited, when compared to a Atom Z3xx processor.
Lenovo, HP, Acer, Toshiba, Dell and Asus are on board to bring out Atom x5 and Atom x7 products, expected to hit markets in the first half of this year. In fact, Microsoft has just announced the Surface 3 tablet powered by top of the line Atom x7 chip.