Since its inception, Xolo has been trying to establish itself as a premium Indian smartphone brand. While it hasn't tried attacking the absolute top-end of flagship devices, it has concentrated on the lower mid-range where most of the action is. Xolo has so far done fairly well, with a number of models that prioritised aspirational features such as gaming performance and a custom Android UI.
Now, in an apparent diversion towards the low end, Xolo has launched a pair of sub-Rs. 10,000 devices under a new line, Xolo Omega. These near-twins, the Xolo Omega 5.0 and the Omega 5.5 still promise some fairly impressive specifications. The two have a lot in common, with the main differences being screen size, camera resolution and battery capacity. We have the smaller of the two, which is priced Rs. 1,000 lower and is closer to the ideal size and weight for most people.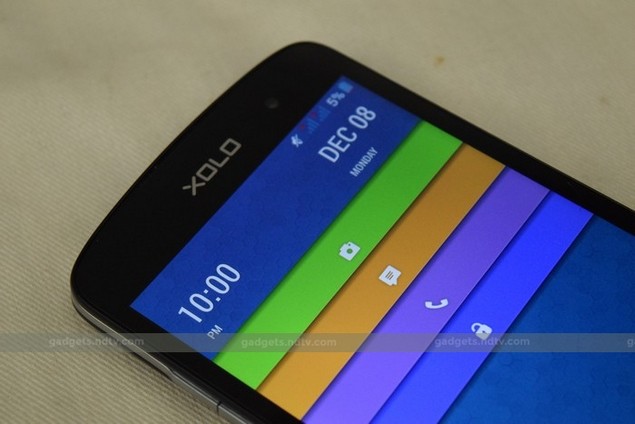 Look and feel
In most respects, this is a perfectly ordinary Android smartphone. It's a little bulky but not otherwise out of the ordinary. It's pretty much all black plastic though the metallic silver trim running around the sides gives the design some relief. The power and volume buttons are integrated into this strip on the right and left sides respectively, which works well. The Micro-USB port and 3.5mm headset socket are both on top.
There's quite a bit of space above and below the screen, which is taken up by a rather large Xolo logo and the usual three capacitive navigation buttons, all printed on in silver. The earpiece is right against the upper edge of the phone, which some might find uncomfortable. The navigation buttons are not backlit but their icons are shiny enough to be visible in low light.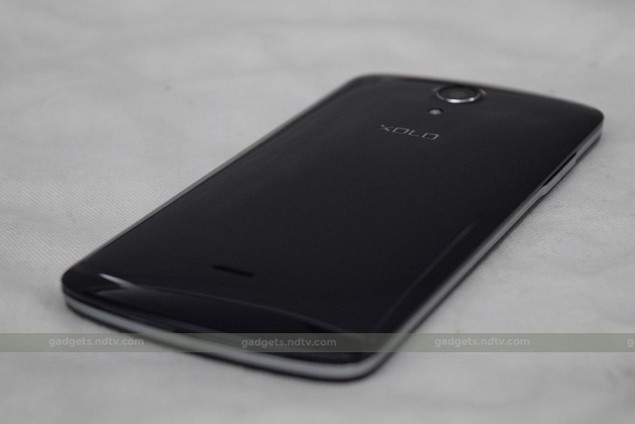 The rear cover is made of a smooth plastic. The camera lens protrudes a little bit and there's another Xolo logo below it, with a speaker cutout further down. You have to pry it off with a fingernail. Surpisingly there's no access to the battery; only the two SIM card slots and the microSD card slot.
The curved rear makes the Omega 5.0 easy to hold, and thankfully the plastic isn't too slippery. This might not be the slimmest phone around but it doesn't compromise utility either.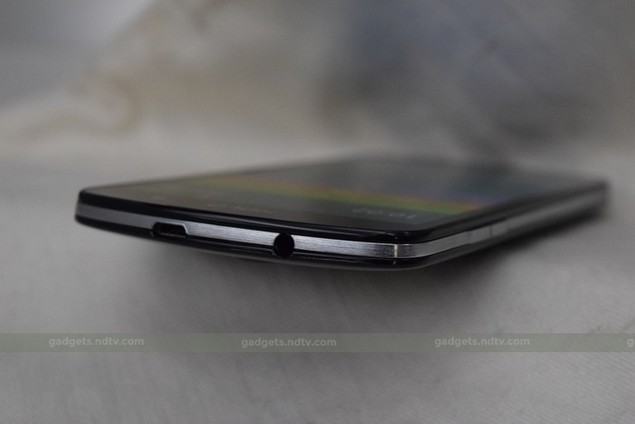 Specifications and software
Xolo has managed to budget an octa-core processor, the MediaTek MT6592M, into its spec for the Omega 5.0. This is a slightly cut-down version of our old friend, the MT6592, and runs at 1.4GHz rather than 1.7GHz. These two have powered nearly every octa-core smartphone we've reviewed so far, and now that a new generation is already upon us, they're finding their way into budget devices. The Xiaomi Redmi Note (Review | Photos) for example, uses the MT6592, so it's interesting that Xolo has managed to compete with the Chinese behemoth in terms of specs and price.
There's 1GB of RAM and 8GB of storage space which is normal for phones in this price range. Wi-Fi b/g/n and Bluetooth 4.0 are standard. The rear camera takes 8-megapixel stills and 1080p video, while the front camera is a 2-megapixel unit. The 2,100mAh battery is also just about standard for this category.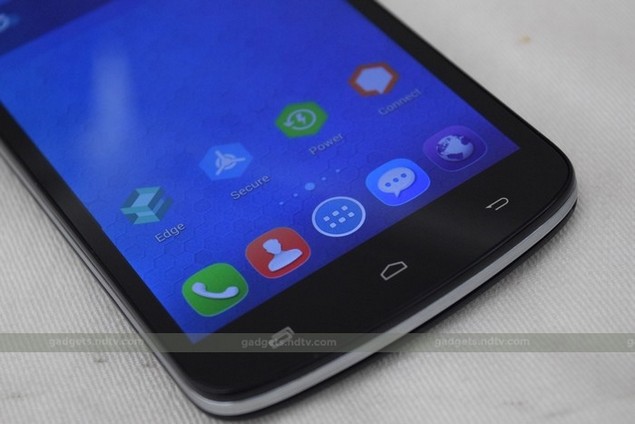 The screen is a 5-inch 720x1280-pixel panel with a density of 294ppi. This is quite sharp and we're relieved to see that Xolo hasn't cut corners - a lower resolution would have been quite apparent on a screen this size. Text should be large enough for most people to read comfortably.
Xolo debuted its Hive UI with the 8X-1000 (Review | Photos), a phone we quite liked. Not much has changed in terms of outward appearances, though Xolo does promise frequent updates to keep things fresh. We still like most of the aesthetics and the highly functional lockscreen. The app drawer, which forces icons into categories, was probably the only major annoyance for us. You can read all about Hive UI's looks and functionality in our review of the Xolo 8X-1000.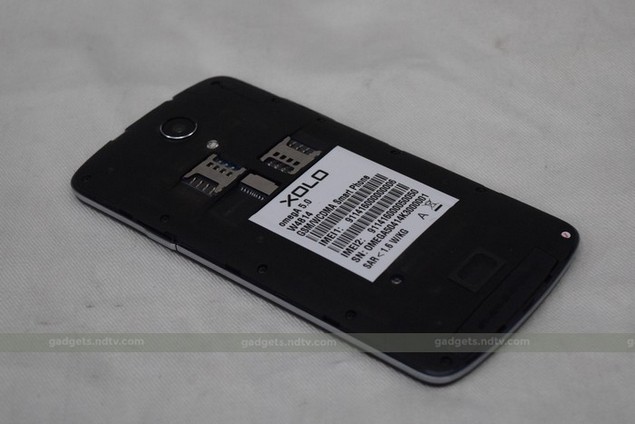 The preloaded apps are also the same as they were on Xolo's earlier Hive UI device, including the FusionX music player, Xolo Secure, Power, and Connect. The social-inspired Edge and Hive Key apps are also present.
We noticed that Xolo has printed icons on this phone's navigation buttons, rather than the simple dots that the 8X-1000 had, but even so, the leftmost one which has a Recents icon is treated like a Menu key. You have to long-press the Home button to bring up the app switcher. Android apps don't even require a physical Menu key anymore, which makes this all the more baffling.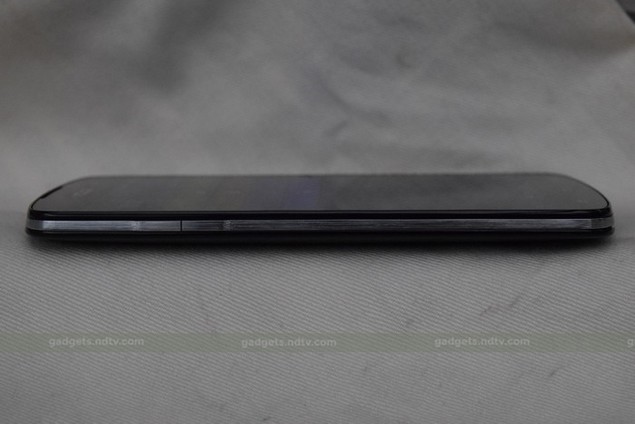 Performance
The heat is on in the sub-Rs. 10,000 smartphone category, and Xolo seems to be up to the challenge. The octa-core processor manages to push through with sheer brute force, resulting in a fairly impressive showing in our benchmark suite. The obvious point of comparison here is the brand new Xiaomi Redmi Note, which sells for the exact same price (though its availability is highly restricted). Even with slightly better specs overall, the Redmi Note's scores are essentially at par with those of the Xolo Omega 5.0.
We recorded 27,405 and 11,696 points in AnTuTu and Quadrant respectively, which were a bit lower than what the Redmi Note managed. The SunSpider and Mozilla Kraken scores of 1313.1ms and 15404.8ms were also proportionately lower. Howver, graphics scores came out in favour of the Omega 5.0, with leads in both GFXbench (16.1fps) and 3DMark's Ice Storm Extreme test (4,523).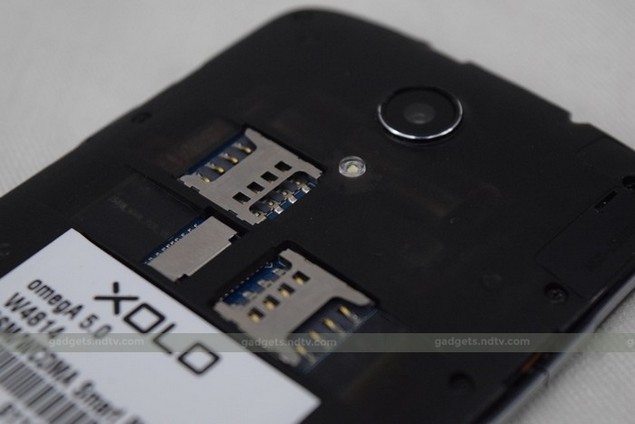 We had no reason to complain about the device's performance in everyday tasks either. It handled most of our work without complaining. HD videos were slightly problematic, and there were artefacts on screen when playing highly compressed samples. Sound was surprisingly full, with minimal distortion.
The camera had a few minor issues, but was good overall. Images came out nicely, with good detailing in close-ups. Objects in the background tended to be less clear. It wasn't the quickest to lock focus, but that's acceptable. We did have trouble at night though, with the camera simply refusing to focus at some points, and barely capturing anything at others. Images also came out with far too much noise.
On the other hand, battery life was more than satisfactory. Our video loop test lasted 9 hours, 12 minutes before the phone shut itself off automatically.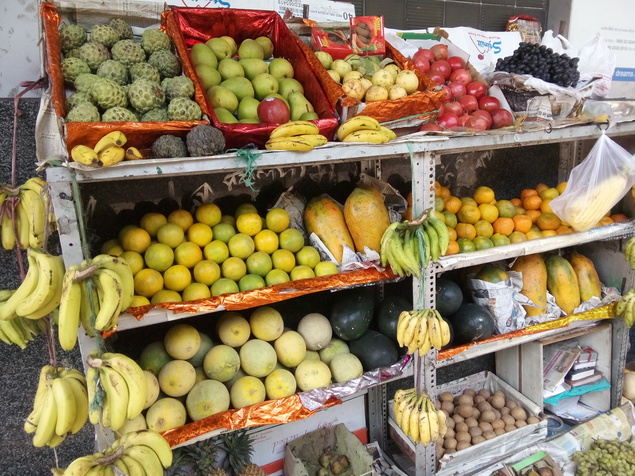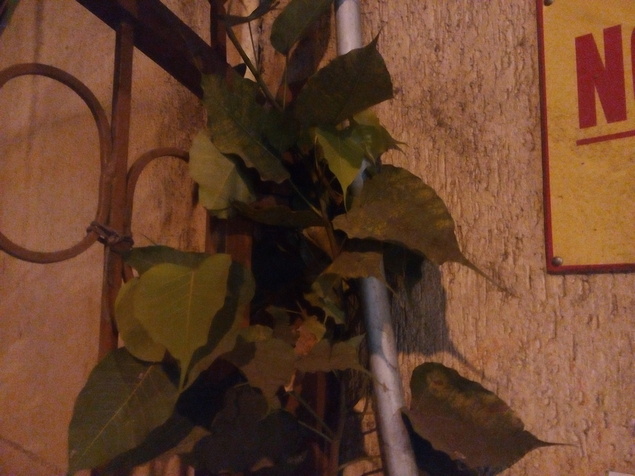 (Click to see full size)

Verdict
Xolo's new push into this competitive space is likely to be met with a warm welcome. While this phone isn't as polished as some of its competition in terms of outward appearances, it has more than enough going for it to make that irrelevant. The 5-inch screen is a good compromise between size and portability, and for those who want more there's either the Redmi Note or the Omega 5.5. If the camera is the most important feature for you, you might consider paying a little more for the Asus ZenFone 5 (Review | Photos).

Entry-level Android phones have been a major force in the market this year, but with performance and specifications like this just a step above, it doesn't make much sense to go lower than this in price, unless you're really strapped for cash.