Xiaomi did not have a great 2015, and the company simply could not shake off its 'budget smartphone' image. Many buyers do not see Xiaomi as a truly premium contender, and with value-for-money offerings such as the new Redmi Note 3 (Review) getting a lot of attention, even more people see the Chinese smartphone giant as a budget specialist that is known for offering feature-filled products at low prices.
(Also see: Can the Mi 5 Help Xiaomi Exit the 'Budget' Segment?)
While this image has certainly helped Xiaomi sell a lot of phones, it's also made it harder for the company to make a serious impact on the premium segment in India. But 2016's second launch from the company is a clear message of its intention to take on the bigwigs. The Mi 5 is Xiaomi's most expensive offering yet, and signals a break away from the "budget" image. With top-end specifications that take on the Samsung Galaxy S7 (Review) at nearly half the price, the Xiaomi Mi 5 has the potential to change the mindsets of premium buyers. We review the phone and find out if this "affordable flagship" lives up to expectations.
Look and feel
The first step to making a premium smartphone is making it look and feel like a luxury item. Xiaomi somewhat succeeded in doing that with the Redmi Note 3, and has done it again with the Mi 5. What it has also managed to do is set the two devices apart significantly, and the Mi 5 has a design and build that is patently different from the much more affordable Redmi Note 3. It feels suitably premium, and does not let its mid-range pricing affect that in any way. It's also extremely light at 129g, and you'll definitely feel the lack of heft in your hands.
That said, there are definite visual similarities to Samsung's A and S ranges, particularly the Samsung Galaxy A8 (Review). The inwards-sloping sides and curved back in particular look similar, as do the physical home key at the front and narrow borders around the screen. At a quick glance, the Mi 5 appears to have absolutely no bezels at all to the left and right of the screen, but on closer inspection we found that there is in fact a hint of border, coloured black to give the impression of an edge-to-edge screen.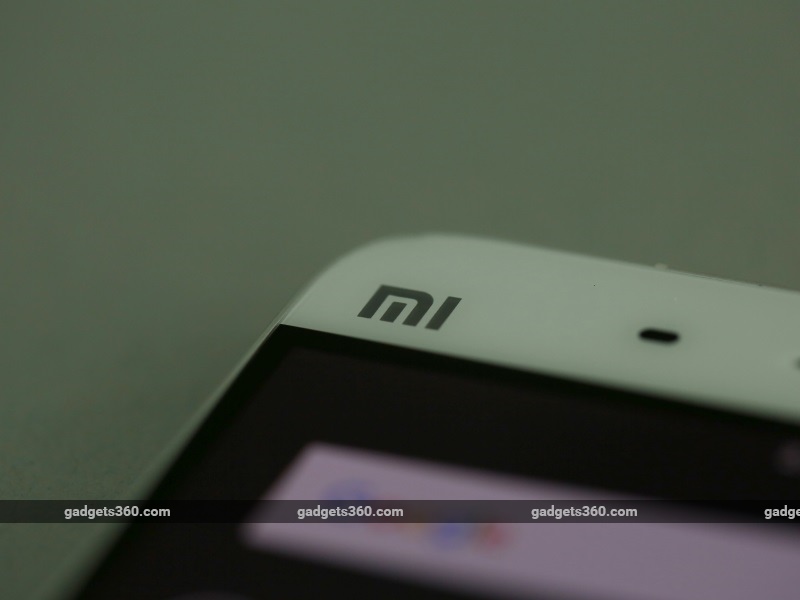 There's a front camera, proximity sensor, LED indicator, and earpiece at the top, while the Mi logo finds a place in the top left corner. Alongside the home key are capacitive buttons that can be customised with regards to position and function. Both buttons are backlit but are invisible until they are touched. The home button itself is also touch-sensitive when the phone is being used, which can be switched off if you choose.
The entire frame of the phone is metal, broken only by plastic antenna lines at the top and bottom. The dull finish on the metal looks excellent, and the reflective edges only add to the beauty of it. There's also a great sense of symmetry and evenness all around the phone. The power and volume buttons are on the right, the dual-SIM tray is on the left, the 3.5mm socket and infrared emitter are at the top, and the USB type-C port and grilles are at the bottom. Only the right grille actually houses a speaker, while the left grille houses the microphone, but the symmetry helps maintain the phone's aesthetics.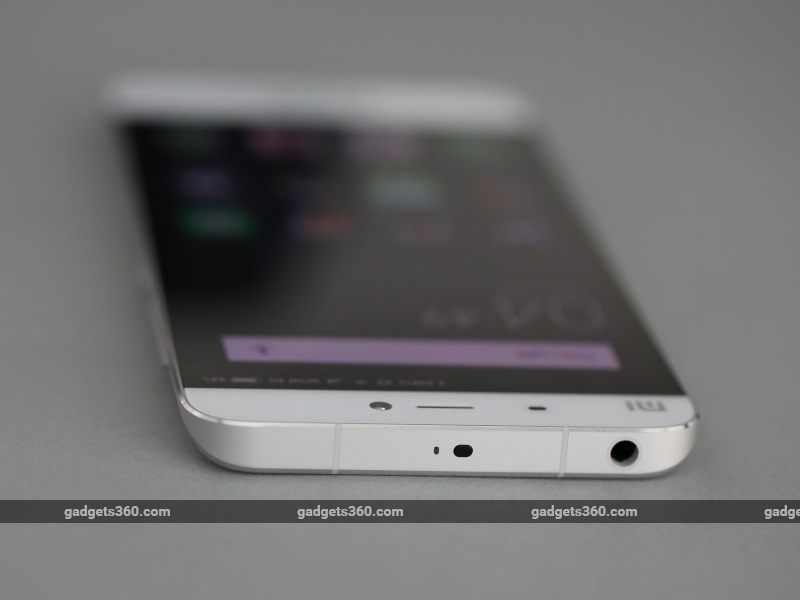 The back of the Mi 5 is a glass panel which curves at the sides, another similarity to Samsung's high-end models. It's extremely reflective, although the surface is also a grime magnet and will need constant wiping. The top left corner has the camera and flash, while another Mi logo finds a place near the bottom. Although the back panel is not meant to be removable and has no grooves to make it possible to do so, it appears that the panel can come off easily, and slight gaps are visible at the edges. We weren't particularly fond of the white variant (our review sample), and we feel the black variant looks a lot better.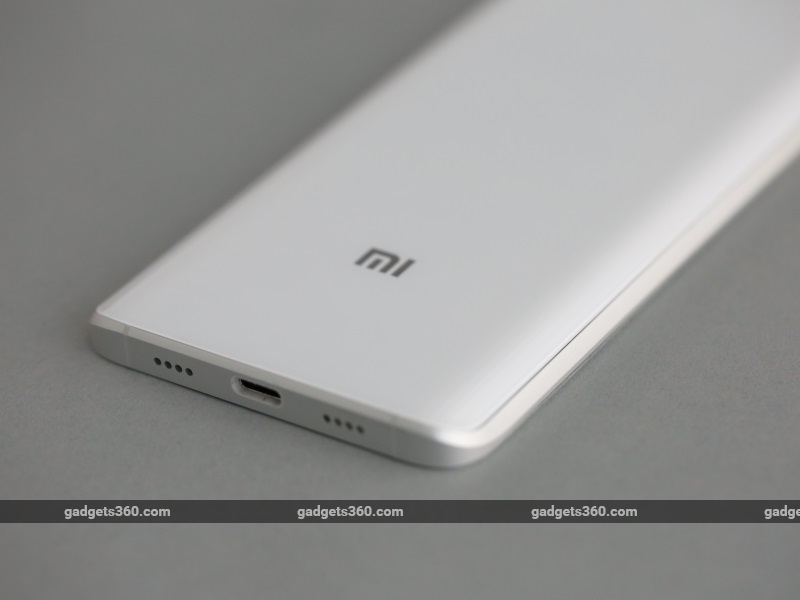 The screen of the Xiaomi Mi 5 is a 5.15-inch full-HD IPS LCD affair, with an impressive pixel density of 428 pixels-per-inch, and Corning Gorilla Glass 4 protection. Although other flagship devices sport higher-resolution 1440p screens, Xiaomi explains that in order to keep the thickness of the screen - and the overall thickness of the phone - low, it was necessary to limit resolution to full-HD. This isn't a bad thing at all, since it's suitably sharp as it is, and near-impossible to spot any flaws or apparent lack of detail.
It's also an incredibly bright IPS screen, with a peak brightness rating of 600nits and a minimum brightness of 0.7nits, which is a significantly broader range than many other devices are capable of. The peak brightness is very useful under direct sunlight, and legibility is excellent. Black levels aren't particularly great though, and this is the only significant flaw in the phone's screen.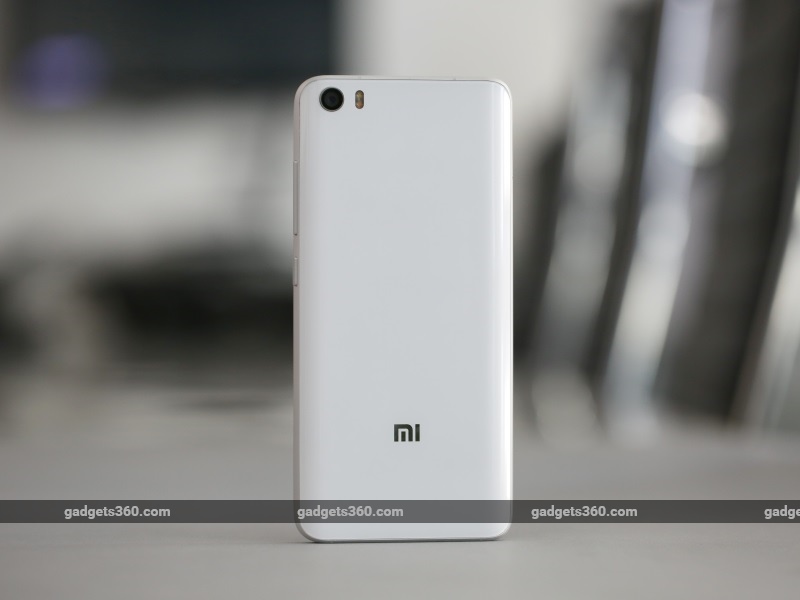 Specifications and software
The Xiaomi Mi 5 is the first Qualcomm Snapdragon 820-powered smartphone officially available in India, and is (at least on paper) one of the most powerful devices you can buy today, along with the Samsung Galaxy S7 and S7 Edge. A notable change between the 820 and its predecessor the 810 is the fact that Qualcomm has decided to skip the core wars and go back to a more efficient quad-core architecture. Although the Snapdragon 820 can be clocked at up to 2.2GHz for all of its four cores, the Mi 5 has the SoC clocked at 1.8GHz for two cores and 1.3GHz for the other two.
There's also 3GB of RAM, 32GB of internal storage, support for VoLTE, NFC, an infrared emitter, and Qualcomm Quick Charge 3.0 compatibility. Our review unit came with a Quick Charge 3.0 charger, but we've been told that units sold in India will come with a Quick Charge 2.0-compatible charger. Charging is quick even with a 2.0-compatible charger, and you can juice the phone up in less than 90 minutes.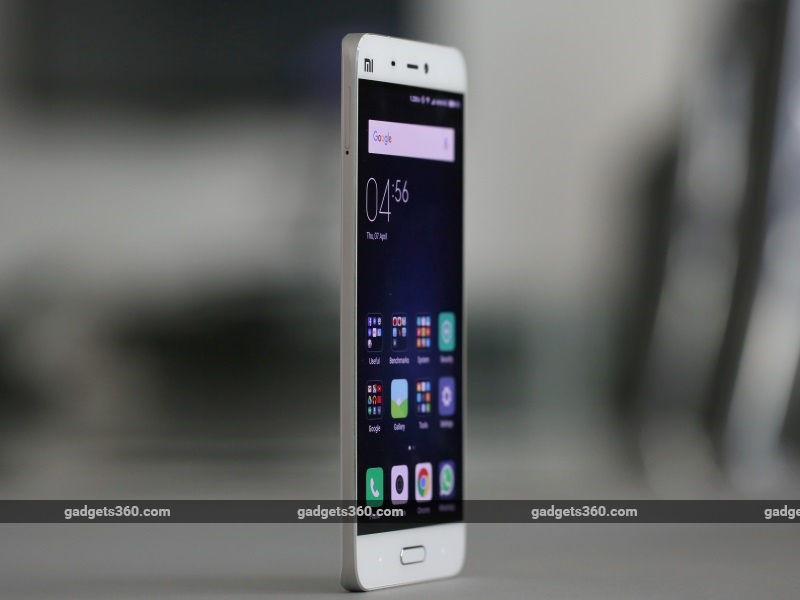 Apart from this, there is also Wi-Fi 802.11n/ac, Bluetooth 4.2, dual-SIM connectivity with 4G-capability on both SIM-slots, a 3000mAh non-user-replaceable battery, and a USB Type-C port for connectivity and charging. A notable weakness is the lack of expandable storage; the phone does not support adding microSD cards and you're limited to the 32GB in the phone itself. Although there are 64GB and 128GB variants of the Mi 5 in China, these aren't sold in India yet and there's no word on if or when they will be.
The Xiaomi Mi 5 comes with MIUI 7 based on Android 6.0. Android's typical look and feel is missing, since MIUI is a completely different user interface which follows its own rules of design and function. Although it's single-layered, it's fairly neat and well organised. The icons and menus have a sense of sophistication and quality in the design, and it certainly feels a lot better than the half-baked and tacky user interfaces that we've seen before from some other manufacturers. There's also the promise of regular updates to the user interface. While the UI doesn't have the same polish as stock Android, it's certainly one of the better custom ones.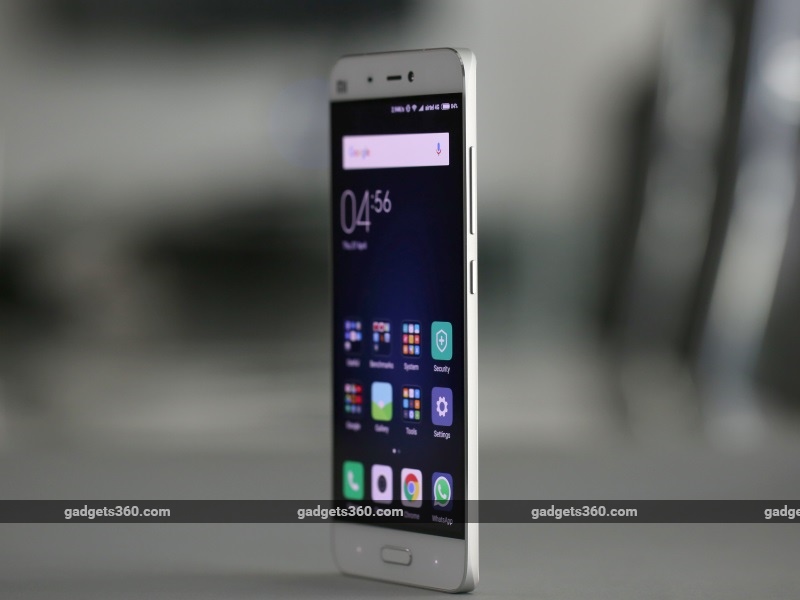 The Settings app gives you access to a fairly exhaustive set of options and controls that let you fine-tune your phone to your specific needs, and also information on the functioning of your phone. This includes detailed statistics on battery consumption and storage, controls to change the functions of the capacitive buttons and notification light, an audio enhancement and equaliser tool for headphones, and a useful one-handed mode that can be toggled by swiping in either direction from the home button.
However, certain important functions such as app permissions and data usage statistics are confusingly not to be found in the Settings app, but we tracked them down in Xiaomi's additional Security app. This app, apart from the functions we just mentioned, also lets you add fingerprint/ pattern locks to specific apps, configure battery profiles, scan for viruses, clean unwanted data, and set up an SMS blocklist. It's a rather useful app that gives you control over far more aspects of your phone than usual, allowing you to personalise it to your specific needs.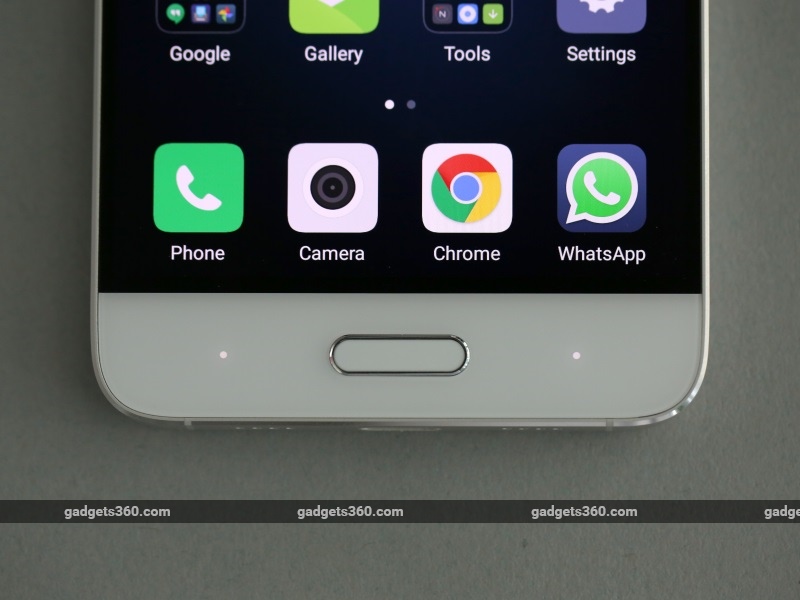 One of the key features of the phone is its fingerprint sensor, which can be configured to read up to five fingerprints which can not only unlock the phone but also activate or deactivate Child Mode, secure the file explorer, and secure specific apps as previously mentioned. The sensor is among the quickest and most accurate we've used to date, and makes the phone a pleasure to use.
Unlike other devices, simply touching the sensor doesn't unlock the phone. Since the sensor is also a physical button which can be used to first wake the device, pressing down on the button and keeping your finger in place for about half a second does the job.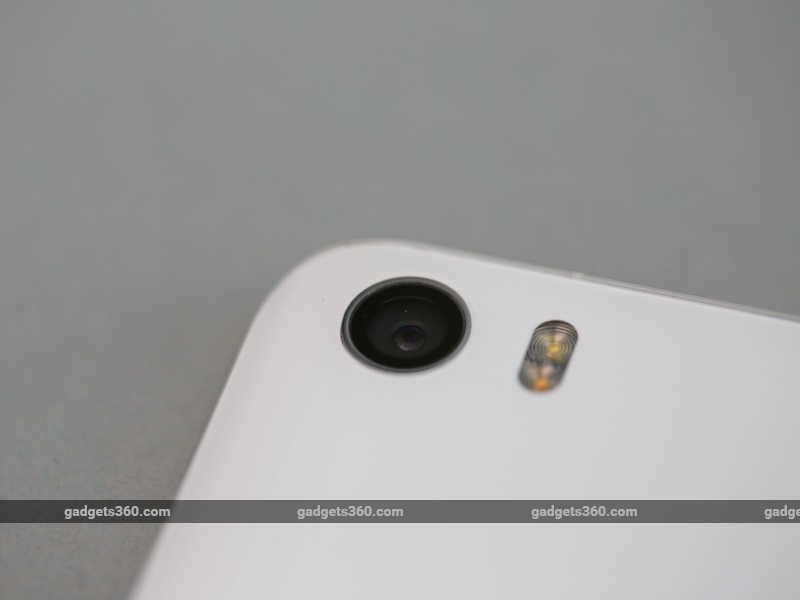 Camera
The Xiaomi Mi 5 has a 16-megapixel primary camera with a dual-tone LED flash, and a 4-megapixel front camera with bigger, 2-micron pixels. The rear camera is capable of shooting video at up to 4K, while the front camera can shoot full-HD video at 30fps. There is also four-axis optical image stabilisation for the rear camera, which helps immensely when taking quick shots and videos.
Xiaomi's camera app is easy enough to use on the face of it, but has some particularly annoying shortcomings as well. Toggling between stills and video is quick and easy, as is controlling HDR, flash and the camera switching. Swiping from the right brings up the filters, while swiping from the left shows the various modes, including timer, panorama, manual and more. You can also access settings from here, including the resolution and shutter controls. To access settings for video, you have to first switch to video mode before repeating these steps.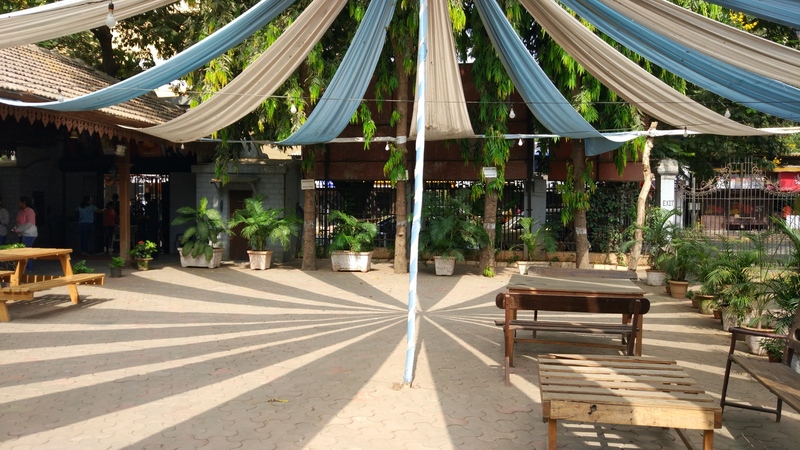 (Tap to see full-size image)
A notable flaw is the fact that slow motion is unavailable if you're shooting in full-HD or 4K resolution, and you have to manually switch to 720p through the settings to make slow-motion video shooting possible. This adds unnecessary steps to the procedure, and the app should really have been programmed to automatically switch to the lower resolution required when slow-motion is selected. What is also bothersome is the fact that the camera is a bit slow to focus, and you can't always shoot as quickly as you like.
Coming to the camera itself, we found the performance to be decent. Pictures in regular light are bright, colourful and fairly sharp, although zooming in too far will reveal a lack of fine detail. Within the focus zone, there isn't much to complain about, and interplay between light and dark areas is excellent. Keeping the camera on auto-HDR mode will deliver the best results, letting you capture a good amount of colour and keeping pictures clean and pleasant to look at.
Photos taken in low light are also decent in terms of visibility and colour captured, but detail suffers a bit. Noise and grain tend to be more visible than with other similarly priced and specified phones when shooting in low light, but on the whole you can expect shots that are satisfactory. Close-ups and videos are good as well, and shooting in 4K gives you gloriously detailed results. Selfies are decent particularly in low-light, thanks to the camera which uses its larger pixels to capture more light. While not of the same quality as the iPhone 6s Plus or Samsung Galaxy S7 range, the camera of the Mi 5 is certainly good enough for everyday smartphone photography.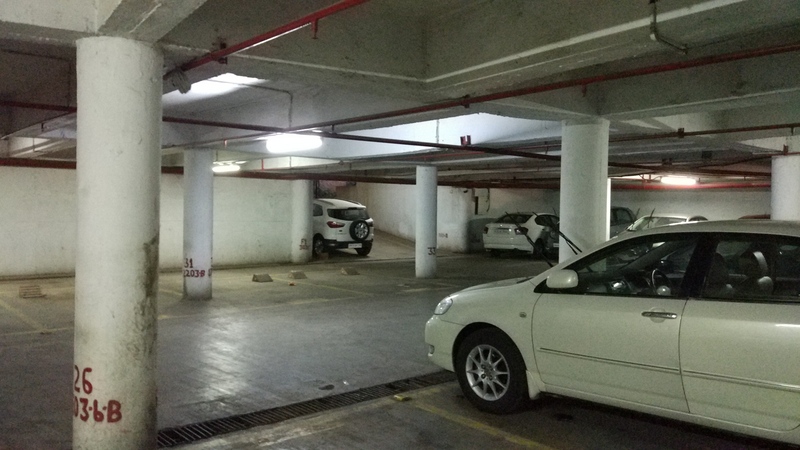 (Tap to see full-size image)
Performance
Powered by the Snapdragon 820 SoC, the Xiaomi Mi 5 is fantastic when it comes to performance. We did not face any issues with lag or stutter, and everything from unlocking the phone to opening up apps is quick and snappy. Even graphics-intensive tasks such as gaming and watching videos are easy work for the phone. However, the Mi 5 does tend to heat up a bit when subjected to heavy use, and charging using a Quick Charge compatible charger causes significant heat at the back of the phone. RAM usage also tends to be on the higher side with about 1.5GB of RAM in use even right after a reboot, but with a total of 3GB available this shouldn't pose any problems.
The excellent performance shows even in the benchmark scores, and we recorded good results across our suite of tests. AnTuTu returned a score of 114,157, while Quadrant produced 36,576. GFXBench and 3DMark Ice Storm also produced very high scores of 58fps and 24,521 respectively. These are all on par with or slightly lower than what we saw from the Samsung Galaxy S7 and S7 Edge, and show that the Mi 5 lives up to performance expectations.
The phone has a 3000mAh battery that ran for 13 hours, 5 minutes in our video loop test. Even in ordinary use, the phone would easily last through the day despite the screen brightness being on the higher side and constant 4G connectivity. This is good for a flagship smartphone, helped indeed by under-clocking the SoC, without any major performance compromises. Android 6.0's Doze Mode also has a role to play in this, as does the fact that the full-HD screen requires less effort to power than the 1440p panels on other flagships. Audio quality is just about acceptable through the single speaker, as is cellular and Wi-Fi connectivity.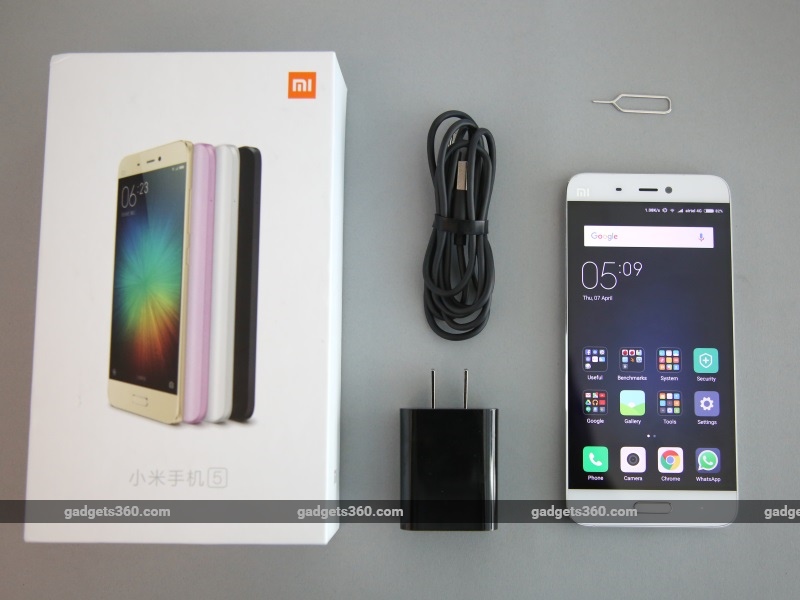 Verdict
Xiaomi may be better known for its budget smartphones, but with the Mi 5 it has shown that it is more than capable of building a competent premium device as well. Although a lot of people will have problems with the price and the general idea that Xiaomi is even trying to build something premium, we feel that it's time to move on and give the company the respect it deserves. The Mi 5 is a solid effort that succeeds in giving you a flagship smartphone experience at a price that we consider excellent for a phone of this quality.
The Mi 5 gets practically everything right, with decent design, excellent performance, good camera quality and great battery life. The most severe shortcoming is that the phone does not support expandable storage and you're limited to 32GB which is the only variant currently available. The low weight may also give some the feeling that the phone isn't quite as solid and well-built as other all-metal competitors. Another big factor to consider is that Xiaomi's flash-sale model means that you might have some trouble actually picking up a Mi 5. We're of the firm opinion that smartphone buyers should not be made to work this hard to get their phones.
The only thing you really give up when choosing this phone over a much-higher-priced flagship from Samsung or another major brand is a little bit of the overall finesse and premium-level feel that they deliver, in terms of sheer material quality and craftsmanship. If you're looking for that feeling of absolute luxury and indulgence, you might have to spend more and look elsewhere. However, at Rs. 24,999, the Xiaomi Mi 5 is a fantastic smartphone for the price, and if you do manage to pick one up in the flash sales, it won't let you down.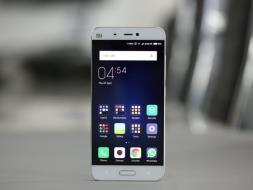 Xiaomi Mi 5 in pictures