The year 2014 saw an influx of Chinese companies selling Android smartphones. Gionee, Oppo, Xiaomi, ZTE, Huawei and Lenovo all introduced high-quality smartphones across price bands in India. Gradually, from general feelings of scorn towards these Chinese brands, people have become more accepting. After all, these products have great price-to-performance ratios, and more significantly,800-pound gorillas such as HTC, Sony and Samsung haven't been able to match their pricing. Yet.
Now, 2015 has dawned upon us and if the entrance of the latest Chinese smartphone brand, Vivo, is any indication, the competition might get even fiercer this year.
The Vivo Y15 is budget smartphone in the sub-Rs.8,000 price bracket. It goes up against the likes of the Motorola Moto E (Review | Pictures), Xiaomi Redmi 1S (Review | Pictures) and Huawei Honor Holly (Review | Pictures) - all of which created a stir in the same segment last year. To actually make people sit up and take notice of the Y15 in such a crowded space, Vivo will have to seriously pull out all the stops. Looking at the mediocre specifications on paper, we don't have much confidence. We hope that the Y15 can prove us wrong.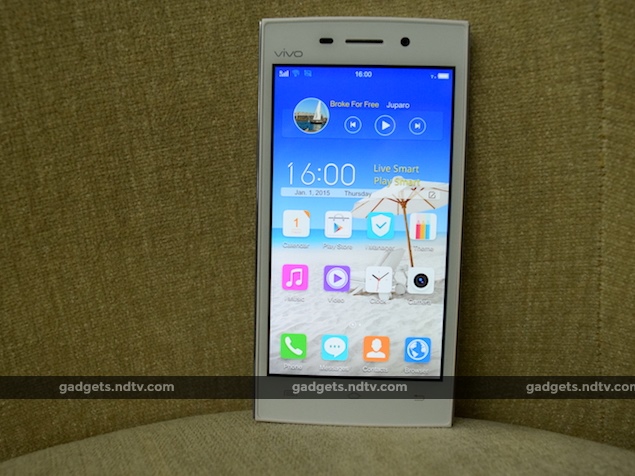 Look and feel
Anyone who has used a mid-range Sony Xperia smartphone will immediately spot the similarities in design with the Vivo Y15. The Y15 has a similar shaped body with sharp corners, a glossy plastic rear cover with a metal trim running around the edges and a metallic ring around the camera lens. At 9mm, the Y15 is not exactly slim and the 130g weight makes it slightly heavy. Also, the body doesn't really provide a nice grip and we sometimes ended up dropping the phone. It is available in white and black. All said and done, we think the Y15 is one of the better looking phones in this price range.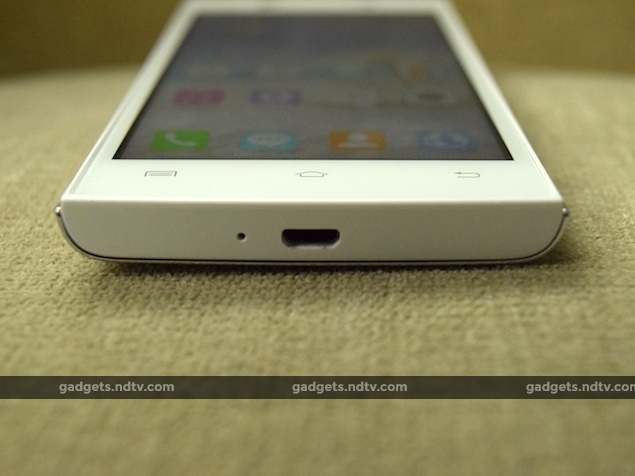 The bezels around the 4.5-inch screen are not too thick. Below the screen is a row of capacitive buttons that aren't backlit but are printed quite legibly. The earpiece, an array of sensors and the front camera are all present above the display. The power button and the volume rocker are on the left edge. These buttons have decent travel and feel sturdy. A Micro-USB port for charging and a microphone for calls are on the bottom edge whereas a lone 3.5mm audio jack sits on top. On the bottom left corner of the rear are two grilles for the speaker. The primary camera and the flash are in the top right corner at the rear.
The 4.5-inch screen has a resolution of 480x854, which results in a pixel density of 218ppi. The low-resolution screen is a bit of a downer; text has jagged edges and images look pixelated. On the bright side, the screen is pretty vibrant with saturated colours. The protective glass (unspecified) is very reflective and as a result viewing angles and sunlight legibility take a hit.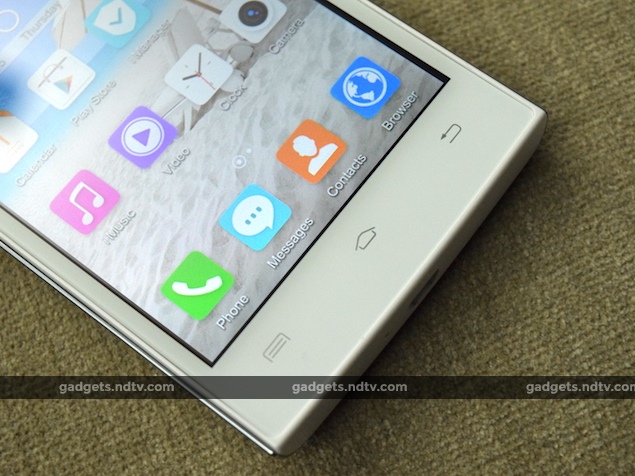 Specifications and software
Under the hood is a Mediatek MT6582 SoC with a 1.3GHz quad core processor and a Mali-400MP2 GPU. There is 512MB of RAM, which is very low by today's standards. Also, only around 1.05GB of the total internal storage space of 4GB is available for users, which clearly won't suffice for large apps and games. Thankfully, Vivo provides the option of adding a microSD card for storing other data. The Y15 accepts cards of up to 128GB in capacity.
There is a 5-megapixel primary shooter that can also capture 1080p video at 30fps. The front-facing camera on the other hand can capture 2-megapixel images. The Y15 is a Dual-SIM phone andaccepts two Micro-SIM cards. The primary SIM card can connect to 3G. With respect to other connectivity options, the Y15 has support for Bluetooth v4.0 with LE and Wi-Fi b/g/n.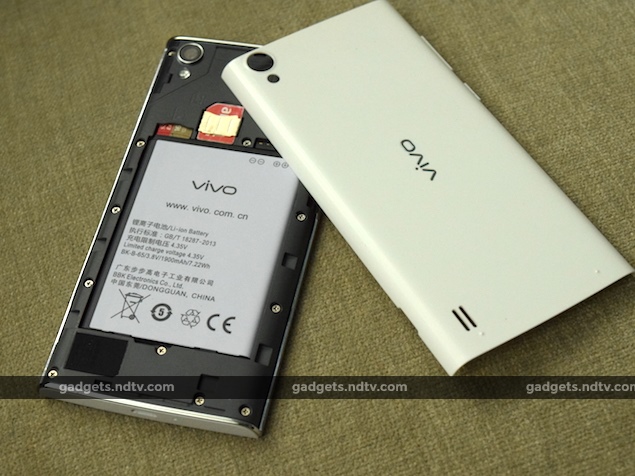 Vivo makes use of a skin called Funtouch OS on top of Android 4.2.2 (Jelly Bean). There is no word yet on an update to KitKat, let alone Lollipop, which is a disappointment. Funtouch OS, with no dedicated app drawer, is quite like the skins used by other Chinese companies on their smartphones. It bears major similarities to Gionee's Amigo UI in terms of the icon pack and the available theming options. Surprisingly, Funtouch OS is much lighter than Amigo UI and works smoothly even on a phone with low-end specs such as the Y15. Sliding up from the bottom or pressing the home screen for a little more than two seconds brings up a listing of recently opened apps and quick settings. This is a rather intuitive implementation and we got used to it pretty fast.

Vivo keeps the bloatware to a bare minimum. Facebook, WeChat and WhatsApp are the only third-party apps that are present by default and we think most people will use these apps regularly anyway. Vivo adds support for VivoCloud which lets you back up contacts, messages and bookmarks from the browser. There are a few software tweaks which some users might find really helpful. For example, swiping down on the screen in sleep state takes you directly to the camera; covering the screen mutes the phone while it is ringing; and you can see missed calls and other notifications when you pick up the phone. All of these functions worked as advertised and we think Vivo's Funtouch OS is as polished as Xiaomi's MiUI.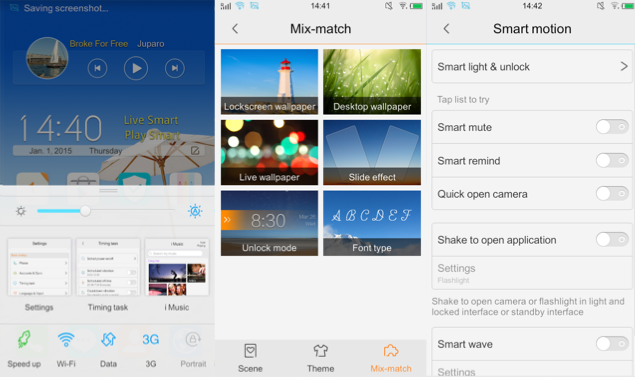 Camera
This is one area where the Vivo Y15 really shines. The 5-megapixel camera can capture some great shots without loss of details and with good colour accuracy in daylight conditions. We were shocked by some of the results, as the sample images of the Y15 actually looked better than those taken with some of the mid-range phones we've tested recently. The camera handles exposure really well without blowing out highlights. On the other hand, the Y15's camera has one major drawback - its slow shooting speed. This results in blurry shots when the phone is not held firmly.
Aiding this great camera is the easy-to-use software. It is modelled around the Android Gingerbread camera app but doesn't feel as clunky thanks primarily to its updated icons. The camera app has an option where you can add pre-defined watermarks to images. We thought it would be gimmicky, but it looks rather neat if done properly. The app doesn't provide manual settings but there are a few filters to play around with.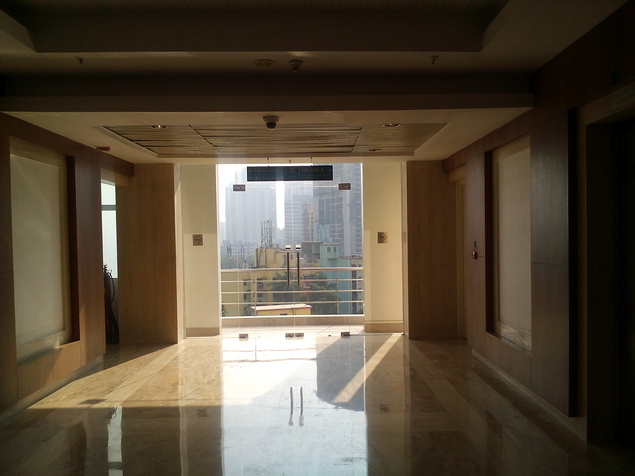 (click for full size)

In low-light conditions, the camera still manages to let some light in, but noise becomes a big problem. We cannot say that the photos are entirely unusable but you might not get a decent shot in dark conditions. Also, the quality of the captured 1080p video was rather poor. The 2-megapixel front camera can capture some really good selfies. It has an 88-degree wide-angle lens so a few more people than usual can fit in.
Overall, the cameras inside the Y15 are great, if not the best, in this price range.
(click for full size)

Performance
If benchmark numbers are to be taken at face value, the Vivo Y15 will be labelled a bad performer. The GFXbench test failed to run because the memory was insufficient, and in the 3D Mark Ice Storm test the Y15 managed to score a paltry 2,998. The Quadrant and AnTuTu scores were slightly better at 5,766 and 19,806 respectively.

However, in our time with the Y15, we rarely faced any slowdowns and found that the screen responded to touch pretty well. Only opening folders felt slow because of an animation effect, but we got used to that too.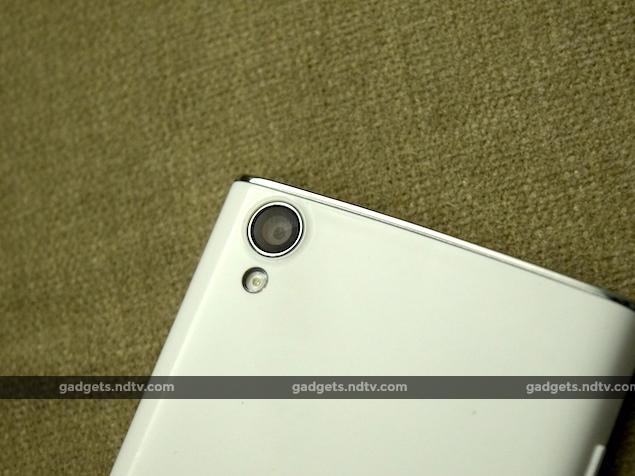 The Y15 also managed to play all the videos we threw at it but none of our HD quality (and above) videos looked good on the low resolution screen. Also, our highly encoded 1080p test video, which has bitrate of 40mbps, taxed the processor and as a result the playback was choppy. The sound quality using the bundled headset was pretty decent but it is not comfortable to wear for long periods of time. The speaker is adequately loud.

We faced a few call drops in areas where there is a high network congestion but the call quality is fairly decent. In our video loop battery test the phone lasted 8 hours and 59 minutes, which is definitely better than quite a few phones in this price range. It should easily last at least day, and at times a little more, with moderate to high usage.
Verdict
We are really pleased with the performance of the Vivo Y15's cameras. Also, despite its mediocre specifications, the phone doesn't lag in daily usage. However, this doesn't mean that there are no drawbacks. The build quality could have been better, the display is a travesty in this day and age, there could have been more internal storage space, and most importantly the Y15 could have benefited greatly from 1GB of RAM.

If you are in the lookout for a budget phone, alternatives such as the Motorola Moto E and Xiaomi Redmi 1S are still great options to consider. It might be worthwhile to note that these phones are priced lower than the Y15. If you are willing to spend a little more and do not mind using a 5.5-inch screen, the Xiaomi Redmi Note (Review | Pictures) and Yu Yureka (Review), are better bets in all respects.