"A large screen Android smartphone for under Rs. 10,000 please." This pretty much seems to be the segment where we are seeing the maximum number of launches in the past few months especially from Indian handset makers. It all started with Samsung launching its 5-inch Galaxy Note in 2011, the success of which has prompted many Indian smartphone manufacturers to offer affordable large screen smartphones to the Indian consumers.
Spice has recently launched another smartphone as part of its Stellar range. Dubbed as the Spice Stellar Virtuoso Mi-495., the device sports a 4.5-inch qHD display. It is powered by a dual-core processor and supports dual-SIM capabilities. At Rs. 10,499, this smartphone will be competing head on with the recently reviewed Xolo A800.
Let us find out if Spice Stellar Virtuoso Mi-495 is an interesting option to consider if users are looking at buying a large screen smartphone within a tight budget.
Design/ Hardware
The Spice Stellar Virtuoso Mi-495 is a rectangular-shaped smartphone with a curved border. There is a silver lining running on the sides. The body seems to have a metallic finish, which makes it look quite sturdy.
The 4.5-inch screen takes up most of the front but there are no physical buttons. The left panel houses the volume dock, while the right has power/screen lock button. The top panel has the USB/charging port and the 3.5mm jack. On the back panel is an 8-megapixel camera.
At 150g, the phone seems just right in the hand, not too heavy or too light. Overall, Spice has managed to a good job with this handset in terms of its design and looks.
Display
The Spice Stellar Virtuoso Mi-495 comes with a 4.5-inch qHD (960x540) IPS display. The smartphone has wide viewing angles and shows true colours.
Under sun visibility on the Spice Stellar Virtuoso Mi-495 is good. The screen used in this smartphone is reflective.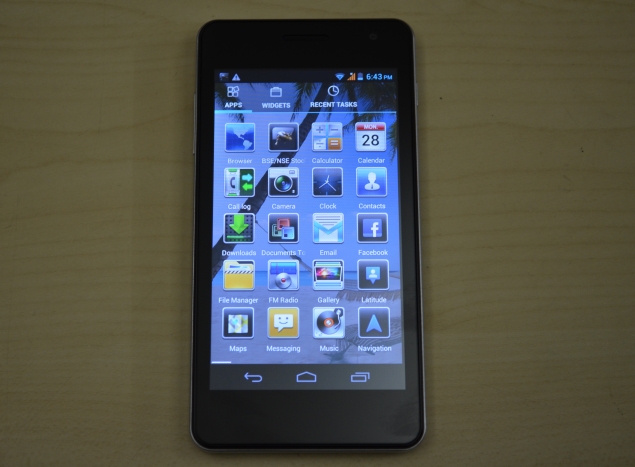 Camera
The smartphone comes with an 8-megapixel camera with LED flash. There is no dedicated camera button, which would have been welcome to click pictures. Also there is a bit of a lag when clicking the pictures.
There are quite a few handy options available to click images that can aid your photography such as auto scene detect, face beauty, smile shot, best shot and EV bracket shot. You also have an option to click images in burst mode.
The quality of images and videos shot through this camera is good even under low light conditions. To assist taking video in dark there is an option in the camera to keep the LED lights on for about a minute. On the completion of this time you can opt to switch on this light again.
There is a front camera as well but the images captured are pretty much a standard affair. One can click images in burst mode through the front camera as well but all other photographic aids are not available.
Software/ Interface
Spice Stellar Virtuoso Mi-495 runs on Android 4.0.4 (Ice Cream Sandwich). It is pretty much the stock version of this operating system. There are six customisable home screens, which can be used to add applications or widgets.
The smartphone comes pre-loaded with various apps like Documents To Go, BSE/NSE stock exchange, Times of India, Nimbuzz and Stringo apart from the standard Facebook, Latitude, Google Talk, Gmail, What's App Messenger, Google Search and Youtube.
Stringo is an app that helps in sharing videos and pictures with your contacts via Facebook. These pictures or videos should be pre-loaded on Facebook and the app helps in sharing them through SMS or audio chat with friends that have this app installed on their device. The app also allows users to send 50 free messages to those friends that do not have Stringo app.
Apart from these, Spice has also added the SpiceGang app on this smartphone. This app is basically a WAP site, which houses a catalogue to download animations, videos, wallpapers etc. You can also check latest news and cricket scores through this app.
Performance/ Battery
This smartphone is powered by Mediatek's dual-core MT6577 chipset, which clocks in at a speed of 1GHz. This is coupled with 512MB RAM. The Spice Stellar Virtuoso Mi-495 is quite responsive and we did not encounter any lags or crashes while multi-tasking. However, heavy multi-taskers may be left craving for more than just 512 MB RAM.
Spice Stellar Virtuoso Mi-495 comes with a built-in storage of 1.55GB of which 0.98GB is available to the user for apps. It comes pre-loaded with the stock Android browser, which renders web pages well.
The smartphone comes with an audio player that can play MP3, WAV and MIDI formats. While the video player can play MP4 and 3GP formats. So if you were planning to watch AVI files, then you would have to download an app from the Google Play Store.
The audio quality is good both on the headphones and the loudspeaker. The video quality on the device is good as well.
The Spice Stellar Virtuoso comes with a 1,700mAh battery as compared to Xolo A800's 1,600mAh. However, on testing we found that it will be difficult for an average user to last a full day on a single charge.
Spice Stellar Virtuoso Mi-495 is a dual-SIM smartphone, supporting dual standby.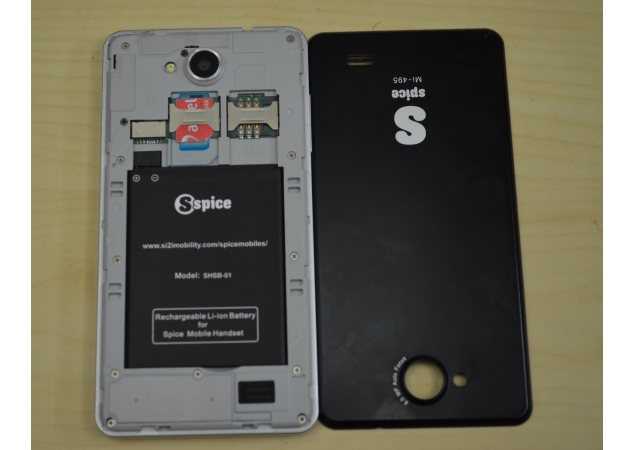 Verdict
If you are looking for a large screen Android smartphone with a budget in mind, then Spice Stellar Virtuoso Mi-495 is worth considering. It is a good-looking smartphone with sturdy build quality. However, one might run out of juice quite often.
Another advantage for Spice Stellar Virtuoso Mi-495 is that it is able to deliver decent performance without lags.
Also if you are looking for a slightly bigger screen at a slightly lesser cost, then you might want to consider Micromax A110 Canvas 2, which features a 5-inch screen and is available at a market-operating price of Rs. 9,500.

Price: Rs.10,499