Spice Stellar Mi-425 is one of three Android powered dual-SIM smartphones from Spice, part of the new Stellar series. The phone sports a 1 GHz Snapdragon processor by Qualcomm. Powered by Gingerbread (Android 2.3.6) and sporting a 5 MP camera, here's our take on the handset.
Design/ Hardware
The phone has curved edges and a matte-finish and pearl white body. The screen of the Spice Mi-425 is surrounded by a thin chrome strip, which is further outlined by a thicker aluminium strip. There are two speakers, one in the front just above the display and one adjacent to the camera.
The back panel feels plasticky but the phone is comfortable to hold. That said, the white finish of the cover at the back is okay, but isn't great. We would have preferred a grey-ish finish, or anything darker for that matter, as it would have highlighted the red tint of the speakers.
There is no doubt the phone is heavier than other phones its size. The reason for that is the large battery present with a purpose of giving longer battery life to the product.
The phone sports four capacitive touch buttons in the front - Home, Menu, Return and Search. There are two ports - a Micro-USB unit at the bottom right hand side and a 3.5mm jack at the top on the extreme left. The power button rests in the top right corner. The volume rocker is located on the left of the handset.
Examining the inside, the Spice Mi-425 has a dual-SIM slot and a microSD card slot, which are placed adjacent to each other just above the battery. The battery needs to be removed in order to access the SIMs and microSD card.
Display
This Spice handset has a 4-inch capacitive touch display supporting a resolution of 800 x 480 pixels. The brightness indoors is fine but when taken outside, even at maximum brightness levels, the display is difficult to discern.
Camera
The Spice Mi-425 has a 5 MP rear camera with autofocus and digital zoom. The camera enables you to click images with a maximum resolution of 2592 x 1944 pixels. It also features a 0.3 MP front-facing VGA camera. The camera supports features like LED flash and Geo-tagging. During our testing we found the camera was satisfactory but not stunning.
With phones such as the
Samsung Galaxy Y Pro Duos
(Rs. 9500) which has a 3.5 MP camera and the
Galaxy Pocket
(Rs. 8150) which has a 2 MP camera, the Spice Mi-425 scores better in terms of number of megapixels. But when compared with a
ViewSonic ViewPhone 3
(Rs. 9990), which also has a 5 MP camera, the stills are better for the Mi-425. That said, images do appear blurred on slight movements. Video recording also lacks sharpness and is blurred even when shot indoors.
Software/ Interface
This phone comes pre-installed with stock Android version 2.3.6. Spice claims that an update to Android 4.0 or Ice Cream Sandwich will be available for this handset by July end.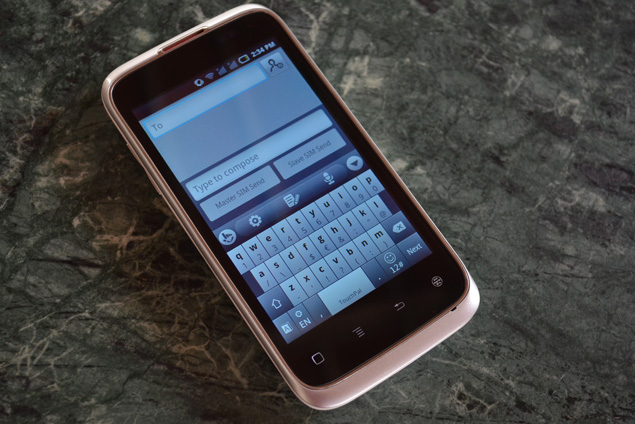 There are five home screens, where you can add shortcut icons of applications and widgets as per your liking. The icon sizes are decent and the main menu icons (of which there are 16 on each screen) are labeled for further ease and selection. The home screen has a nice little tweak by Spice, which shows a 3D cube like interface as you scroll between these screens, which appear more comprehensive.
The phone also comes with pre-installed apps like Spice Gang, Rail Yatra, Max Bupa, BSE/NSE Stocks, Live Aarti and YouTube.
Security
One of the USP's of the phone is the presence of Netqin Anti-virus which is free to users for the first six months from the date of purchase. The app not just provides anti-virus protection, but also offers anti-theft and a vault feature to keep your private photos, videos, call logs and docs safe in case your handset lands in the wrong hands.
Added to this, the Netqin app allows you to track your own data usage and track how much data you have consumed along with an ability to cap usage.
The anti-virus continues to work after an expiry of six months but the database does not get updated until you have purchased a licensed version. No anti-spam filter is a disappointment.
Performance/ Battery Life
The Spice Mi-425 comes with a 2000 mAh Lithium ion battery which is bigger than most smartphones in the class. This gives a standby time of 192 hours and a talk time of 6 hours. Unfortunately, the huge battery has also increased the weight of the Mi-425, making it bulky to use. Standard usage with an hour of gaming will make this handset last a day on a single charge.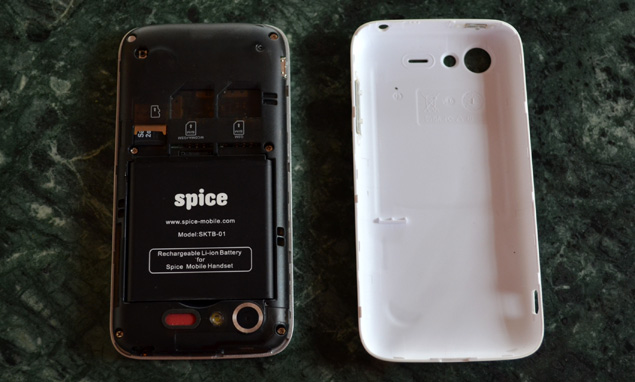 The device has 512 MB RAM, 140 MB internal memory, which is expandable to 32 GB via microSD. The 1 GHz Snapdragon processor by Qualcomm is a pleasant surprise as most phones around this price range sport processors ranging between 650 and 800 MHz, like the ViewSonic ViewPhone 3 (800 MHz).
The device is responsive and doesn't seem to show a lag while shifting between screen views. On testing games like Angry Birds Space, Temple Run, Fruit Ninja etc., the phone supported them without any issues.
The Spice Mi-425 has a multi-format audio and video player, along with FM radio. It supports both 2G and 3G networks. The phone also has Wi-Fi & Bluetooth connectivity. The Wi-Fi, however, gets disconnected when the phone is locked.

Verdict
The Spice Mi-425 is competitively priced at Rs. 9,990 and is a strong contender in the entry level segment because of its looks. Though it is larger and heavier than most phones and has an average battery life considering its 2000 mAh battery, it is still a very good buy for a user who wants a not-so-expensive, good-looking Android smartphone.

Don't forget to check out
our gallery
for first impressions of the Spice Stellar Mi-425.


Pros
Attractive design
1 GHz processor
Competitive price

Cons
A bit on the heavy side
Low angle of viewing
Disappointing camera

Ratings (Out of 5)
Design: 3
Display: 2.5
Camera: 2.5
Performance: 3
Value for Money: 4
Overall: 3