Spice Mobile is known to bring in affordable and user-friendly handsets in the market. Working on their existing strengths, Spice has now launched their dual-SIM Spice M-5600 FLO TV. The handset is also referred as FLO TV and uses Spice mobile's existing Flo Touch technology while incorporating a relatively different concept of an inbuilt Analog TV.
With Android based budget phones stealing the market, do feature phones such as these still stand a chance? Let's take a look.
Hardware/ Design
Weighing just 110 grams, the Spice M-5600 is light and easy to hold. It has a standby button, Micro-USB port and a 3.5 mm head phone jack on the top. The 3.2-inch QVGA touchscreen display takes most of the space on the front and below the same are three back-lit touch buttons.
The right hand corner button acts as a toggle button to switch between main menu and home screen. The positioning of this button is extremely convenient when it comes to user comfort. The back has a 1.3 MP camera on the top-left corner and a speaker down at the bottom.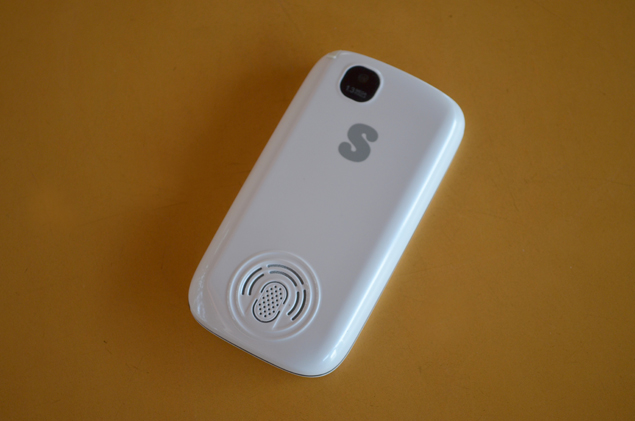 Right at the corner, is an extendible antenna that is visible only when you examine the handset very closely.
The Spice M-5600 offers dual-SIM functionality with dual-standby. It also comes with a microSD slot that enables users to expand the storage up to 8GB.
Display
The 3.2 inch display is big enough to do your day to day activities. While it is comfortable to use indoors, it is almost impossible to use this handset in broad daylight. You would perhaps need to look for shaded areas when outdoors.
Camera
The phone has a 1.3 MP rear camera that enables you to click photographs as well as shoot videos. The image quality is decent for sharing but the video quality at 12 fps is pretty basic. The absence of flash makes it difficult to click pictures in low lighting conditions. The camera interface also offers features such as effects and white balance options to aid photography.
Software/ Interface
The phone comes loaded with widgets and multimedia applications. Bold icons adorn the application menu and contain many pre-loaded apps including Facebook, Yahoo! Messenger, Bluetooth messenger, News applications, Privacy Lock and Yahoo! Weather. It also has an Ebook app that allows you to read .txt files on your phone. In addition to these, it also has S Apps Planet, which acts as an Application portal.
We tried reading on the Ebook app, and it indeed had some interesting features. The text size is comfortable to read and an auto scroll feature eliminates the need for you to keep scrolling through the long texts.
However, the Bluetooth Messenger and its purpose seemed pointless. All this messenger does is send text file to any phone via Bluetooth. Even if it can be used to share texts, the whole idea of a "Messenger" is misleading with the other person having no method to reply back.
Performance/Battery life
Though Spice is touting this phone as a multimedia feature phone; this is exactly where we faced the maximum performance issues.
The Analog TV application, which is a special feature in this phone, gives you free access to terrestrial channels like Doordarshan and DD News. Being an analog service, the picture quality might not be crystal clear but yet it is a feature that not many phones have.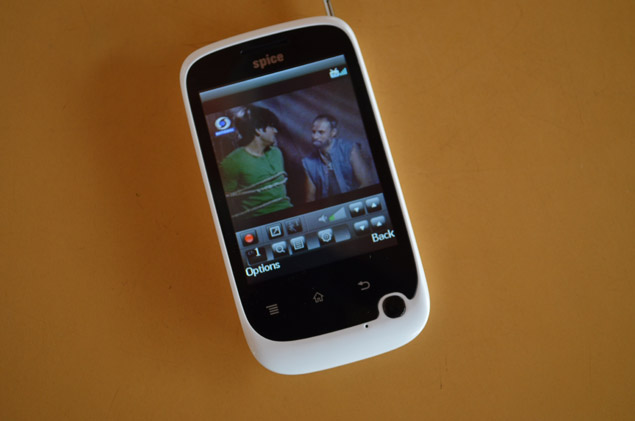 To use this feature, one needs to pull out the antenna and go outdoors. Yes, the TV signal is a problem for your FLO TV when indoors. You need to be outside the comfort of your home to watch news on the device. The same problem exists with the FM. Even to listen to the radio, you need to extend the antenna that you used for the Analog TV. The FM application offers a function to record FM.
The 1200 mAh battery is sufficient to last you a full day with a single charge but that is if you are not viewing the Analog TV all day long. You can get online via GPRS.
Verdict
For the amount that you pay, the device is definitely worth the money. The features given are diverse and well supported by the battery backup. The elegant and lightweight white body is a positive as well. Though it has added an Analog TV app, the signal reception for the same is a problem and the antenna that needs to be extended to view TV. Moreover, in the current context, antennas have become outdated, so the idea of an antenna phone may not appeal to certain consumer groups.
Price: Rs 3,099

Pros

Cons

Bad signal reception for FM Radio and Analog TV
Poor display
Ratings (Out of 5)

Design 3
Display: 2
Camera: 2
Performance: 3
Features: 3
Battery life: 4
Value for Money: 4
Overall: 3
Spice M-5600 FLO TV is a feature phone that has an in-built analog TV.