Sony is steadily climbing up the smartphone market share rankings, thanks to recent launches that have worked very well in their price bands. The company has had its ups and downs over the years, with a few models that have caught on, but no long-running success till very recently. Samsung is the dominant force in India as far as Android phones go, and Sony is only just beginning to establish itself as an alternative, with a distinctive identity that extends through hardware and software design.
With that said, even though the Xperia Z2 is a significant improvement over its predecessors, the Z and Z1, there isn't really any kind of standout feature for the company to shout about. Samsung's Galaxy S5 has its heart rate monitor and health-related accessories; HTC has created a dual-camera system for the new One (M8). That's what Sony is up against, and it will have a hard time pushing the Xperia Z2 even though all its important features and specifications are totally top-of-the-line.
We've already tested the Galaxy S5 and One (M8), so now it's time to see whether the Xperia Z2 can take them on, and whether Sony's understated approach helps it or hurts it.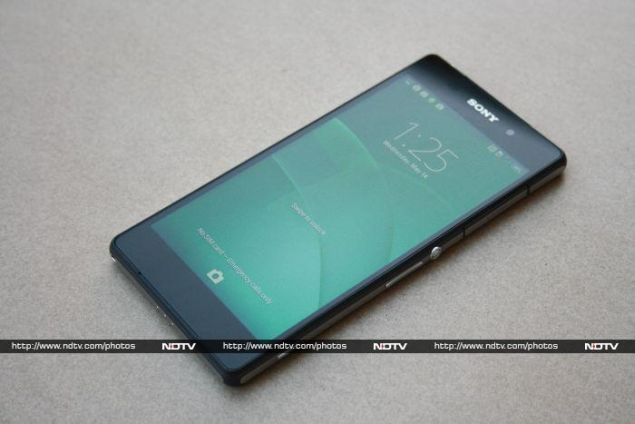 Look and feel
Visually, there isn't much to differentiate the Xperia Z2 from its predecessors. It's almost exactly the same size as the Z1, give or take a few millimetres here or there, but it is a bit lighter at 163g. Sony hasn't even freshened up its colour options - you still have only white, black and purple to choose between. It has the same blunt rectangular shape, like a slab of glass with slightly chiselled edges and corners.
The front and back of our review unit were perfectly black, but the sides are silver with a very deep purple trim around the edges. It's extremely subtle and you'll only see it when the light catches it at a particular angle, which gives the whole phone a bit of character.
The front face is almost completely black, thanks to the move to on-screen buttons. There's only a classic Sony logo on top, with the front camera lens peeking through the black glass next to it. You can barely see the twin cutouts in the plastic edging which house the front-firing stereo speakers, except when LEDs in the upper cutout light up to notify you of calls, messages or charge status.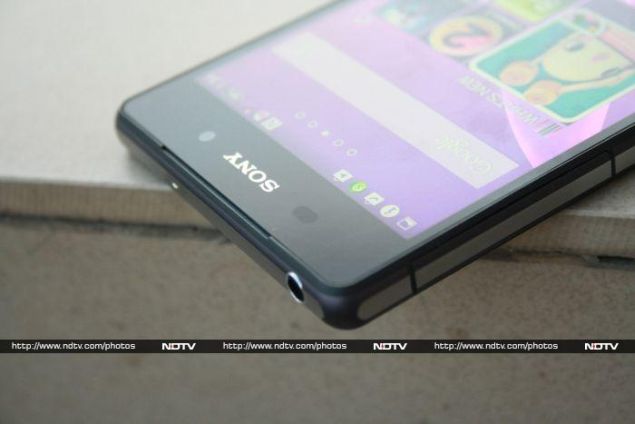 Sony's distinctive round power button is in its now-familiar spot in the middle of the right edge, with the volume rocker and camera shortcut button below it, and a flap above it protecting the microSD card slot. Sony's magnetic charging connector is on the opposite side, along with another flap which protects the Micro-USB charging port and SIM card slot.
The flaps are lined with rubber, which was necessary to ensure waterproofing and dustproofing - Sony says the Xperia Z2 has an IP58 rating, which means it should be able to withstand up to 30 minutes of immersion in up to 1.5m of freshwater. The 3.5mm headset jack on top isn't protected, and there are microphone holes on the top and bottom, but the rear panel isn't removable and the battery is sealed inside.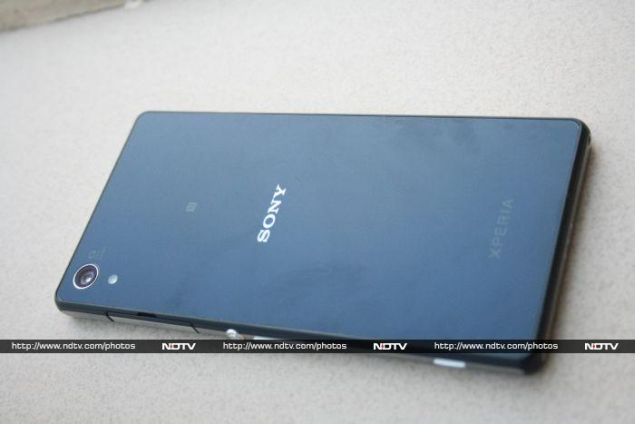 The 20.7-megapixel camera lens in ringed with silver and placed in the upper left corner of the rear panel, along with an LED flash. Despite the fact that all regulatory messages are hidden away on a retractable tab under the microSD card flap, Sony clearly couldn't resist littering the back with a logo for the camera, one for NFC, another Sony logo and an Xperia logo as well. Both the front and back are highly reflective and pick up fingerprints like crazy.
The Xperia Z2 is a chunky phone, and it felt solid in our hands. It isn't the most comfortable to hold, and the edges where glass meets metal are just a bit too rough. Still, it feels solid and imposing, without being loud. We really like what Sony's managed to pull off - it's only a slight refinement of its predecessors' designs, but somehow doesn't feel old.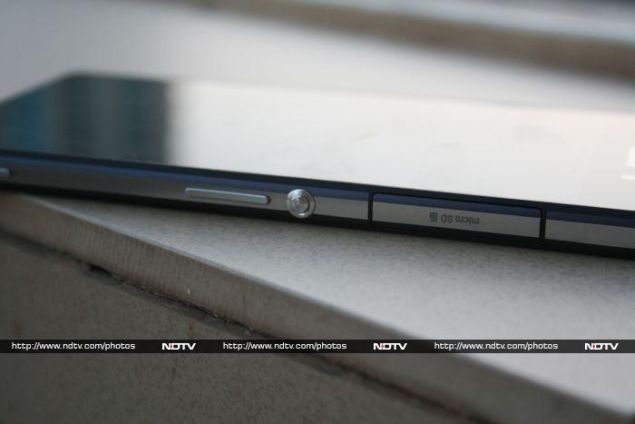 Features and specifications
It seems you can't be a flagship phone in 2014 without a Snapdragon 801 processor (or equivalent). Sony has gone with the flow, but the one in the Z2 is a tiny fraction slower than the one in the M8, at 2.3GHz instead of 2.5GHz. On the other hand, there's 3GB of RAM rather than the 2GB HTC went with.
The 16GB of built-in storage can be expanded by up to 128GB. MicroSD cards of that capacity are rare and expensive now, but it's nice to know they'll work in the future. Wi-Fi b/g/n/ac and Bluetooth 4.0 are standard, but Sony also includes NFC. There's no infrared remote control, which is something both primary competitors offer.
The screen is a large 5.2-inch full-HD display, and Sony has applied its Bravia-derived "Triluminous" and "X-reality for Mobile" buzzwords to it. The screen is pretty sharp, and blacks are indeed quite deep. It isn't the brightest or most vivid in its class, but it's still a fantastic screen to watch movies and play games on.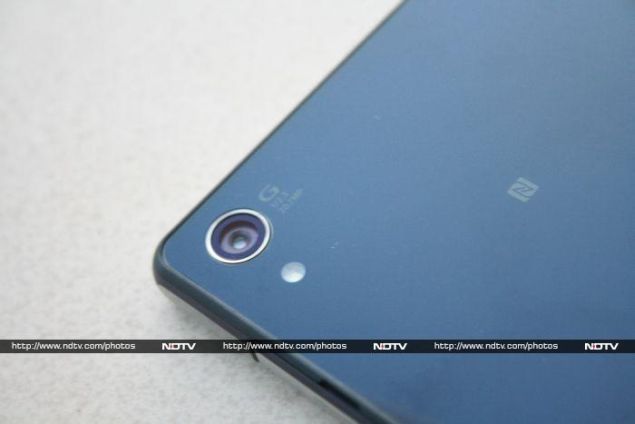 Sony pays equal attention to sound, and there are plenty of buzzword-toting enhancements. The twin front-firing speakers definitely add an important dimension to movies and games too, and we wish this was more standard on smartphones.
The other major feature is the 20.7-megapixel camera. Sony is particularly proud of it, touting the unusually high pixel count as well as a sensor that's claimed to be 30 percent larger than standard. We're particularly intrigued by the claim that the Z2's camera is "on par with [Sony's] compact digital cameras". Pretty much every parameter is touted as superior - low light performance, contrast, clarity, depth, colour accuracy, detail, and lack of noise. The dense sensor is even supposed to be able to replicate optical zoom, by trading image size for clarity.
Of course there's also 4K video recording. If Samsung hadn't beaten Sony to market, this would have been an exclusive feature. If you step down to 720p, you can shoot at up to 120fps and add a dramatic slow-motion effect to your clips.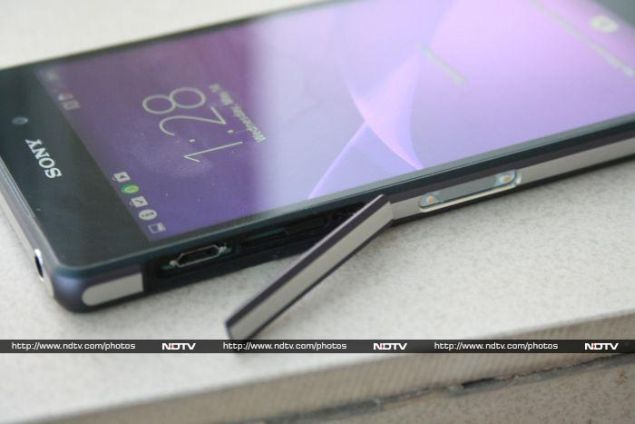 Software
Android 4.4 brings several important improvements to the user interface, and Sony's Xperia UI customisations are also pretty extensive. For starters, the default wallpaper has a "live" swirl that animates on its own as you swipe between screens, and the whole thing keeps cycling between colours. It feels unnecessary and is often distracting, but of course you can just turn this off.
Sony loads up the interface with its own branded apps and content - one of the first things you see on the default home screen is a widget called "What's New", which is basically an advertisement for assorted Sony content, though only themes and recommended third-party apps show up in India. The constant refreshing is bound to eat up 3G data, so you might want to get rid of this widget entirely. On the next home screen, there's a carousel of videos and an audio player widget, both of which lead to apps preloaded with Sony content. Two of the four icons in the dock also lead to Sony apps - Liv and Sony Music Jive, which might appeal to Indian buyers but didn't have to be so in our faces.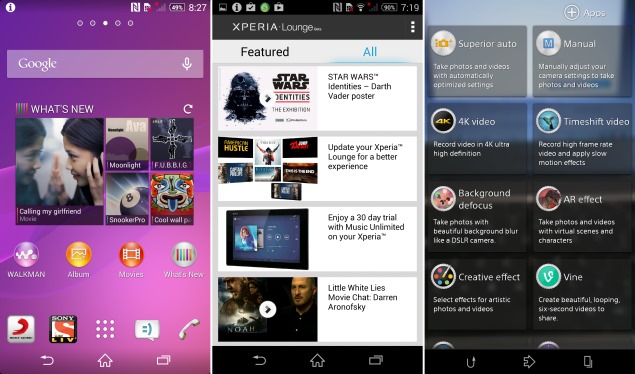 The custom Walkman-branded music player can handle loads of formats including FLAC, but its design is quite frustrating. Amongst the several other apps are TrackID, a useful music identification service; WisePilot, a maps and traffic guide app; Sony Select, yet another app directory; Smart Connect, a tool to automate phone behaviour when accessories are plugged in; and Xperia Lounge, which displays - guess what? - even more Sony promotional content, except this time including special offers for Xperia device owners.
Chrome is the default and only browser. There's also Facebook, Socialife News, Vine, Line, X4 Video Player, Pixlr Express, Google Drive, Box, LinkedIn, and a view-only version of MobiSystems OfficeSuite.
Sony might have overdone it with the apps, but the general Xperia UI is surprisingly similar to stock Android. The notifications shade seems bare compared to Samsung's and LG's implementations, and even the Settings app is largely untouched. These are typically areas in which companies try to offer users more flexibility and personalisation. At least the app switcher includes four shortcuts to "small apps" - you can choose from a limited selection including the calculator, browser, screenshot utility, timer, Gmail, and calendar.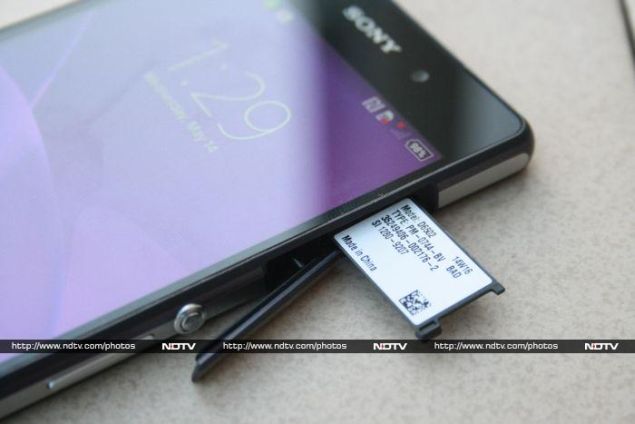 Camera
Apart from the hardware described above, Sony has done a fair bit of work with its camera app. The default mode is Superior Auto, which hides most options in the interest of simplicity. Manual mode, despite its name, doesn't offer conventional manual controls, but instead lets you tweak settings and use different scene modes such as Soft Skin, Anti Motion Blur, Night Portrait, Document, Fireworks, and even a Gourmet mode, presumably for Instagram-worthy shots of your dinner.
The third mode is 4K video - as it turns out, videos shot in the normal camera modes top out at 1080p. The other modes, or "camera apps", include Vine, Sweep Panorama, Timeshift Burst, and AR Effect. We've seen many of these before, and some are definitely less useful than others. AR Mode is just for silly fun, Background Defocus doesn't always work or look realistic even though you can tweak it manually, and Social Live is only for compulsive Facebook sharers.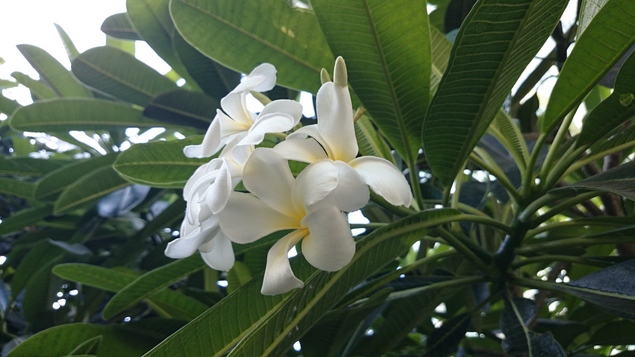 (Click to see full size)

Image quality is very impressive. We were able to take some great shots, including difficult subjects such as moving cars, birds in flight, and areas half in and half out of shadow. Colours were accurate and focusing was usually spot on, but our mileage varied when it came to capturing detail. Close-up shots fared better than landscapes. We even got some decent depth-of-field effects without any post-processing trickery. Low-light shots were impressive - in our limited testing, the flash lit up subjects evenly and even without it, there wasn't as much noise as we expected.
The camera on the Xperia Z2 is truly impressive, and we can easily imagine people buying this phone just to have something this impressive in their pockets all the time.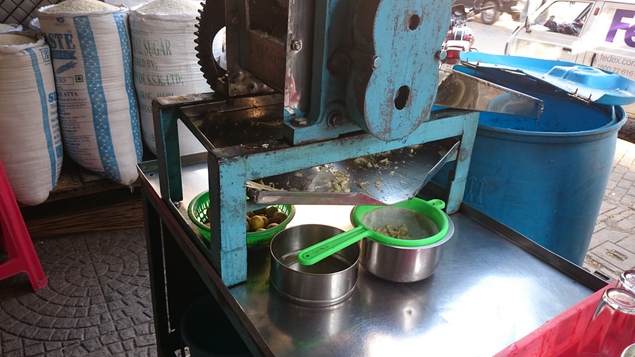 (Click to see full size)
Performance
Surprisingly, raw performance was a mixed bag with the Sony Xperia Z2. We never felt any slowdowns or lag in general usage, but our CPU-bound benchmarks produced consistently lower scores on this phone than they did on the Samsung Galaxy S5 and HTC One (M8). Variations ranged from slight to dramatic, but we wouldn't put down the Z2 for this since it's known that HTC and Samsung have manipulated benchmark scores in the past (and at least HTC proudly continues to do so now). Even with that in mind, the Xperia Z2 is a phenomenally fast phone, and is right at the top of the charts, ahead of last year's best performers.

The graphics-intensive tests were much more evenly matched between the three flagship phones. We did, however, notice the Xperia Z2 getting almost uncomfortably hot when running demanding tasks.
Audio and video were both excellent, and the 1080p screen is just large enough to make videos immersive without compromising on sharpness. Volume was impressive, even if the sound wasn't all that rich or clear in action scenes heavy EDM tracks.
The battery lasted for 11 hours, 42 minutes in our video rundown test. That should be more than enough to get through a full day's work, including relatively heavy video and camera usage.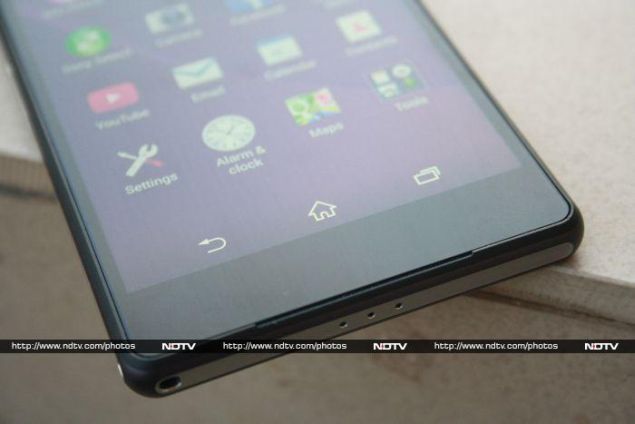 Verdict
Whatever Sony's doing, it seems to be working. The third iteration of its top-end Xperia Z model is the slickest yet, with all the features that anyone today might care about, in a package that is as understated as it seems possible to create. This is undoubtedly one of the most satisfying phones to own and use.
With that said, it is still a bit too large for many people's tastes - we hope a Z2 Compact is on its way - and the squared-off body makes it a bit less comfortable to hold and use than the Galaxy S5 and One (M8). Those two phones also have their own defining features, which are admittedly pretty attractive.
The Z2 doesn't stick its neck out with anything groundbreaking, but it is probably the most well-rounded of the three (and Sony's launch offers don't hurt either). It's hard to pick between them, so you'll have to decide based on personal preferences. We're happy that Sony has delivered such a strong contender - Samsung definitely isn't the only game in town anymore.

Sony Xperia Z2 in pictures