Sony is trying to make a comeback in the mobile space banking on its Android line-up after launching a handful of mid-range smartphones like the Xperia neo, Xperia U, Xperia P, Xperia Ion and Xperia sola. Now with the launch of the Sony Xperia tipo and Xperia tipo dual, the company is eyeing the entry level Android market, while also aiming to bring dual-SIM devices.
In terms of specifications the only thing that sets apart the Xperia tipo from the Xperia tipo dual is that the latter has a dual-SIM slot. Also, Xperia tipo is available in a handful of colour options - black, white, red and blue, while users opting for the dual-SIM version will have to be content with just the black and white.
So is Sony Xperia tipo a worthy entry level Android device or does one need to look at other options available in the market? Here's our review.
Design/ Hardware
At first glance, the Xperia tipo reminds us of a nursery rhyme "I am little teapot (read: tipo), short and stout". This is an apt description for this smartphone. In a world where smartphones are eyeing to get a bigger screen and slimmer profile, Xperia tipo is a bit of an exception.
It has a 3.2-inch screen that makes it look a bit smaller than most of the smartphones being launched. Not to mention that it is also a bit chubby at 13mm. Thankfully this chubbiness does not reflect in its weight as it feels light at just 99 grams.
The smartphone has a full plastic body and its back has a soft, matte coating that feels slightly rubberised allowing for a good grip. The Xperia tipo does not have a great build but still feels sturdy.
As already mentioned the smartphone comes with a 3.2-inch display, which is made up of a mineral glass that helps protect the screen from scratches.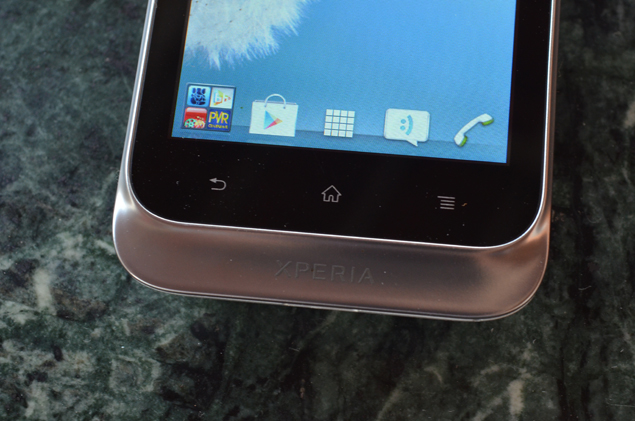 Just below the screen are the three capacitive Android buttons - back, home and menu. The right panel has the USB/charging port and the left houses the volume rocker (and the SIM swap button for the Xperia tipo dual). Xperia tipo dual supports both GSM SIMs and the SIM swap button helps in changing the default SIM by just one click.
The top panel has the power button and a 3.5mm jack and the back has the 3.2 megapixel camera. Overall, it is not a bad looking smartphone and its size makes it easy to pocket.
The Xperia tipo runs on a single core 800MHz processor and has 512 MB of RAM. The internal storage available on this smartphone is around 3 GB, which can be expanded up to 32GB through microSD card. There is also a 1,500 mAh battery on-board.
Display
The Xperia tipo has a 3.2-inch display, which offers a resolution of 480x320 pixels. The resolution and the viewing angles may not seem great, but when you look at the competition (the likes of LG Optimus L3, LG Optimus L3 dual, Samsung Galaxy Y and Samsung Galaxy Y Duos), you'll find that the display is pretty good for the price.
Under sun visibility on the Xperia tipo was decent. The screen used in this smartphone is reflective.
The keyboard on the smartphone feels a bit cramped and the speed and the accuracy take a hit because of the same.
Camera
The Sony Xperia tipo comes with a decent 3.2-megapixel shooter. The picture quality of the images taken in daylight from this smartphone is decent. However, there is no flash in this smartphone so one should not even expect to click picture when the light is low.
Another downside is that there is no auto-focus in the camera. The device lacks a dedicated camera button. The camera app is accessible through the lock screen swiping left on the lock screen.
The camera on-board offers various modes such as Night scene, Beach and Snow and Sports to click pictures. Basic camera settings are present such as Self-timer, White Balance settings, Metering to aid photography. The clicked pictures can also be Geotagged.
The quality of videos taken through this smartphone is average.

Software/ Interface
The biggest advantage that the Xperia tipo has is that it runs on Android 4.0. Sony has also added a layer of its TimeScape UI on the smartphone. There are five customisable home screens to fill with apps and widgets. The UI feels quite smooth.
Sony has also pre-loaded quite a few apps on this smartphone such as Bollywood Hungama, CricBuzz, WhatsApp and Office Suite. There is also a PVR Cinema app thrown in that helps check out show timings and book tickets.
Another app thrown in is appXtra, which helps in downloading apps such as Satyamev Jayate, Romance with Kareena, SRK with love and Romantic Salman. What this really does is give access to the TV show Satyamev Jayate and lets users watch free songs and videos of their favourite Bollywood stars.
For the ones that believe in astrology, an Astro app by Bejan Daruwalla's of GaneshaSpeaks.com fame is also pre-loaded. It shows the daily horoscope depending on your sun sign.
Performance/ Battery
Sony Xperia tipo comes with an 800 MHz processor, which is not earth shattering but is quite decent for an entry-level device. The smartphone's performance is in line with its price, and offers a reasonable multi-tasking experience as well. The browsing experience using the stock browser is fast and smooth.
Sony is promoting the audio playback of this smartphone and that is indeed the highlight of this device. You can play widely known formats such as MP3, MP4, AAC,WAV, OTA, OGG and AMR audio formats. The audio quality is good both on the headphones and the loudspeaker.
Sony Xperia tipo comes with a 1500 mAh battery, which is better than the HTC Explorer (1230 mAH), Samsung Galaxy Y (1200 mAh) and LG Optimus ME (1280 mAH). The battery easily last a full day on a single charge.
Verdict
If you're looking for a decent Android ICS smartphone for under Rs. 10,000 then this is the smartphone to go for. It definitely has an edge over Samsung Galaxy Y, LG Optimus Me, LG Optimus L3 and HTC Explorer, which run on the dated Android 2.3 Gingerbread OS. Not to forget that it has a good battery life and a great music playback. However, do keep the relatively smaller screen size in mind while considering the Xperia tipo.
Price of Sony Xperia tipo: Rs. 9,999 and Xperia tipo dual: Rs. 10,449