Sony Xperia S is the first product from newly formed Sony Mobile division after the company bought out Ericsson's stake in Sony Ericsson. It sports a beautiful design and comes with some big upgrades from last-years' models like 12.1MP camera and 720p display. But, are these upgrades enough for us to forget the presence of dated software? Read on to find out.
Hardware
Sony's design prowess is clearly visible in Xperia S; it looks simple but is unique and distinctive. It might not be the lightest or the thinnest phone on the planet, but the Xperia S stands out nonetheless. Be it the transparent bar below the capacitive buttons, or the flat sides of the phone, the modern design sets it apart from the crowd.
They say devil is in the details, and the Sony Xperia S sure gets those right. It comes with the matte finish on the sides and back, while the front is covered in a single-sheet of glass. The front and rear of the phone are pretty much clean apart from the Xperia branding, ear-piece and secondary camera on the front, and speakers, primary camera and Sony branding on the back. On the right side, you will find the two-stage shutter button, volume rocker, and HDMI port, while the left houses the USB-cum-charging port.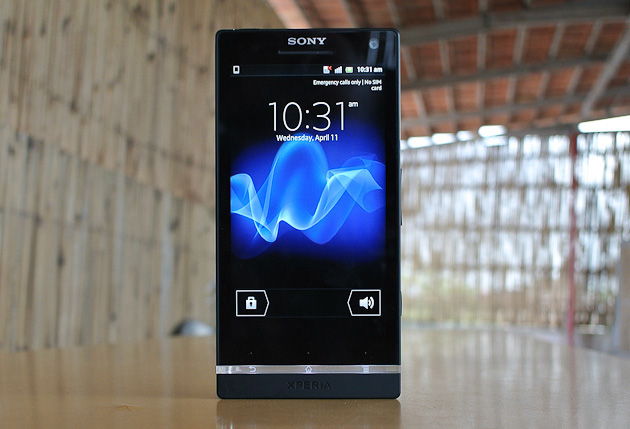 But the Xperia S isn't perfect. We can't claim to be fans of the rectangular design, which makes it a little harder to hold compared to smartphones with curved edges like the HTC One X.
Another disappointment with Xperia S is the fixed battery. Although the back cover is removable, the battery is still not user-replaceable.
Display
Sony has included a 4.3-inch 1280x720p Reality display on Xperia S, which comes with company's own Mobile Bravia engine. The Xperia S has better PPI (pixels-per-inch) than all the smartphones available in the Indian market even iPhone 4S, thus giving you extremely sharp images. The colour reproduction is good and display is sufficiently bright, we even found it taming HTC One X in the brightness department. However, the viewing angles are sub-par on the smartphone.
Camera
Sony Xperia S comes with a 12.1MP rear camera with f2.4 aperture, along with 1080p video recording support. As you can expect from Sony, the Xperia S camera performs brilliantly and takes some nice and detailed shots. Be the indoor clicks or outdoor shots, Xperia S does not disappoint.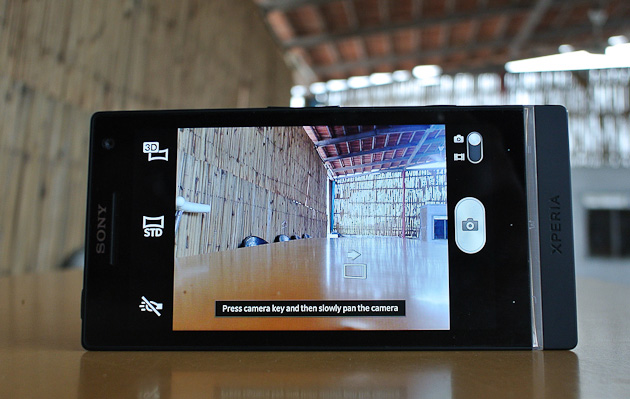 Software-wise, the controls on Xperia S camera app are pretty straight forward, and you can also select manual settings for ISO, white balance, metering and focus mode. Company has also included a nifty feature which allows you directly open the camera with the dedicated camera key even when the phone is locked. This two-stage camera button allows users to set the auto-focus with a half-press, while a full press completes the image capture. The button is conveniently located and distinction between the two stages of the capture is clearly felt under the finger.
Despite running on Android 2.3, Sony has added the panorama, 3D panorama shot- taking capabilities in Xperia S, which were natively introduced first time in ICS.
The 1.3MP front camera on Xperia S is decent and capable of shooting 720p video. So, you don't have to worry about video-chatting on your phone.
Software/ Interface
One of the few disappointments, but not exactly a surprise given the spec sheet, is the presence of Gingerbread. With phones like HTC One X and One V that come pre-loaded with Ice Cream Sandwich for competition, launching Xperia S with Android 2.3 isn't really a positive for the company. Although Sony has promised to release an update sometime this quarter, consumers will be stuck with the old version for at least a few weeks.
We don't have any specific qualms with Gingerbread and Sony's skin atop it, but we miss a few things in particular from ICS, like the refreshed UI, Android Beam, and resizable widgets. While on the subejct of Android Beam, Sony Xperia S ships with Near Field Communication hardware, which can be used for quite a few things including changing the smartphone settings to a pre-set using the SmartTags in the box (as our review unit was missing them, so we weren't able to test the feature).

In terms of other software additions, Xperia S comes with Facebook inside Xperia, which includes features like single sign-on for Facebook, FB Images in phone gallery, contacts and calendar sync as well as the Media discovery widget.
In terms of pre-loaded apps, Sony has filled up Xperia S with apps like TrackID, World Clock, Neoreader, Wisepilot, Office Suit, Timer, Recommender, and PlayNow.
Overall, by Gingerbread standards, Sony's implemetnation runs nice and smooth and we did not face any issues.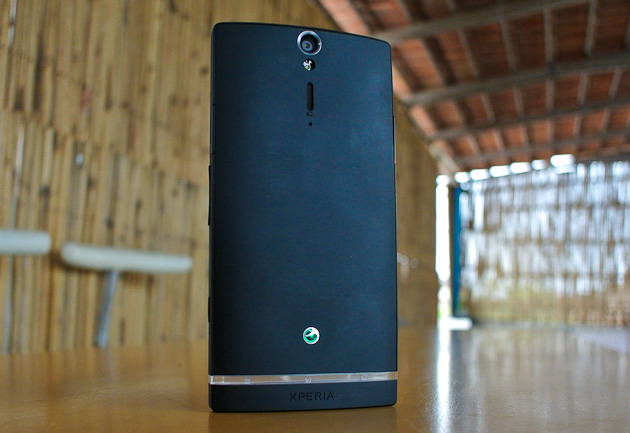 Performance/ Battery Life
Sony Xperia S comes with a dual-core Snapdragon processor clocked at 1.5GHz and 1GB RAM. With phones like HTC One S expected next month with next generation Qualcomm Krait processor and Android 4.0, the specs may seem a little underwhelming on paper, but what about the real world performance?
Leaving the competition aside, talking solely based on the Xperia S performance, which is pretty good and we would go on say that it is the best Sony (Ericsson era phones included) smartphone so-far in-terms of user-experience. There is no lag whatsoever, or any hiccups while playing high-def videos or playing graphic intensive games.
Coming to the battery life, the fixed 1750 mAh battery gave us surprisingly decent performance and it would easily last a-day for moderate users. Light-users might be able to able to squeeze out even more.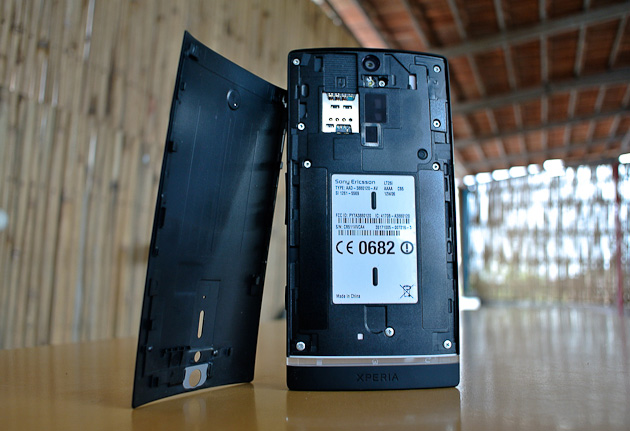 Verdict
Can Sony Xperia S be your next smartphone? Well, if you are ready to wait for ICS and don't have an issue with a generation-old processor, Xperia S has a lot to offer. It packs in quite a punch, has great display, excellent battery life and a beautiful design.
For more pictures of the Sony Xperia S, please visit our picture gallery.

Pros

Attractive, unique design
Great HD display
Cons

Gingerbread
No microSD card slot or user-replaceable battery
Price: Rs. 32,549
Ratings
Design: 4
Display: 4
Camera: 4
Performance: 4
Software: 3
Battery Life: 3.5
Value for Money: 3.5
Overall: 3.5