In the recent months, we have seen many Indian and Chinese brands offer plenty of affordable smartphones in the Indian market. A few of these affordable smartphones have been getting good response from the consumers, thus forcing the established brands to look at offering smartphones at a lower price points in order to compete with them.
Xperia E dual is an affordable dual-SIM smartphone from Sony. The company seems to be targeting value seeker through this phone. Let's see if this smartphone fits that bill.
Design/ Build
Sony Xperia E dual is an interesting looking smartphone. It has a 3.5-inch HVGA display that will appeal to those who do not wish to own a large screen smartphone. The smartphone is also easy to hold and fits easily in the pocket.
However from the pure design point of view, Sony Xperia E dual does not bring anything new to the table. It has a very conventional rectangular design with a chrome strip running across the borders.

Having said that, this smartphone looks better than the Sony Xperia tipo dual, which is the other sub-Rs. 10,000 dual-SIM smartphone that the company offers. Sony Xperia tipo dual has a mere 3.2-inch screen, which makes the display of the Xperia E slightly larger. Moreover, Sony Xperia tipo dual weighed 99.4 grams and looked slightly bulky. In comparison, Xperia E weighs slightly more at 115.7 grams but thanks to its rectangular shape and slimmer profile, does not look plump.
Most of the screen is taken up by the 3.5-inch display and there are three capacitive buttons just below it for Home, Back and Menu. These buttons are not backlit, which makes them a bit difficult to use in dark. A nice addition to the design of the Sony Xperia E dual is a small LED light near the earpiece and an entire strip below the capacitive buttons. The colour of this LED strip matches the colour of theme selected by user and can be changed as per user preferences.
The power key is situated right below the volume rocker on the left panel. This key is very small in size and it takes some time to get used to.
The rear of the Xperia E dual is made of a textured back, which gives it a good grip. Even though Sony Xperia E dual is an entry-level smartphone, the company seems to have made no compromises in the quality of materials used. The body is made primarily of plastic but it does not feel flimsical or cheap. Overall, the Sony Xperia E dual looks like a sturdy smartphone.
Display
Sony Xperia E dual comes with 3.5-inch 240x320 TFT display with a capacitive touchscreen capable of showing 256K colours. The smartphone offers pixel density of 165 ppi.
The screen on the Sony Xperia E dual failed to impress us. The resolution and the viewing angles are not good. Though you can easily read text on the smartphone but the same cannot be said about watching YouTube videos and browsing pictures.
Under sun visibility on the Xperia E is also not very good. The screen used in this smartphone is reflective.
The keyboard on the smartphone feels a bit cramped and the speed and the accuracy take a hit because of the same.
On the brighter side, the touchscreen on the Sony Xperia E dual is very responsive and it comes with a scratch resistant glass.
Camera
Sony Xperia E dual comes with a 3.15-megapixel camera. Pictures taken through this camera in broad daylight have a lot of noise and the colour reproduction is not too great either.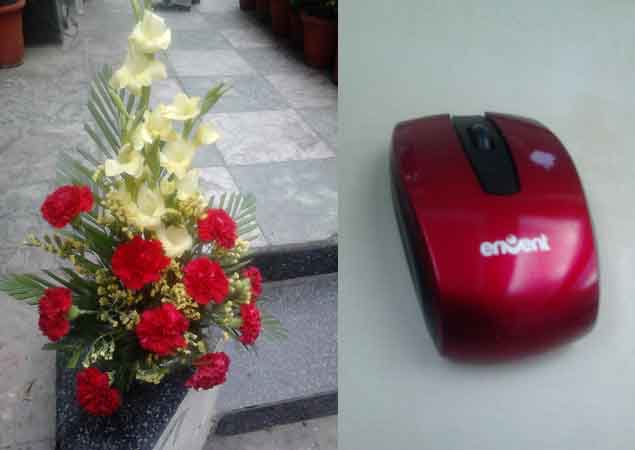 The pictures clicked indoors are grainy and hazy. Sony Xperia E dual seems to have an issue is focusing on objects that are placed near the camera. There is no dedicated camera button on this smartphone.
The videos clicked through the rear camera are nothing to speak about either.
Sony Xperia E dual does not come with a front camera.
The camera experience on Sony Xperia tipo dual was not something to rave about and seems like nothing much has changed in this department for the Xperia E dual as well.
Software/ Interface
Sony Xperia E dual comes pre-installed with Android Ice Cream Sandwich 4.0.4 along with a layer of its Timescape User Interface. Sony has shared that it has rolled out Android 4.1 (Jelly Bean) update for this smartphone. However, up till the time of writing the review, our unit had not received the Android 4.1 (Jelly Bean) update.
The addition of Timescape User Interface does not eat up the resources of this smartphone and it feels fluid.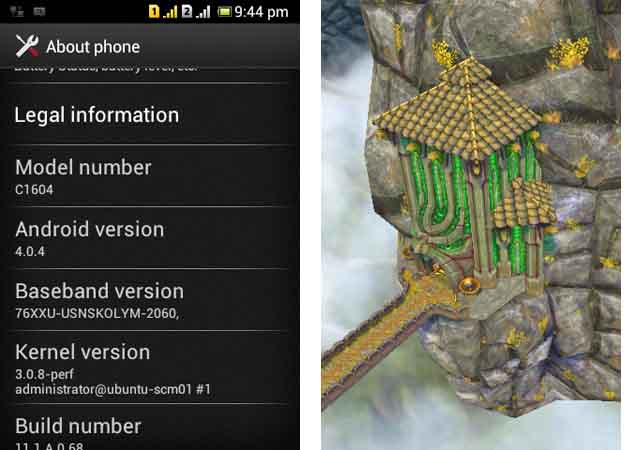 There are five customisable home screens to fill with apps and widgets. Sony has tied up with Hungama.com and apps such as Satyamev Jayate, Romance with Kareena, SRK with love and Romantic Salman come pre-installed on Xperia E dual. With the help of these apps, you can watch re-runs of TV show Satyamev Jayate or stream songs, videos and download wallpapers of Kareena Kapoor, Salman Khan and Shah Rukh Khan.
Apart from this, WhatsApp, File Commander and TrackID app pre-installed with the smartphone.
Performance
The Sony Xperia E dual is powered by a 1GHz Qualcomm Snapdragon MSM7227A processor along with Adrena 200 GPU. The smartphone also packs in 512MB of RAM. The smartphone functions smoothly while performing routine tasks and is also capable of handling a bit of multi-tasking. However, if you try to open more than 4-5 apps simultaneous you will start experiencing lags in the performance. The major reason for these lags is the scanty 512MB RAM that the company is offering with this smartphone.
Playing popular games such as Temple Run, Angry Birds, Fruit Ninja and Subway Surfer is a pleasurable experience. However, it is advisable to close all background apps before getting into the gaming mode.
Sony Xperia come pre-installed with Chrome and Opera browser along with the default Android browser. Browsing using any of the three browsers is a regular affair.

The smartphone features a 1,530mAh battery. Based on our usage, the smartphone is easily able to last a full day. We charged the smartphone first thing in the morning and with medium to heavy usage, including 2-2.5 hours of phone calls, one Gmail account with push notifications, screen at maximum brightness, Twitter and Facebook notifications and WhatsApp chats, the Sony Xperia E dual lasted good 15-16 hours. It's also worth pointing out that we had turned on Wi-Fi and switched off auto-brightness. Altering these settings might help in running the phone for a longer duration, depending on your usage pattern.
Verdict
If you are not too fond of the large screen Android smartphones, then you need to give Sony Xperia E dual a consideration. If not, then there are plenty of Android smartphones made by Indian smartphone makers that you can look at.
Most Indian smartphone makers are now offering 1.2GHz quad-core smartphone in the market. The Karbonn S1 Titanium (Review) is a decent budget smartphone option. It offers a 4.5-inch screen phone, with a 1.2GHz quad-core processor, running Android 4.1 Jelly Bean, at a price point of Rs 10,990.
Some of the other smartphones that you can consider are Intex Aqua Wonder Quadcore and Xolo Q700. However, we haven't had a chance to review the phone yet, so we have no idea how they perform in the real world.


Sony Xperia E Dual: In pictures