Not long after launching its debut product, an ambitious 2-in-1 tablet called the t.book, Smartron unveiled its next offering. The new Smartron t.phone is more conventional in terms of its target audience, but just as eagerly anticipated. It promises good specifications, but more importantly, a long-term vision involving multiple digital products and a suite of Web-connected services.
We've spent some time with this interesting new product (Disclosure: The Smartron t.phone is available via the Gadgets 360 Shop) and it isn't anything like the hundreds of devices we've seen from Indian companies over the years. Read on to see what Smartron has to offer in the relentlessly competitive Android smartphone market, and if this little startup can take on the big guns.
Look and feel
The Smartron t.phone certainly has a distinctive look. Our review unit had a bright orange panel on the rear and sides, matching the unique character of the t.book (Review). It's also available in pink, blue, and a neutral grey which might be the most 'conventional' choice. The top and bottom of the phone are a unique metallic grey. The t.phone feels pretty large and chunky for smartphone with a 5.5-inch screen, but it's actually amongst the thinner models available today. The sides and back don't taper or curve, so this isn't the easiest phone to hold and use with one hand.
You'll see a pretty big, distinct front camera right on top to one side of the phone's earpiece, and sensors on the opposite side. There's a tiny dot in the upper left corner for a multicolour notification LED and another right in the middle of the bottom for the mic. There's no fingerprint reader because, according to Smartron, most companies don't implement security well enough and it shouldn't be done if it can't be done properly. The combined effect gives the t.phone a bit of a tough look; very different from the typically slick glass-and-metal affairs we usually see.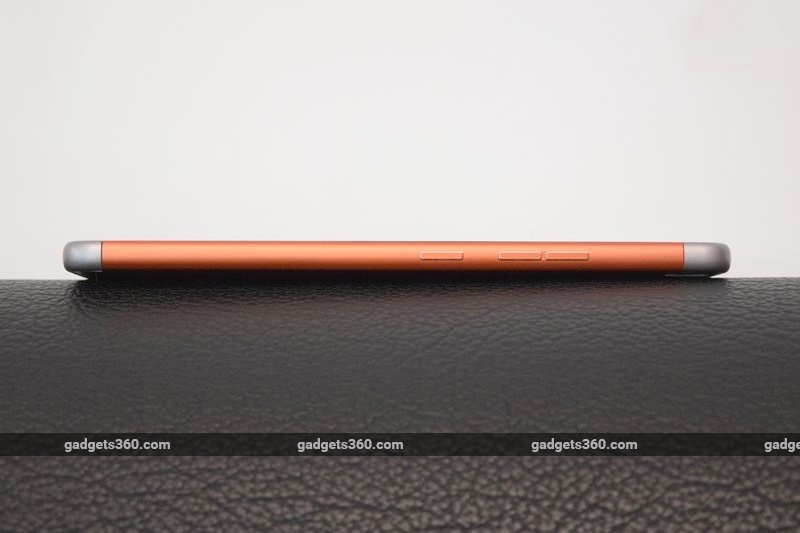 You'll find a hybrid dual-SIM tray on the left, which means you have to choose between a microSD card and a second SIM. We noticed a tiny scuff at the edge of the tray right after taking our sealed unit out of its box, which makes us concerned about how well the finish will hold up over time. The power and volume buttons are across on the right, within easy reach. There's a standard 3.5mm audio socket on top and a Type-C USB port on the bottom, off to one side in order to accommodate an unusually large speaker grille. The t.phone comes with a quick charger, Type-A to Type-C USB cable, a headset, and a SIM eject pin.
Specifications and software
Unlike most new players who aim for the sub-Rs. 10,000 price bracket in order to reach the largest number of customers, Smartron is aiming a bit higher and has specs to match its price tag. The t.phone has an octa-core Snapdragon 810 SoC, which was Qualcomm's top-end offering last year, which was heavily criticised for overheating in its early days. Smartron says it is using a later revision of this processor. There's also 4GB of RAM and 64GB of internal storage. These core specs are pretty much on par with last year's flagship phones, many of which are now available at around the same price as the t.phone.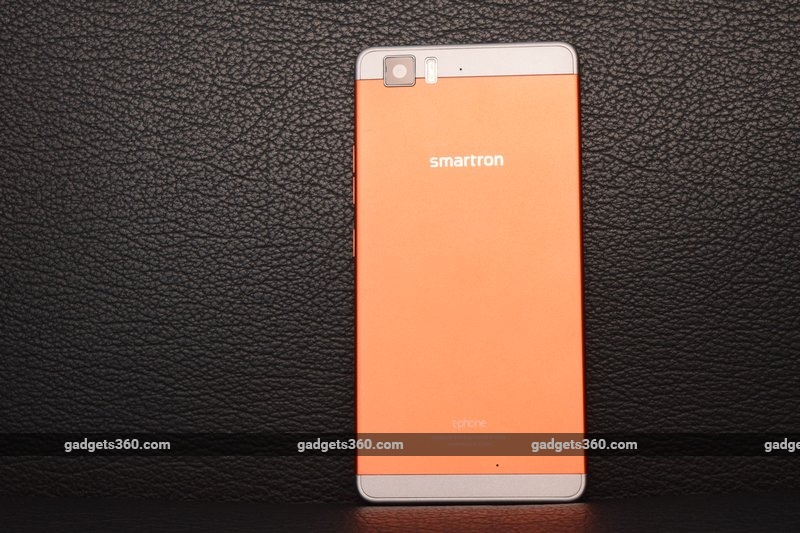 The screen measures 5.5 inches diagonally and has a resolution of 1080x1920 pixels. Today's top-end phones push higher resolutions than this, but it honestly doesn't make that much of a difference. There's Gorilla Glass 3 for protection, and Apical Assertive Display technology which is a dedicated backlight controller and processor that promises better performance under sunlight as well as improvements to battery life.
The rear camera has a 13-megapixel sensor, a dual-LED flash, and phase-detection autofocus. You can record video at up to 4K resolution. The front camera promises great selfies even in the dark thanks to the 4-megapixel sensor with enlarged individual pixels, much like HTC's trademarked "ultrapixel" cameras. The t.phone also has four microphones which the company says help reduce echoes and background noise.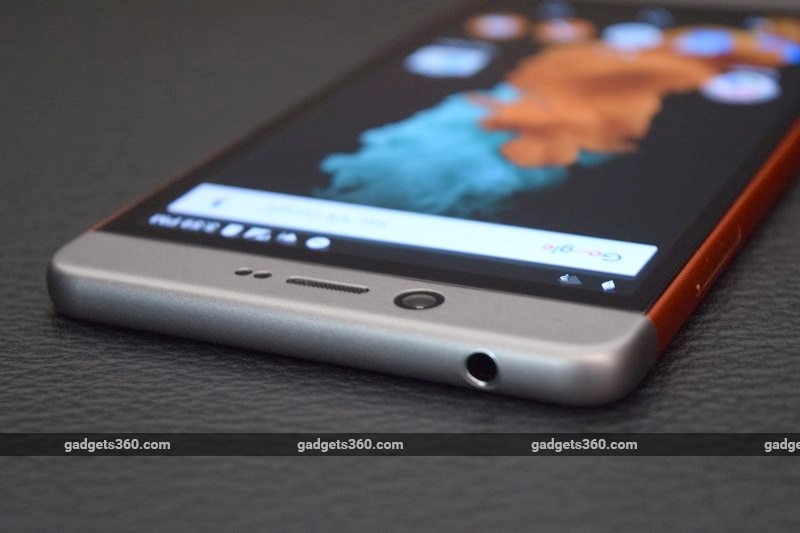 Smartron has gone with a 3000mAh battery, and the phone supports Quick Charging 2.0. 4G with VoLTE will work on bands 3, 5 and 40, which covers Indian service providers. MicroSD cards of up to 128GB are supported, at the cost of a second SIM. There's also Wi-Fi 802.11ac, Bluetooth 4.0, A-GPS, and FM radio. What you don't get is a fingerprint reader, Infrared, or NFC, one or more of which are now quite common on phones across the price spectrum.
The t.phone ships with stock Android 6.0.1 which is nice to see. More interestingly, Smartron is already talking about an Android N update. For now, users might miss some of the customisation options that third-party skins offer, such as more shortcuts in the notifications shade and being able to rearrange the app drawer. That doesn't mean there are no customisations at all - most notably, the phone shows notifications and the time in a power-saving monochrome mode when you lift or shake it, which is useful.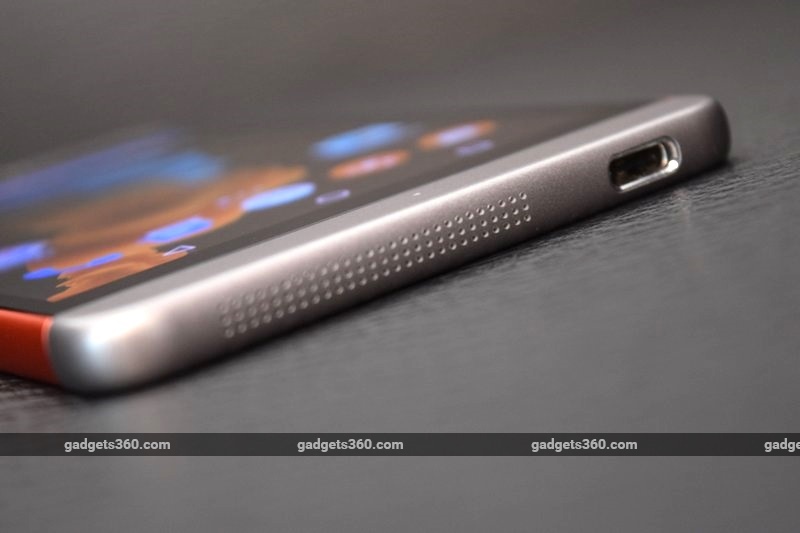 Smartron has stated on its own forum that some work has gone into customising the software at the kernel level for thermal and power management benefits, which is interesting to note. There's no bloat except for the Hungama app and DTS Play-fi, which lets you stream music to Wi-Fi devices and speakers all over your house.
There's also Smartron's own tronX app, which we first saw on the t.book. Here, you can shop for Smartron products and accessories - several more are listed now than when we reviewed the t.book, but aren't available for purchase yet. You can also chat with a service representative, browse the company's Web forum, access files in your t.cloud storage space, and track your account history. The promise of unlimited storage in t.cloud for phone data backups is quite a significant value addition to the phone, but there's a twist - while you can access your files from a Web interface and from other companies' devices, you'll only be able to upload stuff from a Smartron product.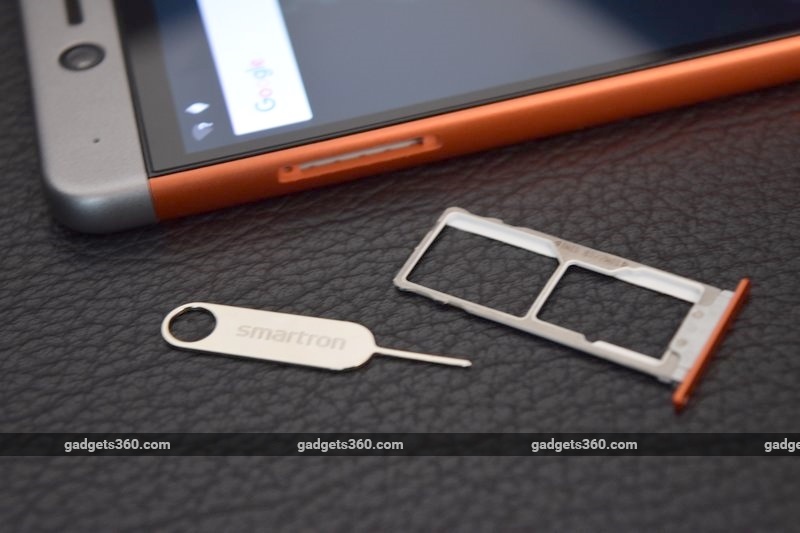 Performance
As expected from a phone with such specifications, we had no complaints about general performance in day-to-day activities. The screen is good enough, though colours could have been a little more vibrant. Surprisingly, Assertive Display is an option two levels deep in the Settings app and off by default. If it really does improve the display and save battery life, so we believe it should have been on by default. The t.phone has DTS Premium sound enhancement, and while it's clear and free of distortions, it didn't get nearly as loud as we would have liked. The bundled headset sounded a bit hollow, and we wouldn't really use it for listening to music.
We felt a little bit of heat just around the camera lens on the rear and around the earpiece on the front when recording video, using LTE data, or playing games. For all other tasks, the phone remained cool. The UI was responsive and we had no trouble flipping between multiple apps.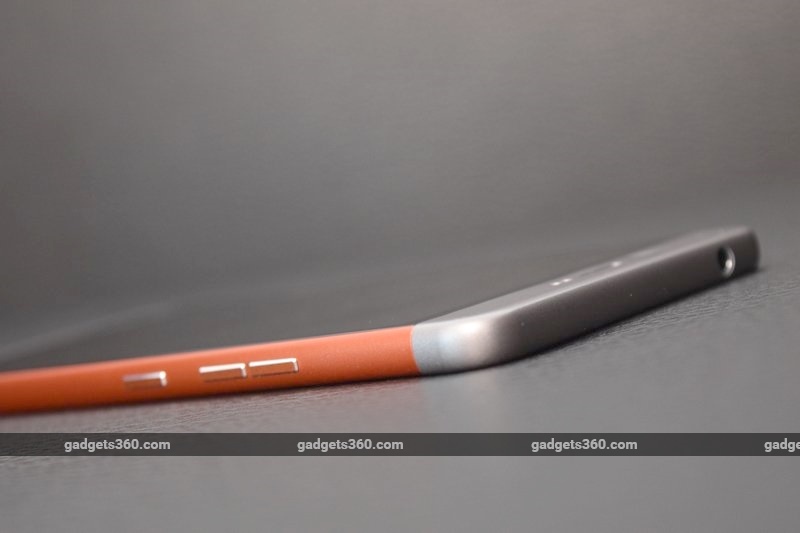 Benchmarks showed good performance, with scores of 70,601 in AnTuTu and 9828 overall in Quadrant. 3DMark Ice Storm Extreme gave us 8323 points and GFXbench ran at 49fps. Games such as Need For Speed: No Limits ran smoothly, and this phone should have enough performance headroom to run pretty much any game or app for the foreseeable future. Our video loop battery test lasted 11 hours, 10 minutes which is pretty impressive. We managed to get through a full day with some gaming and a lot of 4G data usage and still had a bit of battery power left over at night.
When we first turned on and set up our t.phone, the only real issue we faced was an absolutely barebones camera app with very poorly conceived controls and no modes or creative tools. There were no buttons within easy reach; we had to bring up a menu just to switch between the front and rear cameras. There were three pages of options, all with the same icon, with no clear sign as to what was where. Bizarrely, even the flash toggle was three levels deep in the menu, and it often went off to aid focusing even when explicitly disabled.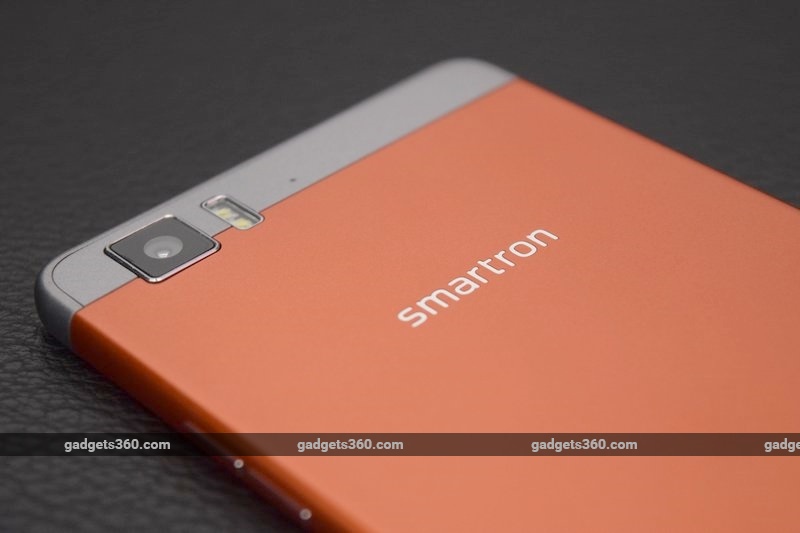 It sometimes took a few seconds to save an image and let us take another, which means it was impossible to take spontaneous photos. On some occasions, the animation of a photo being saved to the gallery played as we were lining up our next shot. Switching to other camera apps sorted out the problem with controls and responsiveness, but autofocus was still unpredictable and we were left hoping for a very quick software update.
After checking with Smartron, we were informed that there was indeed an update, but it wasn't visible to us either through the phone's firmware update tool or in Google Play. A manual search for Smartron Camera turned up the app, and we were able to update it from its store listing. The new app, version 2.1, is completely revamped and has a far better UI. Buyers might not find it easily, and Smartron really should ship its phones with this new app pre-installed.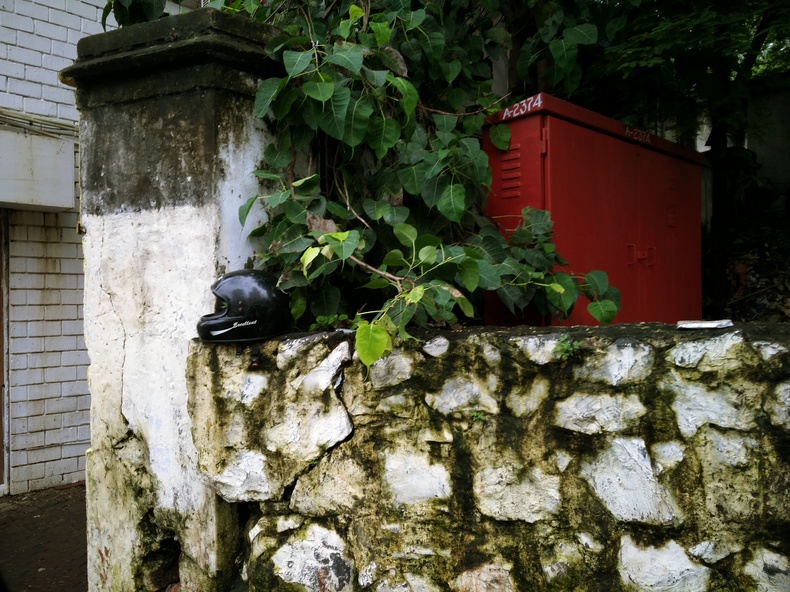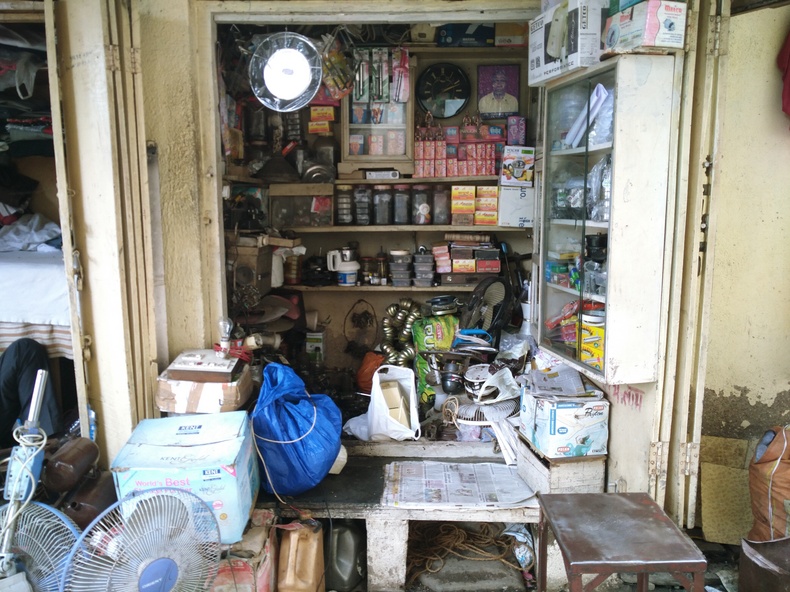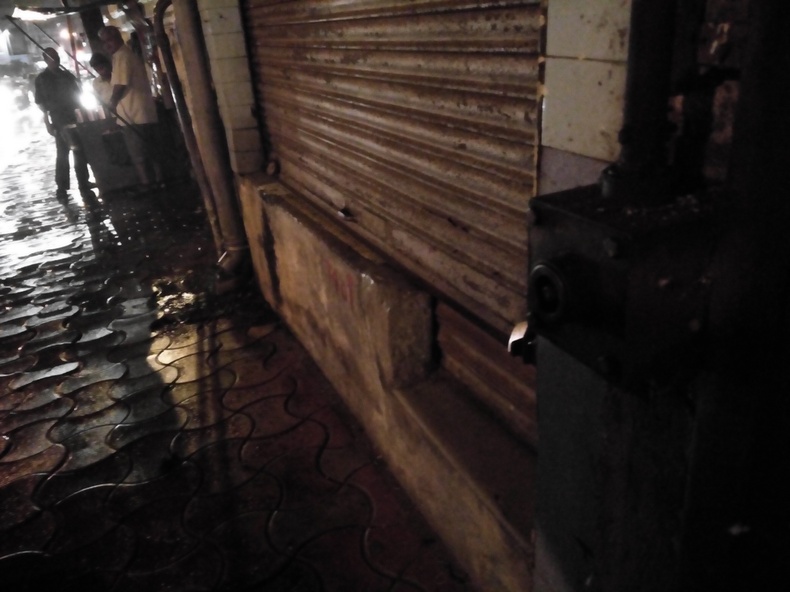 (Tap to see full size Smartron t.phone camera samples)
The camera still had a little bit of trouble focusing when we wanted to take shots, especially in low light. It also took a little more time than usual to lock focus after tapping the screen. When we did take our time and execute shots carefully, they came out just about okay. Textures and details aren't that sharp when checking out photos at full size. Photos taken outdoors in the daytime all seemed a little overexposed, and those taken at night varied greatly depending on the amount of light available. The camera definitely struggled more with autofocus at night. Photos taken with the front camera were also a little disappointing, lacking detail and making our faces look blotchy.
Verdict
Smartron emphasises that the t.phone has been designed and engineered in India, and we're all for domestic companies taking on international giants. There's a lot to like about the t.phone, and we do appreciate the fact that it has a personality of its own rather than trying to ape the competition. The price is competitive - considering the specifications and features you get - though a lot of people could be just as happy with the capabilities of a less expensive phone.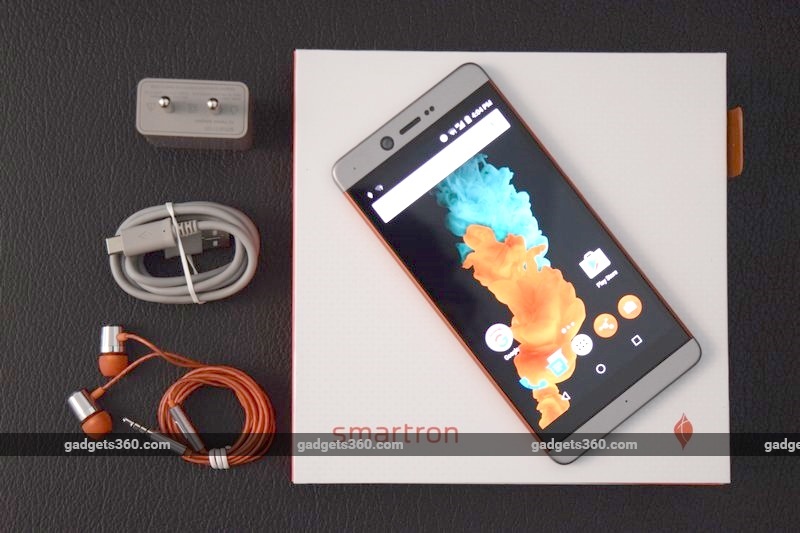 Battery life is perhaps the t.phone's strongest advantage. Conveniences like a fingerprint reader would have been nice, but on the other hand we're optimistic about the company's TronX services and plans for an IoT-connected future, which is a fairly unique proposition. As of now, there isn't much interplay between the t.phone and the t.book, but we hope to see these services and subsequent products all coming together to form a coherent ecosystem.
Smartron does need to work on the out-of-box experience that buyers will have with the t.phone, especially concerning software updates. The new camera app fixed our only real problem with this device, but that doesn't mean anything if users have to go digging to find it. The more refined but also more conventional Xiaomi Mi 5 (Review) with its Snapdragon 820 SoC is priced in the same ballpark, but the t.phone could easily find a niche fanbase. This is a strong offering from an ambitious new company, and we're going to keep an eye on what Smartron does next.
Disclosure: Gadgets 360 is the exclusive retail partner for the Smartron t.phone.
Affiliate links may be automatically generated - see our ethics statement for details.