The lack of expandable storage has always been a thorn in the side of iPhone and iPad users, while microSD cards and even USB-OTG drives are standard features of the Android landscape. Buyers balk at the massive margins
Apple
charges to step up from the lowest storage option on each of its devices, but often wind up feeling remorse a year or so down the line when they have to start deleting photos, cutting back on apps and carrying less music.
SanDisk is one few companies trying to help users get around this problem. The iXpand Flash Drive does two major things: it helps you carry more data around than your iOS device(s) can store, and it helps you copy files to and from PCs and iOS devices without going through iTunes. Note that it does not magically add more storage to an iPhone or iPad itself - so you can't think of it as an iOS equivalent of a USB pen drive. More on how that works below.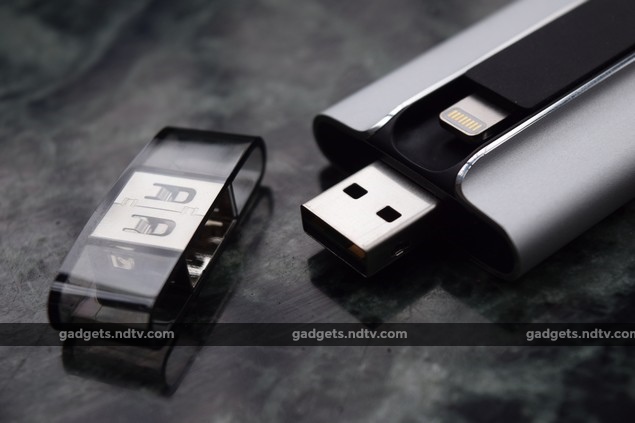 Look and feel
The SanDisk iXpand Flash Drive is fairly bulky; much larger than the similar Strontium Nitro iDrive USB 3.0 which we reviewed earlier this year. The first thing you'll notice about it is the Lightning connector recessed into the front of the body. It's actually on the end of a flexible rubber stalk so you can lift it out to plug the drive into your iOS device.
The iXpand Flash Drive is made of metal, which the company hopes will appeal to iPhone and iPad buyers. There's a regular full-sized USB connector under the plastic lid on top, and you can plug the iXpand Flash Drive into any PC or Mac, though it will block ports on either side thanks to its width.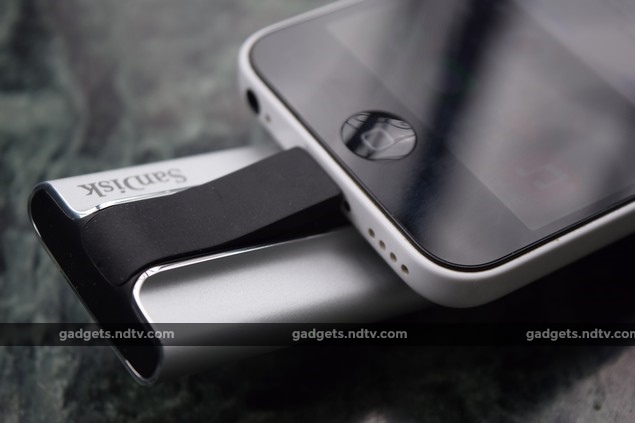 The construction quality is top-notch, with polished metal shining through on the edges much like it would on current Apple products. There's a tiny activity LED on the right side but otherwise really not much else to see on the device itself. It's heavy enough that you'll feel it in a pocket, but not so much that it will make any difference when tossed in a bag.
SanDisk told us at the device's launch that the flexible stalk design was chosen so that iPhones and iPads wouldn't have to be removed from cases with narrow Lightning port openings. While we found that this was true and convenient in one way, it results in the iXpand Flash Drive hanging out the bottom and at an angle. This made for some very awkward gymnastics when trying to hold our test devices, and we weren't able to lay them flat on any surface or prop them up either. On the whole, we would have preferred a smaller, less awkward design.
Specifications and software
One of the reasons for the iXpand Flash Drive's bulk is that it has a battery, and it will simply not work if it runs out. Apple does not allow accessories to drain power from an iPhone or iPad's Lightning port, so the drive will only charge when plugged in to a PC (or you'll need to use a wall charger). This is important to know because you might not notice it at all when regularly shuffling between PCs and iOS devices, but you could run out if you use it on an iOS device exclusively for a long time, such as if you use it only to back up photos and videos on a long trip. You'll want to keep an eye on the activity LED which will turn red when you need to charge the drive.
The iXpand Flash Drive is available in capacities ranging from 16GB to 128GB. It will work with any PC running at least Windows Vista and any Mac with OS X v10.6 and above. You'll also need at least iOS 7.1 on your Lightning-equipped iOS device. On plugging it in to any iOS device for the first time, it will trigger a prompt taking you to the App Store to download SanDisk's iXpand app. The company also provides a security program for Windows and OS X on the drive itself.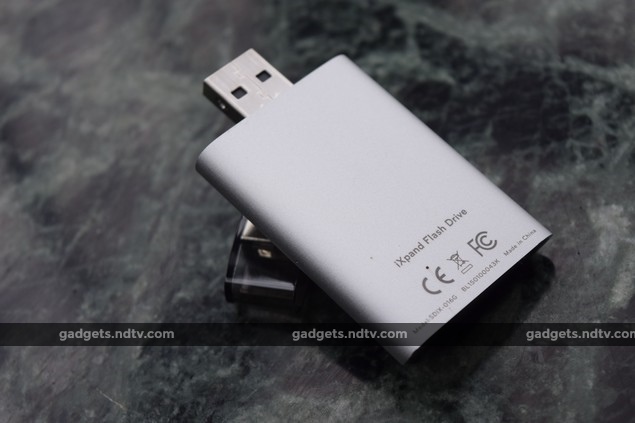 The iXpand app is the only way to get to anything stored on the drive. The biggest limitation Apple enforces is that no other app is even aware when it's plugged in. You thus cannot use it to bump up your iPhone or iPad's storage capacity. You can transfer photos from your Camera Roll to the iXpand Flash drive but you can't permanently have more space. You can play music and videos through the app but you can't add those files to the iOS Music and Video players.
The iXpand Flash Drive gives you an easy but inelegant way of quickly copying media to your device so you can enjoy it later. Just copy files on to if from a PC - no iTunes, no typing IP addresses into Web browsers. You can then either play them directly off the drive or copy files over to your iOS device for easier access. If you do that, they live only within the iXpand app unless you make further copies of them in other supported apps using the iOS 'Open In...' option. This will let you do some things like send a PDF to iBooks, or a video to Dropbox.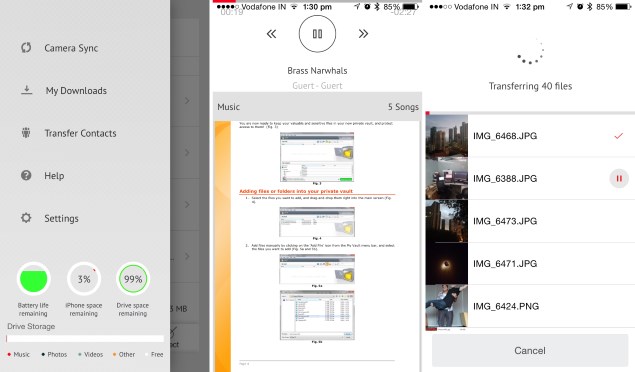 Thankfully, the iXpand app is really well laid out. You can browse through the contents of the drive (in a list view or grid of thumbnails)and launch any supported file, which includes audio and video formats that iOS does not support through the native Music and Video apps as well as PDFs and common document filetypes. Files that aren't recognised can be launched in external apps. There's a 'Now Playing' panel that lets you control music while doing other things.
Performance
One major shortcoming of the SanDisk iXpand Flash Drive is that it works on a PC at USB 2.0 speed. The Strontium alternative we tested recently was a USB 3.0 drive and the difference is enormous. If you want to grab files or make backups quickly, this will be a major irritant.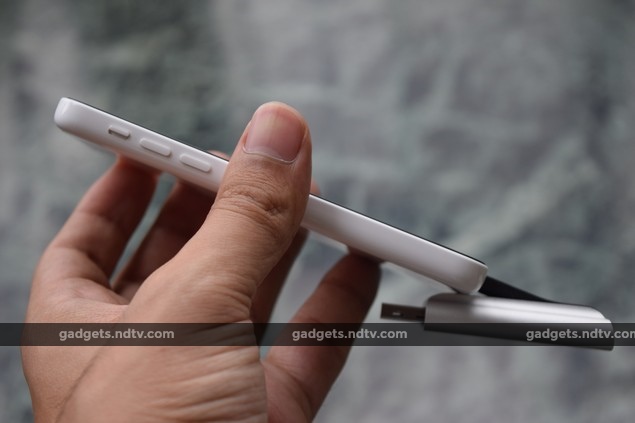 On our desktop test bench, the iXpand Flash Drive achieved 11.83Mbps and 12.6Mbps sequential reads and writes respectively. Random reads and writes came in at 11.81Mbps and 11.64Mbps, which is not too bad. We also tested the drive with an iPhone 5c and a fourth-gen iPad both running iOS 8.3, and had no problems with the drive being recognised.
The app has a few unnecessary animations that seem to add delays to navigation and some common functions. It takes a long time to display your device's photos if you have a lot of them. It also crashed randomly on one or two occasions, but was otherwise very polished and easy to use.
Thankfully the app makes it very easy to check the battery charge level and remaining free capacity of the iXpand Flash Drive. We never managed to drain the battery enough to cause alarm, but that's because we had it plugged in to PCs fairly often.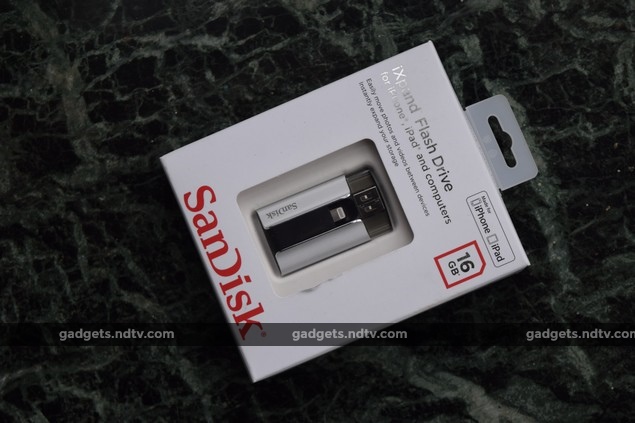 Verdict
There definitely is a niche for products like the SanDisk iXpand Flash Drive. If you regularly find yourself running out of space, this might help solve some of your problems. However, it's actually more useful when used as a tool to back up photos and just get files onto an iOS device quickly and easily.
With prices ranging from Rs. 4,490 for 16GB to Rs. 11,490 for 128GB, an iXpand Flash Drive would be well over ten times as expensive as a USB OTG drive of equivalent capacity. The street pricing is at par with that of the Strontium Nitro iDrive, and while it is a lot bulkier and slower, the app is far, far better.

If at all possible, it would make more sense to just go with a higher device capacity at the time of purchase. If it's too late, you also have the option of buying a highly capable Android phone and a microSD card for the same or less. You'll have to decide whether the convenience is worth this much money to you.
Price (MRP):
Rs. 4,490 (16GB); Rs. 5,990 (32GB); Rs. 7,990 (64GB); Rs. 11,490 (128GB)
Pros
Well-designed app
Portable
Convenient for file transfers

Cons

Requires charging
Limited to USB 2.0 transfer speed
Awkward to handle an iPhone or iPad when plugged in

Ratings (Out of 5)
Design: 3.5
Performance: 3
Value for Money: 3

Overall: 3