SanDisk was one of the earliest companies to recognise the potential of storage accessories for iPhones and iPads. It's the kind of thing that could really come in handy, with Apple famously continuing to charge crazy premiums for more than 16GB storage on its iPhones and iPads, and also deny its users the ability to upgrade storage down the line.
The first-generation iXpand was bulky and awkward to use, but if you didn't have any alternative, it could be a life-saver. Now, a year after launching the original, SanDisk is offering an all-new model with a totally different design and improved capabilities. Read on to see if your iOS storage woes can be solved once and for all.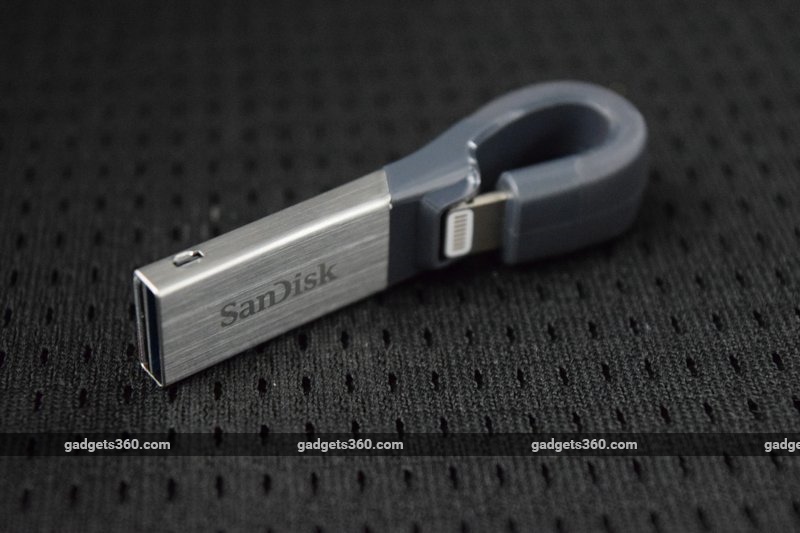 Look and feel
There's no denying the similarity in looks between the new SanDisk iXpand and the Leef iBridge. SanDisk appears to have borrowed heavily from Leef's design. It isn't a direct ripoff, but it definitely seems unoriginal. On the bright side, it's a massive improvement over the first-gen iXpand in terms of size and ease of use.
The curled end with the Lightning connector is slightly flexible, and you can tuck the connector into a receptacle on the body when not in use, though it remains mostly exposed. The entire body is barely wider than a standard USB plug, except for a slight bulge at the rubber-coated base which helps with grip. This means that unlike the previous model, it will fit into tight spaces and won't block other ports when plugged into a PC or laptop.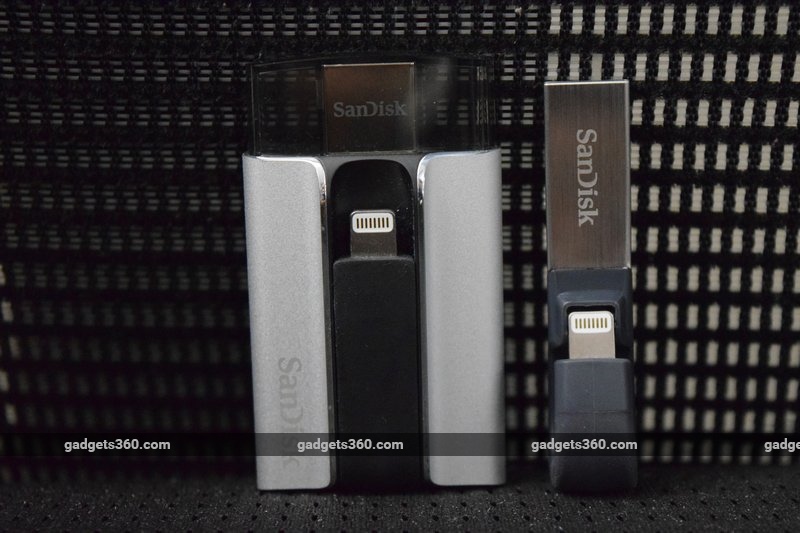 The Lightning connector and flexible curl are designed to work even with iPhones or iPads that are in relatively thick cases. It would have been extremely annoying to have to take off a case each time you wanted to use the drive, so luckily that isn't a problem. You can continue to use an iPhone normally in one hand with the iXpand plugged in, but it will tilt backwards when resting on a table. The corners of the end with the USB plug are a little sharp, but the design is way better than that of the original iXpand, which dangled below the Lightning port.
Overall, the main goal of this redesign seems to have been making the product as unobtrusive as possible, and SanDisk has succeeded in that regard. You can slip the new iXpand into any pocket and not worry about it. The only thing we would change is the exposed USB plug with its sharp metal edges.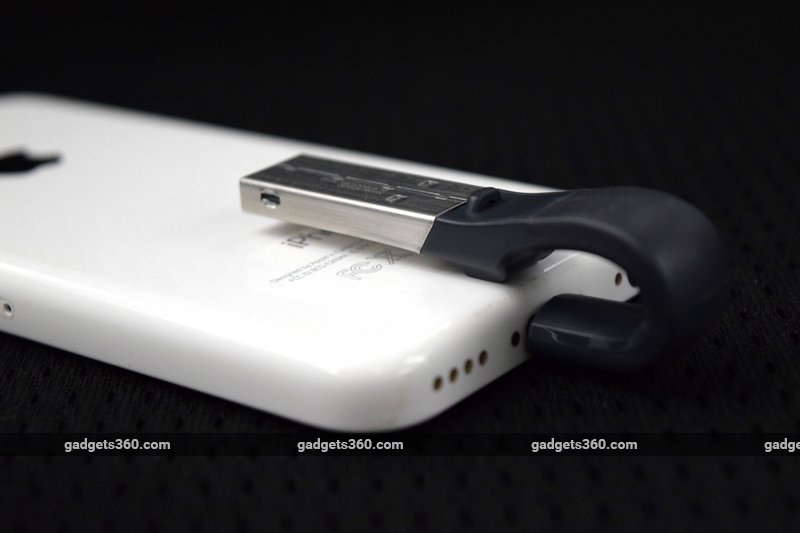 Features and software
The second-gen iXpand is available in capacities ranging from 16GB to a whopping 128GB - though even the largest one costs less than what you'd pay to jump a single iPhone storage tier. It will work with any iPhone, iPad. or iPod touch with a Lightning connector running at least iOS 8.2. We're also happy that the USB connector now supports USB 3.0 speeds, which is something we sorely missed with the original. All models come with FAT32 as the default file system for general compatibility, except for the 128GB one which uses exFAT which allows for files larger than 4GB each, but at the cost of support for older PCs.
Another massive change between generations is that the iXpand no longer needs its own battery. That's one of the biggest reasons for the reduction in size, and it also makes the product a lot more useful. It will sip a tiny amount of power from your iOS device, but at least you don't have to worry about a pen drive dying on you, or remember to plug it into a PC to recharge periodically.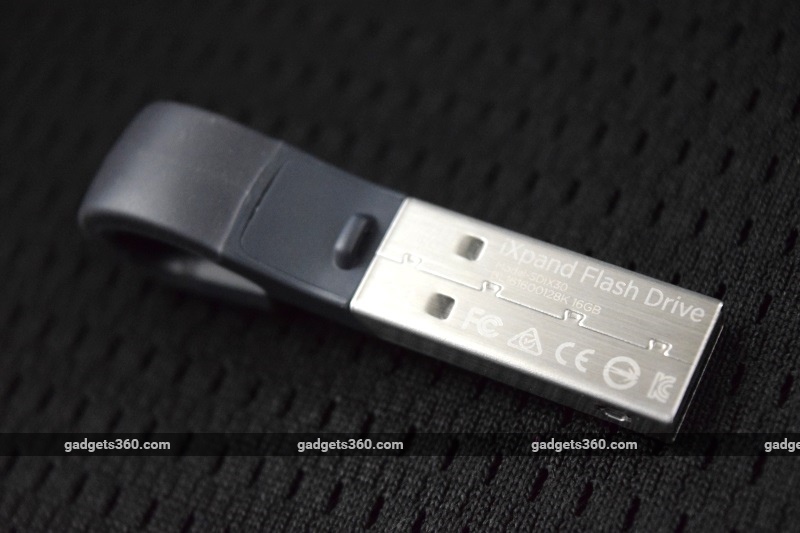 Thanks to Apple's file system access rules, you can't actually use the iXpand for additional storage like you would use an OTG drive or even a microSD card on Android. The iXpand's capacity can be accessed only through SanDisk's own app. You'll be prompted to download it from the App Store when you first plug the iXpand into a new device, if you don't have it installed already.
The app is different from the one used by the first-gen iXpand, and has a whole new interface and improved features. The company says that there won't be any further app development for the older product which might annoy some buyers.
The app takes you through a quick-start presentation, after which you see the main interface. The upper half of the screen is full of what look like ads, prompting you to set up automatic backups for your photo library and contacts, though thankfully these can be dismissed. You'll see an overview of storage usage on your device and on the drive.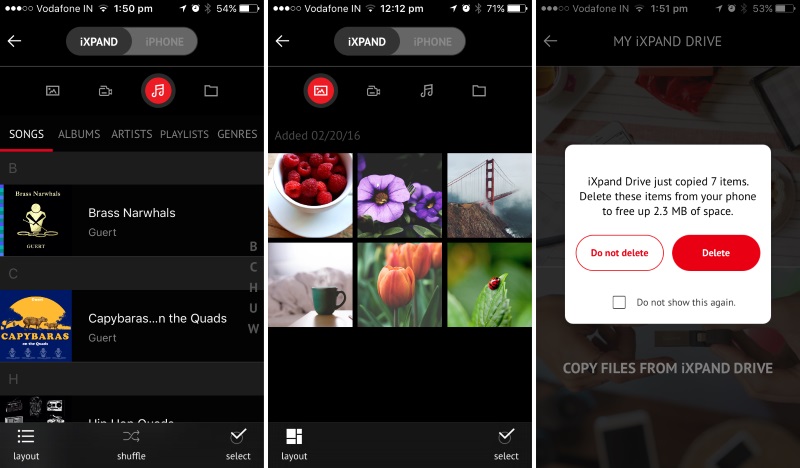 As with all other iOS apps, you can copy files to the phone from the iXpand drive, but they'll live within the app till you use the Share menu, which creates copies of your files in different apps. Similarly, to get anything onto the drive from an iOS device, you have to Share it into the iXpand app and then put it onto the drive.
If you want to play music or movies stored on the iXpand drive, you have to either do so though the iXpand app or copy them to other apps - note that you can't copy files into Apple's Music app. However, the iXpand app can handle tons of file formats including documents, PDFs, photos, videos and more, so you might not need anything else for quick tasks. If it can't handle any format, it'll allow you to send that file to any other app.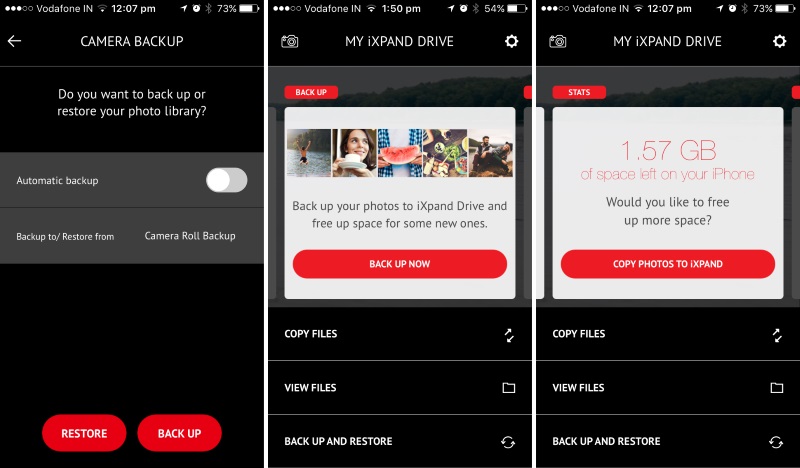 SanDisk gets points for creative solutions to iOS's limitations. For example, you can access your iTunes library within the app so it's easy to play music stored on your phone and on the drive through one interface. Another excellent new feature is the ability to record photos and videos within the iXpand app and have them saved directly to the drive. If you record a lot of videos, you know the pain of filling up your storage and then having to juggle large files. This way, professionals can also record video directly to the drive and then plug it into a PC for quick access.
iPhone 6s users will like the 3D Touch shortcuts to create backups and trigger the camera. SanDisk also supports Apple's Touch ID for security. If you have an iOS device with a fingerprint reader, you can set up encryption to use your fingerprint rather than a passcode. Files and folders that you choose to secure are moved individually to a separate folder, but you can't encrypt the entire drive. You also have to set up a 6-digit alphanumeric passcode so that you can access the files on other devices. Software to let you decrypt the files on Windows and OS X comes on the drive itself.
Performance
We had a 16GB version of the iXpand Flash Drive for review. First of all, we were very happy to have USB 3.0 transfer speeds. We measured the iXpand's capabilities with CrystalDiskMark and were able to achieve 75.26MBps sequential reads and 53.39MBps sequential writes - way better than the USB 2.0 speeds of the previous model. You'll be able to back up files or load a bunch of movies for a long trip quickly. We tested the drive with an iPhone 5c running iOS 9.3 and a fourth-gen iPad running iOS 9.1, and had no major issues.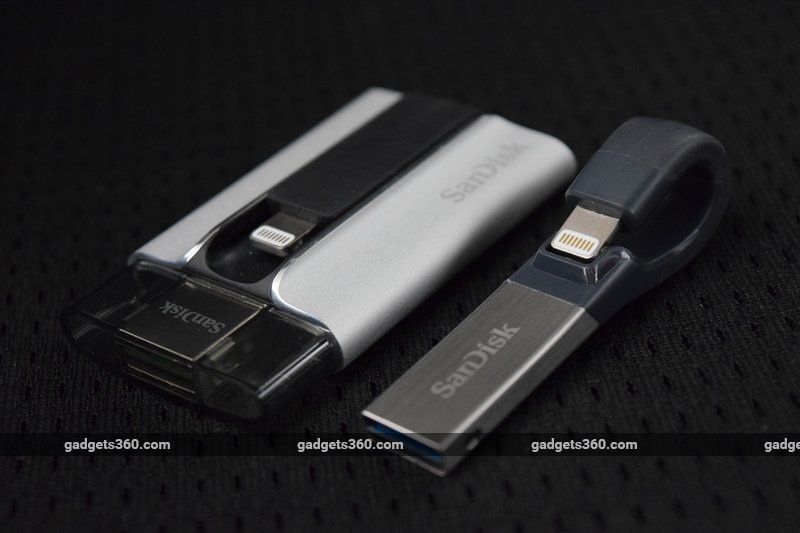 The drive was recognised instantly and we were able to grab the app and get started within minutes. However, the drive seemed to get disconnected and reconnected at random times. If our devices went into standby mode with the drive plugged in, we would get a popup each time we turned them back on, directing us to allow the app to communicate with the accessory. That might be down to how iOS handles accessories and power drain, but it's still annoying for users.

File handling seemed fine, and we didn't run into any major limitations with the app's capabilities. The camera module mimics the iOS app but is fairly basic in terms of features. You can browse through files on the drive by folder, and there are special views for photos, music, and movies which let you preview media and sort by attributes such as artist or genre. You can even create music playlists. It's clear that a lot of thinking went into the design of this app - it's a shame that buyers of the older iXpand don't get to benefit from an update.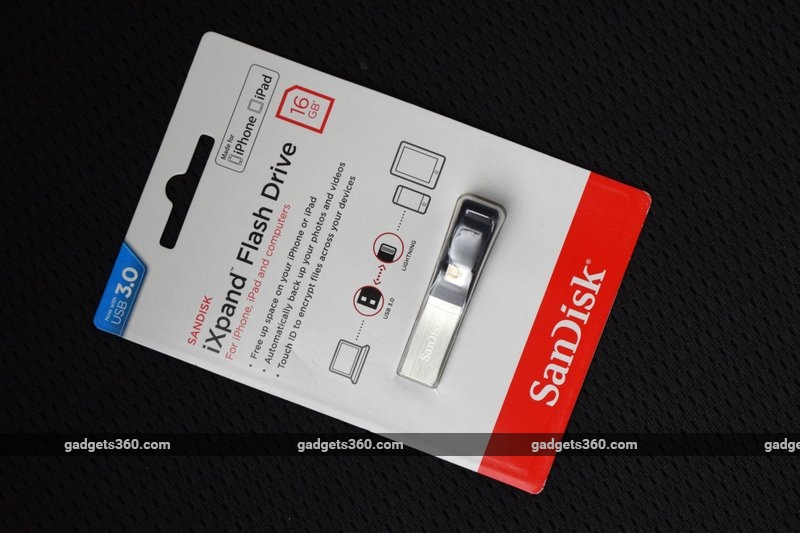 Verdict
In addition to helping alleviate iOS storage woes, the new iXpand Flash Drive is a really handy tool. You can use it for backups and on occasions when you need to move files between an iOS device and computer. Of course it's perfectly functional as a standard USB pen drive as well. It isn't a miracle solution if you need lots of apps on an iOS device with limited storage space, but it's perfect if you want more music and movies than your device can handle, or if you want to offload photos and videos but still have them handy.

A lot of people would argue that streaming services and cloud storage could do the same, and that's true if you have a generous mobile data plan and prefer smaller monthly subscriptions. However, the iXpand is more versatile, and really isn't expensive for what you get. Apple's rules are extremely restrictive, so if you find yourself with buyers' remorse after having gone with a low capacity iPhone or iPad, this little accessory could be of immense help.
Price (MRP):
Rs. 3,990 (16GB); Rs. 4,990 (32GB); Rs. 6,990 (64GB); Rs. 9,990 (128GB)
Pros
Lots of functionality in the app
Small and convenient to use
Automatic backups
Direct photo and video recording
Cons
iOS storage and accessory handling limitations

Ratings (Out of 5)
Design: 4
Performance: 4.5
Value for Money: 4.5

Overall: 4.5