Car manufacturers rely on periodic cosmetic refreshes and price cuts to keep customers interested as new completion enters the market. You might see a new grille, or some minor change to the moulded plastic bits. A few accessories that used to be optional extras might come preinstalled, and the upholstery might be a little more premium. Other than that, it's essentially the same model.
Smartphone manufacturers, on the other hand, have forced themselves into a yearly refresh cycle. Whether or not there's anything new to offer, they must launch a new model. It's beginning to feel a little forced, especially since top-end smartphones already have more power than most people know what to do with.
So, when Samsung unveiled the new Galaxy S5 at this year's Mobile World Congress, the world let out a collective yawn. Sure, it has a few new features and some nifty accessories, but is it really that different from last year's model? As it turns out, the answer to that question isn't a simple yes or no. Read on to find out why.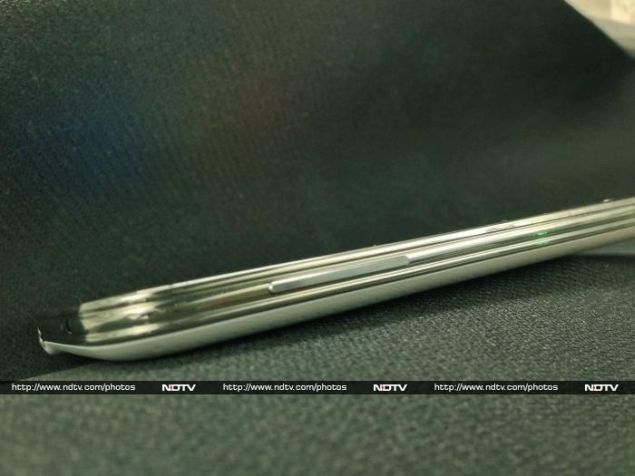 Look and Feel
It's pretty easy to spot a Samsung phone these days. The company hasn't deviated from its formula for a long time now, and at least from the front, the S5 looks like every other currently available Samsung phone. It has a silver border around the edges, sunken white faceplate with a textured pattern (simple dots this time), silver-ringed physical Home button flanked by soft buttons for Recents and Back, and earpiece and visible sensors on top.
The Galaxy S5's look isn't all repetitive though - the chrome ring around the edges has two little ridges, while the back is an all-new satiny plastic with a grid of dots for texture. That's right, Samsung has finally deviated from the fake leather-and-stitching look that until just now had threatened to spread through the company's entire product line. We're happy to report that in person, the rear panel looks nothing like a band-aid - as suggested by some critics.
The power button is on the right edge, as expected, with the volume rocker opposite. There's a 3.5mm headset socket and IR emitter on the top, along with an additional mic for noise cancellation. The only things on the bottom are a tiny mic and the rather large Micro-USB 3.0 port, protected by a rubber-ringed flap. Although the Galaxy S5 is capable of USB 3.0 transfer speeds, Samsung provides only a regular USB 2.0 cable in the box. This isn't a huge problem, but since the port is oversized, recessed, and covered, you need to look carefully to line up the USB connectors each time you want to plug this phone in.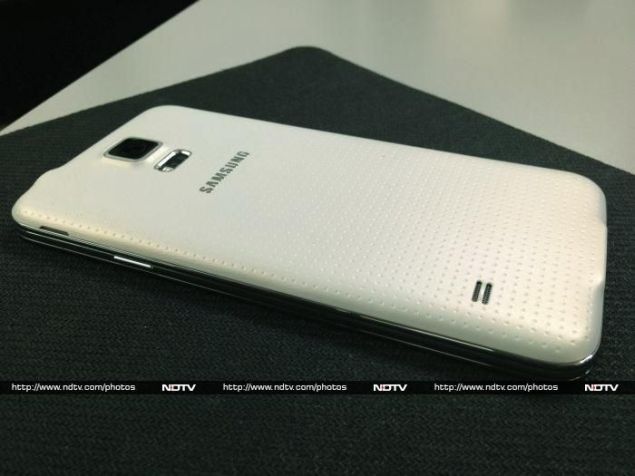 Neither of the Galaxy S5's two headlining hardware features is very evident. The heart rate sensor sits in the same housing as the camera's flash, right below the lens on the rear panel. If you didn't know what to look for, you wouldn't know it's there. The fingerprint reader is integrated into the Home button and is completely invisible - there is absolutely no sign that something has changed, compared to the S4, which isn't necessarily a bad thing.
The only really visible change is the move to a water resistant enclosure, which necessitates a flap over the USB port. If you pop off the rear cover, you'll also note a rubber ring surrounding the battery and card slots. In addition to a ring of tiny clasps around the edges, the S5's rear cover also has clasps in the middle to ensure the rubber forms a seal around the sensitive components.
One less noticeable change is that Samsung has finally ditched the Android Menu button, replacing it with a Recents button for multitasking. This makes a lot of sense, since all options are now available on screen and you don't have to dig for them. Long-pressing the Home button now pulls up Google Now, but Samsung still treats the Recents button as a Menu button sometimes. Long-pressing it when a home screen is visible still brings up options for customising it, which makes no sense.
The S5 is slightly wider and taller than the Galaxy S4, and also less curvy and organic, which feels like a step backwards. Some people will find it just a bit too large for comfort, but at least the weight is manageable since it's all plastic.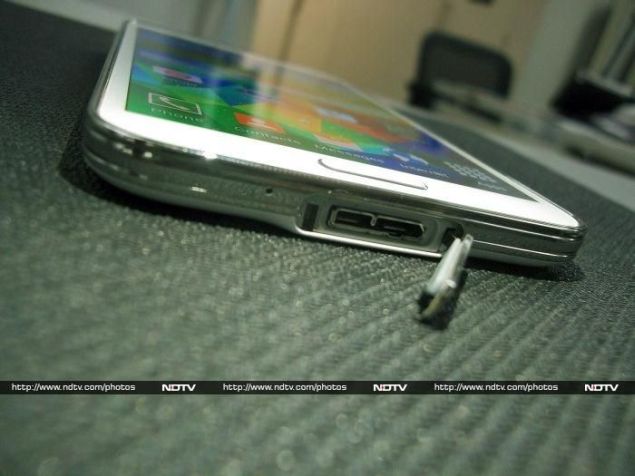 Software
As far as its hardware design goes, the Galaxy S5 is not exciting at all, so we're interested in seeing how the software side fares. Samsung has spent a lot of time on its OS customisations, but there are still good and bad sides to its approach. The Galaxy S4 was widely criticised for its excesses, and so this time, Samsung has toned it down quite a bit. Even though there's still a lot to see, it's better organised and lots of things are tucked away. Surprisingly, the TouchWiz skin doesn't feel all that intrusive now.
For example, the notification shade has only a few shortcuts visible by default, but tap a button in the corner (or pull down with two fingers instead of one) and you'll see no fewer than 21 shortcut and quick toggle buttons for things like Bluetooth, Wi-Fi, Power Saving Mode (and the separate Ultra Power Saving Mode), NFC, Smart Stay, Screen Rotation, and Private Mode.
The home screens are thankfully quite simple, though you can have up to seven of them. Samsung has restricted itself to five small widgets and four icons. The Flipboard-style My Magazine view lives to the left of the first home screen, and as usual you can customise it to show news and social updates from your preferred sources.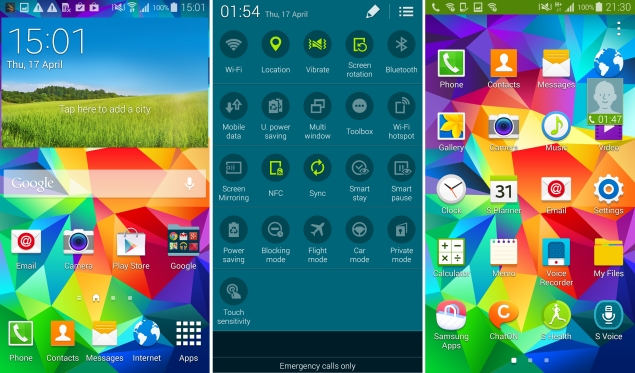 Amongst TouchWiz's little tricks are the Toolbox, a little floating panel that can stay on top of all apps and unroll to show quick shortcuts to up to five apps, and Multi Window, which lets you run two apps simultaneously. Quick Connect is somewhat like Apple's AirDrop, in that it lets you share content with other devices, except that it works with Wi-Fi or Bluetooth. Smart Stay and Smart Pause track your eye movements in order to keep the screen active as long as you're reading something, and pause a video when you look away.
There's a power saving mode, which blocks background data connections and reduces performance. There's also Ultra Power Saving mode, which transforms the S5 into a barely-functional feature phone. All graphics and effects are turned off, and the screen itself switches to greyscale. The regular lock screen, home screens and menus disappear, replaced by a single monochrome screen with a very prominent pair of icons showing the battery percentage and standby time remaining. You can only make and receive calls and text messages, type notes and record audio. Data is enabled only when you use the browser, Google+ or Samsung's own ChatON messenger. No other apps are available, and you can only access a few basic settings. Even the screen timeout becomes more aggressive.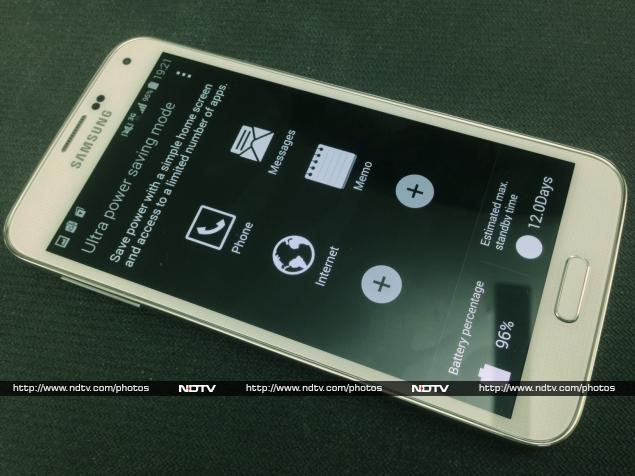 Our test device promised over a week of standby time with a 65 percent charge in Ultra Power Saving Mode, which is very impressive. This could be a lifesaver on long journeys, or when you realise you won't have access to a charger for a long time.
The Galaxy Gifts scheme offers buyers of this phone several hundred dollars' worth of freebies, such as subscriptions to Bloomberg Businessweek and the Wall Street Journal, upgraded cloud storage from Box and Bitcasa, and premium versions of RunKeeper, Evernote and LinkedIn.
There's a Private Mode which lets you hide specific photos, videos, audio recordings, music tracks and files within their respective apps. When you turn it on, you'll be asked to swipe your finger or type your passcode again, and when you turn it off, selected content will disappear from within apps. You can't hide apps themselves, or content within third-party apps.
Kids' Mode is a way to let young children play specific games on your phone while all other apps are locked down and safe from accidental (or non-accidental) taps.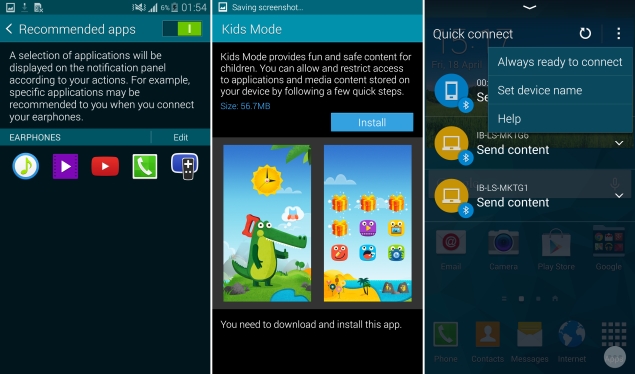 Blocking Mode is somewhat like a "Do Not Disturb" feature. You can choose to have all notifications disabled, including all calls or alternatively, only calls from numbers not already in your address book. It can be activated between set times each day, or even all the time.
Samsung has always tweaked the Android Settings app, but now it looks completely new. By default, you see a grid of brightly coloured circular icons rather than the usual list. Thankfully you can switch back to the list or choose a tabbed view, because there are no fewer than 61 icons in the grid! The first 12 are "quick settings" for often-used functions, and are duplicated in their respective categories below. That's still a bewildering number of places to look for simple options, and it's highly likely that a lot of features will go undiscovered and unused because they're buried in here.
Also, in fine Samsung tradition, there are apps which duplicate nearly every default Google app. There's the stock Android browser as well as Chrome; Gallery and Photos; Hangouts and ChatON, Play Music and Music; Email and Gmail; and even Samsung Apps alongside Google Play. Even worse, there are two voice assistants. A long-press on the Home button brings up Google now, but a quick double-tap brings up S-Voice. You can't delete most preloaded apps, but you can at least hide them from the app menu.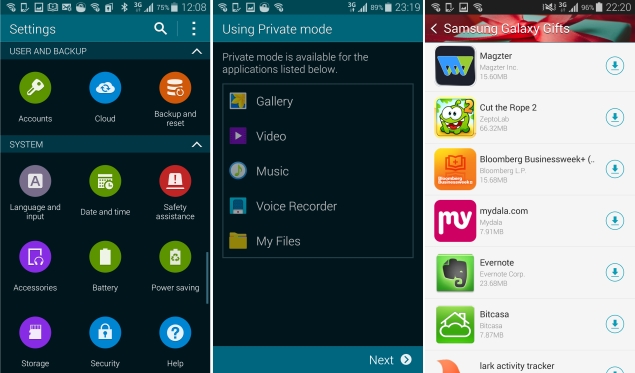 We've heard rumours that Samsung is planning to ditch Android and is thus beginning to familiarise users with its own apps and aesthetic. Whether or not this eventually comes to pass, we wish the company would choose one path or another, since this approach wastes space and makes life difficult for new users. Nearly every action requires you to choose an app to work with.
Specifications
There isn't really much to say about the Galaxy S5's hardware, except that it's all slightly better than the Galaxy S4's. The screen is mostly the same, at 1080x1920 pixels, but now has a wider range of brightness settings for different conditions.
The processor is an Exynos 5420, with four ARM Cortex A15 cores running at up to 1.9GHz alongside four A7 cores running at up to 1.3GHz. Unlike earlier octa-core implementations which could use either or the two quad-core clusters at a time, any or all of the Exynos 5420's eight cores can run at the same time, and the phone's software and hardware are designed to recognise and address all of them individually.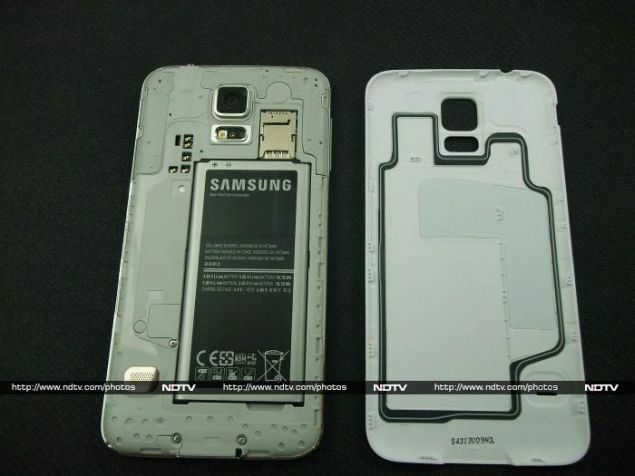 International LTE versions of the S5 will come with Qualcomm Snapdragon 801 processors rather than the Exynos. It isn't clear exactly how the variants will differ in performance, and if we're getting shortchanged until we get our hands on both variants, but some reports have suggested the Exynos variant beats the Snapdragon at least in synthetic benchmarks.

There's 2GB of RAM and 16GB of built-in storage. You can add a microSD card - Samsung's own documentation varies between 64GB and 128GB as the highest capacity supported. Everything else is equally top-of-the-line: Wi-Fi ac, Bluetooth 4.0, NFC, USB 3.0, and a 2,800mAh battery.
The camera can take 16-megapixel stills and 2160p 4K video. Samsung touts a number of camera improvements, such as quick hybrid autofocus (contrast and phase detection).
Heart rate and fingerprint sensors
The two headlining features deserve their own discussion. Both seem reactionary: one a response to a feature Apple has already launched; the other a pre-emptive move. However, only one is actually useful.
The fingerprint sensor is beautifully hidden in the Home button. The S5 doesn't prompt you to set it up, so unless you dig into the Settings app, you really wouldn't have any way of knowing it's even there. You can enrol up to three fingerprints, which is too few for our liking, and unlock the phone by pressing the Home button and swiping down.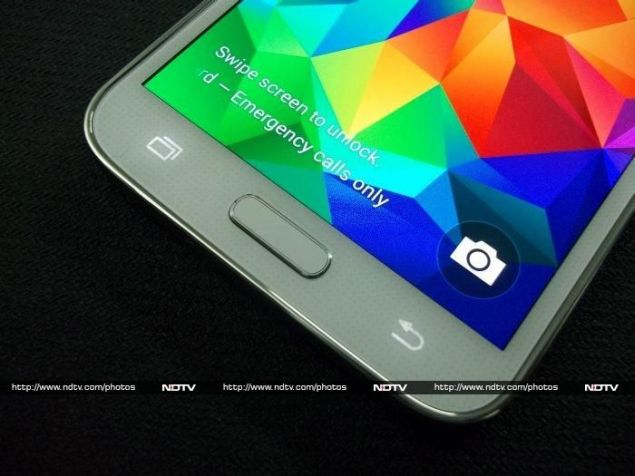 Unlike Apple's one-touch implementation, you have to swipe across the button. A clever overlay on the screen shows you where you should place your fingertip so the entire digit can be scanned when you swipe. In casual usage, the sensor was accurate enough, with zero false positives and almost no failed detections. The fingerprint sensor can also be used to enter Private Mode, and Samsung has already opened it up to third parties including PayPal.
Maybe Apple's caution over allowing others to use fingerprint authentication is a good thing, since it has already been demonstrated that Samsung's sensor can be fooled by the same moulds that tripped up Apple's. It's unlikely that anyone would go to such lengths to steal a single fingerprint, but if your data is extremely sensitive, you'll want to give the S5's fingerprint sensor a miss.
On the other hand, the heart rate sensor is a complete oddity. You're meant to hold your index finger over the sensor, which isn't difficult thanks to the slightly raised camera above it, while the S-Health app reads your heart rate. The first problem with this is that it hardly ever worked - we were often frustrated by the S5's point blank refusal to register a reading even after jabbing the sensor and shifting our finger around several times. The few times that we did get a reading, results seemed to vary beyond wildly.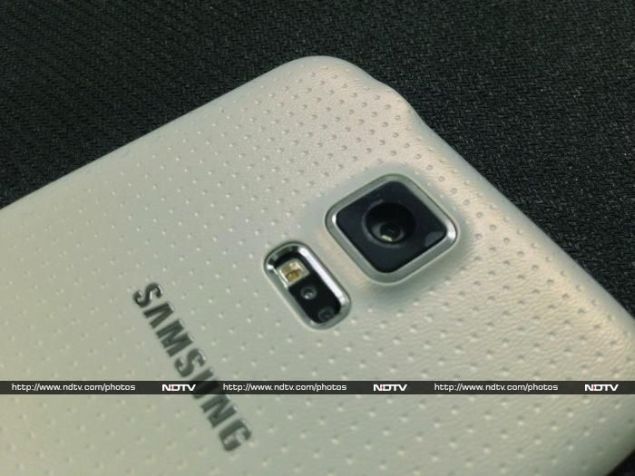 The second issue is that it's highly disruptive to enter the app, select the heart rate module, and then wait for the sensor to register a reading. It hardly seems necessary to monitor heart rate in the first place, but maybe we'd do it if the process was seamless. As it is, we can't even be certain that the reading is accurate, so we're much less likely to ever bother with this feature again.
This factor also applies to most of the S-Health app's other features, which include diet tracking and monitoring physical activity. We're sure they work better with Samsung's Gear series of wearable accessories, and we'll have a detailed review of that experience soon.
Camera
Samsung knows that a fantastic camera is totally necessary for to high-end smartphone, and the S5 does not disappoint. The app's interface is remarkably clean, but of course Samsung had to go and stick 24 settings icons in a menu. You can pin up to three of these to the main screen - by default only HDR and Selective Focus are pinned, and you have to dig into the menu even to turn the flash on or off.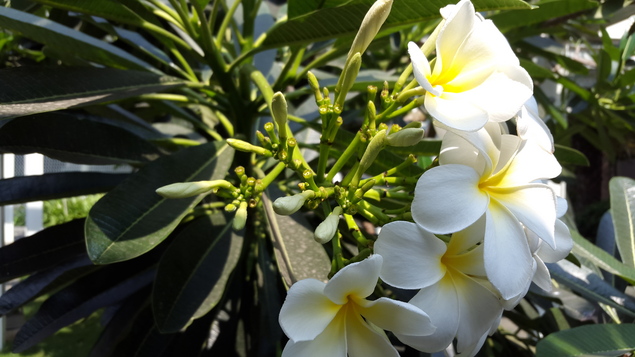 (Click to see full size)

Photos taken with the Galaxy S5 are truly impressive. The level of detail and clarity is amazing, especially in close-up shots. When viewed at full size on a big screen, photos do seem a bit overprocessed, with a lot of compression going on. Thankfully, the 16-megapixel resolution is enough to mask that effect when photos are scaled down.
The S5 performs impressively in nearly all light conditions. 4K video is stunningly clear, though you should be prepared for enormous file sizes. HDR works well, but surprisingly, the non-HDR versions of photo aren't saved. The selective focus trick, which is an artificial depth of field effect, doesn't always work - even when you can see a neat composition on screen, you'll often get an error message after pressing the shutter release.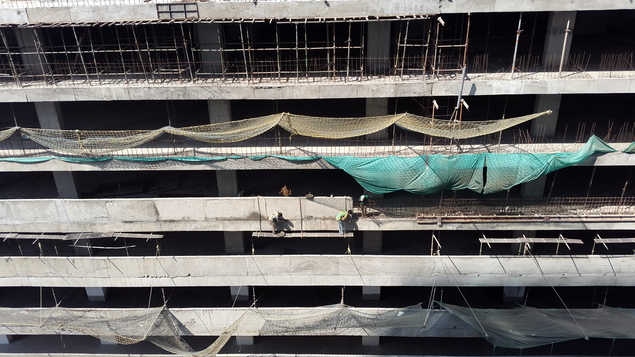 (Click to see full size)

Performance
The Samsung Galaxy S5 is a flagship phone, and as such, there's no lack of performance. The CPU benchmark scores were particularly impressive, with 37,114 in AnTuTu and 23,275 overall in Quadrant. Graphics scores brought down the average a little; we saw 26.8fps in GFXbench, and 6,693 points in 3DMark's Ice Storm Extreme run-through.
By comparison, the Sony Xperia Z1 Compact, powered by a Snapdragon 800, gave us slightly lower CPU-bound scores but considerably higher graphics scores, most likely because it has to do less work to fill up a 720p screen.
Call quality was pretty good, and we had nothing to complain about in that department. In our video playback test, the battery lasted a very impressive 707 minutes, which is just shy of 12 hours. The Galaxy S5 also managed to play pretty much every audio and video clip we threw at it without a hitch.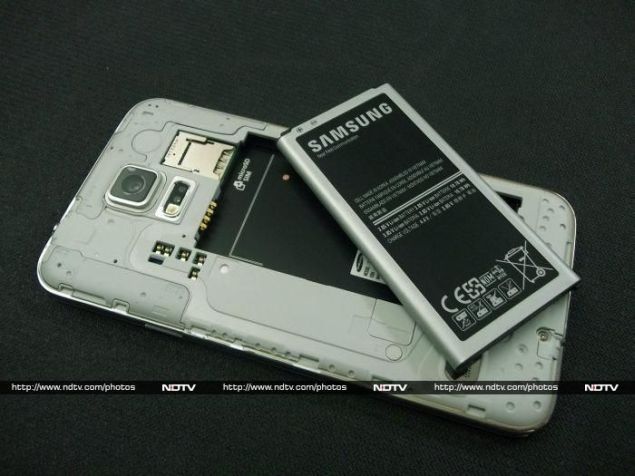 Verdict
Samsung's Galaxy S5 might be the best evidence yet that smartphone development has plateaued (Also see: Peak Smartphone Theory). The entire industry has arranged itself around a yearly upgrade cycle, but at this point, there just isn't any compelling reason for most manufacturers to release a new flagship phone.
The Galaxy S4 is now available at a street price of appromixately Rs. 29,000, and is still a fantastically serviceable premium device. What you get with the S5 is waterproofing, a better camera, 4K video recording, the fingerprint sensor, and somewhat improved compatibility with new accessories such as the Gear Fit.
The heart rate monitor is nearly useless without a Gear accessory, which could cost up to Rs. 17,000 more. The combined price is something to think about if you're weighing the Galaxy S5 against the S4 in terms of cost benefit.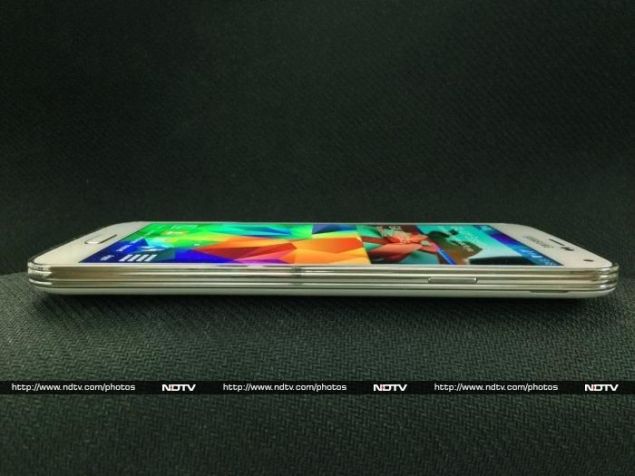 It's also worth keeping in mind that HTC has just launched its One (M8), and Sony's Xperia Z2 isn't too far off either. Those devices, plus of course the iPhone 5S, all compete with the Galaxy S5 at the new benchmark range of Rs. 50,000 - 55,000.

Unfortunately for Samsung, while the Galaxy S5 is a fantastic phone, all these factors mean there's nothing compelling us to run out and buy it, or recommend that anyone else does so. If you're determined to buy a top-end phone for the sake of having a top-end phone, you'll probably end up choosing the S5. If not, you could actually save quite a bit of money by stepping down a notch.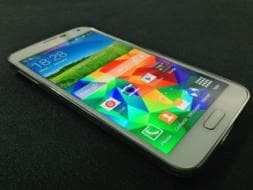 Samsung Galaxy S5 in pictures