Samsung's rise in the mobile phone arena in the last few years has been phenomenal. The company has truly come a long way and the success of its last two flagship smartphones played a huge role. It is in this backdrop that Samsung's latest flagship phone becomes so important to the company.
When JK Shin, President and Head of IT & Mobile Communications Division at Samsung, was standing on the podium on May 3, 2012, stakes were high and everyone was anticipating a smartphone that would leave the competition behind. It was going to be the third iteration of company's much successful Galaxy S smartphone. He did unveil something that was extraordinary and full of exciting features and industry leading specifications, but will this new smartphone be able to leave the competition behind and prove powerful enough to take on Apple's upcoming iPhone and HTC's flagship One X? We will find out in this review.
Hardware
Smartphone after smartphone, Samsung has showcased that it continues to put more emphasis on the display of the smartphone and same is visible in S III. The 4.8-inch display on the phone is the single main highlight of the phone. It almost takes the whole of the front, leaving little space for the buttons, front camera and sensors. We don't mind that because by limiting the bezel and removing any unwanted space, Samsung has been able to fit the huge display in much smaller device, which is easier to hold and operate. But, you still have to adjust your grip at times and use both hands while operating the phone at many occasions.
There is nothing extraordinary about Galaxy S III design apart from the fact that it houses so much in such a thin body. Company has played safe and conservative, while the direct competitor to the phone One X is a result of HTC's attempt to do something different, which actually works quite well.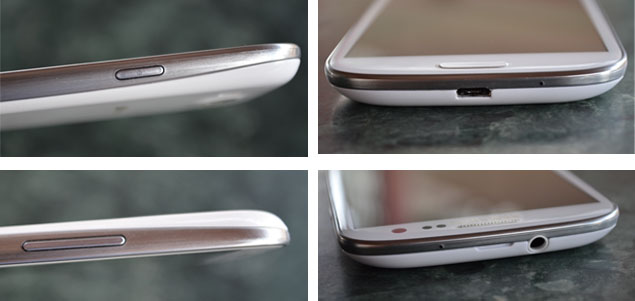 We are not saying that the Galaxy S III design is bad but it is definitely uninspired. However, it is quite functional and well-built. The no frills design borrows quite a few elements from company's last two Galaxy S models. The home button makes an appearance once again, coupled with same Android button arrangements, and familiar speaker/ ear-piece grill.
Similar to other flagships, a single sheet of glass carefully covers the front; the only bumps are home button and ear-piece grill on the top. As we are on the topic of the home button, it is important to point out that home button was actually a little disappointment for us. In the attempt to fit everything in smaller case, Samsung has reduced the size of home button considerably. We would've preferred a capacitive touch button instead of this small physical home button.
Back to the build of the smartphone, thanks to the plastic body and the usual paper thin battery cover, company has been able to keep the smartphone weight to just 133 grams, which is just 3 grams more than HTC One X.
It is interesting to note here is that Samsung has been able to pack a 2100 mAh user- removable battery in just 8.6mm thick body along with microSD card slot. So, rather than paying more for a bigger internal memory version of the phone, you can actually just pop in a card when required.
It also packs a Micro-USB port at the bottom, which is also used for charging, data transfer via PC and to connect to HDMI devices.
Overall, with all the glossy finish and rounded corners, the build quality is quite decent. Despite being plastic, the smartphone feels nice in hand and is very well put together.
Display
The huge 4.8-inch display on Galaxy S III is obviously the first feature that you will notice on the smartphone and it won't let you down. S III comes with a Super AMOLED HD display, which has the same underlying technology as Galaxy Nexus but has been improved a lot during the time period between both the launches. However, HTC's One X is still able to score over Galaxy S III in the display category; the LCD on One X has great viewing angles, best in the class clarity and colour balance. On the other hand, the bluish tinge is present on Galaxy S III display and the automatic brightness doesn't work as expected.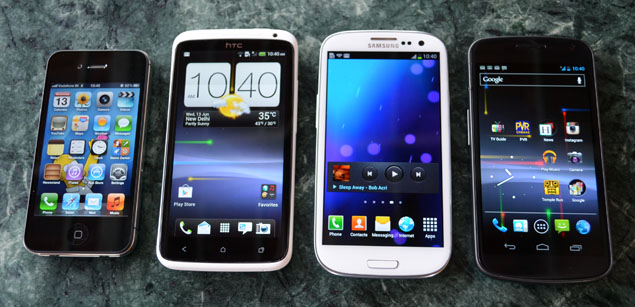 We won't go in Pentile vs non-Pentile debate here, as that doesn't really matter in the real-life usage of the smartphone. Overall, the colours are vivid, text is clean, readable and viewing angles are great.
Camera
HTC has set a high bar for smartphone cameras with its One X but Samsung has been able to best it with Galaxy S III. The image quality of the smartphone is simply outstanding. The images are sharp and clear, and even the full resolution images are pretty neat.
The 8MP camera on-board provides a holistic imaging experience and removes any need to carry multiple devices for basic photo needs.
Company has also included burst mode in smartphone camera, which allows consumers to capture 20 shots in one go with around 6 shots per second.
The camera software is pretty similar to what you might have seen on Galaxy S II; it is simple and easy to use. Most of the settings and controls are present on the left and the video/photo mode toggle along with capture button is on the right. It might not be as intuitive as One X's camera app, but the quality of images taken from camera fills up that gap.
Samsung has added HDR mode to Galaxy S III, which takes multi shots at various exposure values and combines them to create a single image. HDR helps you in situations where two parts of your photo frame have very different lighting condition.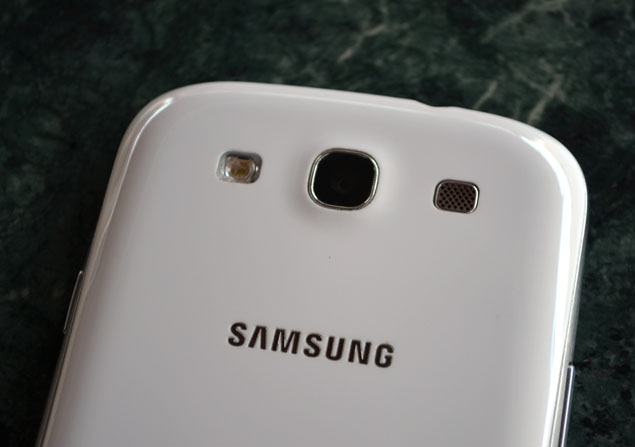 The 1.9MP front camera on the smartphone is pretty neat and gives decent output. As the smartphone comes with built in video call support over telecom network, you will find using it quite often.
Moving on to the video recording, thanks to the ultra-fast processor inside the device, recording video worked as expected, auto-focus is slightly spotty but rest works fine. Galaxy S III also allows tap-to-focus in video recording, thus helping you in capturing even better videos.
The only missing part is on the optical side, Galaxy S III only supports a maximum aperture of f/2.6, which is well behind than f/2.0 on HTC One X. It means, Galaxy S III will be slightly worse in low-lighting conditions.
Software/ Interface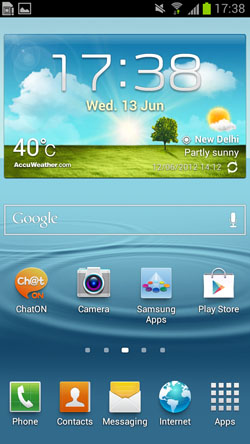 Samsung Galaxy S III runs on Android 4.0.4, but if you remember Ice Cream Sandwich from its stock looks, then you won't be able to recognise it on the smartphone. Samsung has gone all out to skin the hell out of ICS on S III.
There is hardly any part of the smartphone that looks like ICS on Galaxy Nexus. But, then it is expected from the Korean manufacturer to help it differentiate the device in such a competitive market.
Do these customisation work or are they just adding bloat to refreshing Ice Cream Sandwich? Well, up to a large extent, they do work.
One of major part of Samsung's Galaxy S III announcement was dedicated to the several software customisations that company has made in this smartphone. Several new features that have been added to it are not present in any other Android smartphone even from Samsung.
Samsung has not only added these features but has also decided to stay away from Android buttons introduced in ICS ( Home, Back and Multitasking) and has chosen to use good old Gingerbread style buttons - Home, Back and Menu (no multitasking button here and it can be managed by long pressing the home button).

Apart from home screen, the first customisation to be noticed on Galaxy S III is the set of quick toggles present in notification bar. Other such improvements include trash icon shortcut in Gallery app, and quick access of detailed volume control.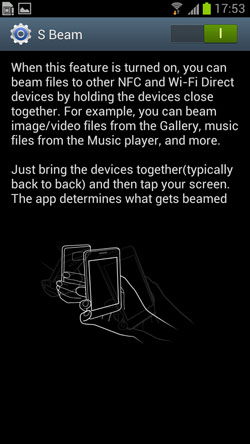 Many of the old Touchwiz features are still present in S III, like swiping the contact name left or right to message or call. Lock screen has been customised as well to include app shortcuts, which can further be altered as per your preferences.
The additions are not just limited to these little tweaks; company has made some big feature additions as well. One of our favourites from these features is "Pop up Play," the ability to play video anywhere on your screen simultaneously while doing other tasks. S-Beam is another enhancement from the company that has been made over Android beam, which is present by default in ICS. Samsung has actually combined the functionalities of NFC and Wi-Fi Direct in S-Beam, thus allowing you to transfer not only small packets of information but also big amount of data. S-Beam currently works with Galaxy S III only, so the functionality is limited right now.
Coming to the Samsung's answer to Apple's voice assistant Siri, S-Voice, we must say that it is just a big gimmick and adds no value whatsoever. Even in terms of gimmick quotient, the functionality of S-Voice is very limited when compared to Siri. S-Voice only responds to typical command, there is no personality to it at all, so if you were planning to ask some random question, stop right there, it won't answer.
It works well with commands and we are not sure how much of use would that be to you. After looking at the next version of Siri at WWDC, S-Voice is now looking even more inferior. One positive with S-Voice over Siri is that the former understands the Indian accent better.
Other such features include Smart Stay, Direct Call, Social Tag, Buddy Photo Share, and All Share Play/Cast. During our time with Galaxy S III, the Direct Call functionality that allows you to directly call a person whom you are sending a text by simply picking up the phone and putting it next to your ear, worked perfectly. However, we are disappointed by Smart Stay; it did not work as advertised by the company. The results were irregular, only working sometimes. You can read more about them in our detailed article on these features.
If you are wondering about the stock ICS features, under the Samsung's nature inspired UI, all of the additions that were made by Google in ICS are also present on the phone including Face Lock, detailed data info, and battery usage charts.
Well, not everything is hunky-dory here. Some of the Samsung's tweaks to Android 4.0 actually fall flat and the method of creating folders is one of them. The dragging and dropping an app on another to create folder doesn't actually work in Galaxy S III. To make a folder, you will have to open app drawer select one app and then drag that to create folder icon, which will then be placed on the home-screen. Another such fail is the removal to Play Store shortcut from top right corner of app drawer screen; Samsung has replaced that with a link to downloaded apps.
Performance/ Battery Life
No surprises here. The 1.4GHz Exynos Quad powered Galaxy S III is really a powerhouse and it is clearly visible in every single action on the smartphone. If you liked using Tegra 3 powered tablet or even One X, you will like the S III even more.
We won't go into any technical jargon or benchmarks here, although they agree, but in real-world usage,the Galaxy S III performs brilliantly and does everything that you throw at it without showing any strain.
Whether you are working on image heavy documents, opening huge webpages or watching 1080p clips, there is no lag at all. The performance is simple unsurpassed. We can't wait for the apps that fully exploit the S III's power.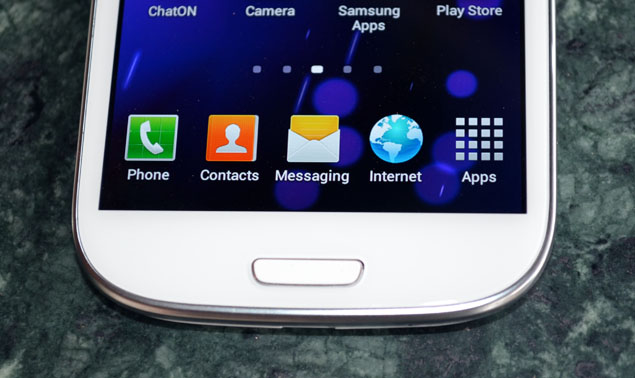 Call quality and network reception are both superior and you will not face any issues.
Performance review cannot be completed without actually talking about the battery life of the smartphone and the Galaxy S III packs in a big 2100 mAh battery, which is also user-replaceable (do need to keep in mind that stock battery also houses NFC chip).
Despite the big HD display and quad-core processor on board, Samsung Galaxy S III will not give you a battery low warning in a day's judicious use, but heavy users might not be so lucky. Because of the presence of a big battery, Galaxy S III also takes around three hours to get fully charged.
Verdict
Consumer expectations were very high after Galaxy S II and Galaxy Nexus, and Samsung has been able to beat them by presenting a technological marvel in the form Galaxy S III. The camera, processor, and the software customisations, all are best in the class right now. It might not have the looks of One X, but it scores in almost everything else.
In the end, it all comes down to one thing - the pricing is, somewhat surprisingly, on the upside. Priced at Rs. 43,180, it is way more than HTC One X's Rs. 37,899 maximum retail price. Street price might be a little lower, but looking at the current pricing, HTC One X is the better deal however Galaxy S III is a better phone. So, if price is no barrier to you, go for it.

Check out
our gallery
for more pictures of the Samsung Galaxy S III.
Pros

Great performance
Excellent camera
Cons

S-Voice is of limited utility
Pricing
Ratings (Out of 5)
Design: 4
Display: 4
Camera: 4.5
Performance: 5
Software: 4.5
Battery Life: 4
Value for Money: 3.5
Overall: 4