The
Galaxy Note 5
is the final piece of the puzzle in Samsung's flagship smartphone line-up. The company
announced it back in August
, along with the
Galaxy S6 Edge+
(
Review
|
Pictures
), and it is now available for purchase in India. So, what's changed in the Note 5? Is it a significant enough upgrade to jump ship from your
Galaxy Note 4
(
Review
)? Let's find out.
Look and Feel
Samsung has kicked it up a notch in the aesthetics department as the Galaxy Note 5 borrows many design cues from its stylus-free siblings. The phone looks premium, and is on par with the HTCs and Apples of the world. Samsung uses 7000-series aluminium and Corning Gorilla Glass 4 for the construction, which lends the Note 5 a sturdy, yet attractive feel. Unlike the Galaxy S6 Edge+, whose screen curves around the sides, the Note 5 has a more subtle curved back. This leaves you with sides wide enough to grip comfortably so there's less chance of it slipping from your hand. It's also easier to reach the power and volume buttons.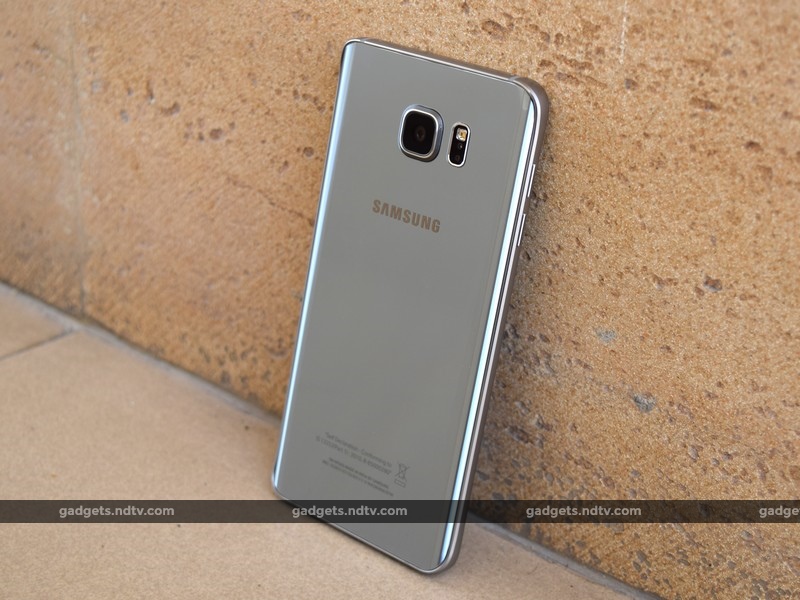 The front is dominated by a gorgeous 5.7-inch QHD Super AMOLED display. Colours are punchy and text is sharp. The screen is also very legible under direct sunlight. We did notice a mild purplish hue towards the bottom portion of the display on our test unit, which is only visible against white or grey backgrounds. We could fix this to an extent by switching from 'Adaptive display' to 'AMOLED photo' or 'Basic' in the settings app, but it didn't get rid of it entirely. We're hoping this is an isolated incident with our test unit.
The Nano-SIM tray is placed on the top while the headset socket, Micro-USB port, speaker grille and the S Pen silo are all on the bottom. Samsung has devised a more civilised way of ejecting the S Pen by pressing the head to pop it out. This simply lets you pull the stylus out easily instead of having to pry it out with your fingernails. Around the back, we have a 16-megapixel camera and a cluster with the LED flash and heartrate sensor. Gone is the ugly faux-leather texture of previous models, which is now replaced by glass.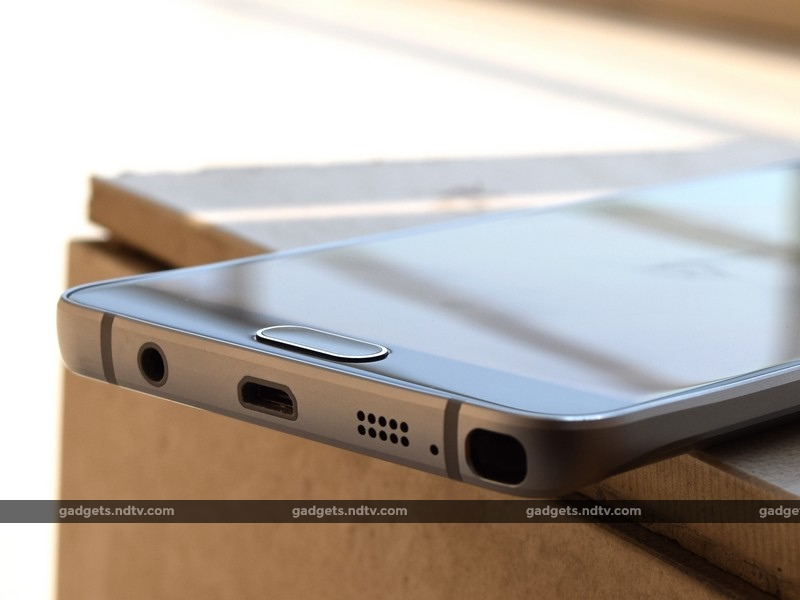 The Samsung Galaxy Note 5 comes with a charger, data cable, SIM ejector tool, headset and extra tips for the stylus.
Specifications and Software
The hardware and software are practically identical to what we saw in the Galaxy S6 Edge+ (Review) so we won't spend too much time on those aspects. We will however talk a bit about the revamped S Pen and the software associated with it.
Let's start with the stylus. It's still made of plastic and is easy to use but the metallic finish around the main button and the top lend it a more polished look. Pressure sensitivity is similar to that of the Galaxy Note 4, which makes it a great tool for artists.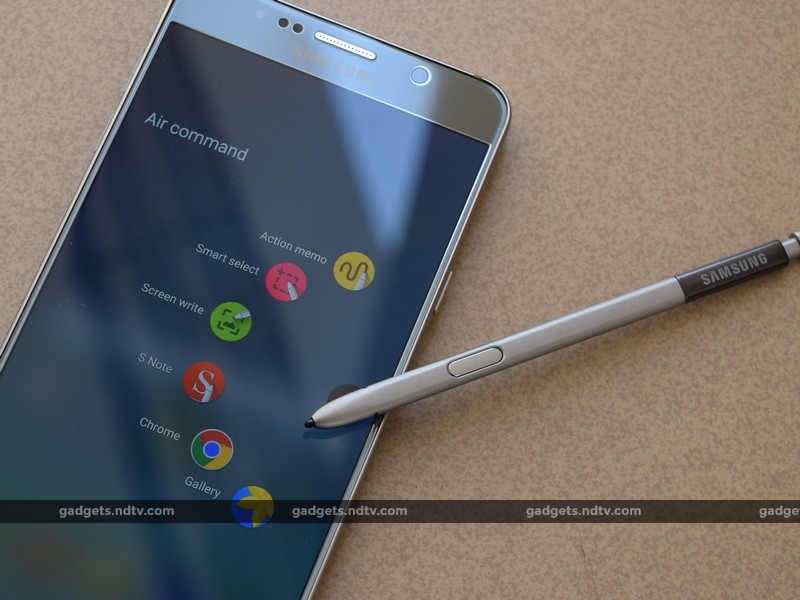 The major change lies in Air Command - the S Pen's software companion. You can set it to activate as soon as the pen is ejected if you like. Features such as Action Memo, Smart Select and Screen Write are displayed with colour coded icons instead of a black-and-white carousel like in previous versions. This makes identifying them simpler. You can also choose to add up to three additional stylus-friendly apps to Air Command for quicker access.

Action Memo lets you quickly jot down notes; Smart Select lets you crop a portion of the screen for editing, sharing or saving; Screen Write lets you take screenshots and even lets you grab full-length captures of Web pages with the 'Scroll capture' feature. This is super useful when you want to share an entire Web page as a single image. 'Screen off memo' is another new addition which lets you take notes without having to switch the display on.
Performance
The Samsung Galaxy Note 5 is an absolute beast in the performance department. The interface is slick and heavy apps and games are no trouble for this smartphone. The octa-core Exynos 7420 processor and 4GB of RAM ensure everything runs smoothly. The new SoC is also a big upgrade over last year's Galaxy Note 4, which had the Qualcomm Snapdragon 805 SoC. The performance difference is best reflected in AnTuTu, which threw up a score of 68,277, compared to the 46,678 we got on its predecessor. Gaming does tend make the phone quite warm, which gets uncomfortable after a bit.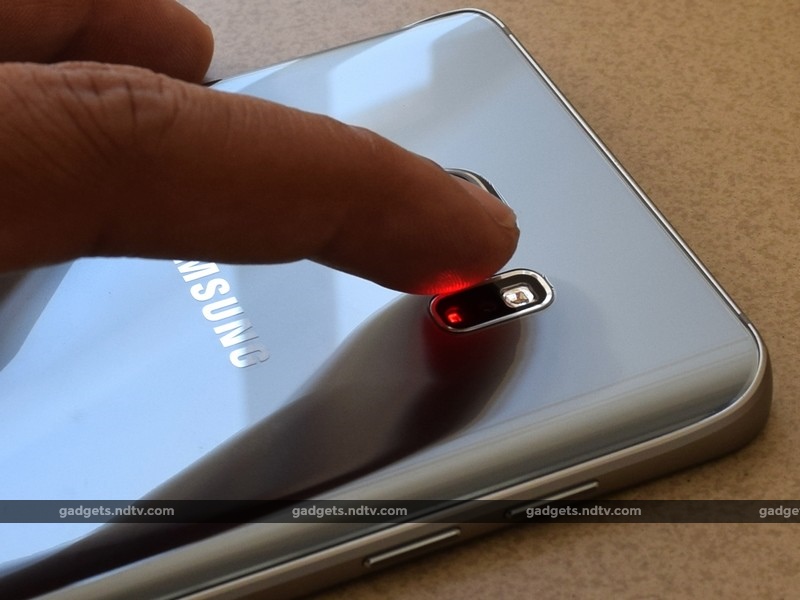 The volume from the speaker is loud and audio is relatively clear and distinct. We like that Samsung has moved the speaker from the back of the phone to the bottom as the new layout doesn't muffle the sound when the device placed on any flat surface. The S Pen works as advertised and is a useful tool for your artistic pursuits. A big note of caution however - no matter what you do, do not try to push the S Pen into its silo backwards as it will get stuck, and forcing it out could damage the detection mechanism permanently. Samsung warns users about this in the manual, but when was the last time you read one of those for any reason? If you've had the misfortune of doing this, you might not be able to activate Air Command automatically or use the 'Screen off memo' feature any longer.
Camera performance is very good and the app offers a Pro mode as well as the new Live Broadcast feature. Images are detailed and low-light performance is good, letting you have some fun with long exposure shots.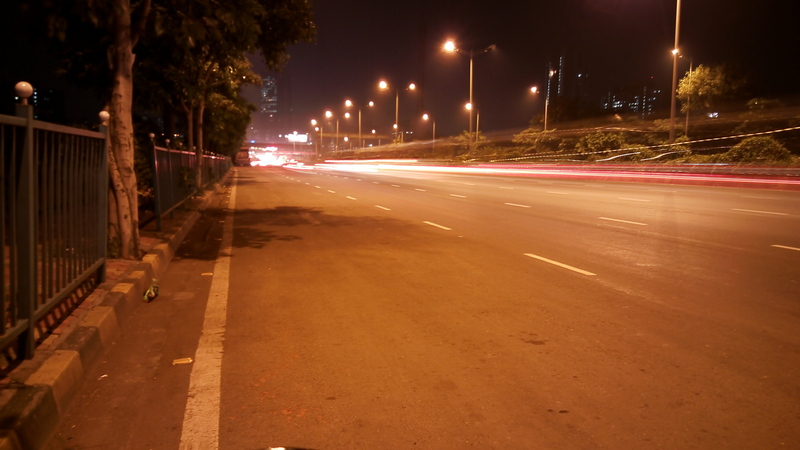 (Click to see full size picture)

The Galaxy Note 5 performed well in our video loop test too, lasting 16 hours and 32 minutes. This is more than what we got from the Samsung Galaxy S6 Edge+, despite them being pretty similar in terms of hardware. With regular use, you shouldn't have a problem going a couple of days before needing a charge.
Verdict
The32GB version of the Samsung Galaxy Note 5 retails for Rs 53,900, which makes it better value compared to its curved-screen sibling. Plus, you get the useful stylus which will add more value to your life as compared to a curved screen. The Galaxy Note 5 is a very good iterative upgrade over previous Galaxy Note models, and if you're in the market for a phone with a stylus, this is your best bet. However, should you ditch your Note 4 for the Note 5? Certainly not. Samsung has made some very good improvements such as the stronger aluminium body, more powerful processor, improved S Pen features, but has also cut down on a couple of important ones along the way.

You forfeit the luxury of expanding the onboard storage, there's no IR blaster, and the battery is a bit smaller (although that doesn't seem to impact real-world usage by much). You'll also have to be extra careful while re-inserting the S Pen as placing it the wrong way could cost you dearly.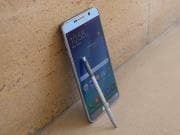 Samsung Galaxy Note 5 in pictures