Samsung pioneered the big-screen phone movement and though the original Galaxy Note was met with quite a bit of doubt and even some ridicule, it's clear that the Korean giant had a huge role to play in shaping the current state of the industry. Over the years, mainstream phones have also grown in terms of screen size, so there isn't much separating the current crop of phablets from their siblings - except, of course in Samsung's case, there's the S Pen.
It's this stylus that sets the Galaxy Note series apart from the competition. Samsung's unique approach to hardware and software integration has really paid off, with people not only replacing their phones but in many cases, also their tablets with a Galaxy Note device.
The latest in the series, the Galaxy Note 4, is a refinement over its predecessors in every way. It looks better, brings more features to the table, and has a whole lot more power at its disposal. Read on to see if it's the right device for you.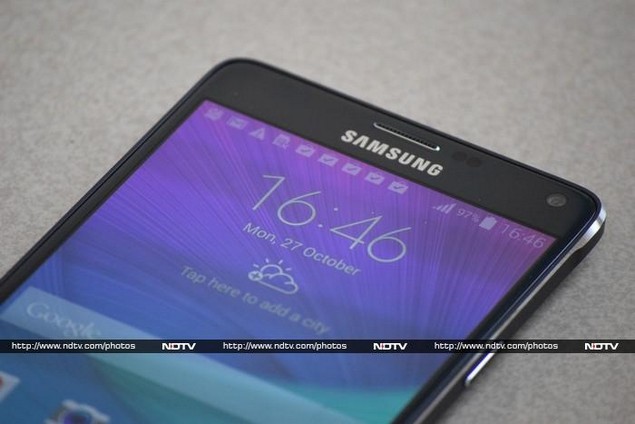 Look and feel
The Samsung Galaxy Note 4 is a chunky phone and you'll definitely be aware of its weight in your pocket or bag. Far from the super-svelte flagship phones that seem to be the norm, there's plenty of room here for a fat battery, stylus, and top-end hardware.
The most notable design element here is the metal rim. Reminiscent of the styling of the Galaxy Alpha (Review | Photos), the new Galaxy Note 4 looks sedate and feels solid. The edges are a little too pronounced though, and we often grazed our hands and ears. There are also four ugly plastic breaks for antenna insulation on the top and bottom - we wish these had been incorporated less obtrusively.
Samsung's latest phones have had dotted rear panels but the Galaxy Note 4 goes back to the faux-leather texture that older models had. We usually considered it tacky, but it's much improved now and most thankfully, there's no awful fake stitching around the edges. The rear looks good and feels great. The Note 4 isn't waterproof, which allows the battery and card slots to be more easily accessible beneath the rear panel.
Samsung also continues to use a physical Home button flanked by capacitive Back and Recents buttons. Just like the on the Galaxy S5 (Review | Photos), there is a fingerprint reader on the Home button. You'll need to swipe a finger across it which is a little less convenient than the tap that Apple's implementation requires. Also inherited from the S5 is the heart rate monitor on the rear, right below the camera bulge.
All buttons and ports are in their usual places - the headset socket and Infrared LED on top; power button on the upper right edge; volume rocker on the left; Micro-USB port and stylus silo on the bottom. The Micro-SIM and microSD card slots are beneath the rear panel, next to the surprisingly compact 3,220mAh battery.
Comparisons to the iPhone 6 Plus (Review | Photos) are inevitable - while Apple's rounded edges and flat back make the extra-large iPhone easier and more comfortable to handle, we usually felt more confident about our grip on the Galaxy Note 4 thanks to the curved and textured back. The iPhone 6 Plus is still somewhat possible to use with a single hand, but the Galaxy Note 4 usually requires both hands whether or not you're using the stylus.
Speaking of which, the S Pen itself is quite neat. It's surprisingly long, which makes it comfortable to hold, though the ribbed texture made our fingers sore after a while. Samsung claims improved pressure sensitivity and handwriting recognition which we will have to test for ourselves.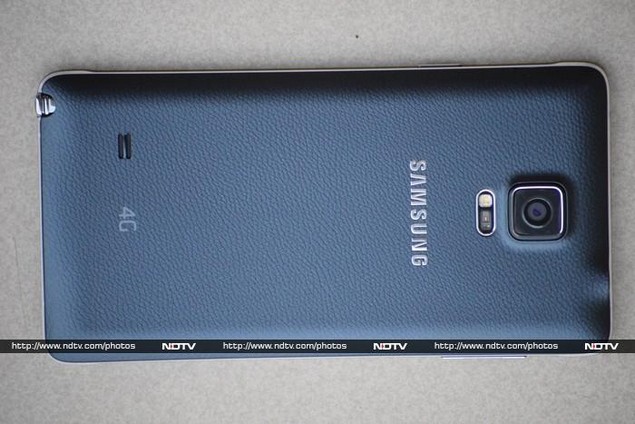 Specifications
The Galaxy Note series represents the top of the line for Samsung; even more so than the Galaxy S series. The Note 4 is no exception - Samsung has gone with the highest-end screen and SoC currently possible. It's important to note that Samsung offers many significantly different products under the Galaxy Note 4 name due to regional differences and LTE band support requirements. The company has usually launched variants based on its own Exynos processors in India, but this time we get the full-spec Qualcomm Snapdragon 805 version.
The Snapdragon 805 has four Krait 450 CPU cores running at up to 2.7GHz and an Adreno 420 GPU. 4G LTE, 802.11ac Wi-Fi n/ac, GPS, NFC and 4K video encoding/decoding are all handled by the SoC. According to Qualcomm, its new processor can handle all of this and more while delivering outstanding performance and battery life - we couldn't wait to get started on our benchmarks to test these claims.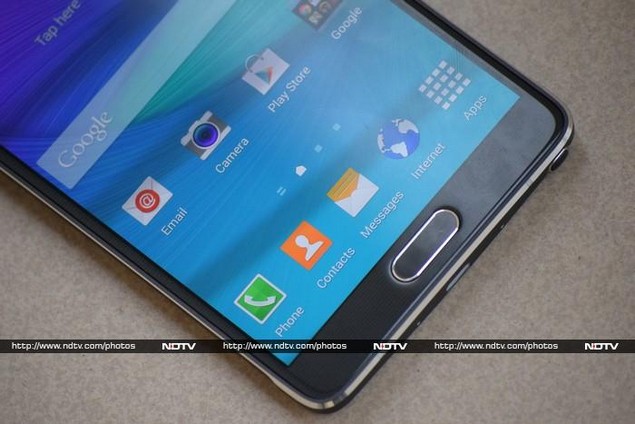 The ongoing smartphone spec war means Samsung would have looked pretty weak if it had gone with anything less than a 1440x2560-pixel screen, which is exactly what we have here. At 5.7 inches, the Galaxy Note 4's Super AMOLED screen is the same size as the 1080x1920-pixel one on the Note 3, but its increased pixel density makes for a much sharper display. It looks absolutely fantastic, but there's no doubt that it will put a strain on the Snapdragon 805 SoC and the battery. Samsung also touts the Note 4's "Adaptive Display" software tweaks, which adjust the colour profile when you launch specific apps such as the gallery, Google Play Books reader, stock browser and video player.
There's 3GB of RAM and 32GB of internal storage, along with a microSD slot. Cards of up to 128GB are supported so you shouldn't ever have to worry about running out of space. This is a critical advantage of the Note 4 over the iPhone 6 Plus, which is capped at 16GB at the same price.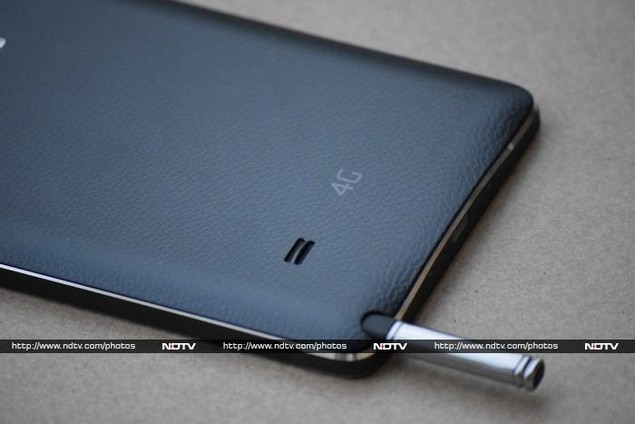 Pretty much every feature you could think of in a high-end smartphone is present and accounted for, with the exception of wireless charging. In addition to the aforementioned Bluetooth 4.0 and Wi-Fi ac support, there's a full complement of environmental sensors and of course the heart rate sensor. Interestingly, Samsung has reverted to USB 2.0 on the Galaxy Note 4 rather than USB 3.0 which was introduced on the Note 3 - evidently the unwieldy connector was more trouble than it was worth, even though backward compatibility was fully supported.
Software
The Galaxy Note 4 runs Android 4.4.4 though it's unrecognisable beneath Samsung's extensive custom UI. After years of overdoing it with ugly graphics, bloatware and features that no one could ever find or use, Samsung seems to have found its footing. The Galaxy Note 4 benefits from loads of usability improvements and a very slick style.
A lot of the appeal of the Galaxy Note series stems from the S Pen stylus, which is tightly integrated with the software. As soon as you pull it out of its silo, a ring-shaped menu appears on screen, allowing you to trigger the Action Memo, Smart Select, Image Clip and Screen Write tools, which are not all useful to everyone. You can also click the S Pen's button to call up the menu anytime.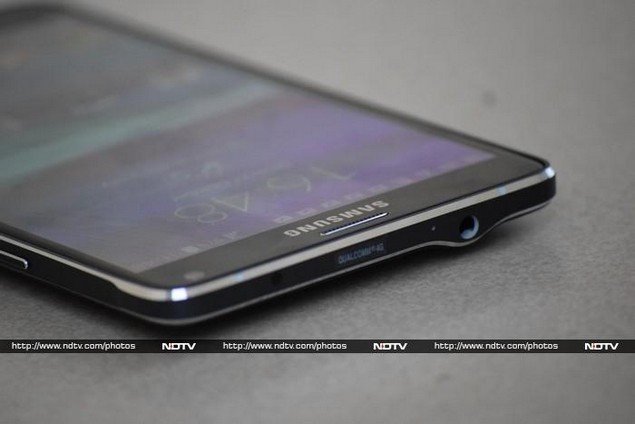 When the stylus tip is near the screen, you'll see a cursor in the shape of a dot. If you hover over icons or tool buttons in some apps, little labels, previews or quick action dialogs will pop up. It's really easy to draw a lasso to select parts of a screen or drag to select text, which you can then share or file away as you please.
There are also a few apps which tie in to the S Pen's functionality. Pen.Up lets you share sketches with the world, S Note lets you scribble information and sync it all with Evernote. Scrapbook lets you collect and organise snippets from anywhere. S Note in particular lets you play with various pen styles including a fountain pen and calligraphic pen. Sensitivity and lag have really been improved, and stylus input feels a lot more natural now.
You can select text just as easily as you would with a mouse - hover over any text screen and hold down the S Pen button, and then just drag and release to select text. This is probably one of the most useful things about the S Pen, and power users will love it.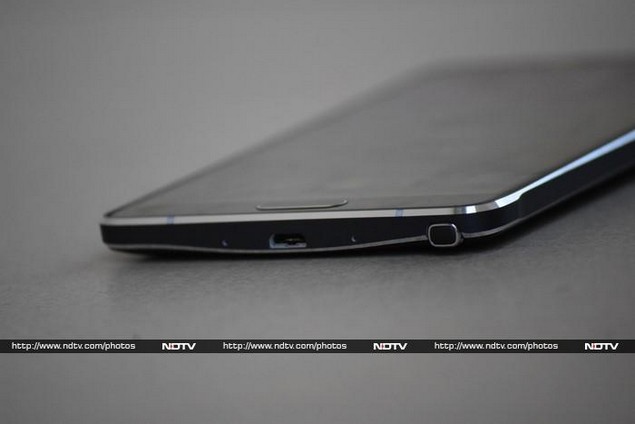 The rest of Samsung's software features are pretty much the same as what we've seen on earlier Note series devices and the Galaxy S5. To the left of the first homescreen is a Flipboard-powered news reader view which can be customised with your own preferred news categories. The usual kitschy animations and sound effects can be found throughout, including a few new ones on the lockscreen. Multi Window lets you run apps in floating windows or in a split-screen view. This includes quite a few third-party apps, not just Samsung's own. You can also tap an icon in the upper right corner of each thumbnail in the task switcher to pop an app into its own floating window.
The Galaxy Note 4 incorporates Samsung's now-familiar settings and tweaks, including Smart Stay, which keeps the screen on as long as your face is in front of it; Power Saving and Ultra Power Saving modes; Private mode; Car Mode; options to make one-handed use easier, and lots more.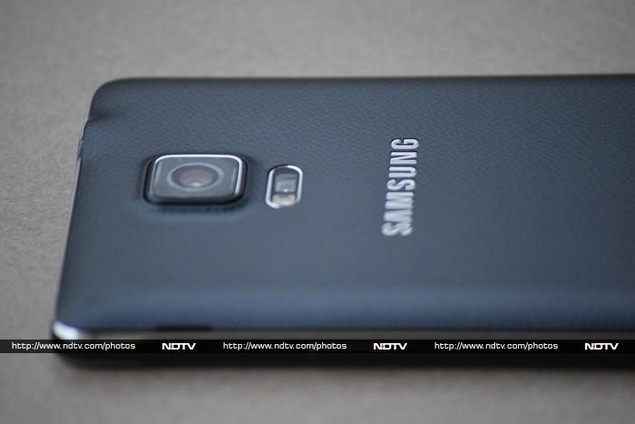 Samsung includes S Health, which is much the same as it is on the Galaxy S5, although it's even more unwieldy to use the Galaxy Note 4 as a fitness tracker. You'll get much more use out of it if you also own one of Samsung's many smartwatches. The bloatware is surprisingly constrained, with only Flipboard, Evernote, Dropbox, Whatsapp, Instagram, Facebook, Facebook Messenger and the Facebook Pages Manager apps preloaded (other than the usual raft of Google apps). Smart Remote by Peel lets you use the Galaxy Note 4 as a universal remote control, thanks to its Infrared LED. You can "disable" many of these apps, though they cannot actually be uninstalled.
There's a Galaxy Essentials widget pointing you to several Samsung apps that aren't preloaded, and also a Galaxy Apps browser that shows curated lists of apps that work well on the Galaxy Note 4, such as those optimised for the S Pen. Buyers also get access to the Galaxy Gifts programme which includes a three-month Magzter subscription, 25 percent discount in the ShoppingnMore app, free photo prints form Zoomin worth Rs. 1,000, and a few other offers.
Camera
Samsung's camera app is powerful and does a good job keeping things uncluttered yet accessible. It's a good idea to poke around and discover all the features that are hidden away in the submenus. We were impressed with the Galaxy Note 4's hardware and software - it seemed to focus very quickly and produce good results.
However we were in for a shock - our test unit seemed to have a serious defect. At random times, the entire image preview on screen would suddenly begin to wobble and roll, and videos we captured exhibited the same effect. On further probing, we managed to trigger this behaviour deliberately by rapidly shifting focus, and we found it was much more likely to happen with HDR enabled or while shooting 4K video. The issue persisted with multiple third-party apps and after restoring the phone to factory settings and installing all available updates. We also felt a constant though mild vibration, all of which led to the conclusion that the OIS mechanism was malfunctioning. Samsung was quick to send us a second unit and we tested both side by side. We're happy to report that the second phone was perfectly fine - our experience was thus not indicative of any manufacturing defect, but most likely a fault with one specific device.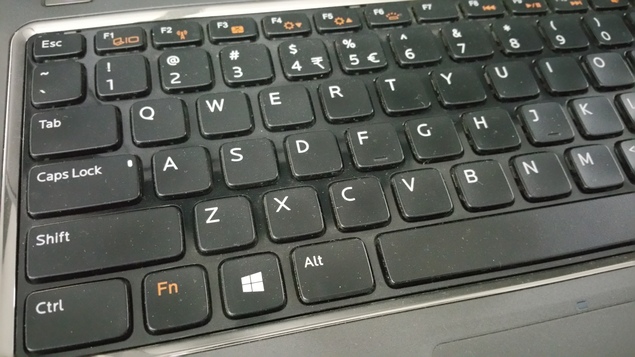 Photos and videos taken with our replacement test device came out very well indeed. The camera excelled in daylight shots, capturing fine details even in distant subjects. OIS definitely has a part to play in this, but the near-16-megapixel resolution doesn't hurt either. Low light performance was good, but not as strong. HDR results were very nice, with rich colours, though it's a mystery why HDR isn't automatically detected.
4K Ultra high-def videos came out beautifully. You'll definitely want to invest in a high-capacity microSD card if you're planning to take a lot of UHD video. Certain functions, such as simultaneous still captures and continuous autofocus are not available while shooting in UHD. We also quite liked the results we were able to achieve with the front camera, including 1080p video. One very neat touch is the ability to use the heart rate sensor on the rear to trigger a shutter release, which is far easier than reaching for the on-screen button.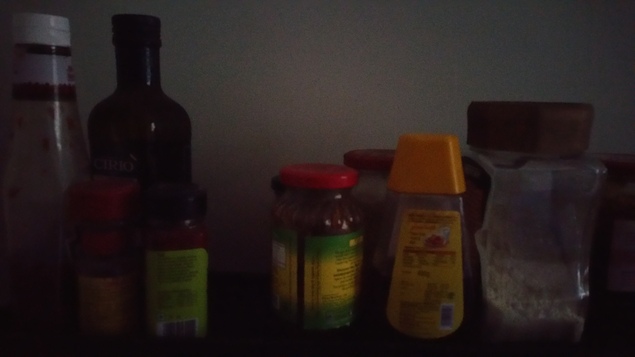 Performance
We were curious to see how well the new Snapdragon 805 performed, and our initial impressions were very positive. In our first few days with the Galaxy Note 4, we were mostly pleased with its overall performance but were very pleasantly surprised to see how slowly the battery was draining. The phone's interface was mostly smooth but there was a little bit of lag in some spots, such as calling up the app switcher and shuffling multiple windowed apps around on screen. These things might have more to do with Samsung's heavy UI skin than hardware.
Another thing we noticed was that the Galaxy Note 4 tended to get hot when doing anything intensive, like running a heavy game or recording 4K video. This had a measurable impact on our benchmark tests - AnTuTu gave us a surprisingly low score of 26,606 on its first run, but that improved to 46,678 in subsequent rounds of testing.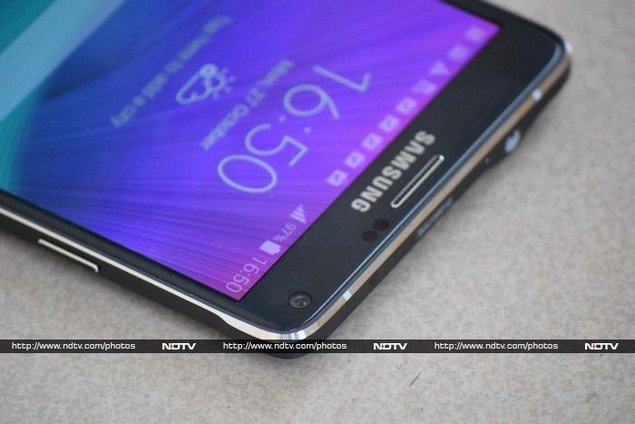 Other benchmarks revealed predictably strong scores when it came to CPU-based tasks, and weak graphics performance thanks to the enormous load placed on the Snapdragon 805 by the Quad-HD screen. The GFXbench score of 27.7fps was well below par for a flagship device, and 3DMark's Ice Storm Extreme test which should have maxed out delivered 9422 points (which is still quite high). Quadrant blazed through its run with a score of 23,259 points, and Sunspider also impressed us with a low time of just 378.9ms.
So while the Galaxy Note 4 looks and feels great, and is certainly impressive when shown off to friends and colleagues, it falls a bit short in the power department. You won't be able to enjoy intense games to their fullest potential on the big screen, and even heavy multitasking can be a bit of a mixed bag.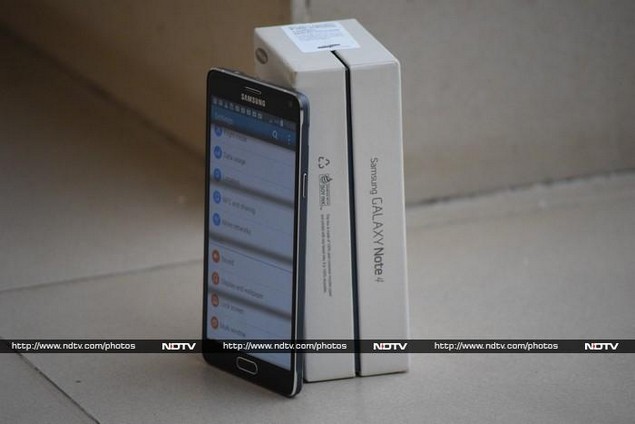 Videos are rendered beautifully, including all our high-definition samples and UHD clips shot with the phone itself. Sound from the mono speaker on the rear is surprisingly deep, loud and rich. Everything from intricate classical music to modern EDM sounded quite good, even at full volume.
Battery life proved to be one of the Galaxy Note 4's best features. Despite its massive power-hungry screen, this phone lasted 15 hours, 11 minutes in our video loop test. You should easily be able to get two full days of usage out of each charge. Another nice touch is that Samsung ships a bulky 2,000mAh charger with the Note 4, which allows it to juice up remarkably quickly.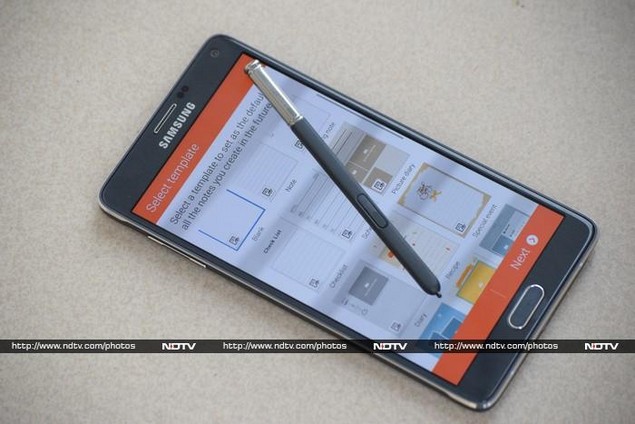 Verdict
Samsung has broken its long-held tradition of producing cheap-looking plastic phones and has managed to make its latest Note flagship look rather refined. With all its competitors moving to metal bodies, it couldn't have done anything else. Compared to its predecessors, this phone radiates power. On the other hand, those same market forces have potentially compelled Samsung to overreach in terms of specifications - honestly, Full HD was pretty impressive on last year's model and we wouldn't have minded sticking with that screen resolution considering it would have meant drastic improvements in terms of graphics performance.
Ultimately, the Note series is focused on enabling productivity and creativity, which is what Samsung delivers in spades. This phone certainly has the chops to back up its aspirations. Samsung has honed its software skills over the years, and though the Galaxy Note 4 UI still isn't as visually or functionally efficient as we'd like, it does deliver an experience that goes above and beyond what stock Android can achieve. Particularly, the S Pen has multiple very clear purposes and feels like a perfectly natural part of the usage experience - it's there when you want it but isn't forced upon you when you don't.
If you like the idea of using a smartphone with a stylus, this is currently the only game in town. Even if that doesn't particularly appeal to you, you'll find things you can do and enjoy doing with it. Pretty much every manufacturer now has a large-screen flagship phone, but none can match the versatility of the Galaxy Note 4. In that sense, its strongest competitor is the Galaxy Note 3 (Review | Photos), thanks to recent price cuts which have made it surprisingly good value for money.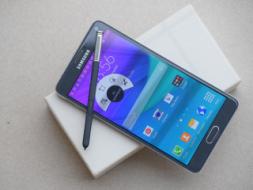 Samsung Galaxy Note 4 in pictures