Samsung has been at the forefront when it comes to experimenting with different screen sizes for its devices. It ushered the 'phablet' segment with the launch of the
Galaxy Note
, following it up with the Galaxy Note II. It even started offering voice calling with some of its Galaxy Tab tablets, which attained popularity due to the same reason, even though a number of tech evangelists and experts panned it for its unwieldy devices.
With the Mega series, Samsung appears to be taking a step further by bringing a near-tablet sized display to a phone, but giving the device a more phone-like feel. What's interesting here is that unlike the flagship Note series, the Mega devices are targeted at the mid-range segment, as an evolution of the Galaxy Grand, Samsung's large screen offering.
The phone also brings a new version of Samsung's software layer which was first seen in the Galaxy S4, and even includes a number of features from the flagship. So is the Mega 5.8 the ultimate mid-range phablet device available in the market? We try to find out in our review.

Build/ Design
As the phone's name suggests, the
Galaxy Mega 5.8
is one big phone. In terms of design, it doesn't bring anything new to the table. To be honest, Samsung's designs are getting repetitive and boring. The Mega 5.8 brings with it the same design that we've seen on the Galaxy S III, Galaxy S4, the Note II and even on some mid-range offerings like the Galaxy Grand.
Similar to the other Galaxy siblings, even the Mega 5.8 is built from polycarbonate (read plastic) materials. Having said that, the phone boasts of decent build quality and we didn't notice any wobbles or creaks.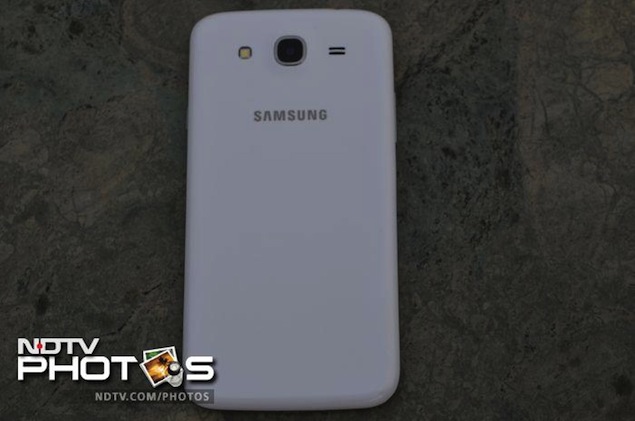 The phone comes in Black and White colour variants and we had a White phone as our review unit.
The front of the phone is dominated by its 5.8-inch display. The physical Home button and capacitive touch buttons for Menu and Back, are placed below the display. The earpiece grill, sensor array and the front facing camera lens are located above the display. There's a big bezel on the sides, and the front sports a diamond pattern texture.
The phone's front panel is surrounded by a chrome frame, which gives a premium feel to the otherwise staid form factor.
You'll see a power button on the right side of the phone, a volume rocker on the left, a 3.5mm headset jack on the top and a Micro-USB port at the bottom. We like the fact that Samsung has placed the power button on the side and not on the top, in line with other large screen phones.
The back of the phone features the 8-megapixel-camera lens, with the LED flash and the speaker outlet right next to it. The camera lens protrudes out a bit and is surrounded by a chrome ring.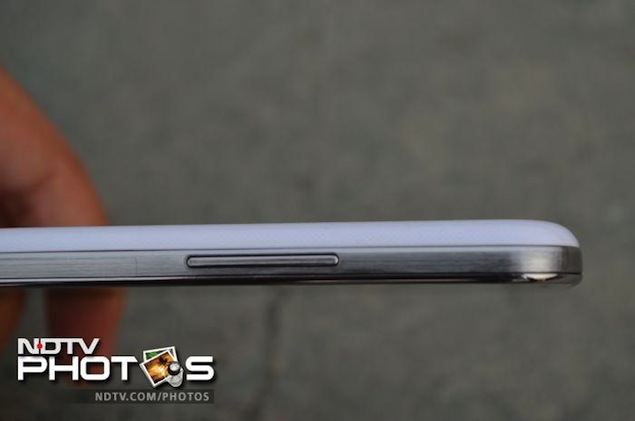 The back also features the same pseudo diamond texture finish on the glossy plastic surface that attracts a lot of fingerprints. There's some Samsung branding below the camera.
The back cover is removable and hides the two Micro-SIM card slots, microSD card slot, and battery.
Display
The Samsung Galaxy Mega 5.8 sports a 5.8-inch TFT screen with qHD (540x960 pixels) resolution with pixel density of 190PPI. Samsung has cut corners when it comes to the phone's display in an attempt to reduce costs, and it clearly shows. The display's low resolution is much more prominent due to the phone's big screen. Images and videos don't look very sharp. In fact they often looked pixelated and washed out.
However, the display was not very reflective and under sun visibility was good. The viewing angles on the phone are also decent though we did notice that at times colours appear a little different from certain angles.
Compared to the Galaxy S III, colours appeared to be less vibrant but that's also partly because of the Galaxy S III sporting a Super AMOLED screen which is known for over-saturated colours.
Software/ User Interface
The Samsung Galaxy Mega 5.8 runs Android 4.2.2 Jelly Bean, the latest iteration of the OS and TouchWiz Nature UX, Samsung's own UI that includes custom apps in addition to a skinned interface.
While some people prefer stock Android to any kind of skinning, Samsung's TouchWiz UI has been panned for employing big, glossy and cartoon-like icons and menus. The intent might be to make the UI user-friendly, but it ends up looking anything but pleasant.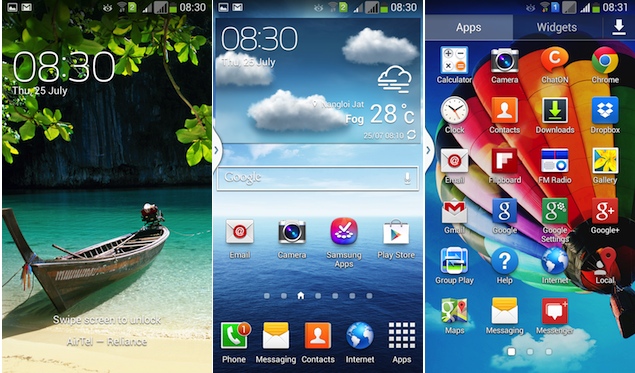 With Android 4.2, the phone gets lock screen widgets. Although these are not enabled by default, users can place select third party widgets, in addition to a choice between access to their favourite apps and camera. Users can also enable lock screen shortcuts that allow them to unlock directly into their respective apps. The phone offers a choice between the familiar Ripple effect and the new Light effect for the unlock animation.
The phone offers up to seven home screens that can be populated with widgets and app shortcuts or folders. The pinch-in gesture lets you add or remove home screens.
The app plus widgets drawer lets you arrange app shortcuts as per your own preference or alphabetically.
The drop down notification tray features a settings shortcut and a clear all notifications button, along with expandable notifications (expanded with the two finger pull gesture). Toggles for 14 settings are also located on the tray - which makes it look rather silly albeit very convenient - and you can choose to scroll through them horizontally or expand to get a grid of all the settings on one screen.
One can navigate the phone through the Back and Menu capacitive touch buttons and the Home physical key. The Home button on long press takes you to the app switcher and you can fire up the task manager, kill all apps or access Google now through the shortcuts offered with the task switcher. Double pressing the Home key launches S-Voice, Samsung's voice assistant. Long pressing the Menu key also launches Google Now .
Samsung also offers some of its pre-loaded apps including S Planner, Voice Recorder, ChatOn messaging app, Samsung Apps app store, Samsung Hub content store, Paper Artist, Samsung Link for transferring and syncing content to other devices via cloud services like Dropbox, S Translator, S Memo, Story Album and Group Play.
The S Translator supports speech to text and text-to-text translation for English, French, German, Chinese, Spanish, Portuguese, Italian, Japanese and Korean.
In our usage we found that Samsung's voice assistant app, S Voice, works well with Indian accents and offers good functionality.
The Group Play feature allows you to create groups and share and instantly view or play documents, music files, photos, and other content to other compatible handsets through Wi-Fi Direct. All phones need to be connected to a mobile Wi-Fi hotspot which is created on the device where the group is created. The service also works with NFC but the Mega 5.8 doesn't offer NFC connectivity.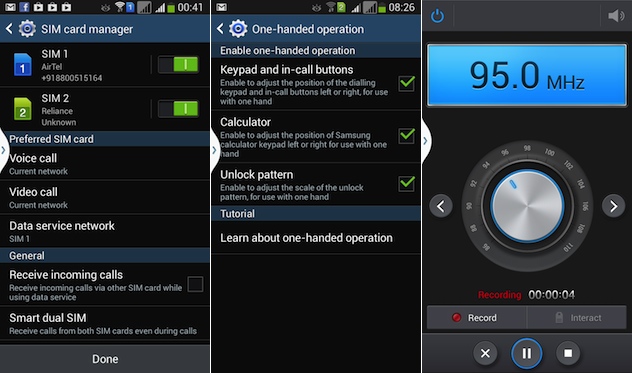 The Mega 5.8 brings a large number of software features seen on the Samsung Galaxy S4 to an economy price point. However, it misses on some 'smart' (and gimmicky) features including motion and hand gesture driven controls such as Air gestures that allow users to browse content and control the phone without touching it. It only offers the Smart Stay smart screen feature which keeps the screen on as long as you're looking at it, dropping smart pause and smart scroll. It does include Motion gestures including the one that allows you to tilt your phone to zoom in while looking at an image or turn over the phone to mute while receiving a call.
The Galaxy Mega 5.8 also doesn't include voice commands which were present in the Galaxy S4, though you can set a voice command to unlock the phone from the lock-screen.
The phone also offers multi-window and pop-up play modes for switching between apps and using more than one app at the same time time, similar to the Galaxy Note and Galaxy S4 phones. It also features options for one-handed operations letting users position the keypad and in-call buttons, calculator and screen unlock pattern on the left or right side, as per their convenience.
Camera
The Galaxy Mega 5.8 features an 8-megapixel rear camera that takes good quality shots in day light and artificial light.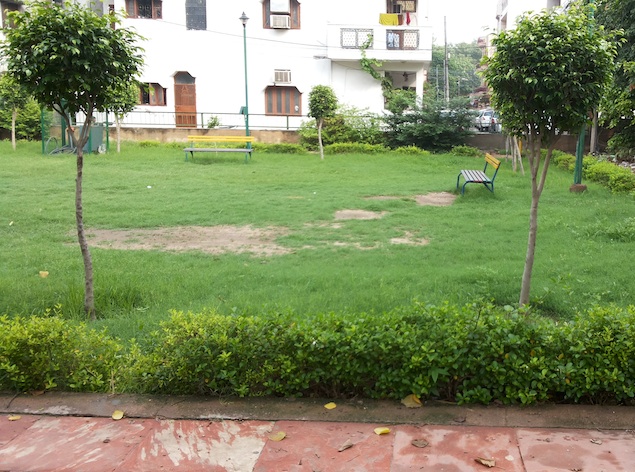 We found that pictures clicked with the phone had decent amount of detail and looked very close to life with accurate colour reproduction.
However, low-light shots did not come out that well. Also, as the amount of light decreases you'll find that indoor shots start getting grainy.
The camera features shooting modes such as Best face that allows selecting the best face shot in group photos, Continuous mode that takes 3 continuous shots per second, Panorama mode, Sports mode to take pictures of fast moving objects,and Sound & Shot mode that adds a few seconds of audio with images.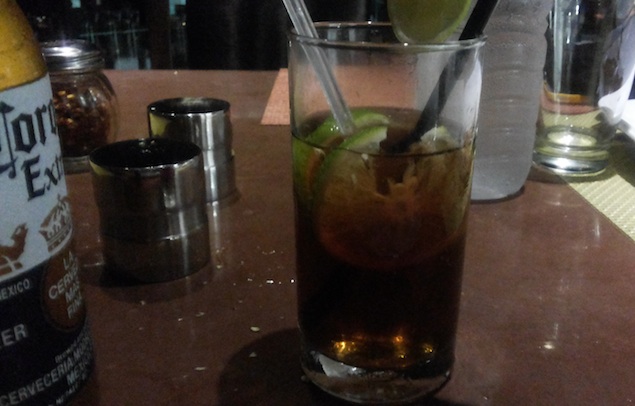 The camera doesn't come with all features of the Galaxy S4 and also doesn't include HDR mode.
Performance/ Battery Life
The Samsung Galaxy Mega 5.8 is powered by a 1.4GHz dual-core Broadcom processor. It has 1.5GB RAM, and a Broadcom VideoCore IV chip for processing graphics. Our review unit had 8GB of expandable internal storage out of which 5.34GB was available for our use.
With Android 4.2 Jelly Bean, the overall experience of navigation through the interface was decent. However, we did experience occasional lag. For instance, launching the camera app and getting back to the home screen was a bit jerky. Similarly, if you're using some graphics heavy widgets, you'll find that they'll reload once you exit an app. At times, we also noticed minor lag in the form of dropped frames while playing games when we were running a few apps in the background. While most casual games including Temple Run 2 and Subway Surfers run fine, graphics heavy games like Asphalt 7 and Shadow Gun at times drop frames.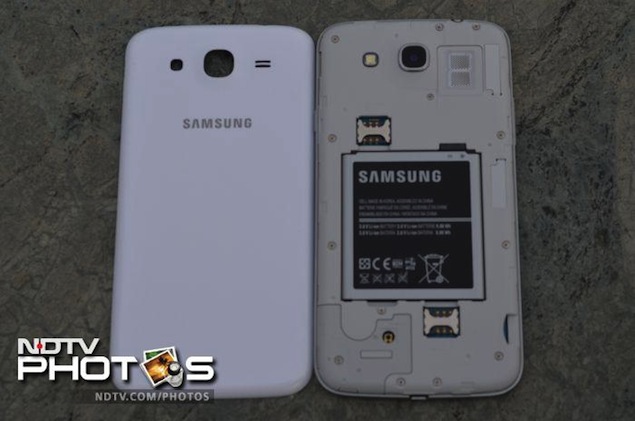 Other than that, we did not face issues while scrolling web pages or switching between apps.
The Galaxy Mega 5.8 offers Chrome in addition to the default browser. The default browser does not offer Adobe flash. It also offers a reader mode for reading text heavy web pages.
We were able to play full-HD clips, though some formats including .MOV, were not supported natively (this was easily fixed by the use of third party apps). The native video player also supports sub-title files and even lets you set a timer to turn off video, in case you like to fall asleep while watching a movie.
The speaker outlet on the phone delivers good quality sound at average volume levels.
Call quality was great and the phone is able to latch on to cellular networks even in weak signal areas. The Mega 5.8 is a dual-SIM phone and supports dual-active mode. You can choose to forward calls from one SIM to the other when the latter is in use. We tested this functionality and found that it worked as promised. You can set one SIM card as the data SIM and use the other one solely for calls.
The phone also offers FM radio functionality with support for recording.
The Samsung Galaxy Mega 5.8 comes with a 2600mAh battery, and in our usage, it lasted us a full workday. We charged the phone in the morning (at around 9am), and with medium to heavy usage, including 1-1.5 hours of phone calls, two email accounts with push notifications, playing some music, taking some photographs, Twitter notifications and WhatsApp chats, the phone lasted a good 10-11 hours. It's worth pointing out that we had turned off Wi-Fi and auto-brightness, and the phone was hooked to a 3G network with the screen brightness at the highest level. Altering these settings might help in running the phone for a longer duration, depending on your usage pattern.
Verdict
The Galaxy Mega 5.8 is a great large screen phone at this price point. Having said that, we wish it included a better screen as that's actually what one looks for when buying a phablet. Although multimedia content and text looks decent, it's not really pleasing to the eye.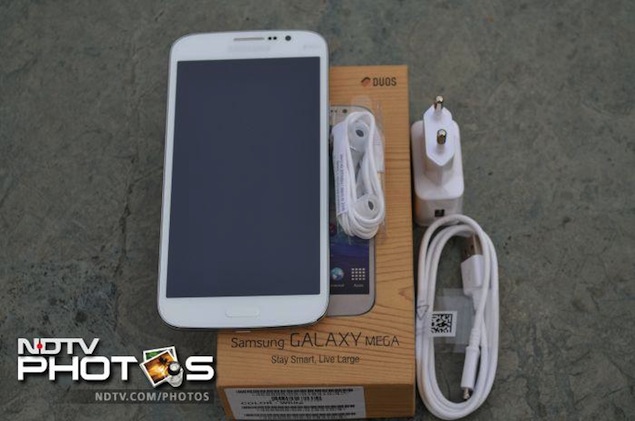 Other than that, we also feel that the phone is a little under-powered but then at this price point, you can't expect a power-horse. Also, Samsung's TouchWiz UI is partly responsible for making the software experience bloated.
We'd recommend this phone over the
Galaxy Grand
, but if you can shell out more and want a big screen, you should go for the
Note II
. If you don't require a big screen phone, you'd be better off with last year's flagships including the
Galaxy S III
and
HTC One X+
.

Samsung Galaxy Mega 5.8: In pictures