Bollywood is a funny place. Almost every single Salman Khan movie released recently has been trashed by the critics. At the end of the day though, these movies still manage to set the cash registers ringing.
Samsung is the Salman Khan of the mobile world.
Every single flagship smartphone from Samsung has been at least somewhat successful. But every single time, critics have dissed the design and the build quality for being, for lack of a better word, 'plasticky'.
The Samsung Galaxy Alpha, enclosed in a metal chassis with chamfered edges, aims to change all this. Also while Apple has finally decided to release phones with bigger screens, Samsung has gone the other way with a more palm-friendly 4.7-inch screen.
We try to find out if this strategy works for the brand and if it can appease its naysayers.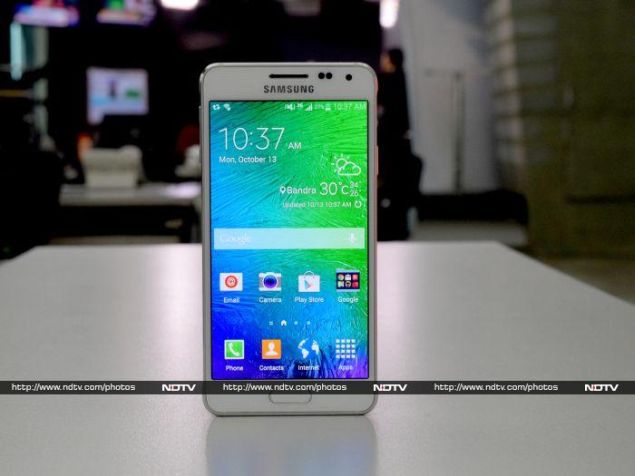 Look and feel
The Samsung Galaxy Alpha looks like a stretched Apple iPhone 5/5s but calling it a blatant clone would be taking things too far. There are striking similarities between the two devices: Chamfered edges? Check. Metal chassis? Check. Slim boxy design? Check. Physical home button? Check. Fingerprint scanner? Check. But leaving the similarities aside for a moment, the Galaxy Alpha still has a distinctively Samsung flavour to it.
We've seen the Galaxy Alpha's removable plastic rear cover in quite a few of its previous flagships. We've also seen the dotted texture on the rear cover, although subtle here, in the Samsung Galaxy S5 (Review | Pictures). The patterned print under the all glass front of the Alpha is also in line with other Samsung phones.
The Samsung Galaxy Alpha is thin at 6.7mm and weighs a mere 115g. This is definitely good news for folks who like sleek phones since the Galaxy Alpha manages to undercut the iPhone 6 by 0.2mm in thinness and 14g in weight. Moreover, compared to the iPhone 6, the Galaxy Alpha has smaller bezels all around, making it more compact. We liked the grip of the phone and didn't feel it was slippery.
Above the 4.7-inch screen are two sensor cutouts, a front-facing camera and a notification LED that is only visible when it lights up. The Home button is flanked by the capacitive buttons for 'back' and 'recents'. The volume rocker and power button, both made of metal and with great tactile feedback, are on the left and right edges respectively. The bottom of the Alpha has the single grill speaker, Micro-USB port and microphone, whereas the top has the 3.5mm jack and another microphone.
The rear has the primary camera with flash and the heart-rate monitor. The camera is slightly raised and as a result you cannot place the phone flat on a surface without it wobbling, this minor niggle is also present on the iPhone 6 and was highlighted by many reviews as being a problem. On opening the rear cover, one can see the battery and a Nano-SIM card slot.
Specifications and software
As usual, Samsung sells the Galaxy Alpha in India with its home-grown Exynos SoC. This is the first time that Samsung is using the Exynos 5 Octa 5430 SoC, with 20nm architecture. It has a combination of four 1.8 GHz Cortex-A15 cores and four 1.3 GHz Cortex-A7 cores, which can all work together. The GPU is a Mali-T628 MP6. There is 2GB of RAM as well. The phone has 32GB of internal storage space which should suffice for most practical purposes. It won't be possible to add more space since there is no slot for a microSD card.
With respect to connectivity, Samsung has all that one can ask for and more, including Bluetooth, Wi-Fi, GPRS/ EDGE, 3G, 4G/ LTE, and NFC. In fact, Samsung claims that the Galaxy Alpha is also compatible with Indian LTE networks, though we couldn't test this since LTE isn't present in our city. Samsung's Exynos processors do not have support for LTE built in, and so the Galaxy Alpha uses a discrete Intel XMM 7260 LTE-advanced modem.
There is a 2.1-megapixel front-facing camera and a 12-megapixel rear camera. Samsung packs an 1860mAh battery with the Galaxy Alpha. This is much lower than what we've seen in other phones in this price range. We will confirm in our performance section if it the battery life is lower than normal because of this compromise.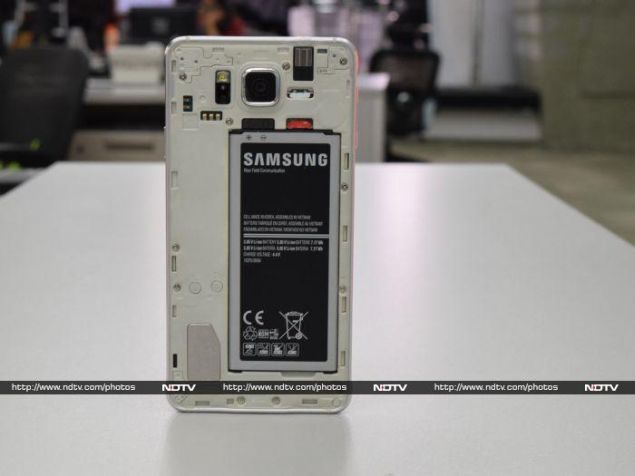 The 4.7-inch Super AMOLED screen displays visuals at 720x1280. Spec junkies might scoff at the low resolution but frankly the 312ppi density is more than enough for most purposes. We were hard pressed to find any pixellation in text or images. However, as with all Super AMOLED screens, the one on this phone is also oversaturated and has colours are a little too rich for our liking. The viewing angles on the phone are excellent and so is sunlight legibility.
The fingerprint scanner is on the home button a la the iPhone 5s. We've seen such an implementation before in the Samsung Galaxy S5. One can set up to three different fingerprints and use any of them to unlock the device. It works fine most of the time but is not as reliable as Apple's implementation. You can use your fingerprint to sign in to a Samsung account and make PayPal payments as well.
Once again, just like all recent high-end Samsung launches, there is a heart rate sensor on the rear. It works in conjunction with the S Health app. We tried it multiple times but the results were erratic, echoing our impressions from testing the same sensor in the Galaxy S5.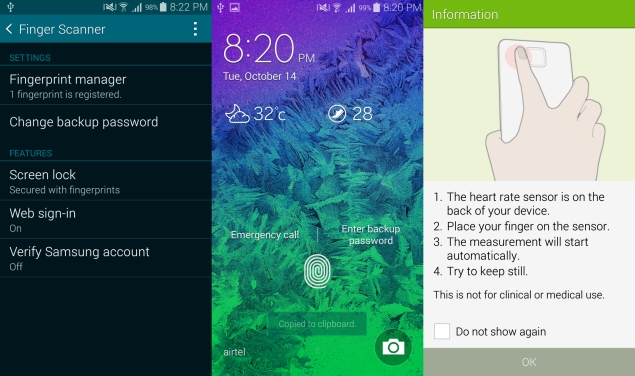 As expected, Samsung has slapped Touchwiz on top of Android KitKat on the Galaxy Alpha. The first homescreen is a news and social feed called Magazine, which is something like HTC's Blinkfeed. Pulling down the notifications shade displays a ton of settings toggles. This can be configured according to user preference. We think the whole interface is too cluttered and distracting. In terms of third-party apps, we get My Files, Studio, and Flipboard, which is a surprisingly low number by Samsung's standards. The S Health app is not very accurate and sometimes recorded that it had taken 10 steps even was placed on a table to charge.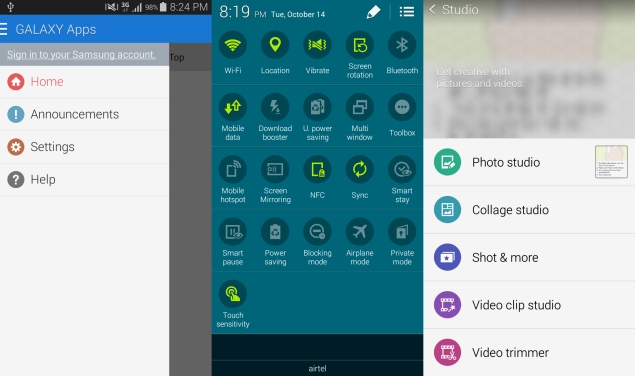 All the additional Samsung features such as Smart pause, Smart stay, Multi window and Download booster are all present in the Galaxy Alpha and they work as advertised. We had a small gripe with the keyboard; since the screen size is now smaller, having an extra row for numbers makes it feel a bit cramped.
Camera
In typical Samsung fashion, even the default camera app is overburdened with options. There are a ton of manual options for the more serious photographer but you can also just tap to take pictures if that's what you want. Apart from the Auto mode there are other modes like Beauty face, Shot and more, Panorama, Virtual tour and Dual camera. Many more can be downloaded from the Galaxy Apps store.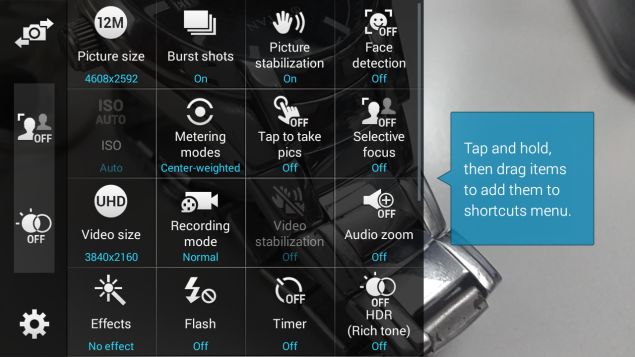 The 12-megapixel rear camera performs as well as, if not better than, a flagship smartphone like the Samsung Galaxy S5 in daylight conditions. We managed to capture crisp details in almost all modes. In close-ups, the lens allows for some good depth-of-field, which looks nice and dramatic. The captured colours were warm and natural but we noticed a slight reddish tint. Our landscape shots also captured good details in subjects that were really far away. Even at 100 percent crops the loss in detail was very low. Moreover, there is no chromatic aberration or barrel distortion.
However, the camera struggles in low light. The images are noisy and it doesn't really capture too many details. It is not bad at all but there are many phones in this price range that can and do perform better in low light conditions.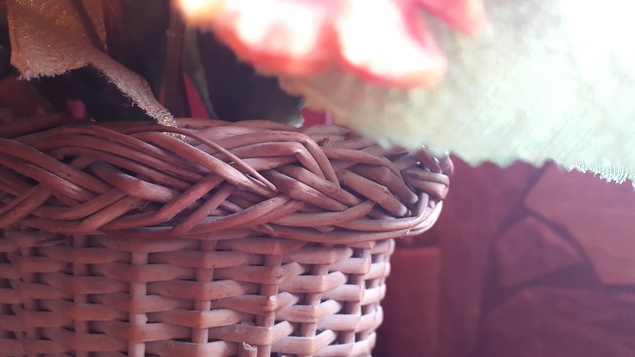 (click for full size)

The rear camera can also capture 4K video, which looks rather crisp. We checked the quality of the captured video on a FHD screen and noted that all the details looked crystal clear without any screen tearing whatsoever. Note that 18 seconds of 4K video took up 118MB of the limited internal storage space. The 2.1-megapixel front camera does a decent job too and it has a beautify option with varying levels by default. However, folks who take a lot of selfies might have preferred a lens with a wider angle.
Performance
Samsung's Exynos and Qualcomm's Snapdragon SoCs have always been pitted against each other by the geek community who care about minute differences in benchmark scores. Frankly, both manufacturers make powerful chips and they work well overall. The Exynos 5 Octa 5430 in the Galaxy Alpha is very powerful and we found it to be very smooth in daily usage.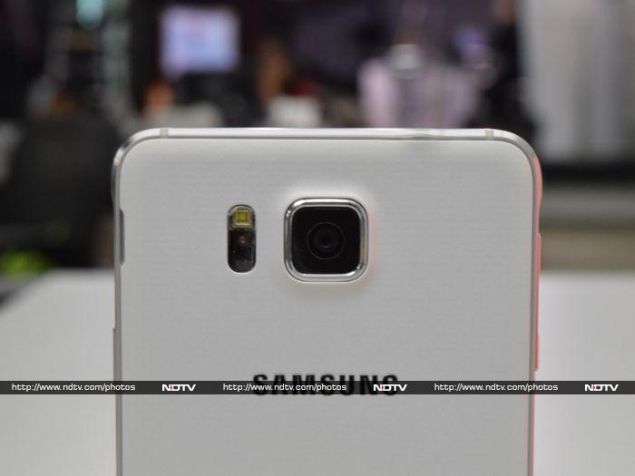 The Alpha's Achilles heel is the fact that high-end benchmark tests and games make it warm; nothing too alarming though. This is further aided by the fact that the metal chassis of the phone gets hot very easily. We noticed that the performance of the phone took a beating due to the heat buildup. This was evident from the fact that on two different cycles, GFXbench returned scores of 31.9fps and 48.2fps, the latter of which is incidentally the highest score we have recorded this year.
The lower score was recorded when the phone had become hot after running benchmark tests but the degree of difference was not too drastic in our other regular benchmarks. In 3DMark Ice Storm Extreme the phone scored 9613. On the other hand, AnTuTu and Quadrant returned scores of 48,991 and 24,206, which are both higher than the scores of the Sony Xperia Z3 (Review | Pictures) and the Xperia Z3 Compact (Review | Pictures).
We tested a few heavily encoded videos and the phone managed to play them without any problem. Still, the Alpha isn't great for watching movies on due to its loudspeaker, which produces really low, tinny sound and is leagues behind the competition. There is no need to replace the bundled earphones as they are pretty decent.
This phone managed to hold on to networks even in areas where the reception was really weak. Even the sound quality in phone calls is really good.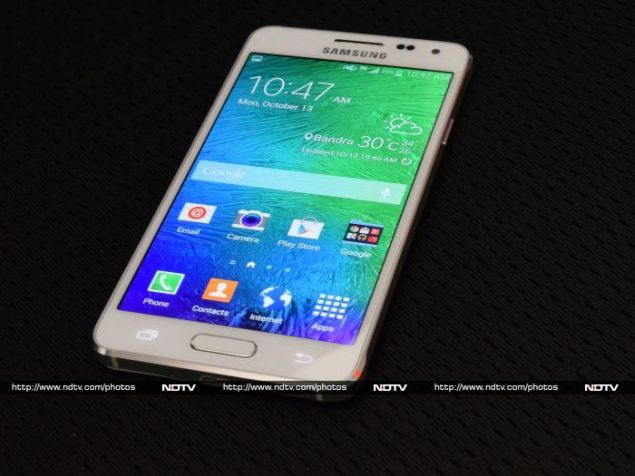 If you have been concerned about the Galaxy Alpha's small 1860mAh battery, worry not. The device lasted us 9 hours and 15 minutes in the battery test, which is around the same result we got with the Moto X (Gen 2). Even in regular use the phone easily lasted through a day.
Verdict
Above the Rs. 35,000 price point, you'll find several flagships, flagships from previous year, mini variants of flagships, and phablets. Price fluctuations are massive, especially with Samsung's models. For example, the Galaxy S5, the tech giant's flagship released only a few months ago at Rs. 51,500, is now retailing for close to Rs. 38,000.
Why are we telling you this? Because the Samsung Galaxy Alpha, with its price tag of Rs.39,999 actually costs more than a Galaxy S5. While you are paying for the metal body of the Galaxy Alpha, the Galaxy S5 is a much better phone overall and is now less expensive to boot. If you don't want a Samsung phone, both the LG G3 (Review | Pictures) and the HTC One M8 (Review | Pictures) are available for less than Rs. 40,000. Shell out a little more money and you can even pick up the iPhone 5s if you want to go the Apple way.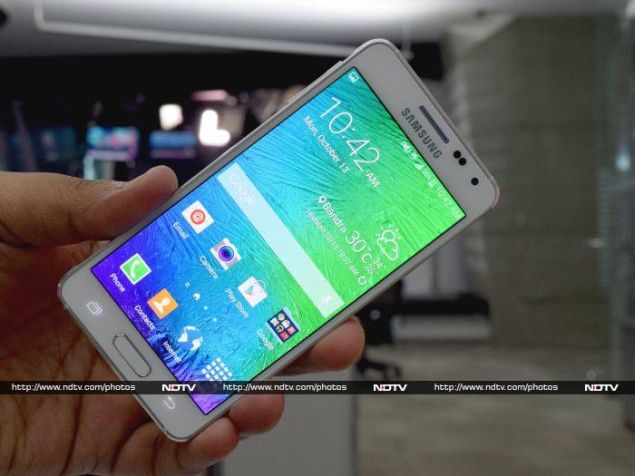 We are finding it difficult to recommend the Samsung Galaxy Alpha with its current price tag. If it was priced below Rs. 35,000 (which might happen soon), we would have been able to recommend it wholeheartedly.
By no means are we saying that the Galaxy Alpha is a bad phone, because it is the most premium-looking and sturdy Samsung phone we've played with till date. However, there are compromises in the form of heating issues, the lower resolution screen and the lack of expandable storage.
At least now we know that Samsung can make a premium-looking smartphone with sturdy materials, because the Galaxy Alpha's design language is replicated in the newly launched Samsung Galaxy Note 4 as well.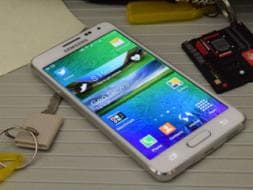 Samsung Galaxy Alpha in pictures